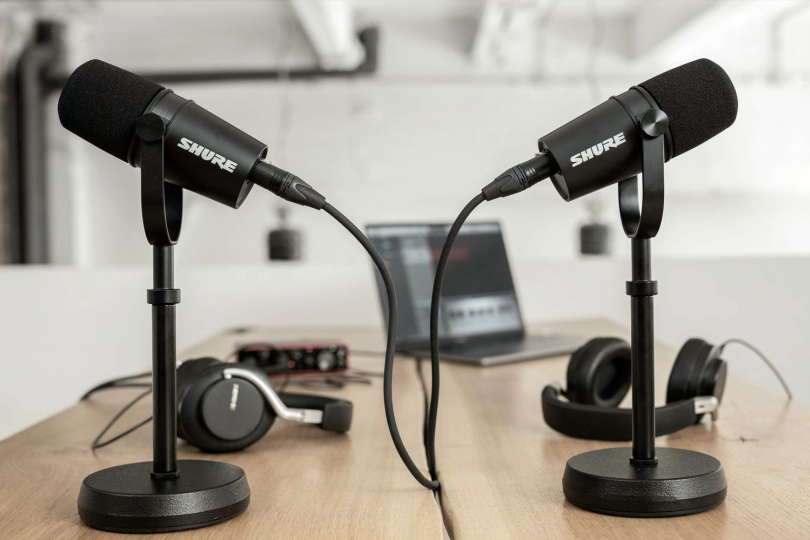 Shure MV7X Flexible Dynamic XLR Microphone
Do you create podcasts or record music on a budget but still trust only the Shure brand? Then the successor to the popular MV7 is ready for you in the form of a modified version of the MV7X, designed not only for podcasting and similar activities, but also for vocal and instrument recording. The new product, which has taken the shape of the legendary Shure SM7B, can be connected to almost any audio interface thanks to its XLR connector, and can be operated even by a complete beginner.
Due to its dynamic construction, the MV7X doesn't need phantom power and the exclusive presence of an XLR output makes it clear that, unlike its more expensive predecessor, the MV7, it is a fully analogue model without additional and often unnecessary digital features—which is of course reflected in the microphone's more affordable price tag.
The MV7X offers a cardioid directional characteristic, eliminating sounds outside the marked pickup axis, and this feature is also brought in a more advanced form by VIT (Voice Isolation Technology), which is ideal for close microphone voice applications. This system ensures that the microphone is able to focus on your voice with extreme precision. This means that it picks up almost no unwanted background noise, resulting in a superbly clear and detailed recording, regardless of the acoustic imperfections of the room.
The robust model with a black lacquered body measuring 153.6 mm in length, 66.5 mm in diameter, and weighing 550 g, has a replaceable grille protecting the capsule together with the outer windscreen, an optimized frequency response covering the spectrum from 50 Hz to 16 kHz, an output impedance of 252 Ohm / 1 kHz, and a sensitivity (minimum gain) of -55 dBV/Pa (1.78 mV) / 1 kHz.
The Shure MV7XMV7X microphone, designed for recording and post-production studios (digital and analogue recording), dubbing, vlogging, and other applications where you need to hear your voice in the highest quality, is available on the European market at a price below €185. The package includes a U-profile bracket and threaded reducer. The microphone can also be purchased with a Shure K&M 23840 steel shoulder stand for approx. €60, with a guaranteed weight capacity of 800 g, a maximum height of 960 mm, and a mounting with a jaw equipped with a locking screw.
If you have found an error or typo in the article, please let us know by e-mail info@insounder.org.