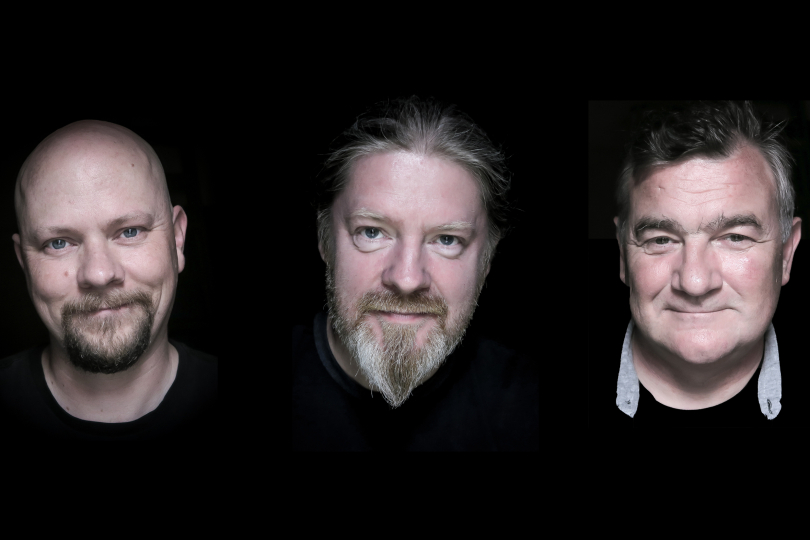 "The beauty is absolutely in the simplicity of being a trio... more isn't always better," says J.P. Kallio of Sliotar | Photo: band's press kit
Sliotar: "Hearing Somebody Sing With Pain in His Voice Gives You Permission To Let Go"
Irish music is known for its heartfelt songs and ballads. The Dublin-based trio Sliotar, however, bring much more than that. Their message is not only to "let go of the feelings that we're scared to feel" but to give people an opportunity to dance and enjoy themselves. This band playing modern Celtic music brings thought-provoking stories and is loaded with energy as the true sliotar—a superfast hurling ball. How did they become a headliner on big stages, being "just" a trio? As their guitar player and singer J.P. Kalio puts it: "The beauty is absolutely in the simplicity of it. We have specific areas in the frequency range where we fit ourselves, and we leave room for one another—more isn't always better."
This interview was done after Sliotar played as a headliner at the international music festival Celtic Night in Plumlov, Czech Republic, at the end of July. The trio comprises vocalist/whistler/uilleann piper Ray MacCormac, guitarist/vocalist/bouzouki player J.P. Kalio and percussionist/drummer Des Gorevan.
J.P., let's start with the album Voyage, which you released in 2018. What does that mean to your band? Is there any new approach you applied or something slightly different from your previous creative work?
Well, the albums have always been a little bit of a challenge for us because we're very focused on the energy of the live show. And this was kind of the attempt to try to capture that as much as possible. So a lot of the album was recorded in Denmark. You met Tomas Somr, who runs the festival. And he's got his own studio in Denmark. It was recorded there, and he's been working with us for the past 18 years, organizing all our shows in the Czech Republic. He kind of understood our challenge of trying to capture that "live" sound.
The album itself ended up being a combination of our story for the past few years of us travelling and playing around. The physical copy of the album has a 30-page booklet with stories and pictures of all of our travels. And we were really trying to include that live show energy and somehow recapture it, which is a very difficult thing to do because so much of that live show experience is being in front of the people when you can look into their eyes and feel their energy. And it's hard to do it when you're in a kind of a sterile studio environment. Having said that, Tomas did create a very nice environment for us to capture that. And it's definitely the closest we've ever got to that live feeling.
How do you choose your music material? I have heard your version of the famous anti-war song "Crow on the Cradle." By the way, a very good rendition.
Thank you very much. Well, we've been playing that song for about 25 years at this point. So it's been there for a very, very long time. It's been a big favourite of the live shows. In the very early days, the band did one live album, which was literally recorded in the first year of the band playing together. And there was another guitar player at the time who I replaced eventually in 2000 but the live version that was on that album had changed so much, that it didn't even sound like the same song anymore, so it kind of felt like it had to be done.
How do we choose? I write a lot of the original songs myself, and I would call myself quite a prolific songwriter, so then it's usually a case of going through the songs and figuring out which ones are the ones that sound like Sliotar or have some sort of meaning to the band and our music. And to me, it's very important that not only does the song resonate with me, but it resonates with the other guys as well.
You make use of traditional Irish instrumental music too, but in your own way. How do you approach it?
There's some wonderful traditional music in Ireland and a lot of it. But when you work in this kind of band context, it can become very sterile if you're trying to stick to certain rules, and we're not going to stick to the rules anyway. (laughs) So we try to break them as much as we can. And usually, when we start breaking the rules the interesting stuff comes out, and those songs really seem to be resonating with the people a lot, especially in our last tour. 
And then Ray has sort of radars, a couple of a cappella numbers on his own, and he's very much the same. Like everything that we do, he very much goes for the story. And if there's a good story in the song—and they're very melancholic numbers usually—he does great renditions of them. You can almost hear the pain in his voice sometimes. And there's kind of this weird beauty in it. We live in a world where a lot is happening around us. So there's something really relieving when you hear somebody doing something like that where they actually putting that pain into a song, it's almost like the feeling is that we're scared to feel.
A sort of catharsis?
Yes, he gives you the permission to actually let go. And I think it's a very important part as well. And then, we do pick up a lot of the instrumental numbers from traditional music. But again, we break the rules as hard as we can and how we approach them is a very unique style. I haven't personally heard anybody else do it the same way. It comes a lot down to just the variety of our musical backgrounds and interests. There's not really any kind of boundaries in the sense that if somebody wants to bring something different into the mix, everybody is open to listening to it. And we give it a go, and if it works, it works. And as always, the biggest test is the live situation. You know very fast if it's going to work or not.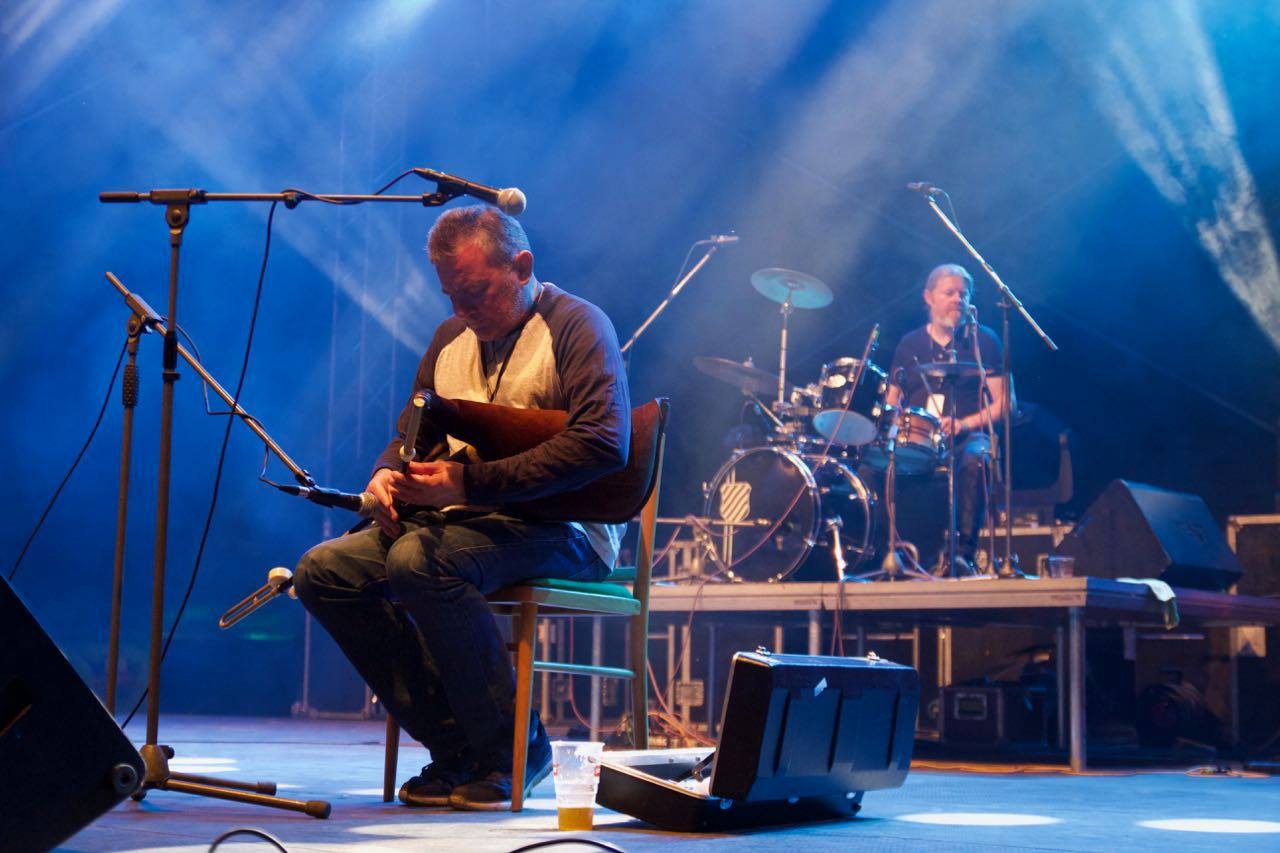 You've been performing for 26 years now together. At what stage did you go international, what was it like at the beginning?
As I said, there was another guitar player before I joined the band in 2000. So we've been in the same line-up since then. The guys were doing a handful of tours before. Because I had a little bit of a different experience from before, I took over a lot of the international booking part. We started doing a fair bit more tours quite fast.
It was in 2007, we were in the Celtic Night sitting at one of the cabins, and there's a local band there, they're called Happy to meet, really lovely guys, and they had this old bus, I can't remember if it was a Renault or Citroen. And we looked at it and went like: "oh, that's so cool." Even though it was old and you could see that it didn't have many more years left. So when we came back from that tour, Des started looking for some sort of a right vehicle that we could turn into a tour bus. And we ended up buying this old 1986 Mercedes school bus, and just lovingly spent six months renovating it and turning it into our tour bus.
And so when the recession hit Europe, we decided to go on tour and spent six and a half weeks driving around Europe and playing gigs wherever we could. And that set up a different way of touring for us because before that, we were literally just flying in and out at every gig, which we still do to a certain extent, but whenever possible, we try to connect the gigs with more gigs, and since then we do a fair bit of driving around Europe. Now the bus is long gone. With the current situation, you have to be very conscious of the environmental reasons but also find the right balance of what is affordable for you.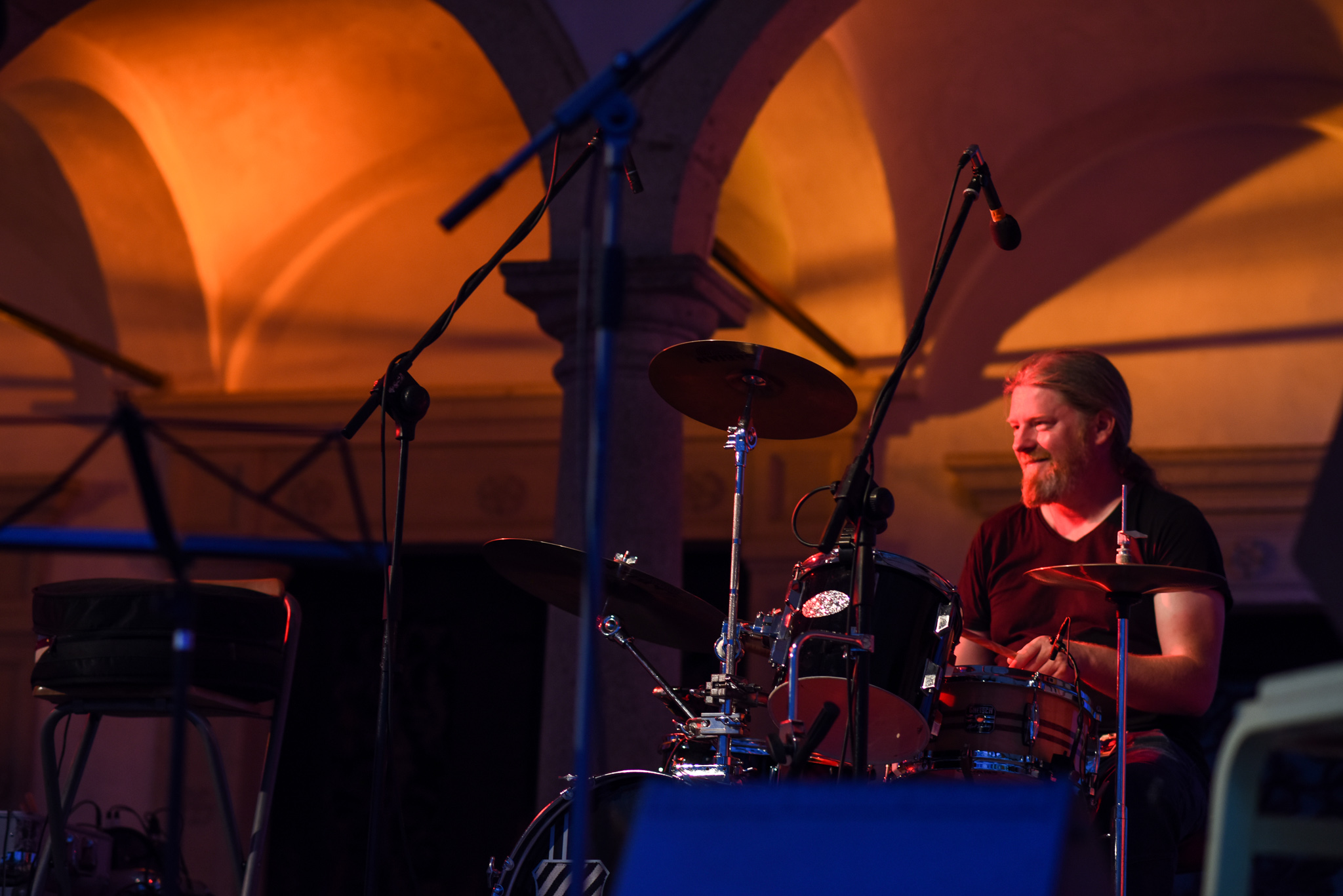 You have played at festivals in Ireland, France, Belgium, Italy, Netherlands, Denmark, Finland, Germany, Poland, Czech Republic, Austria and even the Middle East. Have you been thinking of hitting the road in America? The Irish community there is considerable.
Yeah, we've had a few interests over that side, and I'm sure it will happen eventually, but to be honest, we never had the kind of desperate need to get over there, and Europe has been so great to us. We literally have been so busy in Europe and especially during the summer festival seasons. Also, if you go to another continent, the cost of getting over there is big enough that you would have to spend a substantial amount of time there to validate that there's enough shows to make it worth it. But I'm sure when the right offer comes, we'll jump on it.
I understand. We've already touched on the fact that you are a trio. Have you ever been thinking of enlarging the band? There are some additional instruments on your last album, such as saxophone and keyboards, so there may be a space for more players?
That's actually the strangest thing. We did have one tour maybe somewhere early in 2010, with a good friend of ours, a bass player. And it was good fun. We made it very clear from the get-go that he was a guest musician. And then now, after the last album, there's a couple of songs that Tomas joins us on the Czech gigs where he plays keyboards and saxophone, which is great. But it goes back to the same thing that we try to communicate with the people who come to the concerts as much as we can, even afterwards, online and everything. And then everybody says: it was great, but it's just the three of you.
I think that the reasons why we tried to have some guest musicians is, especially with festival organizers who haven't heard us live, that many people find it very hard to understand that three people can make the sound as big as we do. And so it can be hard sales sometimes to get them to realize it. But when they see us live and especially in festival scenarios where there's a load of different bands, they go like: how can you guys sound so big? And the beauty is absolutely in the simplicity of it. We have specific areas in the frequency range where we fit ourselves, and we leave room for one another, and more isn't always better. You can gel those things well and that's when the magic starts happening. When you get really rich sound. It's nice to see the surprise on people's faces. (laughs)
This question you've probably heard so many times: but how come a Finnish guy is a spokesperson for an Irish band?
Well, you are the first one who called me a spokesperson. Let's just say I'm probably the most outspoken in the band, which is very strange coming from a Finnish person. (laughs) These people can be a bit reserved, but at this point, I lived most of my life in Ireland. So I think Ireland has had an influence on me over the years. It was kind of a natural, organic role that I ended up in rather than a conscious decision along the way. I'm happy to do it, and the guys are happy that I do it.
When you came to Ireland, did you start playing Irish music at pub sessions, or how did you get involved?
Well, I've played in Ireland now for well over 25 years, and I was in a session from the very first day I landed in the country. I had a huge interest in Irish traditional music, and I have been playing it even outside of Sliotar, if not every day, most days of the week when I'm in Ireland. It is a big passion of mine. As much as it's songwriting and the modern songs as well. I like to have a variety of us on that. There are certain things in the Irish tradition of music, especially from a guitar player's perspective, where you really do have to understand the music. And I think it's like learning a language. You can learn the theory to the best of your abilities, but until you start speaking it, it'll never get perfect. So the good thing was that I jumped into it headfirst and got stuck there. So yeah, I would say I'm quite fluent in the language of Irish traditional music at this point.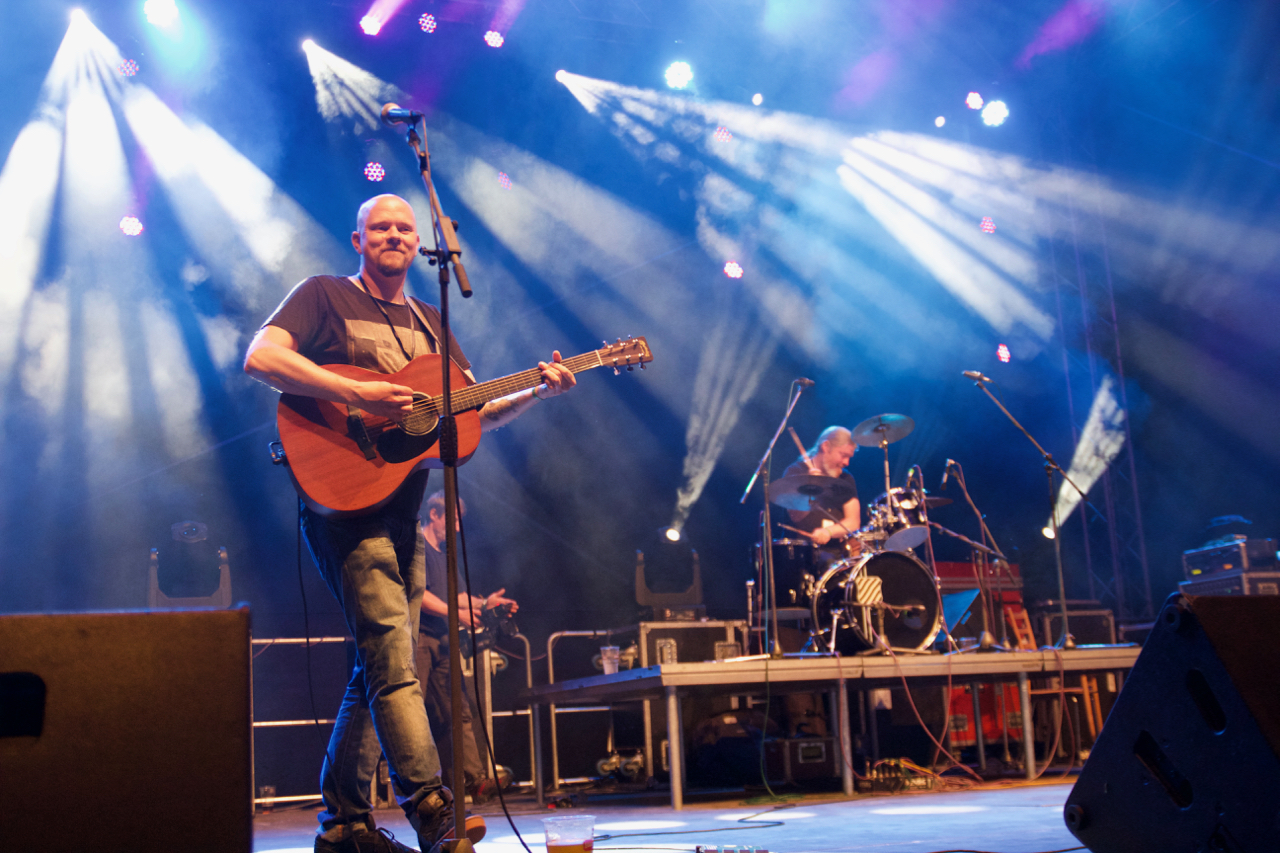 What is the mood like in the band after so many years?
As a band, we're at the point that we're more like a family than anything else. You know, you have arguments with your family members, you can't avoid it from time to time. But the arguments just clear air, and you get your opinion out and get over disagreements and that kind of stuff. But you love them like your brothers. I think we are all at the point where it's hard to even imagine our own lives without Sliotar anymore. It's part of us. Until one of us stops their journey on this human experience and goes to the great beyond, I think we'll be doing it at least to a certain extent and as long as we've got energy enough to lift our fingers, I think we're going to be playing music.
That's very special and rare, actually.
Yeah. It's one of those things that's hard to recognize it when you're in it, but the longer we go the more I started realizing it, looking at other bands and looking at their chemistries and especially at festivals. You see them and looking how they operate, and you go like: "okay, we are very different than anybody else at this point." We've gone through so much together. We not only play together but also live together so much on the road that we got to a point where you can almost predict what the other musician is about to do before it even happens. And that's a very magical place to be. It's like connecting to something up there that they're connected to as well, and you just end up doing things together without realizing that you're doing them.
I believe it also helps synchronise your diaries. What is your background, actually, do you have any day jobs, or is music your full-time?
Well, I'm a full-time musician, I play here in Dublin seven days a week when I'm not touring. Ray does a fair bit of teaching. He's actually teaching this week. There's this quite important festival of Fleadh here in Ireland, and before it, they have a week of lessons, and he teaches whistles, specifically for the beginners there. We all feel the same way that it's very important to help the next generations and give them the foundation that they can build on something new. And Ray does it extremely well. Des has a day job. He works in construction, but it's also a very flexible job in the sense that if he says, look, guys, I really have to go on tour, that's no problem. Weirdly enough, I don't think we've ever had to cancel a gig because of work.
What's ahead of you in the near future?
We are going to give a show at Rytmiraid Festival in Kurikka, Finland, on the 20th of August. It's a great festival, we did it 11 years ago, and it's one of those weird scenarios which is a good example of how it works with Sliotar. They wrote on their website that even after 11 years, it's one of the highlights of the festival history that we played there. So we're really looking forward to going back there again and, hopefully, make it even better.
Have you heard Sliotar or any other Irish band live? How did you enjoy it? Tell us in the comments below!
If you have found an error or typo in the article, please let us know by e-mail info@insounder.org.