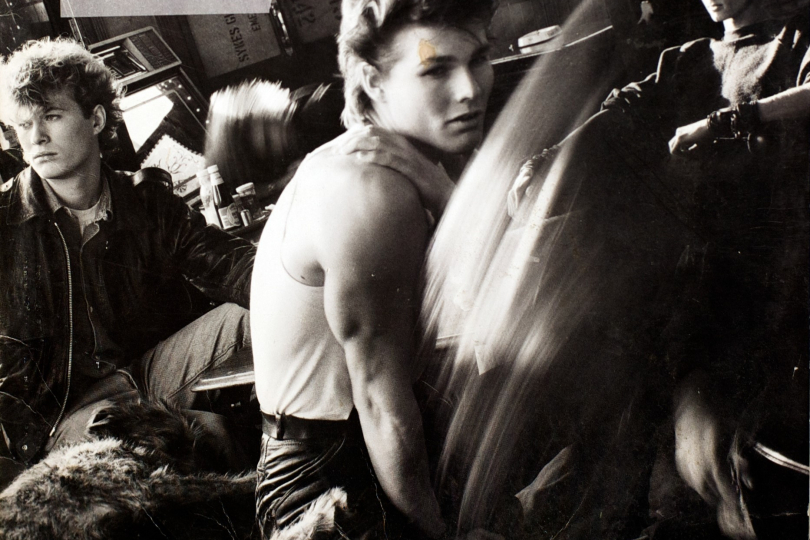 Versions of "Take on Me" have crept into every corner of the world | Photo: Michael Hanscom (CC BY-NC-SA 2.0)
Story of a Hit #4: "Take on Me"
The 80s synth-pop band a-ha are synonymous with their biggest hit. It's a song that captures an era, both musically and visually, and still has passionate fans listening to it all over the world. Today we're going to look at "Take On Me", and the story of how an unlikely trio of Norwegians rose to international fame.
If you weren't fortunate enough to be around and listening to the wave of synth-pop in the 80s, you would likely have come across it in one of its myriad of covers. It's one of those songs that few people know much about, but that almost everyone can recognise. This is partly due to its cult status and the fact that the song has been used in countless movies, serials and youtube covers. It's also down to an incredibly unique chorus, which is basically un-singable for the average person, as well as its partly animated video clip, which at the time of release, almost nobody had seen before.
The musical quality of this song really stands out, with the riff being one of the most memorable synth lines in popular music. The chorus is just glorious, and if you've ever made the mistake of trying to sing it at a karaoke night, then you will know just how demanding it is. It covers a range of two and a half octaves, impressive, to say the least, but to add to that, Morten Harket sings it with such precision and feeling (which is particularly noticeable when you listen to someone else attempt it, like Chris Martin, or god forbid, Jim Carrey). For me, aside from that, the jaw-dropping moment in the song is right in the chorus: when the drums change to half-time (1:45) moments before the climax. Just when Morten is reaching the top of his impeccable vocal range, the drums drop, and you feel like the floor has fallen out from under you. And then he reaches that top note in his falsetto, and bang, the drums are back to full time. Iconic stuff.
But let's start from the beginning – "Take on Me" very nearly didn't rise to fame and glory and might very well have disappeared into obscurity if it weren't for some clever producing and marketing. 
The original version came from a band called Bridges, formed by the future members of a-ha, keyboardist Magne Furuholmen and guitarist Paul Waaktaar-Savoy. They wrote it in high school when they were 15 and 16 and originally called it "The Juicy Fruit Song" because it reminded them of happy advertisements and American children living the good life in suburbia. While they were inspired by their favourite 60s psychedelic rock bands like The Doors and Jimmy Hendrix, they felt this song, largely because of the jingly riff, was too poppy. Bridges eventually broke up, but Paul and Magne were soon joined by Morten Harket, who they knew from school. Apparently, when Morten first heard the riff, he told them that he thought it was universal hit material and that they really had something.
If you compare the early "Juicy" version to the song that we all know, the notable difference is the chorus. While melodically and harmonically the verse is more or less the same and the famous synth riff is there, albeit played on electric guitar, the chorus is completely different. Of course, the chorus in "Take on Me" is one of this song's most defining features, the leaping intervals just stand out, and it really shows off Morten's vocal range and technique. The new trio a-ha formed in 1982, and they re-did the song two or three times, particularly reworking the chorus, trying to get it right. Soon after forming, they moved to England to try to find a market in London, where they met Andrew Wickham, who, according to Magne, was the "most important factor in the song being the way it is today". Wickham, after hearing a few songs from them, immediately signed them onto Warner Bros and started the process which would turn "Take on Me" into the hit that we all know.
Wickham commissioned a new producer, Alan Tarney, to help refine it, who sat down with the band and encouraged them to show him some of the original material from their demo, which had been scrapped by their previous producer. Tarney said that he basically helped them make a version that more closely resembled the band's original demo version. He re-introduced some of the acoustic sounds and instruments, which, if you listen closely, form a really important part of the texture of the song. He was also the one that provided the Juno-60, the legendary Roland synthesizer, to be used for the iconic riff.
By this time, the song had likely gone through at least half a dozen iterations, from the original version by Bridges to the final versions produced by Tarney, however, each release of the song was a flop. It had already been released with a pretty sub-standard video clip in 1984, where the band performed on their instruments in front of a blue screen, but it was obvious to everyone that it wasn't good enough. Jeff Ayeroff, who was the creative director at Warner Bros, was put in charge of making a better video, he said that he wanted to "do something visually that will get enough airplay to make the song an earworm".
And this was when history was made. Steve Bannon (of Billie Jean fame) was chosen to direct the video, and the idea was put forward to partly animate the new video clip. The new clip took 6 months to make – it was shot live-action and then animated by hand by Candace Reckinger and Mike Patterson, a painstaking process that would have usually been deemed too long and expensive. This revolutionary style had never been attempted before on a music video, and when "Take on Me" was finally released with this new clip, it was an immediate success. After its release on MTV, it topped the charts in several countries and was played in heavy rotation.
Magne, the keyboardist from a-ha, said the video clip "gave the song enough rotation to really put hooks in people". It was clear that the song offered hit material from the beginning: the fact that several producers and directors had an immediate interest in the song attests to that. But it took a brilliant video clip that broke the boundaries of the genre to send it out into the world. When we watch it today, it has a kind of timeless quality, as if the stylised animation hasn't aged because it doesn't rely upon any special effects. And actually, the scenes where characters transform from their real selves to their animated versions hold up quite well. According to Candace, one of the animators, it continues to speak to people because the video clip tells a kind of classic fairytale story: where the girl meets a handsome stranger, enters an imaginary world, is chased by the bad guys, only to be reunited with her hero at the end.
Certainly, a-ha have continued to have an extremely successful career, with 11 studio albums, the most recent from 2022, and sold-out tours all over the world. Like with many bands, their biggest hit continues to be their most well-known song, but don't be mistaken, they're no one-hit wonder – take the time to look at the vast library of releases and you will be impressed. Versions of "Take on Me" have crept into every corner of the world, from Reel Big Fish's ska version, to Weezer's recent cover (featuring Stranger Things' Finn Wolfhard), to school band versions and video games. I will leave you with the Family Guy take on it all.
What do you think, is "Take on Me" one of the biggest hits of the 80s?
Leave us your opinion in the comments below!
If you have found an error or typo in the article, please let us know by e-mail info@insounder.org.