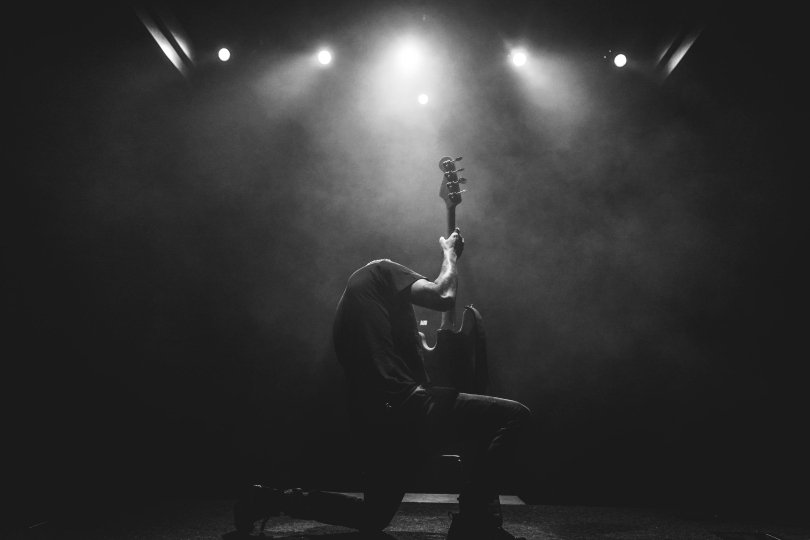 It's good to be original and authentic, but what if it sucks? You have to work on your original expression and improve its quality, and not just in terms of technique. | Photo: Greyson Joralem
TOP 5 Skills You Can't Do Without in the Music World
What's learnt in the cradle lasts till the tomb. This folk wisdom and one of the common clichés is unfortunately still valid. If you want to break through in the music world, accomplish something big or just play for a crowded venue, you need certain skills that, however, most musicians try to avoid like the plague. Today, let's take a look at the TOP 5 skills you simply can't do without in the music world.
1. Courage
You may be surprised by this simplistic recommendation, but other qualities won't help you in the wild jungle of music show business unless you dare to push the boundaries. What good is a beautiful voice if you only use it at home? What good are great photos, videos and recordings if no one knows about them? What good is an expensive and well-planned social media campaign if it's boring, conservative or completely inappropriate for your type of audience?
Without a good dose of courage, you won't get up and go play on the street, ask about the conditions of a concert, knock on an agency's door, send a thousand emails, make lots of phone calls and most of all, you won't make interesting, emotionally charged music. The courage to create, the courage to venture into the unknown and the courage to put yourself out there is the beginning of everything you will do in music.
2. Self-deception
If you don't want to burn out after a few years of hard work on your music career (believe me, every rejection, band or project break-up, a tour that will ruin you financially and endless meetings full of empty platitudes, bombastic plans and especially unfulfilled promises will take their toll on you), be wary of your assumptions and especially your unrealistic perception of reality. It's not just about the proverbial rose-coloured glasses, but also about overly dark and devastating thoughts, insecurities or other remnants of a problematic childhood or adolescence.
Few aspiring musicians can ignore the whispers of their ever-talking inner voice, the ever-present ego. It either fools us with a feeling of superiority and dreams of world domination, or it brings us to our knees with eternal doubt and comparison. At the beginning of your musical journey, you can't know what works and what doesn't. Try to explore everything, enjoy the journey and the process, but at the same time feel what works for your audience. You need small victories and accomplishments to navigate the endless sea of musical possibilities.
It's good to be original and authentic, but what if it sucks? You have to work on your original expression and improve its quality, and not just in terms of technique. For example, Les Claypool from Primus is the ultimate weirdo, but everyone can hear and see right away that he's a bass master. He slaps odd things on his bass and whines about cheese, fish and who knows what else, but his self-presentation is elegant, perfectionist and groovy.
3. Admin
A disgusting business that, along with self-promotion, spewing content on social media and sending endless invitations to your gigs, is one of the top unpopular activities of all musicians. Yes, you're right and I can hear your deep sigh at the thought of how much time you have to devote to activities that are absolutely unrelated to music. I don't think that's anything new. Even in the past, artists had to spend an enormous amount of time on PR and all that stuff, they just maybe had more people on hand to do it for them and society didn't have the high moral standards and expectations that it does today.
However, the administration of your music career is very, I repeat, very important. You need to plan, organise and fill out grants, applications, questionnaires and other paperwork that can get you into dream festival slots, popular concert halls, world tours or into legendary studios with legendary producers. If you want to avoid doing this yourself, find some kind of angel (or pray that they find you) to take care of all of this for you. Otherwise, you're not going to move forward much.
4. Media presentation
It's not enough to be able to sing or play brilliantly, wear cool clothes and look like a rockstar. When you meet a journalist or have a meaningful conversation with an enthusiastic fan, you will also reveal yourself as a human being. And not always will your certain personality traits work. On stage, you feel like you're burning like a bright flame and giving everything to your performance, but then you look at the footage and are appalled to see a vapid figure shuffling from side to side, throwing out weird jokes with no punchline during song introductions and ending every song with: "I want to see your hands!"
Entertaining people is not just fun! Work on your stage presence, but also your media presence. Phrase your thoughts clearly and concisely and be quick and witty without being posey or stiff.
5. Patience
If you work on the four points above, it is hard to imagine that you will not succeed in the music show business. However, it can happen. In that case, you must rely on your fifth unwavering pillar – holy patience. It may take a year, two years, or even five years or more. Leonard Cohen, Seasick Steve or Johnny Cash could all relate.
The journey does not need to have a destination. Not everyone is destined to touch the stars, but I think anyone can have a solid music career that gives their soul joy and life energy. I, the author of this article and an aspiring bassist, composer, lyricist and amateur MC for twenty years, am currently struggling with this "sobering" phase. But I believe, along with you, that everything will turn around for the better. For I trust John Lennon's words: "If it ain't all right, it ain't over."
If you have found an error or typo in the article, please let us know by e-mail info@insounder.org.