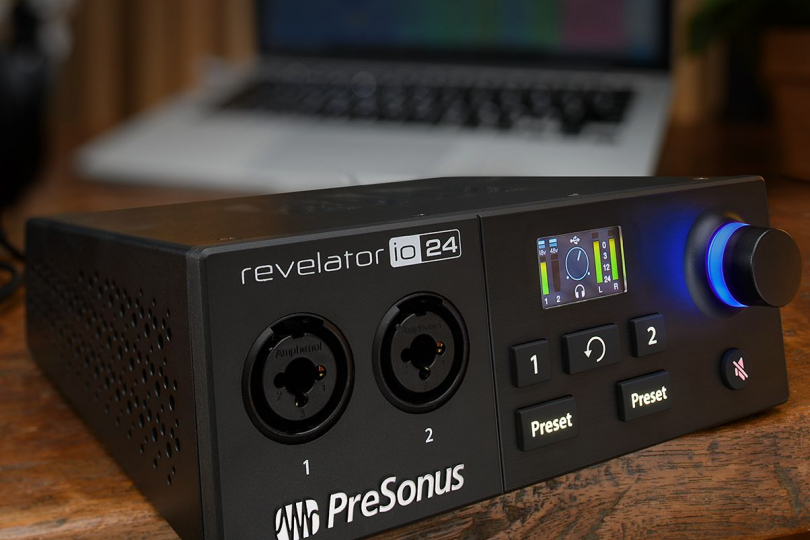 USB-C Audio Interface Presonus Revelator io24
PreSonus has expanded its range of USB-C audio interfaces with the Revelator io24 (6 x in, 8 x out), which is partly derived from the Revelator universal condenser microphone introduced two years ago, suitable for recording, podcasting, streaming, etc. The audio interface was designed for similar purposes, scoring points with its intuitive control, built-in effects, and other functions that can make basic studio work much easier. 
The Revelator io24 is equipped with a pair of XMAX-L microphone preamps that are connected to combined mic/line/inst XLR/TS connectors by Amphenol, as well as a software loopback mixer (8 x in, 3 x stereo loopback mix + stereo monitor mix), allowing easy mixing of livestreams or podcasts. A range of effects derived from PreSonus digital mixing consoles are also included in the relatively powerful DSP unit.
Divided into two categories, the unit features the company's StudioLive Fat Channel, which includes a high pass filter, three compressors, an equal number of EQs, a noise gate, expander, and limiter. The second section is reserved for so-called Voice effects and includes a ring modulator, vocoder, doubler, filter, detuner, delay, and reverb. One of the advantages of this system is that the selected effect presets are stored in the device's memory bank, so they are always at hand.
24-bit converters were used, operating at frequencies of 44.1, 48, 88.2, or 96 kHz; the bandwidth ranges from 20 Hz to 20 Khz; and the dynamic limit is set at 105 dB. The headphone output is connected to a 2 x 40 mV / 36 ohm terminal amplifier, with an impedance range of 32 - 300 ohm; a small, easy-to-read display shows everything you need, including +48 V phantom power activated; the volume potentiometer is flanked by a purple backlit ring; and there is a Mute function.
In addition to the headphone jack and USB-C port (USB 2.0 compatibility), there are two main TRS jack outputs and MIDI In/Out DIN sockets on the back of the unit. Of course, you can use the UC Surface control app for macOS, Windows, iOS, or Android platforms, and the manufacturer has also added Studio One Artist and Studio Magic software. The European price of the PreSonus Revelator io24 USB-C audio interface, with dimensions of 63.5 x 159 x 159 mm and a weight of about 900 g, has been set at under 200 euros.
If you have found an error or typo in the article, please let us know by e-mail info@insounder.org.