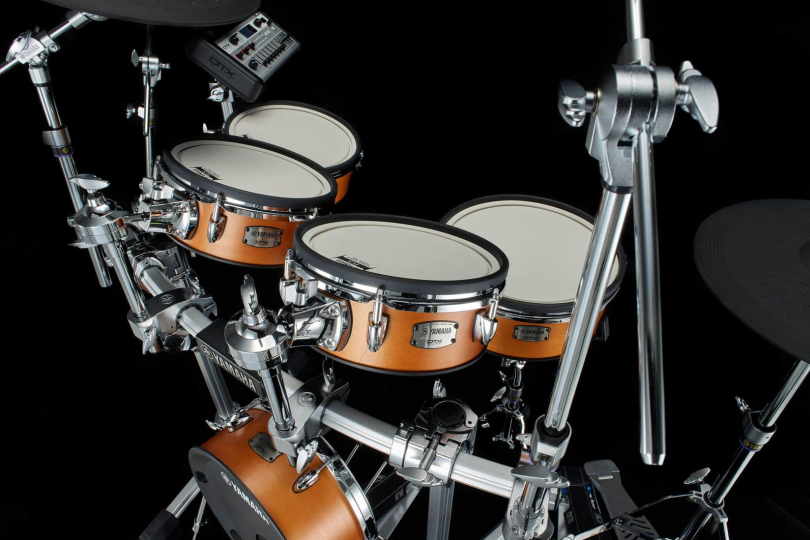 Yamaha DTX8 and DTX10: Electronic Drums With Wooden Shells
After last year's DTX6 model, Yamaha is now launching a pair of new electronic drum kits, the DTX8 and DTX10, with birch shells. The DTX10 edition, representing the brand's current flagship, features the powerful DTX-PROX module and includes a pair of models: the DTX10K-X featuring the brand's TCS (Textured Cellular Silicone) pads, and the DTX10K-M coated with Remo 2 ply mesh heads. An identical solution is also used for the DTX8K-X and DTX8K-M variants.
The more affordable DTX8 kits use the DTX-PRO module known from the previous DTX6 set, and the kits consist of four birch drums comprising a 12-inch-diameter snare and a trio of toms with an identical 10-inch diameter. The drums come with the KP90 bass pad (7.5-inch diameter). The Hi-Hat with the HS650A stand is complemented by two 13-inch crashes and one 15-inch ride featuring positional sensing. The kit comes with the RS8 ramp.
The two higher-end versions of the DTX10 include a 12" snare, 2 x 10" toms, a 12" floor tom, and the KP128 bass drum with a mesh head of the same diameter. To optimize the cymbal configuration with these kits, they include the 17" three-zone PCY175 ride, two crashes: PCY155 and PCY135, and the two-zone RHH135 hi-hat on the HS740A stand (included in the package). The durable and flexible RS10-HXR ramp kit is not missing.
Unlike the DTX8 kits, the DTX10 sets currently use the top-of-the-line DTX-PROX module, which, like the previous DTX-PRO model, uses the popular Modifier unit, providing real-time various ambient effects, compression, and other items. But the PROX adds new features, including Bluetooth connectivity or a sound bank with over 700 sounds, moreover, enabling the import of up to a thousand 24-bit user samples.
On the main control panel, the player has individual volume controls available for each part of the drum kit (snare, toms, crashes, ride, etc.), as well as controls for quickly balancing the volume of aux in, internal backing tracks, click, and outputs. On the back, there are 10 triggering inputs, four separate stereo outputs, an aux input, main L/R outputs, two USB ports, and classic five-pin MIDI In/Out connectors.
Official U.S. market prices for the Yamaha DTX10 electronic kits with Real Wood or Black Forest finish have been set at approximately USD 4,620 for the DTX10K-M and about USD 5,170 for the DTX10K-X version.
If you have found an error or typo in the article, please let us know by e-mail info@insounder.org.