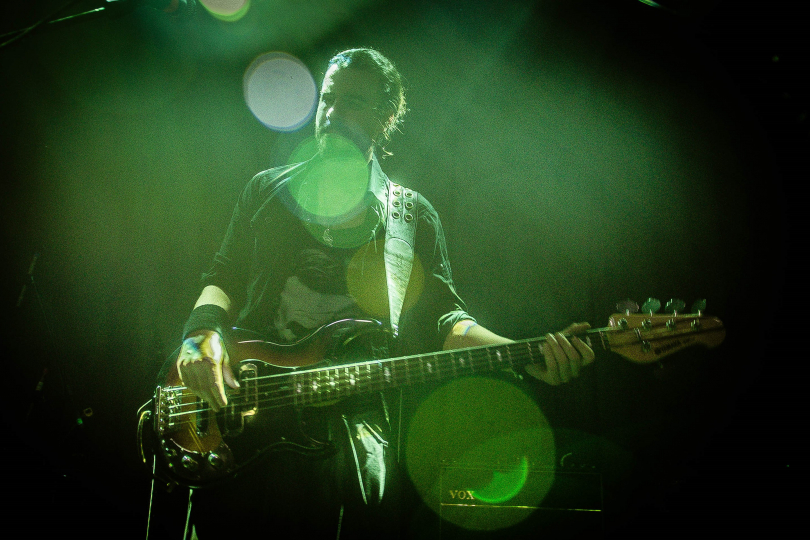 We'll be inspired by wonderful dissonances and consonances in Tool style drop D tuning | Photo: Danny Clifford
Bass Around the World #24: Amazing Tool Style Chords
Progressive metal band Tool is famous for their hypnotic riffs and grooves with one distinctive feature: their magical and captivating vibes are coming from drop D tuning. All Tool's significant albums and songs are written using this tuning.
If you don't know what drop D tuning is, just tune your lowest E string one whole tone down to D. Instantly you get two open D strings and consequently a lot of possibilities for trips into the inner or outer universes.
Today, we'll treat the bass like a guitar, by playing chords. But not just any chords, we'll be inspired by wonderful dissonances and consonances in Tool style drop D tuning.
Lesson time 
If you really want to enjoy this particular style of playing, you'll need to employ mainly your index and little fingers in the fretting hand. Strum through all four strings (ideally using a pick or strumming finger technique) while in the fretting hand you press the tones on the A and G strings so that the lower and upper D strings are all resonating together.
Take care of the articulation and especially the clear resonance of all four strings. If you play in the fifth position on the A string and the seventh position on the G string, you have the ultimate D chord in combination with the two ringing open D strings—simply letting four D notes resonate with each other. Then, all you have to do is move your left hand around the fingerboard and listen for the most interesting sound combinations.
Justin Chancellor, Tool's bassist, is known for his refined sound, especially when he is using Wal basses—luxury boutique instruments made in English Surrey, which are famous for their unique and clearly defined sound. It's not easy to get hold of them and from my personal experience, I can tell you that Wal basses are out of this world in terms of feel and tone. Every feature has a unique character, equalization and especially a tone that can be used in any mix of instruments.
Of course, you can try to achieve a similar sound using a more standard instrument—I highly recommend playing with a pick, steel strings and a slightly suppressed mid-frequency. You can achieve a typically clear sound, which still preserves the density and all the details of your playing.
If you have found an error or typo in the article, please let us know by e-mail info@insounder.org.