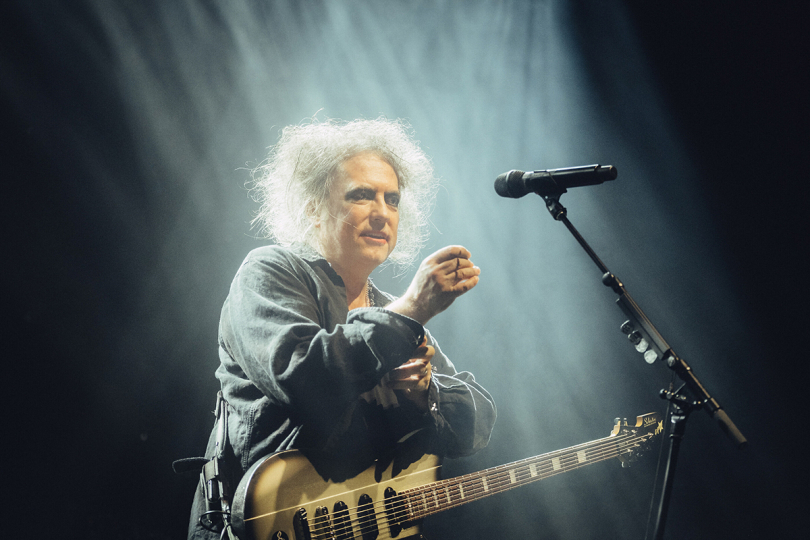 There is just one Robert Smith. | Photo: Vojta Florian/musicserver.cz
Carnival Concerts
There is one thing I don't understand – concerts turning into masquerade balls. Sure, for some people, this concept might include the usual "dress code" at metal gigs, Depeche Mode performances or punk events. However, that's rather about fitting in with the community. I'm referring to dressing up as someone else, ideally the frontman of the band in question.
So at a concert of The Cure, we meet copies of Robert Smith, at Ghost we see fans with various masks à la Tobias Forge, at Slipknot, there are copies of the masks of the band members, at Rammstein, we meet people dressed as Rammstein. Not to mention Kiss. I wonder what drives some individuals to give up their own identity and become someone else. I've always appreciated originality, but it's just missing here. To believe that I will be the only one at a concert who pretends to be my favourite musician and therefore be original is naive at best.
Maybe, at least for a moment, they want to become their idols and are willing to surrender their own identity. They give up their authentic self in an environment that explicitly encourages one to be original. There are undoubtedly many visually stimulating bands out there, why not be inspired? But direct copying, in the fashion of cosplay, is more indicative of a lack of creativity. Concerts are not ComicCon. There are plenty of other ways to show one's affiliation with a fan community.
As musicians, have you encountered fans who would imitate you? How do you feel about giving up your own identity, have you ever acted the same way? Share your thoughts in the comments or email us at info@insounder.org.
If you have found an error or typo in the article, please let us know by e-mail info@insounder.org.