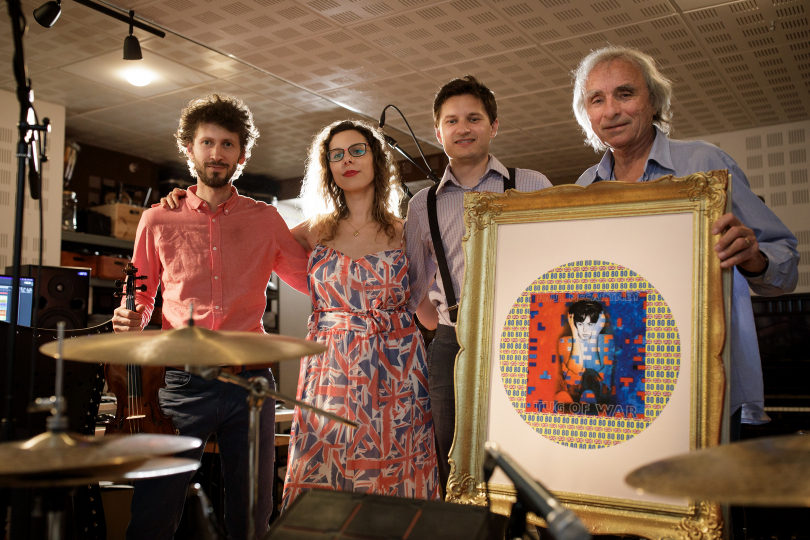 Jan Řepka and his team during recording. | Photo: archiv Jana Řepky
Czech Musicians Played for Paul McCartney's 80th Birthday
On the occasion of Paul McCartney's 80th birthday, singer-songwriter Jan Řepka released a congratulatory song "Paul McCartney Day." The musical congratulations were released in Czech and English on Wednesday the 15th of June. The author of the music and theme is the former bassist of the band Country Beat Václav Macháček-Rieger.
"I was inspired by McCartney's duet 'Get It' which he recorded with his friend Carl Perkins for the album Tug of War 40 years ago," explains Machacek-Rieger. "I had the original demo in a drawer for years. I only remembered it this winter. Together with Jan Řepka, we then wrote a text that speaks as much to all his fans as it does to Paul himself."
The original Czech text has been adapted into English by Loes van Schaijk, a Dutch musician living in Prague. In both versions, the second voice is sung by jazz singer-songwriter Markéta Zdeňková (MarZ) and the violin is played by Honza Bartošek (Loes & The Acoustic Engineers, Janota 1935).
The music video was filmed at the end of May in Jan Šikl's studio in Prague.
"It's an expression of pure fandom," adds Macháček-Rieger. "In a special package and with a personal cover letter, we sent the song directly to McCartney. It's our little musical thanks for the enormous load of experiences and joy that Sir Paul has been giving all his life. It's just admirable how he's still rocking it at his age!"
If you have found an error or typo in the article, please let us know by e-mail info@insounder.org.