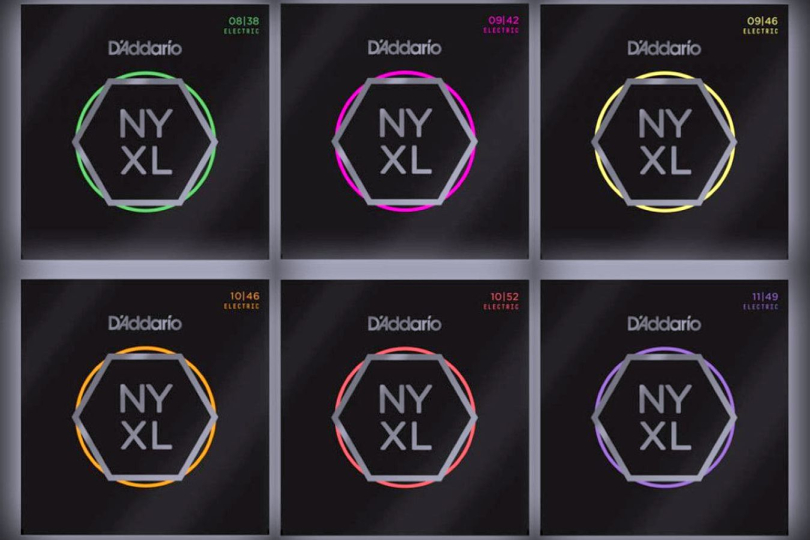 D'Addario NYXL: a Perennial Star Among Guitar and Bass Strings
The first series of NYXL strings was launched by D'Addario at the beginning of 2014 and since then this ever-expanding series has already won the "Best In Show" award at NAMM, the MIPA award for Best Innovative Product and many other positive reviews. From the point of view of a traditional American manufacturer of musical accessories, the NYXL collection, together with the more conventionally conceived XL series, represents the backbone of the string range that ensures the New York brand one of the leading positions in the global market in this category.
In addition to the standard NYXL types 0838, 0942, 0946, 1046, 1052 and 1149, one can choose from sets in sizes 12-60, 12-54, 13-56, 12-52, 11-56, 11-52, 9.5-44, etc. There are also three Balanced Tension sets 9-40, 10-46 and 11-50, versions for steel guitars or seven- or eight-string electric guitars and, last but not least, sets for four-, five- and six-string basses with classical or extended length scale, so there's something for everyone. Besides, you can also buy individual NYXL strings and build a set according to your own taste and needs.
According to the manufacturer's information, NYXL strings have significantly higher tuning stability than types made of standard materials, are 20 to 40 percent more break resistance, achieve better results with more accurate projection even when pulling tones, and have increased resistance to corrosion.
The "NY Steel" hexagonal carbon steel core and reformulated zinc-steel alloy windings give the guitar strings a solid, bright and penetrating sound with pronounced mids and an enhanced frequency range from 1 - 3.5 kHz. NYXL have a wider dynamic range, rich upper harmonics and longer sustain. The approximately 6 percent better magnetic permeability and the associated higher sensitivity are especially beneficial in distorted sounds.
D'Addario's proprietary formula has appealed to a wide range of guitarists and bassists, including Richard Fortus of Guns N' Roses, jazz greats Pat Metheny and John Scofield, Reeves Gabrels (David Bowie, Cure), Earl Slick, Kiko Louriero, Michael Landau, Bryan Beller, studio ace Brent Mason and Alex Skolnick of thrash metal's Testament.
If you're looking for quality guitar or bass strings that will last, try one of D'Addario's NYXL series sets. Prices start at around EUR 15, which is a bit higher than other sets, but considering the sound and mechanical properties of NYXL, it is worth it.
If you have found an error or typo in the article, please let us know by e-mail info@insounder.org.