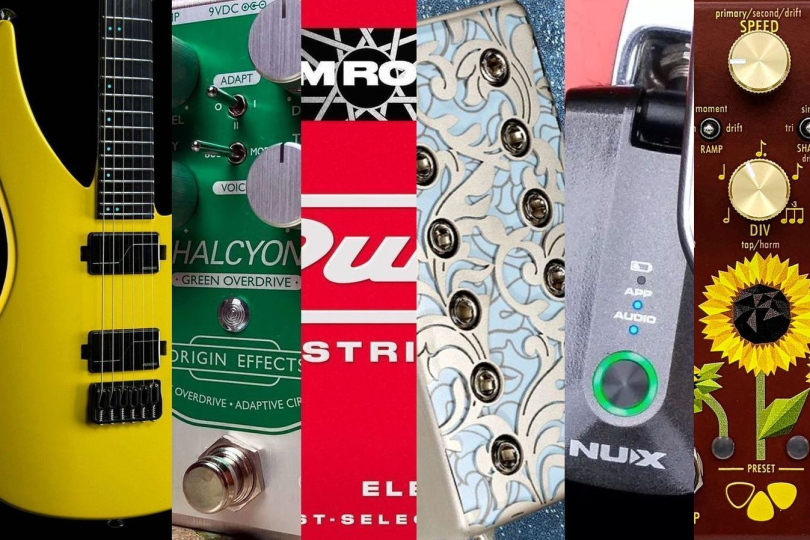 Guitar Gear Alert: September 2022
Are you a guitar fan? On the first Monday of each month, Insounder's news section will present a quick overview of new guitar gear that is about to hit the market. Guitar aficionados can thus get a general overview of the latest models of instruments, amplifiers, effects, or various accessories—strings, tuners, capos, etc. Technical equipment for bassists, drummers, keyboardists, singers, DJs, sound engineers, etc., will be presented in an overview on the third Monday of each month. Selected news will be presented in more detail in later posts.
Kytary
Ruf Guitars Schrödinger—modern instruments with a body made of resonant composite Ruffaine, which is resistant to changes in temperature and humidity. The neck is coated with a final layer of nano-silver molecules to reduce sweating and the formation of bacteria and the fingerboard made from Richlite composite in Maple Valley or Black Diamond finishes carries stainless steel frets Jescar. There are two Fishman Fluence Modern humbuckers in the base. Hardware consists of tuning machines and bridge Hipshot and the company also offers special custom finishes and configurations. Prices: the Schrödinger 6 (25.5-inch scale) approx. 3150 euros, the seven-string Schrödinger 7 (26.5-inch scale) approx. 3300 euros.
Epiphone Les Paul a SG Power Players—instruments designed primarily for the youngest electric guitarists with the 3/4 size of the mahogany body and the shortened 22.73-inch scale. A bolt-on mahogany neck with SlimTaper D profile is complemented by a Laurel fingerboard with 22 medium jumbo frets, hardware consists of a wraparound bridge plus all-metal tuning machines. It is equipped with neck humbucker 650R and bridge variant 700T. Colours: Ice Blue, Lava Red, Dark Matter Ebony (special series). Price: approx. 280 dollars including a gig bag, picks, cable and strap.
Kramer Striker Collection 2022—a company owned by Gibson returns to the 1980s with a special edition of the superstrats series Striker, consisting of models Striker HSS, Striker Figured HSS Stoptail and Striker Figured HSS Floyd Rose. The maple necks received a K-Speed SlimTaper C profile, the Stoptail version features a solid tune-o-matic bridge and an Epiphone LockTone stopbar, while the Figured variants feature a mahogany body covered with an AAA-quality maple veneer top. The Laurel or maple fingerboards carry 24 medium jumbo frets and the humbucker is an HB-1 Alnico 5 combined with a pair of SC-1 Alnico 5 singles. Prices start at around 350 euros and end at 400 euros.
Effects
Origin Effects Halcyon Green Overdrive—another boutique distortion pedal built on the foundation of the iconic Tube Screamer brings the sound of the first Japanese edition TS808 (Maxon) and adds an adaptive circuit with a trio of modes to make the effect more responsive to the dynamics of playing or changing the position of the guitar's volume knob. In addition, there is a voicing switch 808/MOD that affects the prominence of the mids and a Dry parameter to add a clean signal to the sound. Price: 199 pounds.
Flower Pedals Sunflower Deluxe—stereo (2 x in / 2 x out) harmonic tremolo with digital control and analogue signal path. Editing is provided by potentiometers Depth, Speed, Boost, Randomness (waveform), Tap Division and Width—setting the time difference between treble and bass harmonic frequencies. The Randomness parameter is linked to a three-position switch Shape and there is a switch for ramping with Latch, Moment and Drift modes. In addition, some of the potentiometers have a dual function, 5 presets can be stored, there is an input for an expression pedal, a MIDI In connector and two footswitches On/Hold + Tap/Ramp. Price: approx. 350 dollars.
Joyo R-18 Chopper-Z—modern distortion pedal emulating the sound of a high-gain amp. There is a three-band EQ, gain, volume, 4x12 cabinet simulation and two more output modes for connecting the effect to a preamp or an amp. There is an integrated noise gate and two footswitches activating the main circuit and the Fat Boost function. Dimensions: 130 x 110 x 50 mm, weight: 403 g, power supply: 9 V / 120 mA, price: approx. 85 euros.
Amplifiers, combo amps, preamps, cabinets, etc.
Caveman Audio AP1 Compact Acoustic Preamp—a handcrafted, scaled-down version of the high-end AP1 acoustic guitar preamp, the AP1 scores studio-quality sound with a very natural character and almost zero noise. The symmetrical DI XLR (Neutrik) output is treated with a custom transformer, a tuner jack and a footswitch activating the Mute function. The 130 x 145 x 40 mm, 1 kg preamp with a current draw of 100 mA can be powered by a 9 - 18 V adapter. Price: approx. 500 dollars.
NUX Mighty Plug Pro—an improved version of the previous Mighty Plug headphone amp model features cabinet impulse response (IR) consisting of 24 guitar and 7 bass cabinets or acoustic presets in addition to modelling 21 well-known amps. There are 18 slots for third-party samples, acoustic guitar simulations using electric instruments with magnetic pickups, many effects, drum patterns, MightyAmp and Mighty Editor apps and above all an integrated USB-C sound card (Normal, Dry Out, Re-amp, Loopback). Price: approx. 110 dollars.
Accessories, software, etc.
D'Addario XS 80/20 Bronze—strings from the XS Acoustic series are now also available in 80/20 Bronze, providing a clear articulate tone with long sustain. Featuring an ultra-thin nano-coating on each wound string and a unique polymer finish on the plain strings, the XS offers superior durability, stable tuning and a pleasant feel. The series consists of XS 80/20 Bronze Extra Light 10 - 47, Custom 11 - 52, Light 12 - 53, Light Top / Medium Bottom 12 - 56, Medium 13 - 56 and Light 12-String 10 - 47 sets. Prices: approx. 18 dollars, 12-string guitar set approx. 28 dollars.
DiMarzio UtoPIA Blue Powder DP287FSNLB—Steve Vai's signature humbucker, designed primarily for the neck position, but also usable as a bridge version. The pickup with an output of 315 mV is based on the Evolution model, but this time more emphasis is placed on a clear presentation of the lower bands and a denser response of the other frequencies, with the upper mids slightly eliminated for a less aggressive attack and more refined expression. Frequency ratio: bass 6.5, lower mids 6.5, upper mids 5, treble 3.5. Ceramic magnet, 12.68 kOhm resistance, 4 pins, F-spacing design, laser decorated enclosure. Price: approx. 160 dollars.
Dunlop Jim Root Drop A and Drop B—six-string sets designed for the guitarist of Slipknot, who claims that these sets provide comfortable playing and are able to maintain the desired brilliance of tone for a long time. The JR Drop A (A, E, A, D, Fis, H tuning) comes in gauges 64, 48, 38, 20, 16 and 12, while the JR Drop B set (H, Fis, H, E, Gis, Cis tuning) consists of strings in gauges 56, 42, 36, 20, 15, 11. The price has been set identically at around 19.8 dollars.
Neural DSP Archetype Rabea—plugin designed for guitarist Rabea Massaad includes virtual amps Clean, Rhythm, Lead, power units EL34/6L6, Cab Sim section, four-band semi-parametric EQ, metronome and of course many other effects like Twin Blade Dual Compressor, Chaos Bed Octaver, Colossus Fuzz, Paragon Overdrive, Aeon Reverb, Atlas Delay etc. A special feature is a monophonic guitar synth with a pair of oscillators, arpeggiator, amp and filters. Versions: 64-bit VST, AU, AAX, standalone (PC, Mac). Price: approx. 140 euros or a two-week trial.
If you have found an error or typo in the article, please let us know by e-mail info@insounder.org.