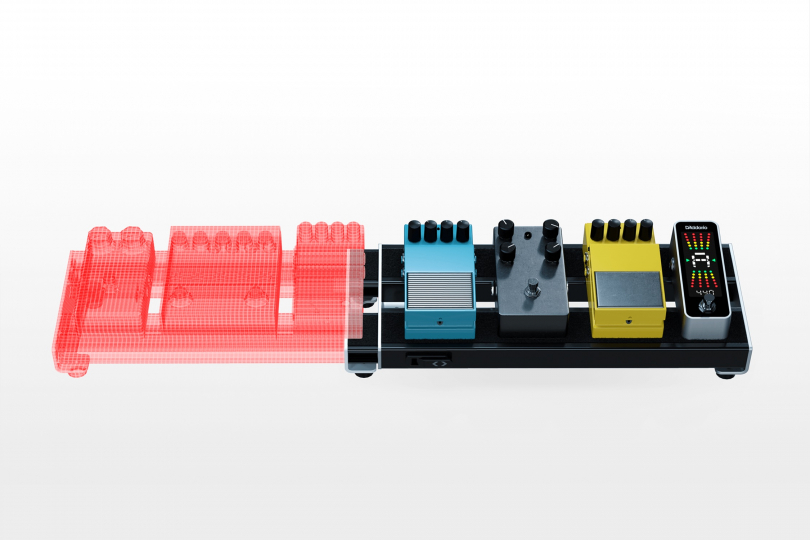 D'Addario has come up with a pedalboard that adapts to your growing array of effects. | daddario.com
D'Addario's XPND Series Telescopic Pedalboards Are Hitting to Market
In addition to the traditional production of strings or various types of tuners, instrument straps, locks, cables, and other accessories, much of which is produced by its subsidiary Planet Waves, D'Addario has decided to compete with pedalboard manufacturers. This is proven by the new XPND (Expand) series, consisting of a pair of lightweight pedalboards with telescopic design, complemented by separately sold carrying bags and other accessories.
Using patented technology, the board's load-bearing surface features air-craft quality aluminium rails, the width of which can be altered by extending the inner segment to adjust the pedalboard size to the numbers and dimensions of the effects. XPND is available in one- or two-row configurations (XPND1/XPND 2), which include their cable-management system and are equipped with velcro fastening. The developers have also thought of details such as height-adjustable feet, which can come in handy, for example, to ensure the board's stability on an uneven stage.
The single-row XPND 1, weighing just 1.5 kg (1.5 lbs.) with a base length of 14 inches (35.5 cm), can be stretched to 25 inches (63.5 cm), while the larger two-row XPND 2 (1.78 kg, 32.5 cm deep) with four rails has dimensions of 18 to 32 inches (45.7 to 81.3 cm). It is also possible to choose from two types of Pedal Risers to be used with the boards to raise the effects if needed, and two versions of premium Backline Pedalboard Transporter nylon bags are also available separately.
The Backline Pedalboard Transporter cases with reinforced sides, solid handle, strap, and zippered lid are offered in Pack 1 or Pack 2 versions, each allowing to adjust their width to the dimensions of the board via internal adjustable sections—an elegant solution to increase mobility or save space in the band van.
D'Addario's flexible and easily portable pedalboards from the XPND collection will likely hit the European market in March. Prices shall be around 100 euro for the XPND 1 version or around 190 euro for the roomier XPND 2 variant. The Backline Pedalboard Transporter Pack 1 and BPT Pack 2 padded bags come in at around 85 and 150 euros, respectively. The Pedal Risers above are offered in two sizes and cost approximately 18 or 25 euros.
The pedalboards come with their sidewalls removed, but assembly is a matter of minutes, even for a less skilled musician. In the package, you will find everything you need for a quick and trouble-free assembly, including an Allen mounting wrench and eight clips for cable routing. According to the environmentally-oriented manufacturer, the reason for this is to reduce the amount of packaging material, allowing them to distribute their goods in a more environmental-friendly way.
"The XPND series has been one of the most challenging and rewarding innovation projects our team has ever completed. This is truly a game-changer," says Jim D'Addario, Chief Innovation Officer.
If you have found an error or typo in the article, please let us know by e-mail info@insounder.org.