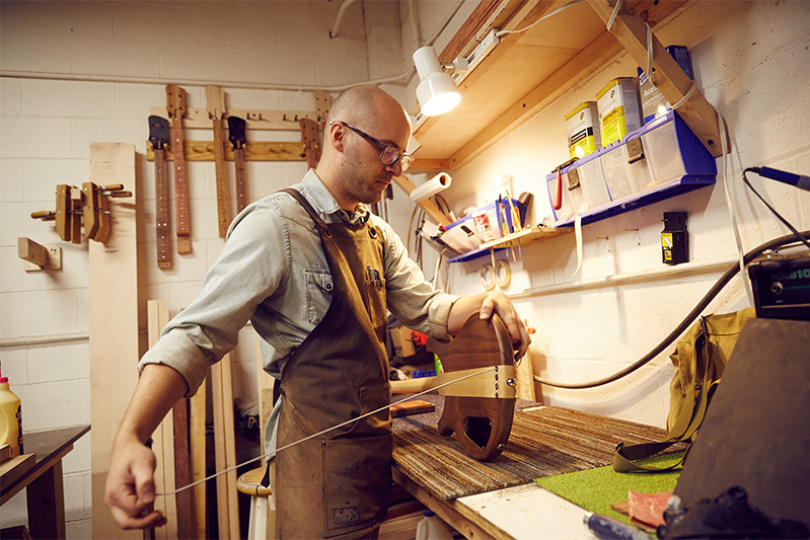 Jake Serek in his workshop l Photo: Serek Basses
Dreamstruments #12: Jake Serek and Serek Basses
Looking at this guitar maker's creations takes one back to the 1970s – a time when men wore long hair, big moustaches and pants shockingly narrow around the thighs and so wide at the bottom that you couldn't see their shoes. Without copying anyone, the Serek basses remind us of the golden era of Gibson's Rippers and Grabbers and even hint at the seductive shapes of Rickenbackers. They recall a time when Fender wasn't the only big name among the bass makers as it seems to be today. In addition to shapes, Jake Serek relies on perfect craftsmanship and top-quality materials, which is why his brand has been seen in the hands of music stars of many genres in the last few years.
Many guitar makers and many brands have found out that a completely new approach often scares the customer. Most musicians simply like to get that "warm and fuzzy" feeling with their instruments, the feeling of home that one gets when holding something they know intimately. Sure, there's the occasional pioneer who reaches for something unprecedented. And for example, Prince nailed it with his Cloud Guitar. But to be honest, not all of us are Prince.
Jake Serek has cleverly built his brand on shapes that are not mundane but have bits of the DNA of well-known and respected shapes. As he admits, the first bass he built from scratch was a copy of a Gibson Grabber – he made it while doing an internship with another well-known Chicago bass maker, Dan Lakin and his Lakland brand.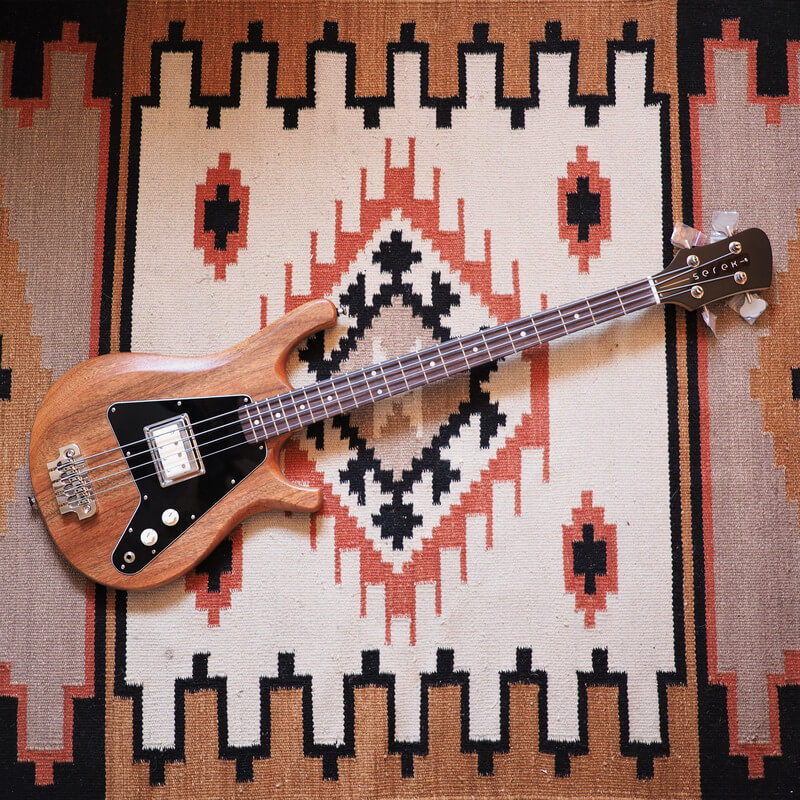 From classic shapes to new curves
Although Serek remembers his internship with Lakland fondly and emphasises how much he learned from Dan Lakin, he himself took a different path. He is also a collector of instruments – he reportedly had about 30 to 40 basses and guitars in his collection at all times, mostly pieces that had never become as commonplace as Precision and Jazz Bass (which are copied by many other guitar makers and whose variants are also offered by Lakland). Jake gravitated more towards old Guild or Gibson basses and exotic Japanese models.
Not surprisingly, the first instrument he made under his own name, the Sacramento model, is a bass equivalent of the famous Rickenbacker 600, but enhanced with modern technology. "At that time, I was still taking a bass I liked and trying to push and pull it to turn it into something different. I think that's how a lot of people start with unique designs. You don't just start from scratch and try random curves," Jake told the magazine NoTreble. 
The king of short necks
All Serek models have a short scale. According to Jake, it's not a goal the company has set, but the result of communication with customers. "The first Sacramento I built was actually a short-scale, even though I offer it in full, medium, and short scales. I ended up really liking it and other people did, too, so I kept with it. It was a feedback loop. The more people ordered them, the more popular they became. I'd say our customers chose for us, in a way," says Jake.
The next model, the Midwestern, is based on the well-known Epiphone model and perfectly illustrates the difference between vintage and modern basses. In fact, the original Newports came equipped with the legendary Sidewinder pickup (slightly pejoratively nicknamed the "Mudbucker" for its thick tone) attached to the neck.
"It's kind of a one-trick pony tonally. This would be really great if you wanted to be in a dub band or just do some fuzzed-out classic rock'n'roll," admits Jake, adding that a lot of old basses with a short scale had a pickup right at the neck or another one right at the bridge. But with this design, they could hardly compete with instruments that could play anything from country to Bach. Yet it only takes a little to make short-scale instruments work almost anywhere: better pickups and a little more sensible placement.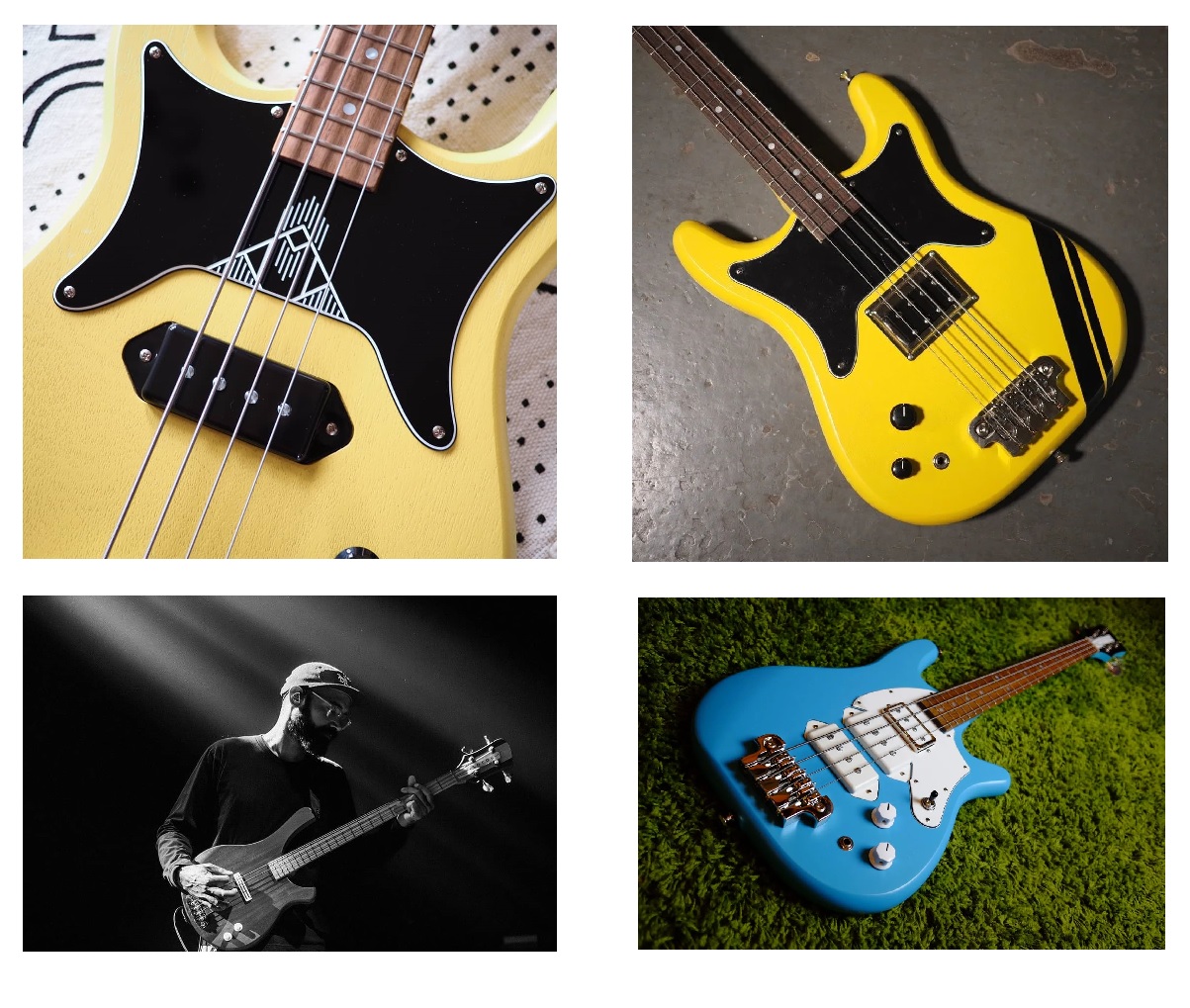 An outsider who brought a breath of fresh air
But it's not just the shape that makes Serek's instruments stand out. You won't find a classic jazz pickup on his bass guitars; most basses are fitted with variations on the P90 (not coincidentally called the B90) from Jake's workshop or humbuckers and sidewinders from top boutique manufacturers like Curtis Novak or TV Jones.
In terms of finishes, Serek mostly uses transparent lacquers with colour fillers like classic Gibsons, or open-pore satin finishes that cover usually maple, walnut or mahogany woods. Apart from the more restrained Sacramento, Midwestern and Lincoln designs, Serek Basses offer The Grand, a wild model with a built-in fuzz and a shape that resembles the exotic European instruments of the 60s and 70s.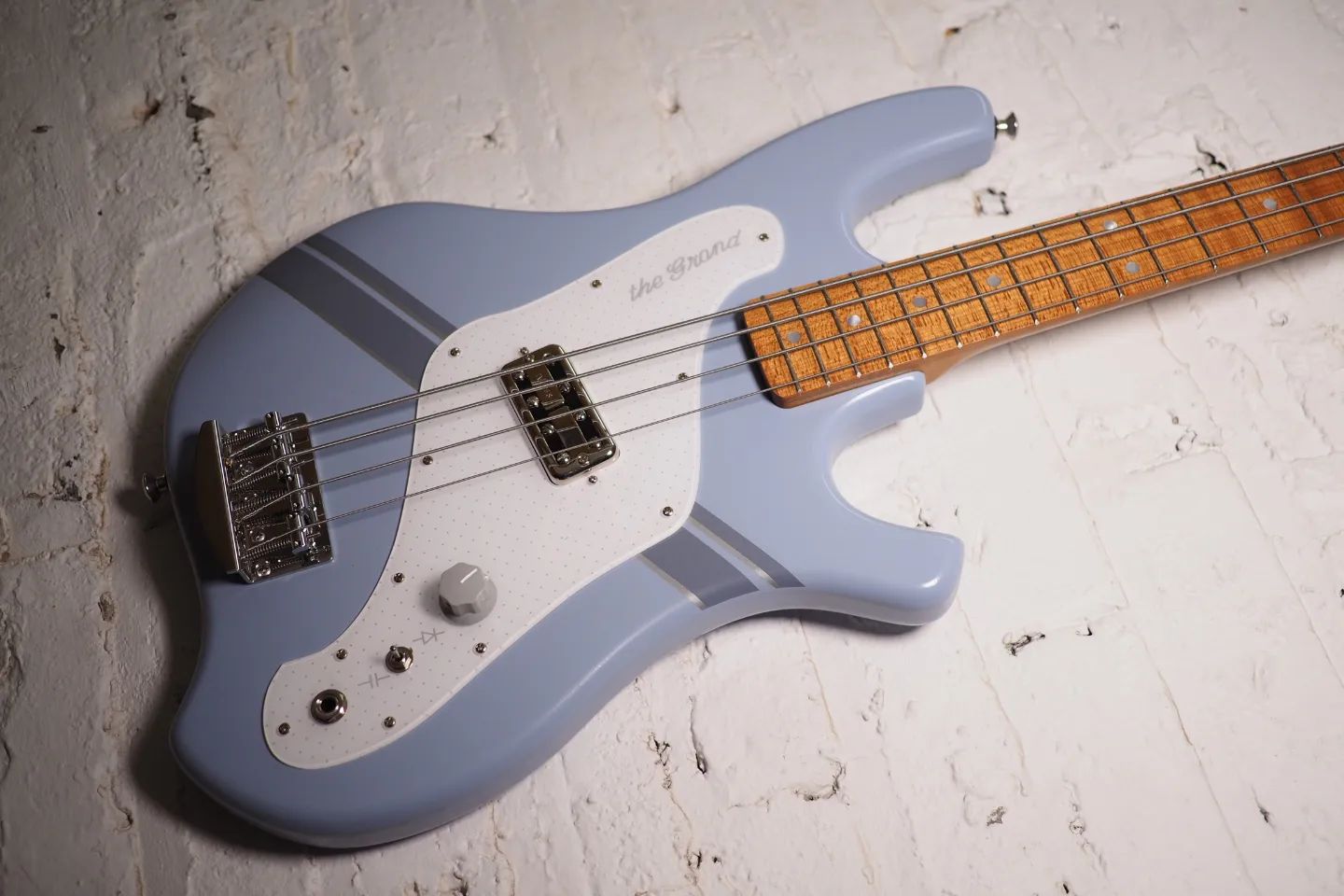 Jake has achieved something that many manufacturers only dream of. Maybe it's because the basses he makes are based on instruments that didn't last to the present day in their original form, so he's replacing low-quality production with high-end instruments. Maybe it's because the makers of the instruments that inspired the Serek basses gave up on those designs and started looking for new bestsellers, while fans of the older instruments grew hungry. But the instruments from his Chicago workshop have been embraced by bassists of all levels – from free-time players to the stars of the biggest stages.
A balance between mass and craft production 
Jake Serek has been making basses since late 2015. In the following year, he learned and experimented, and since 2017 he has been in full production. With two colleagues, he produces just under 150 instruments a year. That's a staggering number for a small workshop, but in fact, they're still tiny batches.
"I never really had aspirations of becoming a full-on manufacturing business, but I also don't want to be slaving over two basses a month. It's a balance between those two things," Jake tells NoTreble, adding that he feels best following a routine that involves going to the workshop and achieving a zen-like state during production.
If you have found an error or typo in the article, please let us know by e-mail info@insounder.org.