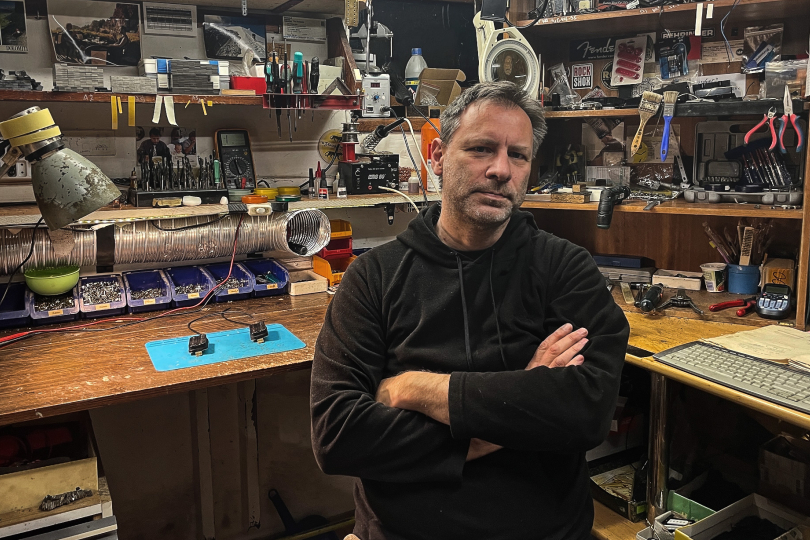 Radovan Macho in the workshop. | Photo: archive of R.M. pickups
Dreamstruments #14: R.M. Pickups
With a slight exaggeration, we can say that every Czech or Slovak guitarist has sometime used R.M. pickups when playing. That's why I found it a bit strange that apart from the company website there is not much other information about RM pickups. And since I also have a couple of them in my arsenal, I went to see Radovan Macho to correct that a bit.
It was not a long journey, because we are compatriots from Wallachia and the name Macho is no longer unknown in our series. And Radovan often used my brother's guitars to test pickups. In the 1980s, musical equipment was not as accessible in the Czech Republic as it is today, not to mention any more detailed information about the gear as such. As an employee of Tesla Valašské Meziříčí (production of speakers and microphones), Radovan was familiar with the related technology, and he tried to make his own pickup by trial and error base don his first proper guitar (a Japanese HSS Strat). The result was not bad at all. Gradually Radovan made about a hundred of them, tweaking technical details and building his know-how.
The end of the Communist regime meant that Radovan finally had the opportunity to start his own company, so he dove in headfirst. Not many people know that in the old days, RM brand was a completely Czech product! Unfortunately, not all of the RM companies have survived to this day, but Radovan Macho is proud that (apart from the wire and magnets) he only uses Czech materials. And by hand-winding the coils, he is actually continuing the family tradition in a way, because his mother used to wind the Tesla speaker coils back then. Gradually he developed his own uncompromising design when using winding directly onto the pole extensions, and as an active guitarist with a collection of tube preamps, he fine-tuned details like wire thickness and magnet material for the best dynamic response and specificity.
RM humbuckers
I too brought my seven-string Dean to him one day for a pickup tuning. I needed a fairly varied and versatile expression that the original pickups didn't provide. Radovan chose a ceramic RM Custom for the bridge and an Alnico V RM Classic Neck for the neck. Which was a hit, because as a member of the eclectic Forgotten Silence I could have easily used funky wah, heavy riffs, acoustic simulations or endless solos in one song...
Apart from FS, I used the guitar extensively for making demos for Salvation Audio, and not only for tribal or industrial "metal pieces", but also for low gain stoner rock. Apart from guitar makers, metal players are the largest clientele of R.M. pickups while only about a quarter of them have a precise idea and requirements. The rest take advice or try whatever until they find the right one. Radovan also praises the patience of the customers, as delivery times are currently extending to several weeks due to ever increasing demand. If we compare this to the IT segment, for example, where stressed-out builders of collective capitalism break down when something is not delivered in three days, there are usually no hysterical outbursts with musicians.
All sensors are made to order, nothing is in stock. This, on the other hand, gives the possibility to react to any fine frequency tuning of a particular piece (if guitarists know what they want and are able to define it clearly). The most popular of the RM humbuckers is, for example, the versatile F4 Hot Bridge, which don't disappoint in any style (stylistically roughly in the realm of the legendary DiMarzio Super Distortion), the extremely powerful F10 Naked Lynch for extreme styles, or the classic alnico RM Bridge (a similar category to another legend – the Seymour Duncan SH4).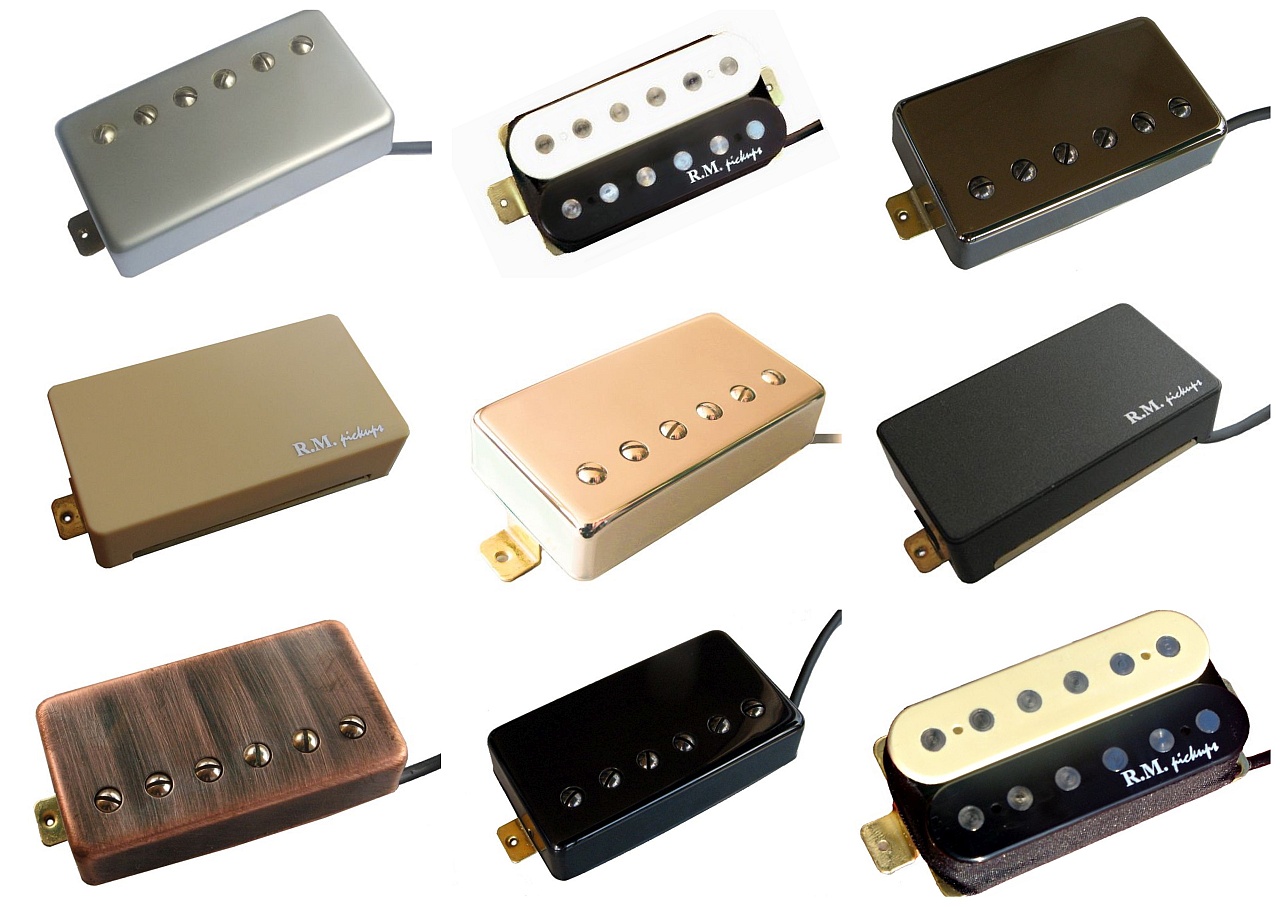 They can be obtained in many visual variations to suit a particular guitar, and always with the advantage of hand-winding, which, compared to factory pickups, delivers less capacitance, hence more pronounced highs and also a more powerful output.
RM minihumbuckers
Another popular group are minihumbuckers, which will never play exactly the same as full HB (among other things their magnetic field is narrower), but they are much smaller (single coil size) and do not hum. They are often used, for example, on Strat-type guitars as a replacement for the single coil for more distorted sounds. Radovan prefers the so-called rails design for greater consistency and participation of both coils in the sound compared to the classic rimless version with a parasitic coil.
He designed the popular universal V.V. Rails (loosely based on the DiMarzio Chopper) in collaboration with the well-known guitarist Václav Veselý, who gradually replaced the pickups on all his guitars with R.M. pickups. I have one of the RM Distortion Rails on my folding travel guitar, and it certainly won't get lost in the metal "chugga-chugga" or intense rock.
RM singles
Also very popular are the RM P94 or single-coil P90 in humbucker size, because the metal cover can be completed with a cover plate with the possibility of individual customization. Gold, chrome, gloss, matte, vintage copper or ruthenium, as the guitarist's cherished preference. Of course, Radovan also produces various special custom pickups (for example for zither). The ultra-thin (only 6 mm high) floating jazz pickups had to be discontinued due to complications with the wooden covers. More accurately, "floating guts" will still do, but you have to place them yourself in a suitable enclosure.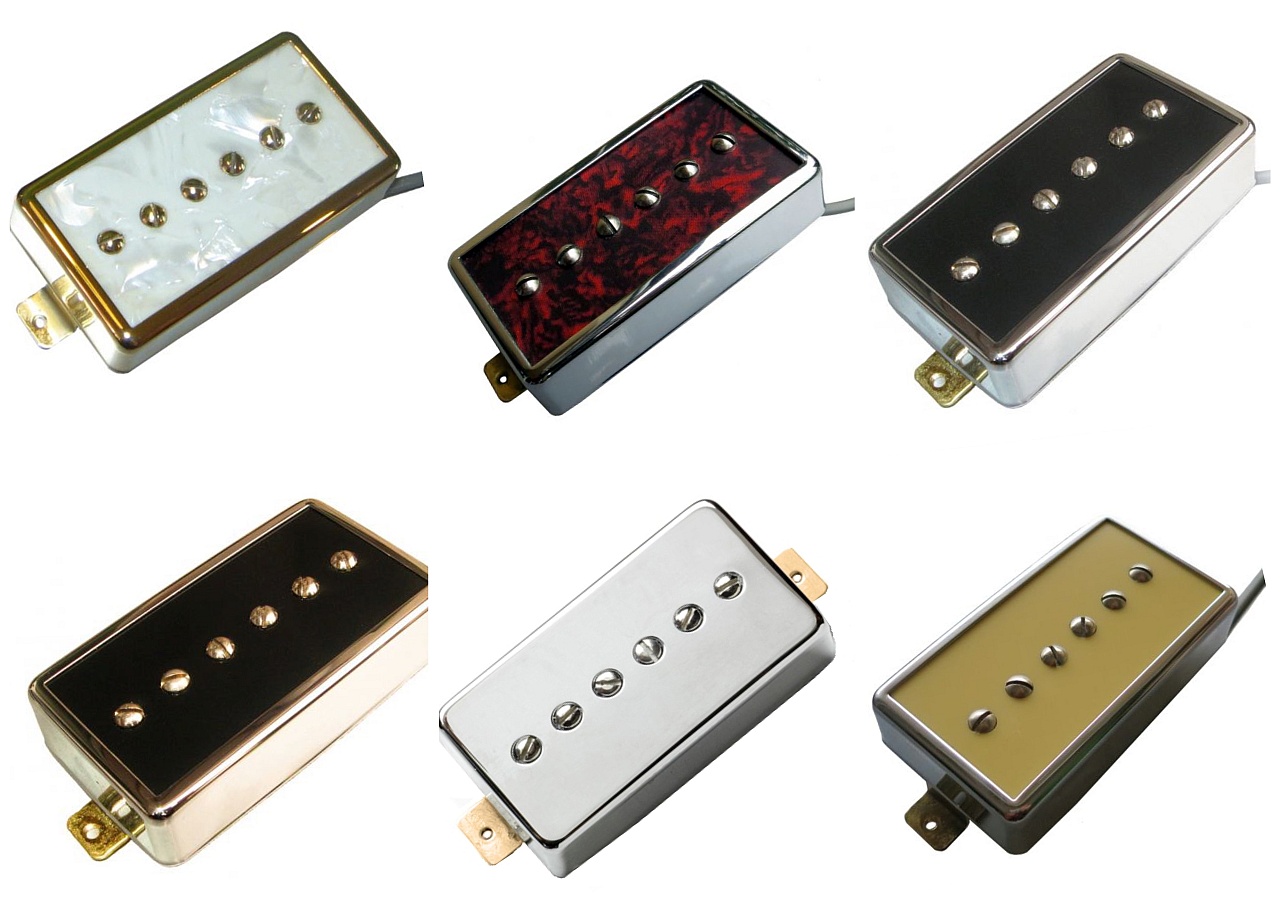 Endless testing, a trained ear, knowledge of the technological context and accumulated experience are essential for the production of sensors. It is necessary to know what of the many little details have the most important effect on the sound. Years of intensive development have resulted in today's wide range, where I count more than 50 guitar pickups and 20 bass pickups. So you cannot but take your pick from this diverse palette. Personalized selection is the main competitive advantage of R.M. pickups, besides hand-winding. Or USP (unique selling point), as the marketeers say these days.
Once you know what you're looking for (sound, style, type of guitar, etc.), Radovan Macho will select a pickup that will fulfil this detailed specification. But because it's not always easy to put your feelings and desires into words, you can exchange your pickup for free within a month! This is also why Radovan deliberately refuses to do sound samples, because in his opinion they are misleading and it is better to choose a specific pickup for a specific situation, style, band and of course guitar.
Radovan Macho may not even be aware that he is actually the embodiment of what is so trendy today, modern sustainability. He has been doing his job well for many years at a scale that suits him and has no desire for endless growth, expanding production or increasing capacity. Despite minimal promotion, thanks only to satisfied customers, he still has plenty of work. And he can make individualised sound dreams come true, even for you.
If you have found an error or typo in the article, please let us know by e-mail info@insounder.org.