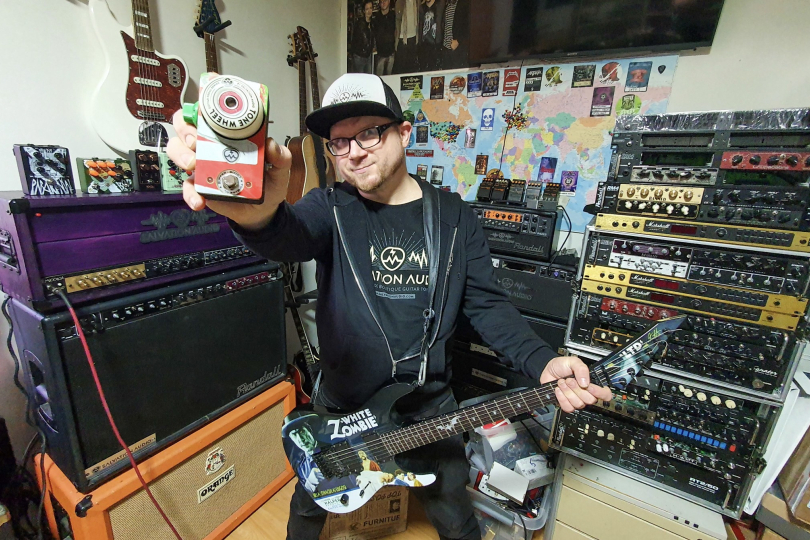 Antonín Salva | Photo: Petr Kubát
Dreamstruments #10: Antonín Salva (Salvation Audio, KHDK, Distortion Inc.)
Antonín Salva is a perfect example of how, despite the usual prejudices, it is possible to achieve global success even when based in the Czech Republic. A range of world stars playing Salvation Audio products (or KHDK, where Antonín is the chief engineer) clearly proves this. Are you wondering how this dream of many "DIY guys" has been realized? Let's take a look behind the curtain of dreamstruments.
I think you'll appreciate the unusually intense personal insight, which is quite different from classic articles or interviews. Coincidentally, I was essentially the catalyst and, in the first decade, a co-contributor to this great success story. I nostalgically recalled a discussion from the iconic Czech forum Instrumento where in 2008 this project started with a heated debate (or rather argument) about possible modifications of guitar preamps. Tony was brazen and brave, and since I had a container full of interchangeable Randall MTS preamps and amps on the way (the perfect base for mods), I took up his challenge! And that's how Salvation Mods was born.
I will change the amp when I come to it
A wildly creative startup ride began with daily communication on specialized discussion forums where various daredevils began to tentatively engage in similar modifications. The Randall MTS was a system of interchangeable all-tube preamps, planned as a compelling answer to the then-trendy digital simulations. It worked with the fact that most guitar sounds originate in the preamp and the power amp just amplifies it, thus for a different sound you just swap the preamp and not the whole amp. Legendary amp guru Bruce Egnater developed the idea at Seymour Duncan Convertible Amp, licensed it to Randall, and today the modular baton has been passed on to them Synergy Amps.
Randall MTS was available in the Czech Republic, but it was also quite expensive. That's why I was looking more in overseas second-hand shops. The elderly may still remember the golden days when the US dollar was 15 CZK, duty-free limit up to EUR 150 and there were parcel services smartly solving the reluctance of most Americans to send packages to Europe. So there was plenty of basic material capital and it became apparent early on that the so-called stock Randall modules had sound limits. However, these were uncompromisingly overcome by Tony's inventive miniaturization of the original preamp circuits, and together with the fine-tuned visual details (stylishly coloured front panels) and top-notch sound samples, Salvation Mods were gaining an increasingly resounding reputation in the community.
    
Record it in the bedroom if necessary
The legendary first example of the Salvado module, a variation of Tony's favourite Soldano (as the name suggests), became "viral" in its time – in its narrow segment, of course. With a great guitarist and an even better sound engineer, Pedro deLuxe, we made hundreds of them over time. From purely working videos to tweak the right parts of the wiring to semi-professional promos. At that time, quality demos were far from commonplace, but we, as pioneers of reamping and impulse response (IR) technologies, were able to make top-quality sounds in our bedroom (where the aforementioned Salvado was created), send files to each other remotely, record albums in hotels or even improvise in the bathroom.
So the entry requirements were decent, but it still hit a crucial barrier – it was a modification of existing gear. Of course, a small preamp is not a heavy all-tube head, but it required the Americans (by far the most potential customers) to pack up their not-quite-cheap modules, ship them across the ocean, and hope they came back upgraded. The ice was broken dramatically by the verbose producer Michael Wagener (Accept, Metallica, Ozzy Osbourne, Extreme, Helloween, Mötley Crüe, Megadeth, Lordi and many others), who, as a fan of MTS technology, ordered the modification of six modules at once. The word got out fast in the community and triggered an avalanche of orders.
Next gentleman to be "modulated"
The snowball got in motion and more orders, more familiar customers and new opportunities came pouring in. We were looking for more suitable candidates to be "modulated", so we gradually became acquainted with pretty much everything essential that ever existed in the guitar sound. Spontaneously, many supported it all with their creativity – new enthusiasts (such as Dutch graphic designer Joris or Mato Mišík), engineers, other testers and innovaters (among whom Miloš Dodo Doležal played a crucial role), video makers or simply guitarists and producers who wanted to be there.
Apart from the obligatory inventing of circuits and soldering them, we had to deal with many other, seemingly unrelated things. From logistics, advertising materials and campaigns, promotional seminars, interviews and communication with customers, through finding adequate knobs, apt anagrammatism and their graphic representation, to patent details and delicate specialities. For example: what sales percentage would you ask for if Randall offered to manufacture your licensed module? You don't know? Of course, we had no idea either. So we learned the winding paths of business on the fly and through trial and error. I should point out that in this first phase, Tony was still employed and did it all after his work.
Oh, the foolish arrogance
The rest of us helpers were fulfilling our guitar dreams and also discovering our dream sounds. In my case, that holy grail is a long out-of-production rack preamp CAE 3+ and I remember well that when Tony suggested it to me, I snorted disdainfully that Steve Lukather (Toto) was playing it, and I (and other mostly metal customers) wouldn't be interested in it at all. Oh, how foolishly arrogant was I? On closer investigation, it turned out that for example, the iconic Megadeth album, which is rather strong stuff, was recorded on it.
Long live and flourish that perfectly blended mix of uncompromising Engl-style concreteness (but not so sterile), the angry midrange growl of M/B Rectifier (but far cleaner in the bass), and the natural Marshall timbre (which has defined hard rock genres on thousands of recordings). Custom 3 module has become my quintessential hard sound and cured me of my eternal quest.
Since then, I have completely lost the desire to try new and new amps in the shops, because I have found and repeatedly convinced myself that this sound suited me, my style and my equipment best. But these are personal preferences, and the magic of modular preamps is in the much easier finding of that coveted individual sonic grail materialized in the slogan "All Dreams Amplifier".
Camerock module with a similar sound to the simpler Custom 3 is the ultimate studio amp with a sound that can be adjusted in all sorts of nuances – too much for some, so there's even a detailed guide on how the drivers interact with each other. Another example of how variable the business is and that it's impossible to satisfy all customers with one instant product.
The Camerock is based on the Cameron CCV amp, a top-of-the-range modern modified Marshall. However, the unmanageable personal problems of its creator caused a lot of mischief (from collected advances and undelivered products to actual theft and reselling of amplifiers sent for modification). I can't imagine he will turn up anywhere again, as reliability is a necessary condition for a long-term business.
"Boys, don't you bet again..."
Personally, however, I underestimated the marketing power of the "Cameron cult" and I betwith Tony with a light heart that he would not sell more than ten Camerock modules during the first month... and I lost. So I had to rehearse any demo Tony wanted. To my dismay, he chose Metallica – "Master Of Puppets" (for those who don't know, MOP uncompromisingly separates the wheat from the chaff in thrash metal guitar).
So I've been working playing "down picking only" for two months and still couldn't satisfactorily get the last few BPMs up to the target killer tempo of 220. Finally I gave up and Pedro studio'd it a bit faster to make the result publicly presentable. I kept it a secret and was ashamed for many years, until I recently learned that James Hetfield did the exact same thing in the studio then!
Fly there and get contacts
There were many similarly exciting stories and the brand's fame continued to grow. Even to the point that there were Chinese phone covers with Salvation Mods! Is there clearer evidence of global impact? Not to mention the blatant copying (far from just in China). But that too is part of business reality.
But Tony needed to enhance the company again, which is another rule of business today – the only certainty is change. He stepped out of his comfort zone and flew to a music fair in Nashville (USA) at considerable expense. Which turned out to be another turning point. A series of personal meetings based on previous recommendations kicked off another intense phase of Salvation Mods with the known story of working with Billy Corgan (Smashing Pumpkins) and also Wolf Hoffman (Accept), which gave Tony the courage to enter the crowded and highly competitive guitar stompbox line.
When servicing his equipment, Wolf mentioned that he used a rare Mu-tron Octave Divider effects pedal from the 1970s, which was huge, unreliable and difficult to maintain. And if Tony couldn't make a smaller, more durable replica, he said. It was indeed a challenge, but after months of development and testing, Tony succeeded exceedingly well.
Modules as scarce goods...
The Vivider pedal has reached out to many other star musicians such as Richard Fortus (Guns N' Roses), uncovering new market opportunities and dramatically expanding the scope of the activity. Modules, although I'm a big fan, satisfied user and promoter, don't reach the whole guitar world en masse and it's more of a specialty for connoisseurs. Finally, even Wolf Hofmann does not use his personal Teutonic Terror module live, for which I produced a unique bullet knobs and it's my personal strongest "module" experience.
Tuning the circuit is best done with the participation of a particular guitarist, whose playing style and guitar have the greatest influence on the final performance. Which in most cases is impossible. But here, the renowned producer Andy Sneap (Megadeth, Testament, Arch Enemy, Judas Priest, Dream Theater and many others) sent us a so-called dry track of Wolf's guitar from the Accept recording process, which we used for the basic circuit setup thanks to reamping, which Tony then fine-tuned in Nashville to Wolf's satisfaction. It was that simple. The Wallachian guy writes to England and the world-famous producer immediately sends him a sample from the Accept recording process. That was just epic!
...paving the way for business
But the modules served Salvation Mods as the perfect gateway into the music equipment business, creating contacts, a positive reputation and the necessary publicity. And they got my favourite snowball rolling again. The Smashing Pumpkins technician recommended Tony to David Karon and another internationally exciting story with a distinctly Czech footprint began to be written.
After a successful decade, Tony renamed the company Salvation Audio, because he no longer does only modifications (Mods), more members joined, the team became more professional and spread the glory of skilful Czech hands (and clever heads!) to the world. Because as you can clearly see from my memories, success is a very multidisciplinary affair.
You have to improvise, adapt to the situation, not get too down about failures (which inevitably come), get to know your customers, ideally involve them in the process, but above all have the desire to keep improving. Don't worry, we can do it and Antonín Salva is a perfect example (i.e. Forbes covers him under the Successful Czechs series). It was an honour to support him on his journey and to fulfill my dreams at the same time.
If you have found an error or typo in the article, please let us know by e-mail info@insounder.org.