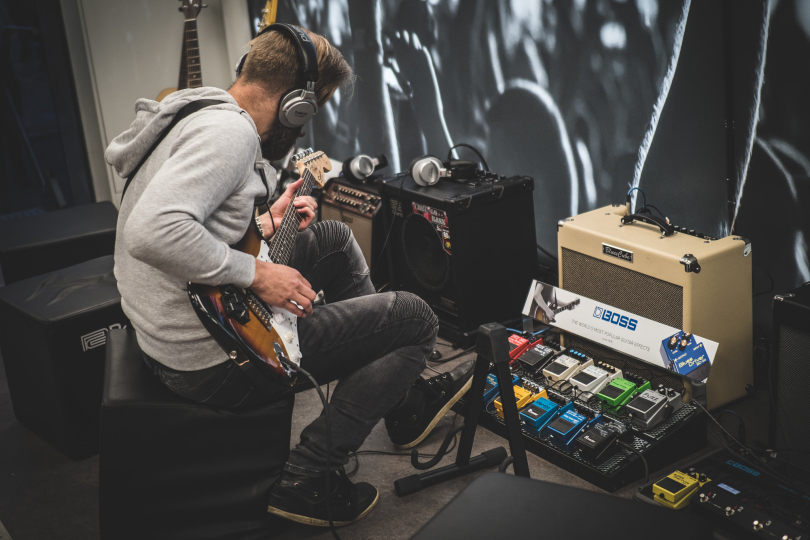 Come to Festiwall to get new energy for your work and try everything you can think of. | Photo: Jan Nožička
Festiwall: Unique Trade Fairs, Concerts and Workshops this weekend
After thirteen years, the music fair tradition returns to Prague in full force. Kytary.cz, which accounts for more than fifty per cent of the Czech market of musical instruments, included the fair part in the programme of its September Music Festival five years ago. The accompanying event grew bigger every year and this year it finally reached trade fair proportions. From the 9th to 11th of September, giants of the global music industry will present themselves, as well as Czech brands that are breaking through both at home and on the international market. In addition to the exhibition stands on a record-breaking area of 1,400 m2 in the Kytary.cz complex in Prague's Modřany, there will be many interesting concerts and workshops and a unique exhibition of the legendary guitarist Radim Hladík's concert equipment, which has been exceptionally lent by his son.
Along with the music fair, a three-day music event Festiwall with an attractive line-up will take place in the same location. In addition to a concert tribute to Radim Hladík, visitors will have a chance to see the phenomenal British guitar YouTuber Chris Buck and his current band Cardinal Black, the fusion-jazz-metal band Panzerballett with guest drummer Virgil Donati and guitar music lovers will be delighted by one of the most respected female guitarists of today, Lari Basilio, as well as her European counterpart Yasi Hofer. The Czech scene will be represented by Jiří Schmitzer, drummer Miloš Meier, Justin Lavash and the YouTuber duo #kumst.
"Musicians, producers, music and instrument lovers, as well as teachers from music schools and others will see renowned multinational giants and smaller Czech manufacturers and guitar makers in one place. They will find out what is new in music technology, but also among musical instrument builders. Representatives of brands such as Yamaha, Roland, Fender, Hammond, Ibanez, Meinl, Tama, Hohner, Nord or Taylor, and others, will arrive," says Filip Černý, marketing director of Kytary.cz. You can also look forward to smaller domestic guitar makers and manufacturers of various equipment for musicians. "If you are planning to buy an instrument or musical equipment, you have a unique opportunity to see and try everything conveniently in one place and consult with experts. Fair discounts are also very attractive and will only be available during the event," he adds.
Musicians and bands can attend on-site workshops on music management, international tour planning, digital music distribution or production and sound design. Leading Czech musicians such as Michal Pavlíček, Petr Ostrouchov, Beata Hlavenková, Lukáš Chromek, the above mentioned Hynek "Dr. Hyenik" Stančík and others will share their experience with the audience.
The full programme can be found here: www.festiwall.cz.
If you have found an error or typo in the article, please let us know by e-mail info@insounder.org.