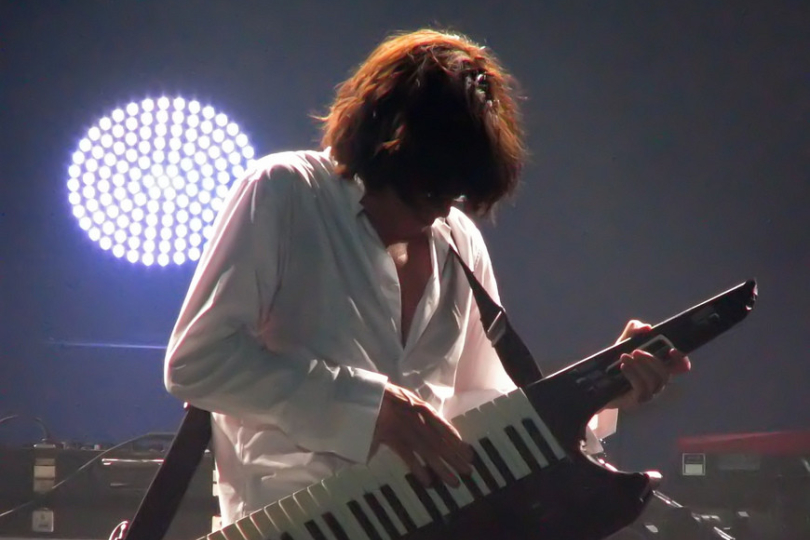 Jean Michel Jarre playing an AX-Synth | Photo: Zero Coool, Flickr (CC BY 2.0)
Milestones in Music History #25: Jean-Michel Jarre, Synth in the Blood
Stockhausen's work, as seen in the previous Milestone, completely changed the rules of music and the way artists approached sound in general. The development of a new concept of composition gave musicians infinite possibilities to express their feelings. Furthermore, with the advance of impressive technology and the evolution of media, a whole new world emerged, which changed the shape of our lives forever. The music universe couldn't resist this new wave and through adapting to it the result was new electronic gear, more experimentation with sounds and, of course, the birth of new musical genres. Jean-Michel Jarre was a musical pioneer that captured the sentiment of this era and was able to express it in the best possible way.
Jarre had the misfortune of not knowing his father very well in his childhood, who left for the United States, after separating from his mother. On the other hand, he was lucky to spend his early years in France, in Lyon where he was born, with his grandfather who was an oboe player, engineer and inventor (he designed an early audio mixer). From him, Jean-Michel received his first tape recorder as a gift.
He also was lucky enough to spend a lot of time with his mother, who used to sell antiques during the day at a flea market and go to a Paris jazz club in the evening, Le Chat Qui Pêche, which was run by some of her friends. There the regular players were musicians such as John Coltrane and Chet Baker, and Jean-Michel probably had his first musical revelation, seeing in jazz a unique approach to musical composition.
Apart from jazz, he was also interested in visual arts and was influenced by the works of Pierre Soulages, and through his art, he was inspired to create his own. Classical and modernist music also provided a fertile ground which he drew from; two works in particular, Stravinsky's The Rite of Spring, which was positively shocking for him; and "Georgia on My Mind" by Ray Charles, of which he appreciated the "organic sensuality".
Jarre's first approached visual art, in fact, he began earning money by selling his own paintings and exhibiting his artwork. At the same time, he started playing in some bands, like Mystère IV and The Dustbins (which scored the music of Étienne Périer's 1967 movie Des garçons et des filles, and even appeared in it). In these early years, Jean-Michel also approached experimentation with sound, mixing musical instruments with tape recorders and other sounds.
In 1968 he began using electronic devices, radio and tape loops, and he drew closer to musique concrete, as the year after he joined the Groupe de Recherches Musicales, led by Pierre Schaeffer. Here his adventure in sound officially began. Jean-Michel approached the synthesizer, the Moog modular, which had debuted only a couple of years earlier, and he spent some time working in the studio of seminal composer Karlheinz Stockhausen.
We have seen in previous episodes of Milestones the influence and the impact Schaeffer's group and Stockhausen's compositive process had on the music panorama. Jarre took the reins and continued from where they had left. He established his own studio in the kitchen of his apartment, where he installed, apart from his first synth, a portable analogue synthesizer with vocal modulation (EMS VCS 3), and another portable synth (EMS Synthi AKS) a model which was enriched some years later with keyboard and sequencer. He also used Revox tape machines.
It is in this studio that his early works came to light. In 1969 he produced "Happiness Is a Sad Song", and in the same year he composed "La Cage/Erosmachine", which released later, in 1971. Especially in this later work you can hear his intuition, through his way of experimenting with tape effects, helped by modular synths and harmonic processing. He acquired more and more popularity and was commissioned to write music for ballets, screenplays and commercials, as well as writing music for other artists, such as Françoise Hardy, Christophe and Patrick Juvet.
One year later, in 1972, he released his solo debut album, Deserted Palace, and in the same year he also composed the soundtrack for Jean Chapot's movie Les Granges Brûlées. However, his fortune came four years later, in 1976, with the solo album Oxygène, recorded in his home studio, and using the aforementioned synthesizers, both connected to a Scully 8-track recorder. The album was an enormous success and sold many copies in France.
The following year, the record Équinoxe came out, which despite having less impact than the previous album, clearly showed Jarre's vision and his capacity of experimenting with sounds. In particular, with Équinoxe, Jarre became a pioneer of the Fairlight CMI, a digital synthesizer, sampler and digital audio workstation. It was one of the earliest workstations with an embedded sampler, and it was one of the first devices used for music sampling (sampling itself was born out of this context).
Oxygène and Équinoxe were both more than well received. They sold millions of copies and were even exported to China by the British Embassy, where they were played on national radio – a very unusual thing, as Chinese radio wouldn't play foreign music for decades. In 1981 he also performed five concerts between Beijing and Shangai. In the same year, one of Jarre's most famous and acclaimed works was released, Les Chants Magnétiques, a five-part work in which experimented and mixed the EMS and Fairlight CMI synths, adding a Dadaist touch, through the insertion of natural sounds and surrealistic backgrounds.
The techniques Jarre experimented with and improved on are shown clearly in his 1983's work Musique pour Supermarché, for which Jarre established the same artistic approach as painters: to create only one artwork. Only one copy was pressed and released and he deliberately destroyed the master plates, so no more copies could be produced. Here you can hear the crossing of borders, experimentation becomes the main vehicle of the sound. He used the same approach in his seventh studio album Zoolook, released in 1984. Fragmented human voices, of different types and languages, were recorded digitally and then processed and sampled through the Fairlight CMI.
Jarre's work throughout the 1990s was a constant search for new sounds and atmospheres, and while his music evolved with time – considering the huge wave of dance music in the 90s – his approach to musical instruments reflects a mixture of old and new elements. His most representative work of this time could be considered Chronologie, released in 1993 and recorded using Jarre's old synth gear, such as the Minimoog and ARP 2006, but combined with new synthesizers like the Roland JD-800 and the Kurzweil K2000. But with his following record and twelfth studio album, there was a return to the 70s analogue synths in Oxygène 7–13, dedicated to his mentor, the inventor of the musique concrete, Pierre Schaeffer.
His career during the 2000s took expanded considerably. He was involved in soundtracks and collaborations with artists from all over the world. Up to today, he has also been involved in politics and public causes and has received many awards and prizes for his achievements in both musical and social worlds. In 2007 Jarre released a new version of his Oxygène, called Oxygène: New Master Recording. His latest album was released a week ago: Oxymore, his twenty-second studio album, and a tribute to Pierre Henry.
Jarre left us an immense heritage: his work with synthesizer, his experimentation with the Fairlight CMI and the adaptation of natural sounds to a synth environment, sampling and looping techniques, and his completely original approach to music and to musical tools. All this bestows Jarre with the honour of being an important part of music history, and surely the music world owes him a lot. Many artists through the decades have looked up to him as a model and inspiration. Among them, one band who was surely inspired by him, but eventually brought electronics to a whole new level. In the next episode of Milestones, we'll talk about Clock DVA.
How did Jarre's experimentation change today's music? Can natural sounds fit well in a digital environment? Are sampling and looping only production techniques, or also a creative way to produce sounds? What type of synthesizers can be considered outdated in our times? For how long will Jarre's heritage last? 
Leave us your opinion below in the comments!
If you have found an error or typo in the article, please let us know by e-mail info@insounder.org.