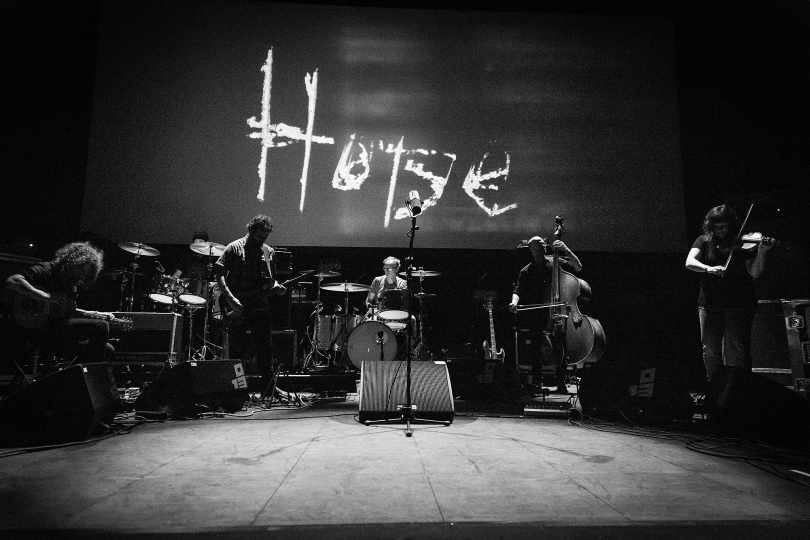 Godspeed You! Black Emperor performing live at Roadburn Festival 2018 | Photo: Grywnn, CC BY-SA 4.0 via Wikimedia Commons
Milestones in Music History #40: Godspeed You! Black Emperor, A New Level of Experimentation
As we look at music closer to our times, we begin to notice how the musical world has transcended borders and genre barriers. The evolution of instrumentation has corresponded to an exponential growth of human thought and expression in sound. Motorpsycho was able to change the concept of musical evolution into musical mutation, and as we saw in our previous episode, sketched the guidelines for the experimental music of the future. And Godspeed You! Black Emperor fittingly took the reins from there.
There is a kind of nostalgia and regret when looking back at the musical decades behind us – like the feeling of saying "How I wish I had been born in the 60s!" or "I wish I had seen The Doors live". If we look at the musical world – on many occasions and involving artists we love – even if the musical product is sensational, it is very often ascribed to a genre and associated with it forever.
A musical product is a child of its time, indeed, the problem however is to make it endure, to contain a message that can also be understood years from now. Difficult, you say? Almost impossible, I would argue. But that doesn't mean that someone didn't dare to cross the threshold.
The idea, or rather, the genius came from three Canadian guys, who met in Montreal and in 1994 started an amazing adventure. Efrim Menuck and Mike Moya on guitars and Mauro Pezzente on bass. A very minimal nucleus. They took their interesting and unusual nomenclature from Mitsuo Yanagimachi's 1978 film of the same name, a black-and-white documentary about the background of a Japanese motorbike gang, the Black Emperors.
The name, however, had already been used by Menuck, to produce a cassette entitled All Lights Fucked on the Hairy Amp Drooling, released in a limited number of 33 cassettes before 1994, and which today represents the first official production of the band; Moya wasn't there yet, but Mauro Pezzente was already playing on the bass. Their approach, a dive into pure experimentation, can already be heard in this production.
Once formed, the group began to perform in numerous shapes and sizes, constantly changing formation; a curious feature of the band in the early years, during which practically anyone who could play an instrument and was an ok person could join the band. In 1995 Mauro Pezzente moved with his then-girlfriend to Mile End, in Montreal; Pezzente used the place as a performance hall, naming it Gallery Quiva.
Soon, however, he had to leave the loft, due to fumes coming from the mechanical workshop under their apartment. But almost immediately after they left, Menuck took their place and turned it into Hotel2Tango, a 24-track analogue music studio. And it is precisely there that in 1997 the first work released by the band saw the light, their debut studio album F♯ A♯ ∞.
F♯ A♯ ∞ (pronounced "F-sharp, A-sharp, Infinity", and so-called because side one of the vinyl began in F♯, side two in A♯, and the end of the album featured a sequence in a loop, hence the infinity symbol) was a revelation in the field of experimental noise. The compositions involved field recordings and sample sounds; the tracks were divided into movements and it was almost entirely instrumental, which would characterize the band in the following years.
An amazing, timeless work that involved a formation of 15 members, which after their debut stabilized at 10, and finally became 9. Moya left the group in 1998 to focus on his project HṚṢṬA and was replaced by Roger Tellier-Craig of Fly Pan Am. The band thus stabilized and continued to perform live in the following years and to work on what would become their most significant album.
In 2000 Lift Your Skinny Fists Like Antennas to Heaven was released. This second work, like the first, consisted of compositions with internal movements, and this too was almost entirely instrumental (except for some sample voices, which often served to send a political, satirical, or even poetic message). The album's inner packaging even contained a diagram drawn by Menuck illustrating the movements composed in the album.
The inner sleeve designs were instead taken from "Notes to a Friend; Silently Listening No. 2" by musician and artist William Schaff, also known for his collaborations with other notable artists such as Okkervil River, Songs: Ohia and The Mighty Mighty Bosstones. The work was well acclaimed and received unanimously positive reviews from critics.
It was an album so varied and sophisticated, so composite and at the same time simple to listen to, that it was truly impossible to describe in words. There was the critique of politics, the depersonalization of modern civilization, war and social revolt, dreams, travel, the urban landscape, the literature. There was everything and the opposite of everything. A coexistence of elements that are sometimes similar, sometimes very distant, but all expressed with grace and dreamy musical harmony, with a background of visceral experimentation.
The band, which now appeared more cohesive and mature, shortly after began working on what would later become their third album, Yanqui U.X.O., recorded by Steve Albini and released in 2002. Alongside the band's already navigated compositional characteristics, we find the presence of political themes – even the title of the album itself is provocative (Yanqui stood for Yankee and the liner notes speak of Yanqui as a "multinational corporate oligarchy", while U.X.O. stood for "unexploded ordnance", i.e., bombs or weapons left unexploded, but still potentially harmful).
Additionally, the back of the album featured a new Menuck diagram, this time illustrating the connections between the major record labels and major weapons manufacturers. All accompanied by a photograph of falling bombs. It was their last album of the decade. Godspeed You! Black Emperor disappeared from the scene only to reappear exactly ten years later, with their fourth studio album.
'Allelujah! Don't Bend! Ascend! was released in 2012. It represented a major change, as the band abandoned movement composition for a moment and sought a more simplified and minimal musical approach, favouring the use of drones and less sophisticated symphonies than in the past. However, their level of experimentation and musical research never diminished, but was a constant variable in the compositional technique of the group.
In 2015, Asunder, Sweet and Other Distress (their shortest album ever) was released. Soon after, however, the band resumed composition in movements, and so in 2017, they released Luciferian Towers, their sixth album, and definitively superior in quality compared to the previous one. The two suites "Bosses Hang" and "Anthem for No State", each composed of three parts, revealed the greatness of the group, their coherence with previous works and their insistence on political and current issues.
The band continued to perform live and produce studio material, and in 2021 released their seventh album, G_d's Pee at State's End!, a triumph of experimentation that in some ways recalls their masterpiece Lift Your Skinny Fists Like Antennas to Heaven, but with a look at the contemporary world and at the future. It consisted of 4 pieces and made use of found recordings, a technique dear to the band in the early albums.
It is not known what to expect in the future from Godspeed You! Black Emperor, but the contribution to the history of experimental music they gave is already more than fundamental. Their ability to express themselves in field sounds, without the help of texts, apart from a few samples, was another distinctive and disarming trait. However, their experimental ability had more distant roots and we have to go back a few decades and move to California, to find Morton Subotnick, the next protagonist of our series.
When can we speak of experimentation in music? How can musical aesthetics combine with the ugliness of the real world and politics? Can music be a vehicle of social messages? And what is the future of experimental music and Godspeed You! Black Emperor? 
Leave your opinion in the comments below!
If you have found an error or typo in the article, please let us know by e-mail info@insounder.org.