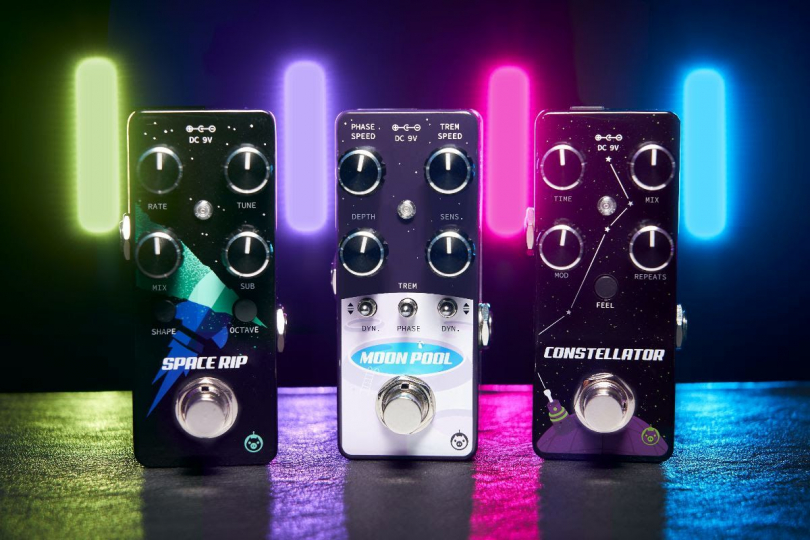 Pigtronix Boutique Effects in the Micro Series
New York-based boutique pedal maker Pigtronix has expanded its popular Micro Series effects offering this year with three models: the Moon Pool phaser, the Constellator analog modulation delay, and the Space Rip guitar synth. They can now be found alongside the series's Philosopher's Tone (compressor), Octave (fuzz), Gatekeeper (noise gate), Disnortion (fuzz + overdrive), and Class A Boost (booster). The company also introduced a better-equipped sibling to the Infinity 2 looper, prosaically named Infinity 3.
The Pigtronix Moon Pool modulation mono pedal brings together a four-stage VCA phaser and a variable bias tremolo. There are independent Rate potentiometers, Depth and Sens knobs, three-position lever switches that affect how the circuit responds to the dynamics of your playing, and a switch between the two effect modes.
The Constellator analog delay with selectable modulation is built on BBD MN3005 chips featuring musical expression, tight projection and near-tape echo saturation. Producing everything from percussive slapback, to doubling, to classic delay with infinite repeats, the box with a max reverb length of 600ms is also equipped with a Feel switch, adjusting several LFO modulation parameters simultaneously.
Space Rip, belonging to the category of pedal synthesizers, has a pair of modulation waves working in multiple octaves, and the modern tracking-circuit is able to keep up with fast note sequences. Controls consist of Rate, Tune, Mix, Sub, and Shape plus Oct buttons. This allows you to adjust the octave tuning of both oscillators as well as the ratio of dry/wet paths, wave speed, etc.
The other models in the Micro collection have been on the market for some time, so just a quick overview:
Philosopher's Tone: an optical compressor based on a larger and now discontinued design, the controls consist of Volume, Sustain, Treble, Blend, and a higher dynamic response is aided by an internal voltage converter (18V). The company also offers a Germanium Gold variant using selectable diodes.
Octava: a fuzz combined with an octave divider and LP filter, control consists of potentiometers Volume, Blend, Filter, Drive, and a Fuzz button, so the effect can be used as a classic octaver without distortion.
Gatekeeper: a studio quality noise gate with simple operation thanks to a pair of Threshold and Release controls. A high-end J-FET circuit with fast detection was used to seamlessly remove various noise, hum, and other interferences.
Disnortion: a distorter built on a pair of circuits (fuzz + overdrive) with cascading diode clipping. In addition to the Gain, Volume, and Drive Tone parameters, there is a Fuzz Shape control and a button to select between parallel and serial mods.
Class A Boost: the name of this model says it all. It is a clean booster equipped with J-FET transistors connected in a "single-ended Class-A" configuration, providing a warm tone. The Level potentiometer allows you to increase the output signal level by up to +20 dB and thanks to the low noise, the boost can be placed at any position in the effects chain.
All Pigtronix Micro pedals have a footswitch wired in true bypass mode and power is supplied by a 9V to 18V adapter depending on the specific box type. Prices of Micro series effects on the European market range from about €112 to €185.
Looper Infinity 2 scores with intuitive controls and a pair of independent looping units that can be switched between during initial part recording or overdubbing. In addition, a non-playing loop can be easily removed, freeing up a slot for creating a new loop immediately and without interrupting playback.
The left footswitch selects between four mods including octave mode, the Decay potentiometer sets the fade out speed, flexibility is increased by two inputs and the same number of outputs so that true stereo connections can be used, the Remote connector allows connection of an external switch and there is a USB port. The maximum recording time in 24bit / 44kHz quality is limited to 5 minutes. The model can be purchased for about €209.
The capabilities of "number two" are significantly increased by the new two-track version Infinity 3, which adds a total of 50 programmable presets in five banks, the memory capacity has grown to an impressive 3 hours, a third footswitch Stop has been added, both loops with parallel or serial mode and synchronization have a stereo base, more advanced tuning parameters or sample rate settings for recording and playback (48 kHz, 24 kHz, 12 kHz), three volume levels (L1, L2, Master), display, Undo output, expression pedal jack, MIDI DIN connector, USB port, or a pair of Aux In inputs. The third generation Infinity looper costs about €410.
If you have found an error or typo in the article, please let us know by e-mail info@insounder.org.