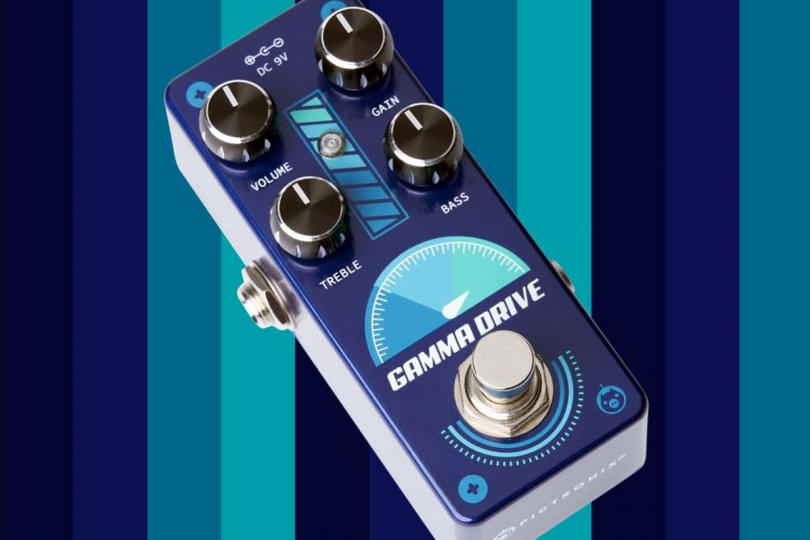 Pigtronix Gamma Drive With Active EQ
Pigtronix has expanded its product catalogue with the Gamma Drive distortion pedal, whose cultivated tone is created by a circuit equipped with different types of diodes, providing natural saturation and a very sensitive response to the dynamics of the playing. The effect is capable of offering a wide range of sounds, from an almost clean boost and a subtle crunch to a more massive-sounding distortion, and two-band active EQ also support superior flexibility.
The asymmetrical clipping circuit is based on a unique combination of silicon, germanium, and LED diodes, selected with respect to the response of the effect to the strength of the input signal. In other words—similar to some vintage tube amplifiers, the resulting distortion increases with the dynamics of the strings being played.
Thanks to the diode mix and asymmetrical circuitry used, the Gamma Drive features an articulate sound rich in second-order harmonics, creating a musical tone with warm character, legible bass, "woody" mids and transparent highs without unpleasant harshness or over-compression.
In addition to the gain and volume potentiometers, the developers have equipped this overdrive with a two-band active equalizer (bass 80 Hz, upper mids 2 kHz), which allows for relatively precise tuning of the resulting sound. The corrections are also a good tool for optimizing frequencies when using multiple instruments with different pickup types.
The Pigtronix Gamma Drive has a footswitch connected in true bypass mode, the current draw is about 100 mA and the power supply is provided by a 9V DC adapter. The official price of the compact pedal, measuring 3.8 x 4.5 x 9.5 cm and weighing 230 g, is under $130.
If you have found an error or typo in the article, please let us know by e-mail info@insounder.org.