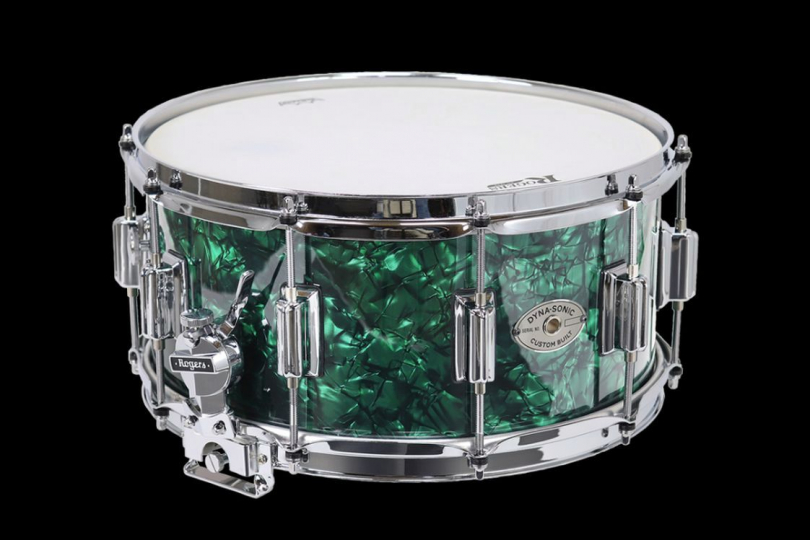 Rogers LTD Custom Dyna-Sonic Drums
The American manufacturer Rogers's Dyna-Sonic snare drums have an absolute cult status. With prices of the older models—only produced in small numbers at the time—reaching stratospheric levels in the vintage instrument market after the company sold its assets in 2006, it was obvious for the company to launch reissues when they returned in 2017. And to make sure it wouldn't become a half-baked affair, Rogers USA brought in specialist Steve Maxwell, whose experience was essential in the development of the new LTD Custom Dyna-Sonic edition drums.
There are five surface finishes to choose from, in natural or foil versions, each marked with the numbers 36 or 37, reflecting the skeleton dimensions of 14 x 5 or 14 x 6.5 inches. Like the standard Dyna-Sonic models, the bodies of these drums are glued together with five layers of maple and poplar, fitted with reinforcing rings, and coated with varnish in a semi-matte Fruitwood Stain to protect the interior wall surfaces.
There's an exclusive floating string rail system made up of twenty springs, providing exceptional sensitivity thanks to independent mounting, and the tuning screws are clamped in ten Beavertail shells and 1.6mm thick triple-bent rims. The hardware is complemented by Swivo-matic (Clock Face) throw-off mechanics and a precision-adjustable internal damper, ensuring the classic look and reliability of these handmade instruments.
The Rogers LTD Custom Dyna-Sonic snare drum models #36 and #37 GMP, (Green Marine Pearl) #36 and #37 RSL (Red Sparkle Lacquer), #36 and #37 BSL (Blue Sparkle Lacquer) are covered in pearlescent foils, while more subtle finishes are provided by transparant lacquers for the models #36 and #37 WVS (Custom Fruitwood Stain) and  #36 and #37 WWCM (Wildwood Curly Maple).
Official European prices start at around €900 and end with a price tag of under €1,250 depending on the specific version. The drums, which the reborn iconic brand claims are "where art and sonic excellence meet," are being produced in limited editions in unspecified quantities.
If you have found an error or typo in the article, please let us know by e-mail info@insounder.org.