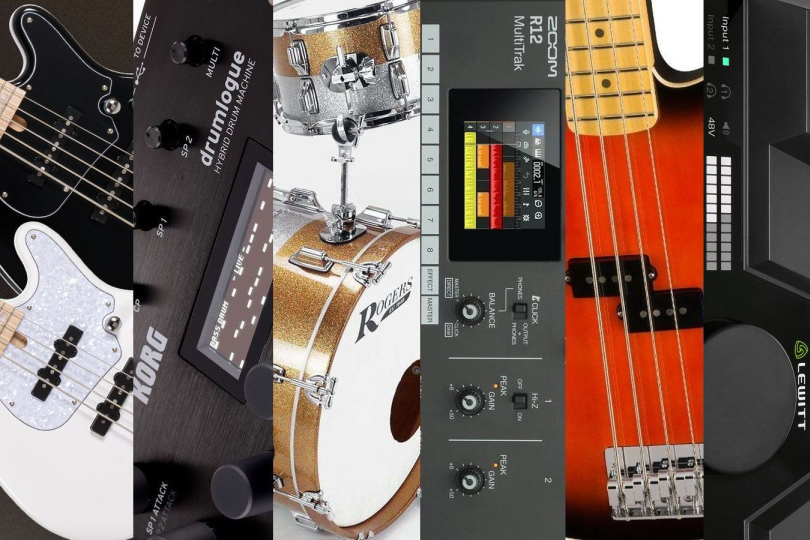 Miscellaneous Gear Alert: November 2022
Do you play bass, drums, or keyboards? Are you DJ, singer, sound engineer, or a studio aficionado? Then every third Monday of the month is "your day" here on Insounder—with a quick overview of gear and new releases that will be on the market in the current or upcoming period and that you shouldn't miss. A similarly conceived article is dedicated to technical equipment for guitarists every first Monday of the month. Some of the products introduced in this overview will be discussed in more detail in later posts here in the News section.
Bass guitar
Fender Aerodyne Special Precision and Jazz Bass – modern four-string instruments from Fender's Japanese division feature a basswood arched body without a pickguard, a maple neck with Modern C profile, a rosewood or maple fretboard with a larger 12-inch radius and 20 medium jumbo frets. The strings are anchored in a high-quality Babicz Z-Series FCH-4 bridge, and the sound is carried by Aerodyne Special (Precision) split single coil pickup or a pair of vintage JB singles (Jazz Bass). Colours: AS Precision – California Blue, Dolphin Gray, Chocolate Burst; AS Jazz Bass – Bright White, Hot Rod Burst, Speed Green Metallic. Price: USD 1350 including gig bag.
Cort Elrick NJS4 and NJS5 – four- and five-string premium NJS (New Jazz Standard) models, built to celebrate the 30th anniversary of the Elrick Bass brand, which collaborated with Cort on the development of these instruments. A neck made from three pieces of select maple is attached to the alder body via an ergonomic joint using six screws, and the same wood is also used for the 24-fret fretboard. A pair of Voiced Tone VTB-ST single-coils are complemented by a Bartolini Elrick NJS Special active switchable preamp, a MetalCraft M4 or M5 bridge and lightweight Hipshot Ultralite pickups. Colours: Black, White; prices: NJS4 approx. USD 1400, NJS5 approx. USD 1500.
Fender Rumble 800 Combo – starting in November, Fender will begin offering a new combo to go with the successful Rumble 800 Stage model. Compared to the previous version, the controls are designed more conventionally, i.e. without an effects section with a display, the power amp with a max output of 800 W and Full/Low Power switching is connected to two 10" Eminence speakers and a switchable compression horn. You can choose between Bright, Contour, Vintage voicing modes, overdrive, four-band EQ, effects loop, Aux In, Speakon for external box, XLR line out, footswitch input, etc. Price: approx. USD 850.
Secret FX OMNIA Bass Drive – signature overdrive designed by the Italian brand for the famous bassist Alex Lofocoa has a wide range of distortion, from clean boost to saturated distortion with a hint of fuzz. With Gain, Tone, Volume controls, the effect scores with low noise, transparent presentation with no loss of lower frequencies, and responsive response to the dynamics of the play. The drive equipped with a true bypass footswitch can be powered with a DC adapter from 9 to 24 V, where higher voltage means more projection and dynamics. Price: 285 euros.
Tech 21 SansAmp RBI 2022 – the successor of the popular rack preamp from 2001 with a new facelift, referring to the SansAmp Classic from 1989 with the original logo, and several modifications in the power section. The main analogue circuitry, control method and connectivity including the serial/parallel effects loop or the buffered XLR output for the original "dry" signal have been retained. Sonically and functionally flexible, the RBI can be used in combination with a power amp, classic amp, mixer or recording device. Price: approx. 460 euros.
Keyboards
Korg Drumlogue – hybrid drum machine with 11 voices, analogue circuit for BD, SD, HT, LT and digital section with PCM unit and multi-engine (VPM, Noise, User) taken from Minilogue XD. You can choose from 128 programs, the same number of kits, a Custom Synths unit, a 64-step sequencer, an effects section (reverb, delay, master) and also a Nano plug-in with a pair of oscillators, RM, filtering, clipping, EG and LFO. A headphone output, MIDI, 2 x USB ports, Sync In/Out and 4 individual outputs are installed. A well-arranged control is supported by an OLED display and compatibility with nanoKONTROL 2 or nanoPAD 2. Power: 9V DC adapter; dimensions: 317 × 189 × 73 mm; weight: 1.4 kg; price: approx. USD 600.
Synclavier Regen – digital desktop synthesizer from the reborn brand. The new model brings several types of synthesis (additive and subtractive) taken from the famous Synclavier II model from the early 80s. There is also the possibility of using samples, layering up to 12 subparts with different engines, integrated effects section, support for polyphonic aftertouch function, lots of presets, 8 libraries in total, etc. There are 6 USB ports, separate pair of TRS/XLR outputs, MIDI In, an SD card slot and a headphone jack. The Synth can be pre-ordered for a price of about USD 2500.
Keith McMillen K-Board C – compact MPE USB MIDI keyboard controller, designed for keyboardists, producers, sound experimenters, etc. K-Board-C is compatible with all music software and connects to your computer or mobile device via a USB-C port. The model features 25 touch keys with velocity function, polyphonic aftertouch and tilt, giving the player complete control over musical expression. The new chassis gets a durable ABS polycarbonate finish and is offered in five distinctive shades of Snow, Galaxy, Orchid, Lime or Aqua. Price: about USD 120.
Drums
Rogers PowerTone Two Tone – three-piece compact kit (BD 12" x 20", FT 14" x 14", T 7" x 12") in Gold/Silver Sparkle, which can be fitted with 24-GSTT (5" x 14") or 26-GSTT (6.5" x 14") snares, has a five-ply maple body, poplar inner reinforcement rings and triple-bent 2.3 mm rims. The tom comes with Ultra-Matic mounts, and the drums feature Remo drumheads. Price: approx. USD 2,350.
DrumCraft Series 6 Limited Edition 2022 – premium edition drum kits in new transparent shades of Black to Red Fade and Black to Vivid Blue Fade in a gradient finish sprayed with gloss lacquer. The 6.4 mm thick body walls are made of four layers of walnut and an equal number of inner maple panels. The edges of the walls have a 45-degree angle, and the hardware has been given a chrome satin finish. Standard versions are available in 22"x18", 10"x7", 12"x8", 16"x14", 14"x6.5" configurations, Studio: 20"x16" 10"x7", 12"x8", 14"x14", 14"x5.5", 2up 2down: 22"x18", 10"x7", 12"x8", 16"x14", 14"x6.5" and Jazz: 18"x14", 12"x8" 14"x14", 14"x5". Prices start at around 1000 euros for the Jazz BRF set.
Istanbul Agop XIST Dry Dark Brilliant – a series of professional cymbals, which has a brighter tone compared to the previous XIST Dry Dark series and, thanks to the higher weight, also a larger tone volume. You can get two pairs of hi-hats with diameters of 15 and 17 inches or crashes of 19", 21" and 22", which can also be used as lighter rids. Hand-hammered versions with a gloss finish retain a complex sonic character and provide a distinctive dynamic response with superior projection. Prices start at approx. 280 euros for a 19" crash and end at approx. 435 euros for a 17" hi-hat.
Studio
Zoom R12 MultiTrak – eight-track desktop studio recorder with integrated FM synthesizer, colour touchscreen, SDHC/SDXC card slot with up to 1TB capacity and power supply via an adapter, four AA batteries or USB port. The FM synth offers 18 sounds, one drum kit, 150 patterns and the ability to control via MIDI controller or by programming sequences on the touchscreen. The new Sequence Play function is used to create playlists, there is an effects section with Zoom MFX DSP processor effect send channel, two XLR/TRS inputs (4 x out), compatibility with editing applications, metronome, phantom power, etc. Price: EUR 330 including AD-17 adapter and USB cable.
IKM X-Monitor Software – an application for owners of IK Multimedia's high-end iLoud Precision studio monitors, which users of any of these cabinets can download for free after registering at the IK User Area. The software is able to set specific frequency ranges with or without ARC calibration, the change is then saved by the monitors and automatically recalled each time the monitors are switched on. The application also manages the emulation of the frequency and phase response of the most well-known studio monitors on the market, allowing mixes to be tested on a variety of virtual reference systems using a single pair of speakers. More than 20 box emulations are currently available.
Lewitt CONNECT 6 – USB-C card equipped with an effects DSP unit containing a compressor, expander and equalizer with zero latency and flexible routing. The Austrian microphone manufacturer's first USB interface handles not only studio functions but also streaming or podcasting applications, corresponding to a trio of USB ports or support for iOS / Android / Mac / Windows platforms.
The two combined inputs feature preamps with gain up to 72 dB, an integrated stereo minijack Aux In, 2 x balanced outputs, 2 x independent headphone jacks and a minijack for monitors. In addition to the three virtual channels, loopback and so-called Auto Setup can be used. With the exception of the volume control, the other parameters are set via the Control Center software. Price: approx. EUR 290.
If you have found an error or typo in the article, please let us know by e-mail info@insounder.org.