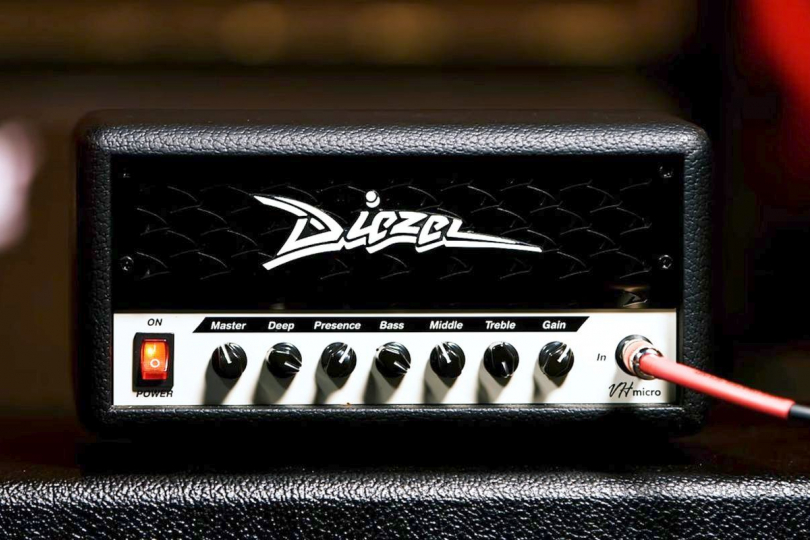 Solid-State Single Channel Diezel VH Micro Head
Diezel has joined rival brands Friedman and Bogner in launching a miniature solid-state amplifier, this time inspired by the sound of its famous VH4 vacuum tube amplifier, which has been part of the gear of many rock and metal players, including Metallica's James Hetfield, George Lynch, Warren De Martini, and their frontman Muse Matt Bellamy. Some of the design details of the Diezel VH Micro Head suggest that developer Peter Diezel commissioned the same Asian factory as the aforementioned Bogner and Friedman to produce the single channel.
The VH Micro Mini offers a massive high gain, with its sonic character resembling the third channel of the VH4 head, often used by e.g. Adam Jones of Tool. The preamp section, most likely based on the Diezel VH4 Pedal distortion, features three-band EQ and a wide-range gain potentiometer.
As with the prototype, there are Presence and Deep controls, affecting the amount of upper midrange and lowest frequencies. The Master's overall volume depends on the Class-A wired power amp, providing a maximum output of 30 W. The rear panel is dedicated to a send/return serial effects loop, a pair of outputs with impedances of 8-16 ohms, and a 24V 2A DC adapter jack.
Alike the similarly designed Bogner Mini Ecstasy or Friedman BE Mini models, a longitudinal ventilation hole is cut into the rear cover, which also serves as a simple handle. The design of the small apparatus honors the brand's aesthetics, which in this case means that the front of the chassis is decorated with D shaped holes punched in a metal plate, in addition to the classic brand logo, and the labels of the individual functions are highlighted by a black background.
If you're a fan of Diezel-style high gain sound with typical rolling mids, you make do with one channel, and your finances have their limits, the VH Micro Mini may be a suitable alternative to the incomparably more expensive tube model. The official price of the amplifier, measuring 241 x 159 x 133 mm and weighing about 1.8 kg, is around 300 euro on the European market and includes a power supply.
If you have found an error or typo in the article, please let us know by e-mail info@insounder.org.