Janet Robin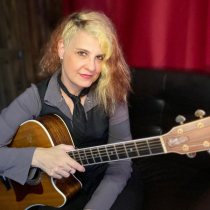 Music audiences around the world have seen Janet Robin's incredible guitar work as a former touring member of the Lindsey Buckingham Band (from Fleetwood Mac), Meredith Brooks, Air Supply and many other international touring artists. In 2018, Guitar Player Magazine named her as of one of the "Top 20 Rock/Songwriter Acoustic Guitar Players" and Guitar World Magazine listed her as one of the "Top 10 Female Guitarists."
Janet has been a guitarist since age 6 and is a veteran musician of the LA scene. She got her start taking lessons from the legendary guitarist Randy Rhoads. In high school, she joined the all-female band Precious Metal in the 80's and went on to be signed by Polygram Records and Chameleon/Capitol Records. As a solo artist, she has released her over 6 cd's as a singer/songwriter and guitarist. Her latest cd, "Take me as I am" was produced by John Carter Cash (Johnny & June's son) and Chuck Turner, and was recorded at Cash Cabin Studios in Nashville.
Whether she is on the road or not, Janet is a dedicated and well respected guitar coach and has given several master guitar classes on the road and online. In 2015, she was asked to teach actress Jennifer Jason Leigh guitar for a scene in Quentin Tarantino's "Hateful Eight" movie. The actress was subsequently nominated for an Academy Award for that role.
Janet tours worldwide as a solo artist and she is also a member of the instrumental all guitar band, The String Revolution. The String Revolution recently released a unique cover version of her former guitar teacher's song "Crazy Train." It features Billy Idol's guitarist, Steve Stevens. TSR currently has over 4 million Spotify streams and performs regularly at many venues nationally and locally and was invited to perform at The Grammy Museum in Los Angeles, CA.
Články