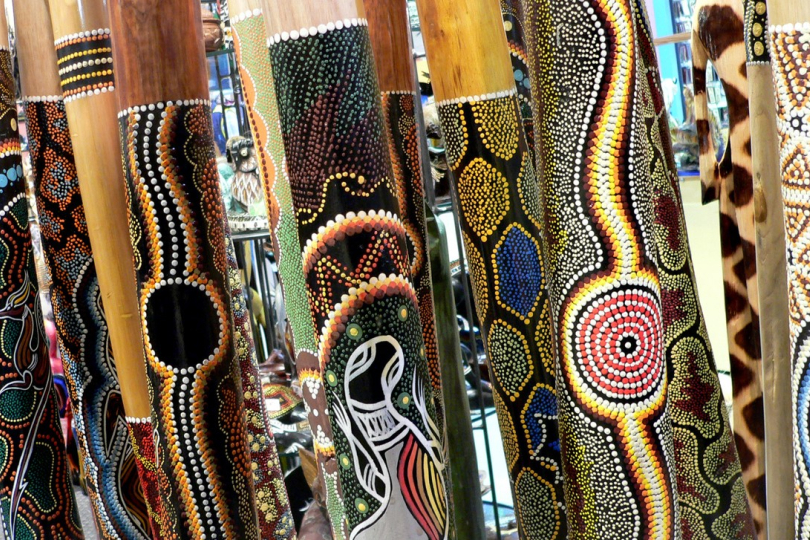 Some acts in Australia are singing in their own Indigenous language | Photo: Bernard Spragg (CC by 2.0)
All Eyes on Australia with Toby Alexander: Indigenous Artists Are Really Popular in Australia Right Now
The great southern land, home to the oldest human cultures on the planet, and some of the most unique natural places in the world. Australia and her affectionally labelled Aussies have a reputation around the world as being a free, capable and adventurous people. And their music is no exception, with major acts of all genres having come out of Australia for decades and decades. In my recent visit to the land down under I spoke with music producer and keyboardist Toby Alexander and discussed the old, the new and the must-see in the music scene today.
Australia's music exports are many and varied. What are some famous Australian music acts that we might or might not know about in Europe?
I reckon a lot of people think of AC/DC, Powderfinger, Midnight Oil or Nick Cave when they think about Australia. They are the really big acts that people have heard of, but maybe people don't realise that some of those other bands they might be hearing, like Tame Impala or Gotye are also Australian. There are a lot of indie rock bands from the 80s and 90s that maybe you wouldn't have heard of but are quintessentially Australian like The Go-Betweens—there's literally a bridge in Brisbane named after them—The Go-Between bridge.
I think everybody can name a couple of Australian bands. But are there some niches in the international music market that Australia particularly stands out in?
Indigenous music here is becoming really popular now. Which is really cool. There is of course Yothu Yindi, who were pretty big in the 90s, they did that protest song "Treaty" about Indigenous rights. The success of some big artists like The Kid LAROI, Baker boy, J. K. 47 and Thelma plum have encouraged Triple J, which is the youth broadcaster here, to start a new Indigenous music show called Blak Out. Some acts like King Stingray and Baker Boy sing in their own Indigenous language.
So what's new and hot on the scene—what's everybody talking about?
Well, King Stingray, who have some band members related to Yothu Yindi, are big right now. For their album release day, they started the hashtag #KingStingDay and suggested everyone take the day off work. That got some media attention. Of course, Tones and I got huge with "Dance Monkey"—that's a big song all over the world—she was busking on the street in Byron Bay and got discovered and probably many people don't know she's Australian. And The Kid LAROI, he did a collaboration with Justin Bieber. And Tame Impala is huge, obviously. Tame Impala released a new album two years ago. There are some great acts in Australia. There are so many I could name: I Know Leopard, Big Scary, Middle kids, Rufus Du Sol. They're big in America at the moment. I really like some from Brisbane, like Ball Park Music and Bugs. And then there's The Chats, if you haven't seen or heard "Pub Feed," you have to cause it's hilarious.
You recently collaborated on the latest album of Holy Holy, which is an indie rock band in Australia that's doing quite well at the moment. Can you tell us a bit about how that came about?
Yeah, I started arranging some popular songs for strings and posting them on YouTube. I did an arrangement of one of their songs and they shared it on their socials and ended up hitting me up to collaborate. Over the lockdowns in 2020 I was busy writing strings for their fourth studio album Hello My Beautiful World. The album flows really nicely as a kind of concept album with some long instrumental sections. Tim and Oscar from the band were so great to work with.
How did you get into this sort of thing? Tell me a bit about your music education.
So I studied Music Technology at Queensland Conservatorium in Brisbane. It was a taste of all sorts of different things. Like sound design, composition for film and television, but also recording orchestras and bands, and more techy things like coding and synthesizers.
When a lot of people think of music production, they tend to think of sound guys in venues plugging in microphones and doing sound. But there's so much more to it than that, right? 
Yeah, well we did a little bit of that there. But I think these kinds of music tech courses are getting quite big in Australia and around the world now. There's just so much of music that sits outside of learning a musical instrument, my degree was teaching us to treat the computer as a kind of instrument. I think it's great that unis and conservatoriums are offering these kinds of courses.
Okay, so what do you do other than that, what else do you do in your musical life?
I play with Fresco Kyoto, which is an indie rock five-piece, we're releasing a new single soon. And I play keys for Jordan Merrick, he's more folk blues rock. And then beyond that, like I do a lot of session work for people, string arranging and orchestration, keyboards and additional production. I'm also currently sampling old vintage preset keyboards and making virtual instruments out of them.
Australia had one of the more exceptional approaches to COVID-19 where it wasn't actually possible for foreigners to come to Australia at all. Have you seen how the music business was affected by bands not being able to tour or bands not being able to visit?
It's a big thing for artists in Australia to tour the States or Europe. That option wasn't really possible during the last two years. There were festivals that tried to go ahead in 2020 here and then all got cancelled, then went ahead the year after, but with solely Australian acts because we didn't have any acts touring here. It was probably kind of good in some ways because it meant all the big headliners were just Australian acts. We're so isolated here, it's been maybe a bit different than other parts of the world because we have this great sea as our border.
Do you know if there was any financial compensation for artists? Were musicians looked after by the state?
There was something from the federal government for that. I mean, there was the COVID sick leave for everyone. I'm pretty sure that extended to sole traders and people running their own businesses and also musicians or artists. I think there was less support than there probably should have been, but we've got a pretty good welfare system here too, and that saw a lot of people through.
So what's it like now, is it coming back? For example, I heard recently that the first day of one of Australia's biggest music festivals Splendour in the Grass was cancelled.
Well, Splendour, which was cancelled last year due to COVID went ahead. But day one got cancelled, not because of COVID but because of heavy rain, which was a bit funny. (laughs) It's kind of got to the point where we're living with it. And maybe some acts get cancelled because a bandmate gets COVID or something, and then you just get someone to fill in that position. I don't think there are a whole lot of full-on cancellations of huge events anymore.
Can you tell me a bit about the music scene around Australia, for somebody who doesn't know it?
Australia has three big cities and each of those have a little bit of a different feeling. Melbourne, Brisbane and Sydney, each of the scenes are a bit enclosed in the way that they're so far apart. You'll get bands doing East Coast tours, say from Brisbane down to Melbourne, and do small shows along the way. Usually, when big international acts come over they just play the big cities. But local bands often drive, which makes stopping in smaller country towns possible.
So if somebody was visiting Brisbane, like a musician, are there any venues or festivals that you could recommend that they check out?
Well down in Byron Bay, which is just maybe two hours south of Brisbane, two big festivals happen at the same site: Splendour in the Grass and Blues Fest. And then north of Brisbane, there's Woodford Folk Festival, which is more folky. So we have three big festivals around Brisbane, but venues in Brisbane, I'd say that The Tivoli is a really good one. It's a nice old venue. There's The Triffid, The Zoo, Fortitude Valley Music Hall and The Princess Theatre which just started doing live music. Brisbane has one area that's sort of dedicated to live music called The Valley.
Do you know of any other big festivals or events that happen in other parts of Australia that you'd recommend?
There's Falls Festival which happens all over Australia. There's also the Melbourne Fringe Festival and WOMADelaide and these have music acts. The Melbourne Comedy Festival is huge, a bit like the Edinburgh Fringe. And you get a lot of acts from overseas coming over and doing that circuit. South by Southwest (SXSW) which usually happens in Texas is also coming to Sydney in 2023.
Is there a time of the year that you would recommend is good to visit Australia?
Yeah, the festivals are quite spread out, so if you want to go to Australia, do your research. But a few of them happen around March/April, and it's not too hot then, so I'd recommend that.
Just finish off, do you have some little story you'd like to share about Australian music history?
Yeah sure. Everyone knows that famous Men at Work song: Down Under. Well, there is a story about the opening flute riff, I think it was a little improv that the session musician did for the track. And that ended up being an almost exact quote of another song called Kookaburra. We all learnt it in school and sang it in choirs and stuff like that, but apparently it was written back in the 1930s. So it came up as a question in a music TV show we have here—"What children's song is contained in the song Down Under"—and apparently that led to the owners of the copyright of Kookaburra suing the band Men at Work. It was a big court case and eventually they actually won, but it was a really unpopular decision over here. Because both of those songs are important parts of Australian music.
Ever been to Australia or are you a fan of any Aussie bands? Leave us your thoughts in the comments below!
If you have found an error or typo in the article, please let us know by e-mail info@insounder.org.