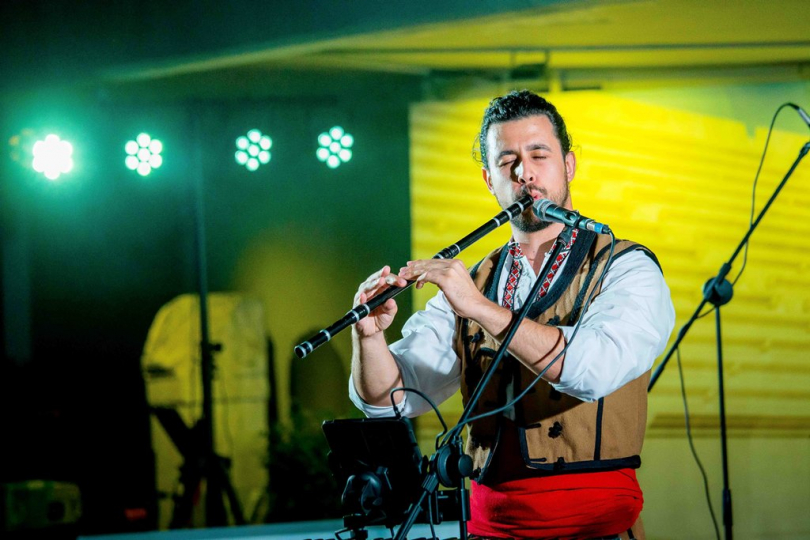 Zvivko Vasilev performing on kaval | Photo: Courtesy of the artist
All Eyes on Bulgaria with Zhivko Vasilev: "It's Still Possible for Musicians to Live in Sofia Doing Music Only"
Bulgaria is a land steeped in musical tradition. Whether it's folklore in odd time signatures, glorious choral music in complex harmonies or its own turbo-folk style dance music. Sitting on the gateway to Asia and sandwiched between powerful nations, it has had a long and complex history that has profoundly affected its people and music. And yet, if you have ever been to Bulgaria, you will have found a proud and hospitable people, eager to tell you about their country and share what they have. I sat down with Zhivko Vasilev, musician, composer and teacher, with one foot in tradition and another exploring various genres of music and fusion.
Bulgarian music is most often associated with those famous folk recordings, The Mystery of the Bulgarian Voices. However, Bulgarian folklore is much broader than that. Zhivko, you're a successful professional musician and music educator with a solid connection to folklore. Can you tell us a bit about your background, the instrument that you play and your music education?
I'll start by saying the reason those recordings of the Bulgarian voices are so successful and famous is just because they're amazing. And I just want to take the time to really express my gratitude towards them and for what they've done for Bulgarian folklore. As per my background, well, I've been playing for as long as I can remember. I started with keyboards, a small synthesizer thing like a toy, then I switched to accordion. And then at some point, I switched to kaval (the Bulgarian flute, ed.) If you ask me for the reasons for those decisions, I'm not really sure, but especially now I'm very grateful for those choices. Because my instrument is not very conventional and this, of course, makes it very attractive and interesting for most people. And that's probably one of the reasons I've been part of so many projects.
And do you still play piano or accordion?
Accordion not so much, to be honest, but I use piano on a daily basis. To be honest, I even play the piano more than kaval. Because I'm very much into composition and arranging now, so I guess I need it a lot. And to be able to really express yourself as a musician, you definitely need an instrument like the piano, for instance, where you can actually play multiple voices and harmonies. Especially because Bulgarian music is not only based on rhythm, but also complex harmonies and different colours.
You play with a lot of different musicians, and you have your own trio, it seems to me that you're very much interested in this meeting point, the fusion between Bulgarian folklore and other styles of music.
I've always been into experimenting with different styles and I'm very open-minded to those things. I never really liked to only focus on folk music, as fantastic as it is, I think that people should be much more open-minded. So that's one of the reasons I went to the Netherlands to study a jazz master's program on the kaval, in one of the most amazing conservatories in Europe, Codarts. When I went there for the audition, the jury didn't know what this instrument was. And then I was like, "Oh, this is a Bulgarian kaval. I'm not really expecting you to really accept it, because I realise that nobody here can actually teach me kaval. But I'm not interested in somebody teaching me kaval because I already know how to use my instrument. I want to learn to use this instrument in the context of jazz." So I just started playing some standards, and they immediately fell in love with it, you know, it's the power of the instrument.
Can you play all the notes on the kaval? You're not restricted by what kind of scales you want to improvise in?
That's one of the challenges of the instrument. Of course, I'm kind of restricted by what the instrument can offer. But I've always looked for different workarounds to just make it work. The challenging thing that I'm facing every day is to turn the disadvantages into advantages. If you just grab a solo by Coltrane, for instance, part of it might not work. But if you replace this part with something else, or just something that actually fits the kaval better, it becomes even better. It's cool and super fun to really experiment with that.
Can you tell us about some of your favourite artists?
I still work with probably one of the most successful world music bands in the Netherlands and probably even the world, which is called Arifa—if somebody hasn't heard of them, they need to check this out. But it's kind of hard to just narrow it down to a few artists because I get inspired by many different genres, but I can tell you what I've been listening to a lot lately. This is someone who is really a gift from heaven, to just be alive and to be composing still, and I'm referring to John Williams, the fantastic film composer. He's definitely one of my favourite musicians ever. He's been a huge inspiration for me to just start writing and arranging music. As for jazz musicians, that list can go forever, pretty much. Of course, I'm very much influenced by people like Tigran Hamasyan, Avishai Cohen, and that kind of world music jazz gang out there. Yeah, those artists that make a fusion of their own culture, their own backgrounds, and adjust and improvise music, and then implement everything together and just somehow make it magically work.
Are there any other genres of music that Bulgaria has an important place in?
We do have a lot of fantastic jazz players. Bulgaria is quite famous for the classical scene, as well, to be honest. Classical music is extremely well developed here, and we have amazing musicians, amazing conductors and composers. And we have a very significant story in classical music. Two of my favourite contemporary composers in Bulgaria are Lubomir Denev Jr. and Rumen Boyadjiev.
How did COVID-19 influence the music scene and the lives of musicians in Bulgaria?
It's a part of the history that I just want to select and press Delete, but of course, that's not possible. I must say that I wasn't so badly influenced by it, in the beginning it was horrible, but it became very inspiring. This period was actually very important in my personal development as a musician. But a lot of my colleagues and friends, musicians, some of them actually gave up on music, and they started doing something else. Of course, financially it hit me a little bit in the beginning, but then I also work a lot as a composer, arranger and teacher and this didn't really affect me so much. So I just replaced my gigs with something else.
Was there any financial support from the government? For musicians or people in the arts?
I was kind of also living partly in the Netherlands, so I remember what kind of support they had there, that I didn't qualify for. I could see my friends there just doing fine with the support that they had. And in Bulgaria, you know… well, it's over. Nobody cares about COVID anymore, but now we have programs to support musicians. So it's kind of ridiculous, but they're trying their best. But yeah, it was a huge struggle for most musicians here to really survive during that time.
Any advice for people who are trying to figure out how to make online music teaching work?
If you want to teach online, invest in proper equipment. It's so important. All of my students, everybody, in the beginning, was very sceptical about online teaching. Because everybody's like, "no, that doesn't work for music, the sound is terrible." And then after one lesson, they were like, "You figured it out!?" Of course, it has its limitations, but it has a lot of positive sides as well. I don't need to travel or do anything, I just immediately get in touch with somebody who lives in Taiwan, for instance. It helped me a lot with networking because I met so many people from all over the world because most of my students are not Bulgarians. Building connections is one of the most important things in music and in this business, because it is a business, and we need to treat it like a business. So that's my other advice: start treating music like a business.
If someone was coming to Bulgaria for a holiday or a tour, can you recommend any cities or festivals?
I'll start with Sofia. When I imagined myself living abroad, and I tried it... Well, Sofia is much better. And not because I'm Bulgarian, it's because this city is still very well preserved in terms of culture and the scene. It's still possible for musicians to live here doing music only. Compared to London or Amsterdam, it's much harder to survive there as a musician, a regular musician, not a pop star.
Is it because of the cost of living?
The cost of living is lower of course, but that's changing very quickly. In the past few years, I think everything has doubled. But still, the environment is quite friendly, in terms of just having enough opportunities for musicians and people treating musicians properly. We Bulgarians naturally have this temperament, to always complain about everything: the weather, the government, Sofia sucks, everything sucks, and that's why I'm not successful, but it's not true. Because it's great, the weather is much better here than anywhere in the world - we have a proper summer and a proper winter. Sofia is a fantastic city, with a lot of culture, with a lot of live music performances, with one of the biggest festivals in the Balkans called A to Jazz, which I played at last year and will again this year. We also have another great festival in Bansko, which in the winter is a ski resort, but in the summer they have a lot of cultural activities, and it's also very popular. Those are my two recommendations.
Have you ever been to Bulgaria? Share some of your experiences in the comments below!
If you have found an error or typo in the article, please let us know by e-mail info@insounder.org.