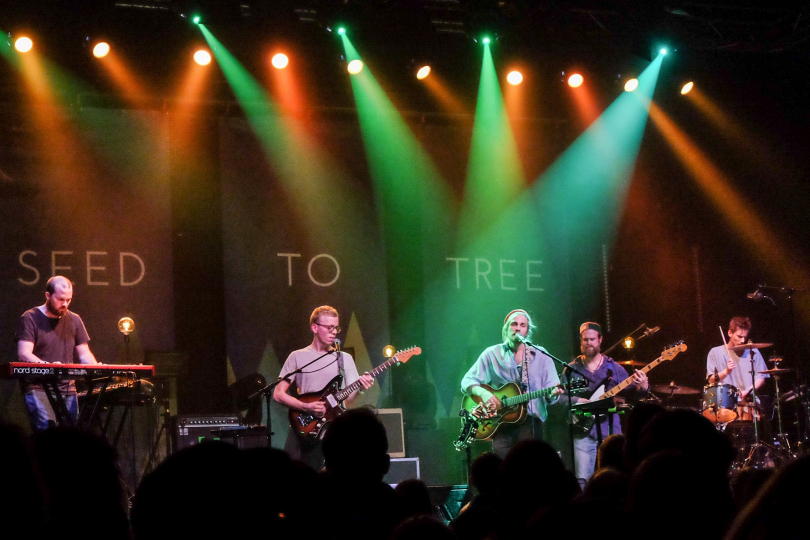 Seed To Tree at Kulturfabrik, Luxembourg | Photo: Creative Commons
All Eyes on Luxembourg: "There Was Never a Question about the Language of Our Music," Say De Läb. Sure?
Generally speaking, the music of the Grand Duchy of Luxembourg does not exactly ring a bell. No wonder, the country, called "Little fort" by the Saxons, squeezed between its bigger neighbours, has always been fighting for its existence. Therefore they chose "We want to remain what we are" as their motto—meaning independent of other countries. But is that possible when talking about culture, particularly music, considering all the influence coming from Germany and France? Let's take a look at how successful the Luxembourgers are in the music industry.
If you came from one of the smallest countries in Europe with a population of about 600,000 people, which language would you choose to sing in, if the choice of mother tongues was exceptionally wide: Luxembourgish, French or German? The somewhat easiest path would probably be to go for English—and so think most of the Luxembourgish musical artists. The current lingua franca is practical for many reasons, offering a bigger chance of international success. And in Luxembourg, there have been bands who made it! Some of the no longer active ones were e.g. rock band Eternal Tango and a bit crazy math rock formation Mutiny on the Bounty. The latter band's off-the-wall retro video was shot in 2014!
What is surprising is that despite its size and related limitations, Luxembourg offers all sorts of music genres. One of the most acclaimed current musical artists is ROME—an experimental neofolk act founded in 2005 as the main output for the songs of Jérôme Reuter. Though Reuter is the main creative force in the band, he performs live with a range of musicians. He's touring Europe at the moment, so you may check up on your closest venue! Quite famous beyond the borders are also the indie band Seed to Tree, awarded "Export Artist Of The Year" in 2019 after their extensive tours through Germany, Luxembourg and Austria.
Young and promising
But let's take a look at several up-and-coming acts. For example, a unique band Francis of Delirium—the project of a very young singer Jana Bahrich, who sings, writes songs and plays the guitar with a fascination for 90s grunge—an era that she didn't experience herself, but feels strongly connected to. Another very young female singer at the beginning of her promising career is C'est Karma who focuses on electronic pop/folk songs—btw, she also sings in English. A male example of Luxembourgish youth is a pop singer-songwriter who has risen to prominence more recently—CHAiLD.
Hip hop and RnB scene
However, it is Luxembourgish hip-hop artists that are making the biggest progress at the moment. To name a few: rapper Eric Bintz aka Cehashi—also a producer—hip hop collective De Läb and the rapper Maz. Given the age of only 19, Maz is a surprise that really belies his youth.
The current scene in Luxembourg has developed into a very multicultural and diverse one. One young talent who has been talked about a lot in recent years is EDSUN, with his alternative R&B production. He's also a producer, dancer and performer. In 2018 he was crowned the Artist of the Year and in 2020, he was one of the main acts for the Free Mobility concert—inaugurating Luxembourg as the first country in the world with free public transport!
Ach so!
But there are exceptions, as for the language. For a hip-hopper, the choice of language is crucial. Why did De Läb choose Luxembourgish? In an interview for the Luxembourg Times, the lead vocal David Galassi explains the choice of language: "There was never a question about the language of our music. Our accents would sound awful in English and we weren't able to express ourselves to the same extent in German or French. It came naturally to produce and be creative in our mother tongue, so why should we perform in any other language?" 
An example of a successful Luxembourgish rapper singing in German is Brebo.
International star of Luxembourgish origin
Though formed in London and being labelled a British alternative rock band, Placebo has close ties to Luxembourg, as two members went to school there. In 2022 they are touring Europe with their new album "Never Let Me Go" (including Germany, Denmark, Norway, Sweden, Finland, Estonia, Poland, Netherlands, Italy, Switzerland, Czech Republic, Austria, Luxembourg, Belgium, France, Ireland and the United Kingdom). Are you going to try if a placebo works for you?
Where to rock? In Rockhal!
Considering the size of the country, Luxembourg has a decent number of venues for listening to music. A landmark for the Luxembourgish music industry was the opening of Rockhal in 2005. Its largest venue can cater for 6,500 visitors, the smaller one for 1,200 people, and the cosy Floor has a capacity of up to 250 listeners. the Rockhal also runs Rocklab Music and Resources Centre for artists that offers rehearsal rooms, and a recording and dance studio. It is also a place where you can get support-act slots or attend workshops and conferences. Every year, Rockhal runs Sonic Visions, a festival mixing international newcomers, local bands and headliners. For several years now, this festival has been an opportunity for music-scene professionals to meet up. In addition to the evening concerts, there are also conferences, workshops and roundtables.
Apart from Rockhal, there are other venues scattered all over the country, each with its particular focus. If you are considering visiting Luxembourg or performing there, give Den Atelier a try, Luxembourg's top club, Kulturfabrik for more specialist acts and discerning music fans, Rotondes, a smaller place for alternative music, Opderschmelz located in Dudelange, specializing in folk, jazz and blues, Aalt Stadhaus or De Gudde Wëllen, laid-back music cafés. 
The music industry?
DIY system is still prevailing for the bands and it's hard to find all music-related professions in Luxembourg. There are not many proper record labels and distribution companies. However, in recent years, small businesses have arisen, offering a wide range of services. To name a few: FOQUS; KONEKTIS Entertainment, a booking agency with some of the top Luxembourgish artists, such as David Galassi and Elvis Duarte; DE LÄBBEL, a project connected to the above-mentioned hip hop act DE LÄB; or audiovision organisation TWO STEP TWICE.
Nevertheless, Luxembourg is starting to really make a name in relation to one musical profession—production. Whether for rock or hip hop, some Luxembourgers (often former musicians, themselves) are now demonstrating talent, with some investing in their own proper little recording studios. Just check out Maz's Black Flowers above. The bright times for music in Luxembourg are coming.
Have you been or even played in any Luxembourgish venue? Tell us about your experience in the comments below!
If you have found an error or typo in the article, please let us know by e-mail info@insounder.org.