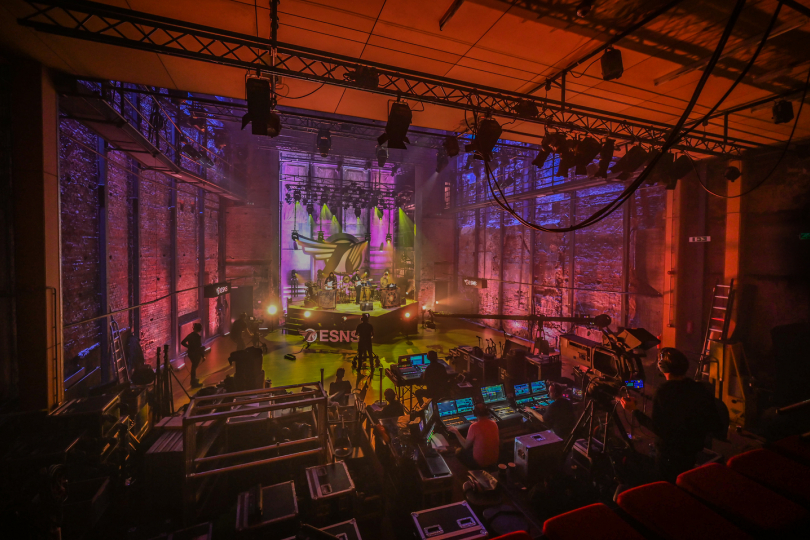 The 35th edition of Eurosonic Noorderslag (ESNS) in 2021 was fully digital. | Photo: ESNS press center
All Eyes on the Netherlands With Robert Meijerink (ESNS)
Ah, the Netherlands: land of cheese and windmills, where the people are cheerful and direct and have good reason to be nervous about climate change. A country that is globally known for techno music and the showcase festival ESNS (Eurosonic Noorderslag). For this first part of our series "All Eyes on...", which zooms in on one specific country at a time, I interviewed ESNS's head of program Robert Meijerink. Whether you are a Dutch musician yourself, or you are dreaming of a tour below sea level: keep reading!
Have you ever noticed that the people in the music industry who are the most experienced and professional are usually also very friendly? When I asked Robert Meijerink if he would be available for an interview on very short notice, he immediately replied and managed to squeeze in an hour-long Zoom call—even though the months leading up to ESNS (which will take place in January 2022) are peak times. "It's always busy, I'm used to it. I like getting up early in the morning, even if sometimes I can't get to bed until late at night. That's the life of a programmer," he says without complaining. It was a joy to interview this optimistic and knowledgeable person who is very generous in sharing his insights with aspiring bands or bookers.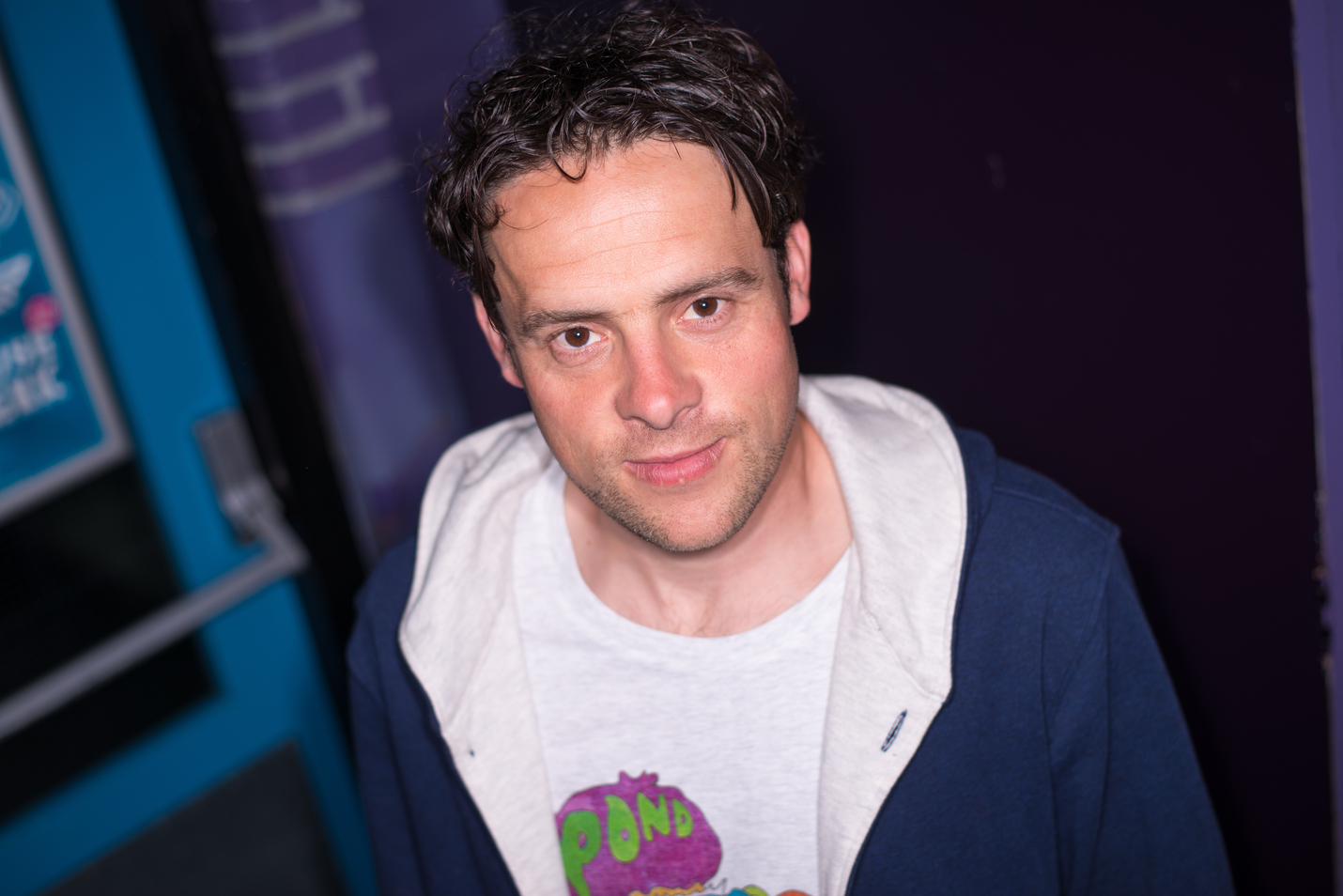 Nijmegen: the oldest city in the Netherlands, where music thrives
Robert grew up in Twente, a region that has spawned a number of great Americana acts such Ilse DeLange (The Common Linnets). He moved to the idyllic student city of Nijmegen, where he has been awarded several times for his work as an in-house booker for Doornroosje and as such also takes care of the booking for the venue Merleyn and most events in the city that need a music program: Valkhof Festival (during the 4Days Marches in July), Bevrijdingsfestival (commemorating the liberation of the Netherlands during WWII on the 5th of May), Kids 'n' Billies Festival (a family-oriented rockabilly festival), and Oranjepop (celebrating the King's birthday).
You do the booking for so many different venues and events, all with varying capacity, target audience, and genre focus… How do you manage that?
Well, for one thing, I don't do it all on my own! (smiles). Of course, it's a lot of work all year round, and it never stops. Some people like to say at 5 PM: "I'm done for today." A music booker can't do that. You do the office work in the daytime, and you go to concerts at night. I used to go see every single live show every night, but that has become impossible. Ten years ago, I told the director of Doornroosje: look, I love my job, I am good at it, and I am even pretty good at keeping an overview, but I feel like it's important to train young people to do my job, to provide them with career opportunities. Since then, I have trained assistants to become bookers at both Doornroosje and ESNS. I have no desire to be the King on his throne. I have accumulated some experience over the years, so I guess you could say I am a "senior" by now; but it is so much better to have someone beside me who is on their way to become a senior as well, so that this experience is not tied to one person per se, but to the team.
Regarding the various festivals in Nijmegen, their music program is booked by Doornroosje. That is practical, because the festivals don't need to hire their own bookers, and we have an overview of all the current up-and-coming acts. We can see that an act that did well last year at the Valkhof Festival would be great to book at Oranjepop this year. The most important thing for a booker is to understand the mission and vision of each venue and reflect that in the choices you make.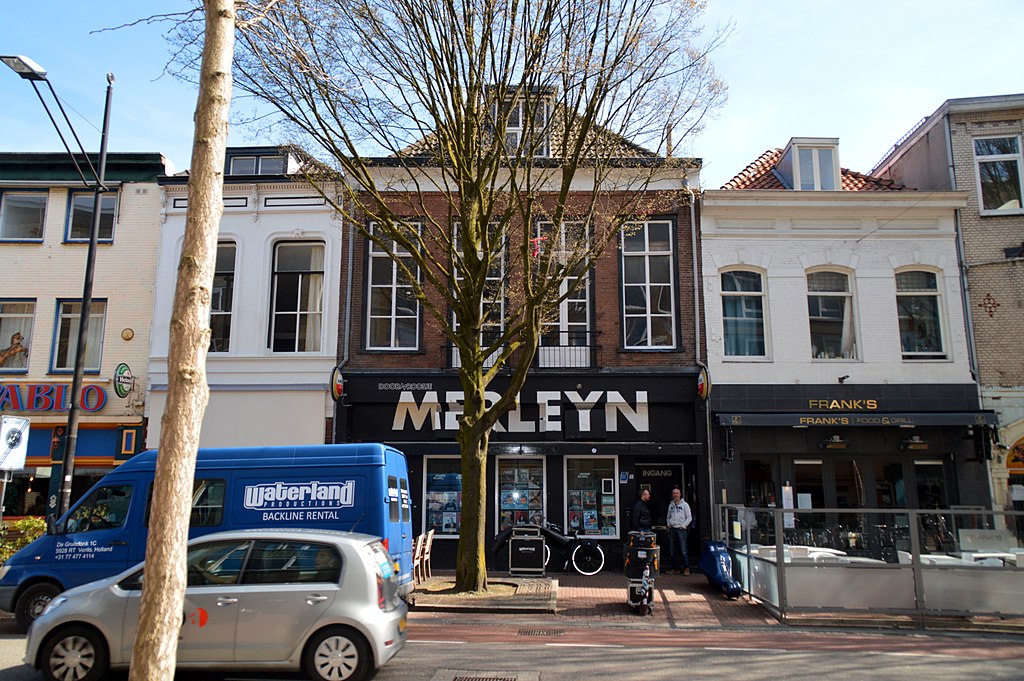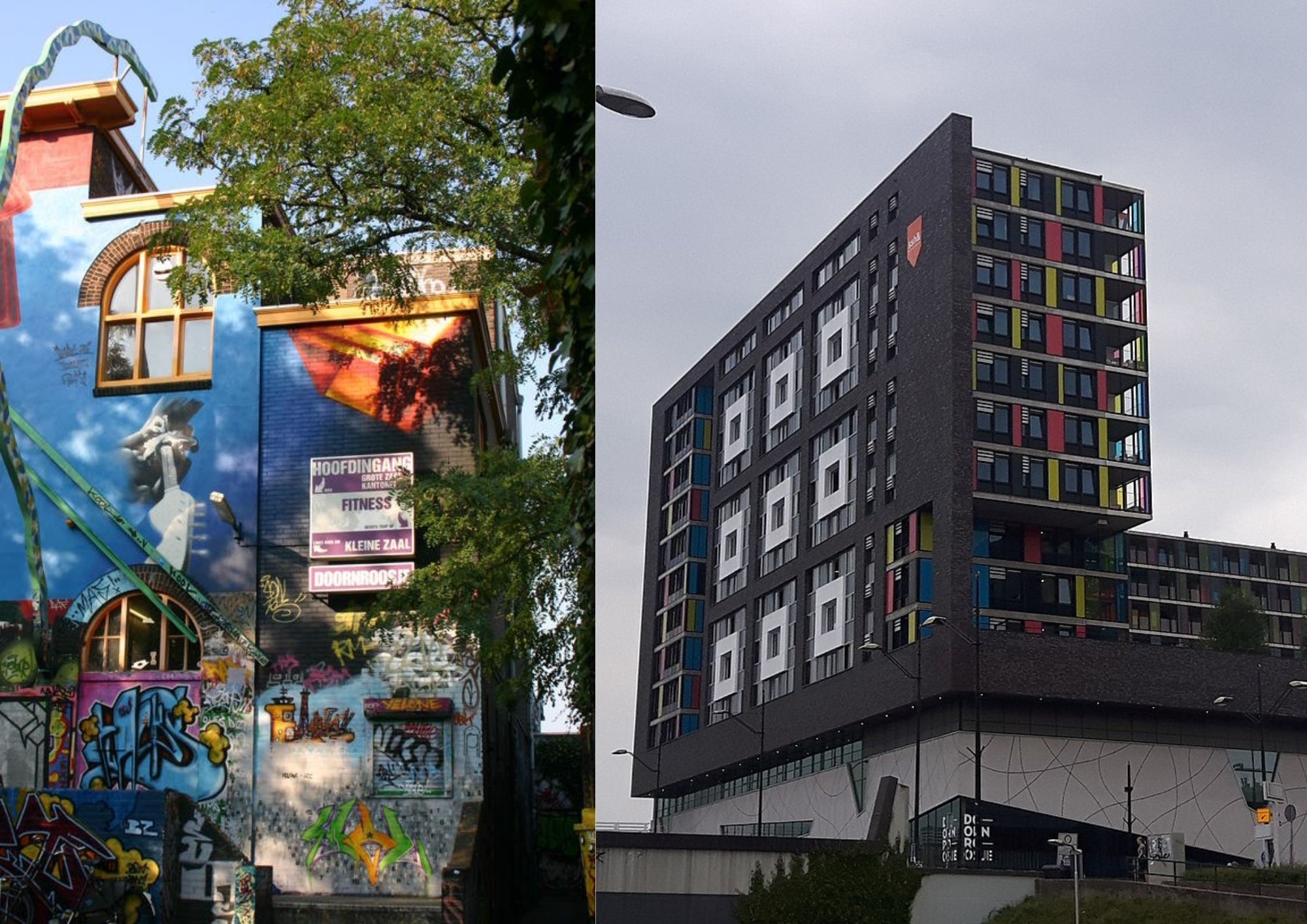 I remember Doornroosje and Merleyn from when I was a student in Nijmegen 20 years ago. Doornroosje was still in the old building, covered in graffiti; you have moved to a brand-new, larger building. What is that like, and what is the connection between Doornroosje and Merleyn?
Merleyn is still in their old building, but with a slightly different focus. After they went bankrupt in 2008, they have relaunched, with Doornroosje now also doing the booking for Merleyn. Merleyn was always a sort of "living room stage," especially in the '90s; they also had things like theater and more experimental music. At the relaunch, we said: Merleyn should keep its focus on local and regional acts, with some national and international acts added to it. It should basically function as an incubator for Doornroosje. Ideally, Merleyn's program should be exciting for people who like to discover new, especially Dutch artists at the start of their career.
And then, when that career takes off, they could move on from Merleyn's 200-capacity hall to Doornroosje's 400-capacity hall or even the big hall, which has a capacity of 1100 but can be rearranged to make it smaller if sales are lower than expected or if an intimate setting is more appropriate. And I'm really glad to see that this theoretical model really works: a large number of artists who have played at Merleyn first have moved on to Doornroosje later. That's a good opportunity for artists. And if it doesn't work out for them at Doornroosje because they sell no more than 250 tickets, then they can always go back to Merleyn.
"Indie" and "DIY" have become hollow phrases
I read an interview with you in which you mentioned Batida, an artist from Portugal, who played at ESNS in 2012 and 2014. You said that the first show was incredible, but nothing came out of it because he had no team at that time—no agent, no promotor, nothing—and that you felt bad about it. When two years later he applied again, his career in Portugal had taken off and he had an agent, so you gave him another shot at ESNS, and this time it was a huge hit. Being a "small fish" of a musician myself, these past years I have often heard that agents and labels and such are a thing of the past, that it's better to go full-on DIY. That seems to contradict your Batida-story though. What do you think of this recent DIY-trend? And has the rise of Spotify and YouTube made artists management and promotional agencies and labels obsolete?
You know, things have evolved slowly, but roughly, I believe the music industry still works the same as it did 10 years ago. Okay, Spotify has made it easier to publish your own music directly without a big label. But I'd like to bring some clarity on the term "DIY." It's become somewhat of a hollow phrase, like "indie"… I mean, sometimes I'll see a band that is marketed as "indie," but then find out that they're signed to Sony…! Then I think: yeah right, indie, great! (laughs). I think it all comes down to your budget. If you are a small artist and there is no demand for your music, which is everybody's main concern, then you want more people to know about you. Just putting your music on Spotify is not enough to reach that goal; and it doesn't even matter if you do that yourself or if a label does it for you. Those are just the first steps.
For good promotion, you need good music, and you need to pitch that good music. You can do that via Spotify by pitching your music to playlists, or by showcasing at Eurosonic or similar events. And if you sign up to showcase and you are not selected, you could decide to buy a ticket to the showcase and the conference and go there anyway; to meet people and pitch your music to them in person. It's all about people. It starts with your own friends, and you gradually expand.
The Batida-example is still very relevant to me because it keeps happening every year: artists play at Eurosonic too early on in their career, and that can backfire. I discover a lot of new artists who might have great music and a great show and be so enthusiastic that they'd eagerly jump on a plane and pay for everything out of their own pockets, but if they don't have a professional environment yet, I try to warn them that they could set themselves up for disappointment and it might be better to wait.
For example, once we had an amazing female rapper from the Czech Republic, Hellwana, who played a great show at ESNS. It did not lead to any bookings, but it did help her get some more attention in her own country. And I thought: yeah, but shouldn't it be the other way around? I advise artists to try to get a solid fanbase in their own country first—by getting your music on the radio or playing a showcase in your own country, for example. Once you've succeeded, you could check your Spotify profile to see if you have a significant number of listeners abroad. If it turns out you have a growing fanbase in Luxembourg, your next step would be to go through the same process all over again, but in Luxembourg. And an international showcase like ESNS should be at the end of that trajectory, not at the start. I have to say, I find these phenomena fascinating.
In 2016, the focus was on Central and Eastern Europe, with the goal to offer a more structured view of the individual countries in that region and give agents and promoters from those countries the tools to do their work more actively and professionally. That was a very ambitious project that took us 5 years to prepare with think tanks and such. I was surprised to find out that some of those countries have no infrastructure whatsoever when it comes to a professional music industry. That most bands either do everything by themselves or that they have a friend who has a little label on the side and does their bookings and designs, prints and distributes flyers in his or her free time. Which is cool, but it's also sad that in these countries there is no support for bands on a political level. That there is no national institution bands can turn to with questions, no grants, no agency that specializes in music export. So, we connected with organizations like SoundCzech and there was a mutual enthusiasm and drive to collaborate long-term; Czechia and Slovakia became the focus countries for the 2019 edition.
Singing in your mother tongue? You do you!
Very often, bands from non-Anglophonic countries are confronted with the question: what's our market, do we want to play mostly in our own country, or abroad as well? And if we have the ambition to tour internationally one day, does that mean we should sing in English, or translate all our songs at some point? It seems to me that Spanish and Portuguese are almost a genre of their own and are quite easily accepted in most countries, but that a Dutch audience would have a lot more trouble connecting to a band that sings in a Slavic or Nordic language. But if, for example, a Czech band starts singing in English from the get-go, they have trouble connecting to a Czech audience. What is your take on this?
I get this question a lot, and I understand the will to please the audience and to communicate, but I always say: you do you! If you can express yourself better in your mother tongue, that's what you should do. It also really depends on the live show, there are multiple ways to get your message across. There are bands that are a huge hit with foreign audiences who don't understand a word of the lyrics, but they get the vibe, they feel it and they believe it. Or they can just find a foreign language beautiful by itself. And you are right that Portuguese and Spanish are internationally accepted genres, but it's only a matter of time before "Czech music" gets that status as well.
One of the reasons ESNS started and still exists is to support and promote "European culture"—as far as such a thing exists, because obviously it's a mix of many different cultures. If you ask a random person from the Czech Republic if they know the music from the surrounding cultures, I think there's a large chance that they'll stare at you blankly and shrug their shoulders. The average Dutch music buff doesn't know anything about the German market and that's because of differences in language and culture. But if you take a step back and look at the bigger picture, you'll notice that hip hop, rap, R&B, and rock are big everywhere. And yes, a band like Kensington is huge in the Netherlands, but if they sell any tickets in Germany, it's mostly because of Dutch people who live there. So, I'd always encourage young musicians to do what it is that they want to do and what they're good at.  The Czech rapper I mentioned, Hellwana, she sang both in English and Czech, and to tell you the truth, I liked her Czech songs better. Even though I didn't understand a word, I believed her more. 
Give these Dutch acts a listen
What are some Dutch acts that, in your opinion, people in other European countries should know about?
I'd like to name Jungle by Night: 9 guys from Amsterdam, about half of them went to music college and the others are self-taught, who share a love of African music, soul, and funk. What I really admire about them is that not only have they stuck together for over 10 years, they also keep evolving artistically. In recent years, they've added an electronic element and they just made an excellent record. They were never big commercially, but they're very successful as a live band. Their music is not superficial, it's innovative and authentic.
I'd also like to name a guitar band… And I'd like to name a woman, because lately, so many women have been doing an awesome job. I find Luwten very interesting, her real name is Tessa. She has been active in several projects for a long time and just keeps evolving. She released a new album this year and told me that she was inspired by R&B, which I didn't quite understand, because she is more of a singer-songwriter folk musician. But when I took a closer listen, I realized she was right: there is a warmth, an added layer in the music, a "swing" that is reminiscent of R&B—and that makes her music very original.
During the pandemic, I really enjoyed Hang Youth [a play on words on the Dutch word "hangjeugd," meaning something like "no-good youngsters"]. They're a punk band from Amsterdam. They sing in Dutch, they're rebellious, their songs last a minute and a half… Their singer Abel is a character who doesn't accept anything as fact and blatantly says: "This is just fucked up." I love that. Days like these, we need more people like him.
Then there's Temple Fang. They're very rough around the edges, just psychedelic rock, but incredibly good. When they played a 50-minute set in Doornroosje right after the long first lockdown, the crowd went berserk, because everybody was so happy to hear live loud music again—and it made him emotional. So, after their first song, which lasted 32 minutes, he said: "Oh, Nijmegen, I'm SO happy to be here!"—and it really came from the bottom of his heart. "I am so, so happy… and now we will play our second and final song." (laughs). That cracked everybody up, myself included, and then we were treated to another 20-minute trip. It was hilarious. This band sells really well; guitarists and music freaks love them. 
ESNS's 2022 Focus on Spain: give these acts a listen
How about vice versa, which European acts would you recommend to Dutch music lovers?
I'd like to name a few artists from Spain, as it is our focus country for the 2022 edition. But then again, we discovered that in reality, Spain does not have a unified identity, but has many regions with their own language and culture, and this is where their strengths lie—they will also tell you this themselves (laughs). I suppose you only want me to name a few? That's hard, but alright… 
There's this great garage rock band from Valencia called Pódium. Their leading lady is impressive, not only because of her charisma, but her voice… She screams and cries, straight from her gut.
There's Santa Salut, a woman from Barcelona who does rap and hip hop and is very popular with the kids in Spain.
And for lovers of the more artsy stuff, I'd say: check out Travis Birds. She makes very interesting music in my opinion.
The new generation will not be pigeonholed
How would you describe the current state of the Dutch music scene?
As very fascinating. I don't want to use the word "covid" too often… but I think that a lot has happened on the Dutch music scene in the past 10 years. If you look at it from a dry business perspective, the economic output is much more substantial than 10 years ago. Ticket sales for Dutch artists have skyrocketed, so Dutch acts get booked more for pop venues and festival. And I'm talking medium-size festivals like Paaspop, but also the larger festivals such as Lowlands and Pinkpop, where the rule always seemed to be that foreign acts, especially from England or the USA, were automatically considered to be "better" or more valuable. The large festivals collaborate with British and American agents who are very good at selling their wares… But Europe is rapidly catching up.
Also, the Netherlands always looked up to Belgium as fertile ground for high-quality alternative music, but we are not that far behind anymore. And I'm quite proud of that.
Belgian acts like dEUS, Zita Swoon, and Gorki were very popular in the Netherlands in the '90s.
I'll try to use this word only once, but I can imagine that covid and the lockdowns have, with all the damage they've done, also given Dutch bands a unique push—as it wasn't possible to book international bands for a while, and their spots were free… But I'm sure that the boom of the domestic music scene depends on multiple factors… Has the music gotten better? Or did bands get smarter in promoting themselves? Or is it because singing in your mother tongue, or even in a regional dialect, has become a trend? When I was a kid, in the '80s, it was considered very uncool to sing in Dutch…
Good question. I think it's because the new generation doesn't care anymore about being pigeonholed, like "you are punk" or "you are alternative" or whatever. It still exists, but it's not as black-and-white as it was from the '70s till the '90s. Platforms like Spotify may have contributed to youngsters being more open-minded and musically omnivorous. Of course, there are people who work at Doornroosje, be it as technicians or behind the bar, who had the same blue hair that Billie Eilish had at that time. That's because she's an icon, and young people will always feel the need to rebel against their parents and society—at least I hope that this will never change, because I think it's natural. But yesterday, at the Jungle by Night concert in Doornroosje, the room was full of twenty-something-year-olds. I rarely feel old, but this time I thought to myself: "Am I the only one here who is 40+? How is that possible?" I saw the blue-and-yellow Billie Eilish girls next to punker dudes, all rocking out to Jungle by Night, and I thought: this band brings everyone together!
That sounds almost utopian!
It was! The funny thing is, I had an app-conversation with a colleague in Groningen who had had Jungle by Night in their venue the week before—and she had exactly the same experience! So, it has nothing to do with the city of Nijmegen. It confirms my theory that young people are open to various musical styles. I myself have always been a curious consumer of music: for example, when I heard the Beastie Boys in the '90s, I was like: where did that bass line come from? And I'd research it and end up with a jazz record from the '60s. I see the same curiosity in today's youth. Not all of them of course, but it's a noticeable trend.
Ha… So many people always complain about the young generation, saying that they're shallow, not interested in audio quality or in music history… Hearing you tell a completely opposite story is quite refreshing… So, there's hope?  
Absolutely, you can rest assured.