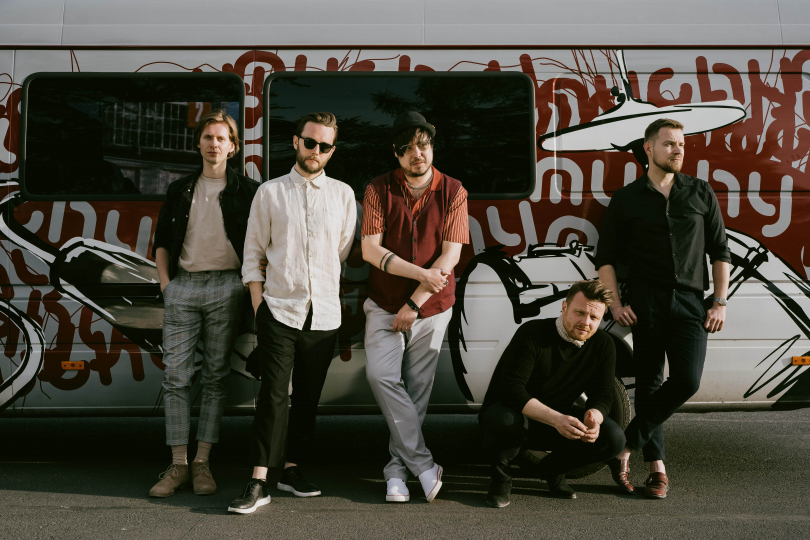 Muchy | Photo K. Daszkowski
All Eyes on Poland with Michał Wiraszko (Muchy)
Poland is a country of ancestral traditions and solid roots. Polish music, too, has a great tradition: from famous and popular folk dances like mazurka and polonaise to the work of composers like Frédéric Chopin and Krzysztof Penderecki. And today the Polish panorama is even wider, Polish having artists made their way internationally in the jazz world (most famously, Krzysztof Komeda), and also in other more alternative music areas—Polish heavy metal is quite known and peculiar (Vader and Behemoth, among many other bands representing the genre). I met with Michał Wiraszko, frontman of the Polish band Muchy, who have been active since 2004. Muchy have released three studio albums—Terroromans (2007), Notoryczni debiutanci (2010) and Chcecicospowiedziec (2012)—and have received many awards and prizes, including two nominations for the Fryderyk award and one nomination for the Eska Music Awards. Muchy is also the first Polish band to have performed twice on the main stage of the Open'er Festival in Gdynia.
How did the current situation influence music? Did COVID affect the music business?
Everything changed. When we started there was Myspace and Napster. Those were the days! We are the last generation of Polish musicians who had the first single on CDs released. Taking a giant leap to 2022, this was supposed to be like a big bang for the Polish musical industry, for concerts and musicians when COVID came. Unfortunately, 2018 and 2019 were the years when there were the biggest amount of concert tickets sold in the whole history of Polish music. And from the peak of the mountain, we dropped into the deep valley of lockdowns, restrictions and all this pandemic stuff. So nowadays it's a bit of a struggle and chaotic. And besides, the political and social situation today in Poland is all about division. We're getting closer and closer to some form of dictatorship, with violations of women's rights, an anti-EU mood and a politicised constitutional court…
And what are the consequences of this situation in music?
I'm afraid that Polish young artists have the worst time in pop culture history now. I noticed that the audience in general is trying to go back in their minds to the so-called "good old days." Our band is the perfect example of this phenomenon: we came back after seven years and we had some hopes for the new album, and in fact, it reached a bigger success than we expected. Nowadays, debutantes struggle to captivate the audience's attention, which isn't easy. People today are more focused on other things, like their finances or their health.
So, is there really no hope for better times, you think?
Bad times are bad for the business and industry but are, let's say, "good" for making music and writing lyrics with a powerful message. Some music genres did not seem affected by the actual situation—Polish hip hop, for instance. And even during the pandemic, hip hop in Poland was not as badly affected as, for example, pop music. This isn't the first time that history makes the whole world hold its breath and I deeply believe that music will never stop making people happy.
Did Poland support musicians during the pandemic?
I must admit that we received support. The Ministry of Culture and the local councils of each city helped the artists with financial help programs for musicians. During the pandemic there were a few programs written especially for artists. The economic situation has been quite supportive. But, you know, the industry lost a lot of money. So, everyone now is looking to earn the money they lost last year. And it's another thing that is working against the debutants. Because the business can recapture money on famous artists faster, so, they rather support famous artists. But overall, we cannot say the Polish and local government forgot about us.
This is good, the government helping musicians during COVID and at least giving support for a percentage of their income and their activity. But I want to play the devil's advocate for a moment. And I would like to ask you if there is something you think that is lacking for artists, something that the government doesn't do or even artists themselves don't do. Or are there limitations for artists in Poland for expressing themselves, getting public or developing their music?
Well, in general, this government is mostly promoting the so-called "safe" artists, with no political message or those pro-government-oriented ones. It's visible in the public media. On the other hand, those "polite" artists were able to ask for a fund and get some percentage. The others, in some cases, not at all. That is the barrier. The government artists got more money and made it onto mainstream media easier.
There were also barriers concerning the actual situation as a whole, of course. There was still some capacity limit for concert halls in Poland. Sometimes you could sell 50% of tickets for some venues, and other times like 75% or 25%. Therefore, it's economically unsustainable, considering that the artist has to book—and thus, pay—the bus driver, the technicians, the concert management, the front of house guys, and so on. And ultimately, you have a budget starting at about 10,000 (Polish zlotys) just to break the event. And 10,000 zlotys it's maybe 200 tickets. But when you have to sell 200 tickets, you need to rent a place for about 400 people. So, it's a bigger cost. And sometimes you need to book a place for an audience of 800.
And is there a possibility for artists, for example, to participate at festivals or events throughout the year in Poland?
Yes, of course. Last year was a bit uncertain, so some festivals resigned or made a hybrid formula—for example, they would set up a small live stage and stream it on the internet. Very big and acclaimed festivals like Pol'and Rock Festival, which usually gathes about 500 000–700 000 people, was reduced to 20,000. Open'er Festival in Gdynia, which lasts three days in the start of July, and got, like, 80,000 to 100,000 people, was exceptionally made for like eight ongoing weekends. So, you had like six gigs each weekend. On the other hand, many festivals were canceled. But we still managed to play like eight festivals last year. This year is going to be better, it's already visible. More and more festivals are announced, and they've presented their lineups. It seems to be a bit better than last year. Honestly, the problem for Polish artists is surprisingly the opposite, as all of the international concerts from the last three years, which were canceled, are going to take place in 2022. So after a year, when no stars from abroad played in Poland and only Polish musicians were touring all over the country, we assisted an explosion of gigs: we played like three times in Lodz, four times in Warsaw, five times in Poznan. Sometimes even the same audience listens to you like five times. I believe we will have maybe two or three international acts every week in Poland this year, probably from May till September. But I think that in 2023 will be the breakout, and everything will go back to normal.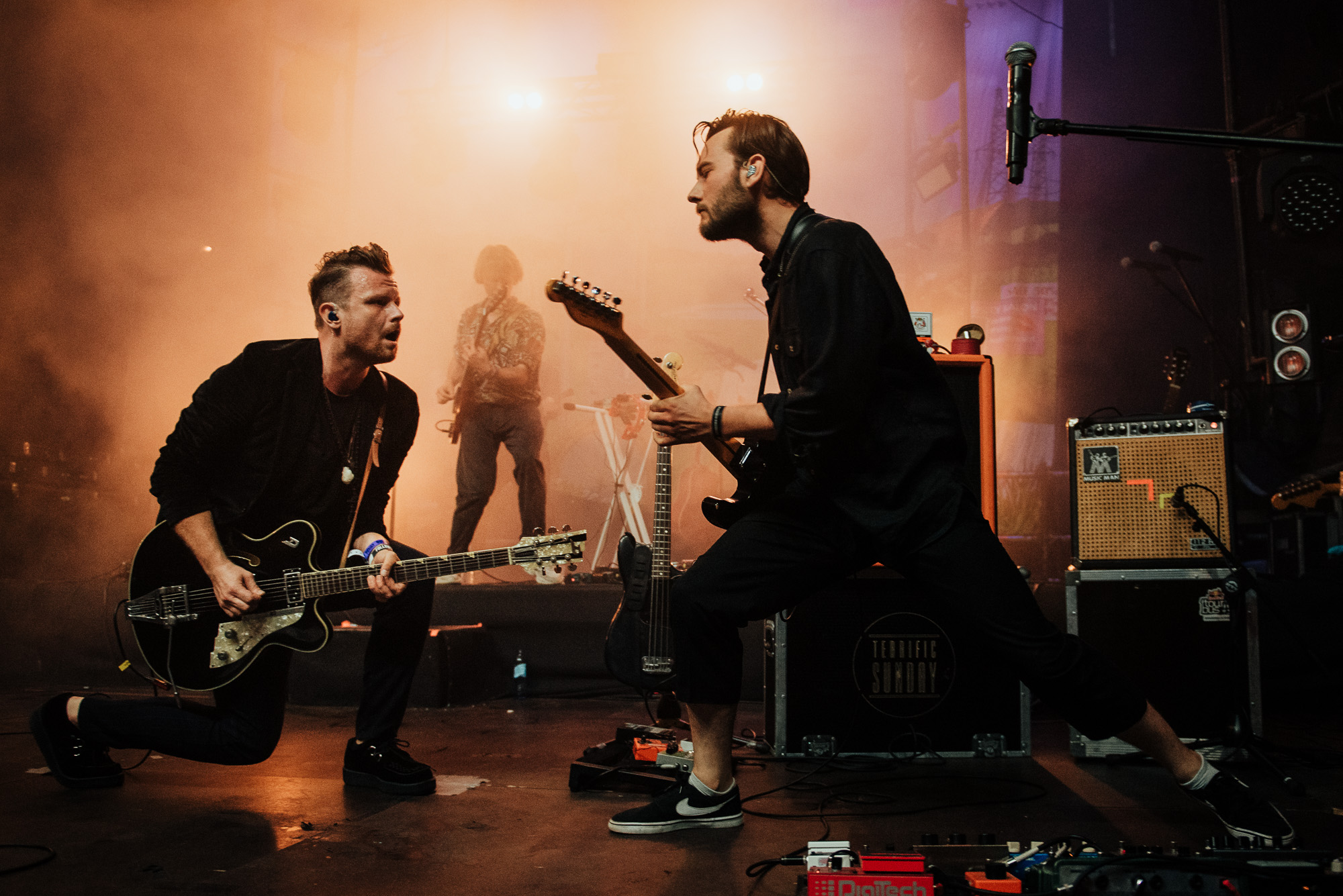 What media works the best when somebody wants to approach music? I mean, if I want to discover Polish music or a Polish artist. How is music in Poland shared and spread?
We once had a really big radio station in Poland, which was Polskie Radio Program III ("Trójka") which has been totally changed by the current government. The journalists from Trojka started new stations like Nowy Swiat (New World) Radio, Radio 357 and Newonce Radio which are financed mostly by audiences. These three are now maybe equally good, and they are helping artists to promote their music. We also got a bunch of private stations like MUZO fm, Eska Rock, Rock Radio… There is also streaming, of course. Spotify has special playlists created by the Polish branch. You have the music radar. "Swiezaki" is the freshman playlist. You've got the indie playlist, the hip hop playlists, electronics playlists and so on, and they are updated weekly. So you have fresh information each week. The views and streams are now the biggest measurement to establish if you are popular or not. Either streaming or radio work for this purpose. You can check some Spotify playlist or the radio and get acquainted or just updated with the new Polish scene, let's say.
Talking about your band, of course, but also about Polish music in general, is local musical product exported abroad or is more of a national thing?
I'm afraid the barrier is the language. The exception that proves the rule is now a polish pianist Hania Rani, who has toured the whole Europe with her latest album. Polish music is international as long as you don't sing in Polish, huh.
We have again some programs financed by government institutions, cultural exchanges programs. There is the Adam Mickiewicz Institute, which is focused especially on exporting Polish music. The last decade was the time of the Rising Showcases festival. We have the Spring Break festival in Poznan, which made a change, together with Reeperbahn Festival in Hamburg, and with the Eurosonic Festival in Netherlands. Now, the new showcase festival Great September is going to take place in Lodz at the end of the summer.
The alternative music world has some ways to change, but they are completely different than the mainstream artists or the folk artists who have had some government help, for example. And the other independent way, which I see the Polish music is rising in other countries at the moment, is constituted by producers and deejays. There are some guys who make beats, and the beats may be used by a huge American rapper album, for example. Featurings and collaborations are probably the most exported products.
And is there a niche, some alternative music that is known abroad or is very famous in Poland apart from the mainstream?
Yes. Quite popular is a DJ duo from Szczecin called Catz 'n Dogz. It's new house-techno/house music. Hania Rani is a contemporary classical pianist, who was touring all over Europe last year. Polish hip hop is not so popular abroad because of the language.
And when looking at the mainstream?
Certainly, Daria Zawiałow, who won the MTV Europe Music Awards which took place in Budapest last year. Apart from that, there is also Dawid Podsiadło, Krzysztof Zalewski and Sanah. Other huge debuts were Mata and Young Leosia; these two are hip hop or rather rap.
And what is instead your favorite act?
I had some mentors, thanks to whom I was able to rise and who taught me a lot through my career. With some of them, I had recently the honor to cooperate, to play some music or to write lyrics with them. But if I were to tell you about current music, uhm, it may sound strange, but I mostly listen to hip hop. Polish rap and hip hop are very good. And I can define Polish rappers as great poets. And this is also the reason why producers make beats for international rappers. It's a really, really good music. When you listen to guys like, uh, Sokol or Kaz Bałagane, they sound very "criminal" and underground. Also, Quebonafide, or Szczyl. Szczyl means in Polish something like "whipster"; he is very good with lyrics, and he released just some months ago his debut album, called Polska Floryda. Mata, previously mentioned, is also quite good, but it's music mostly for teenagers.
Let's now talk a little bit about your band and your background. How did you actually start the band Muchy?
The name of the band comes from William Golding's masterpiece. And there is another song of Lech Janerka, a great Polish musician who was famous in the eighties. He used to write really great lyrics, which are usually used as quotes by Polish people, even not knowing the musician. In the song called "W Naturze Mamy Ciagly Ruch" ("In nature, we have continuous movement", Janerka says: "Więc żegnaj/ Zostałem prorokiem much" ("So goodbye/ I have become the prophet of the flies"). So that's where our name comes from. We started up at university. I was studying psychology. But I always wanted to be a musician—I went to musical primary school back in 1992 as a 10 year old boy. I started playing classical guitar, but I didn't like classical music. So, uh, they dropped me like after three years and I had "guitarrophobia" for the next six years because of that! So I started a band in secondary school. It lasted for a couple of years. But eventually everybody left the city (Stargard) and I also left for Poznan. There, during the second year of studies, I met Piotrek Maciejewski. He's our second main composer in the band and bassist, guitar and piano player. We started the way that we were going to every single concert in Poznan back in 2002, 2003 and 2004, from the smallest gigs for 20 people of avant-garde post-rock niche bands, to like Chumbawamba, for example! And we were meeting every single gig, back in those years; we were like some kind of music nerds. In 2003 we met Szymon, the drummer, and decided to play music. In those days there was a quite big rockabilly and psychobilly scene in Poland and for few first months of the band we wanted to play psychobilly. I love psychobilly, like The Cramps, and country music, like Johnny Cash, for example. Our band was playing for two years in Poznan, we were making songs, we were playing small gigs for friends, and back in 2007, well, everything it started to be quite loud for music, and the new generation of guitar music started in Poland. So we started to play in bigger and bigger venues. Like there was 50 people, 150, then 400 and even 800, after the release of our debut album (Terroromans, in 2007, Ed.). It was quite a natural garage-band way that we came through in the beginning. Then we were found by a Polish radio company, Polskie Radio Program III, whose listeners voted Terroromans the Album of the Year and Muchy the Band of the Year.
And what about touring? Does Muchy get around a lot? And where?
After this, it started to be quite loud for our band too. Muchy basically started since 2004, then after our debut album came out in 2007, we started touring until 2013 and we played like 400 or 500 gigs. And it had to finish just the way it finished because we were so tired of each other and, you know, there was some of the sex, drugs and rock and roll vibes. So, we needed to make a break. I didn't know that it was going to be a seven year break—it's quite long! But maybe it was supposed to be that way. Our first big tour was when we appeared as special guests of the band Hey, during their very big tour in 2007 in Poland. And it was like a rock and roll high school for us. For the first time we had the opportunity to see how the backstage is organised or how complicated the logistics of touring were—matter of fact! We were in our mid twenties and had the first opportunity to touch the big scene in Poland. After the first evening Robert the drummer from the band Hey told me these words, "when you release the first album and then go touring for the first time, then you will do it again with the second, third, fourth, fifth album, to the point when nobody's interested in your music, and then you will try to do absolutely everything to get back on stage." He was perfectly right. It's like a path: once you go through this path, you can never go back.
Of course, following the path subsequently implies an evolution of some kind. But you need to keep going through it and, eventually, this process changes and transforms you. And somehow you gotta keep it going. That's cool! The path is usually interrupted by external factors which enrich our experience, I believe. Which artists have and continue to influence your music?
When we started, we were listening to the indie revolution bands like Franz Ferdinand, Bloc Party, The Killers, those were our idols back then. And us as Muchy, we were trying to play like these bands. Of course, it changed through the years. And now, the band we are listening to more often is maybe The War on Drugs. The last two albums were great. We also, and maybe it's not a popular opinion these days, love The Smiths and Morrissey.
Iggy Pop or David Bowie?
I like Iggy Pop, but I'm part of the David Bowie team!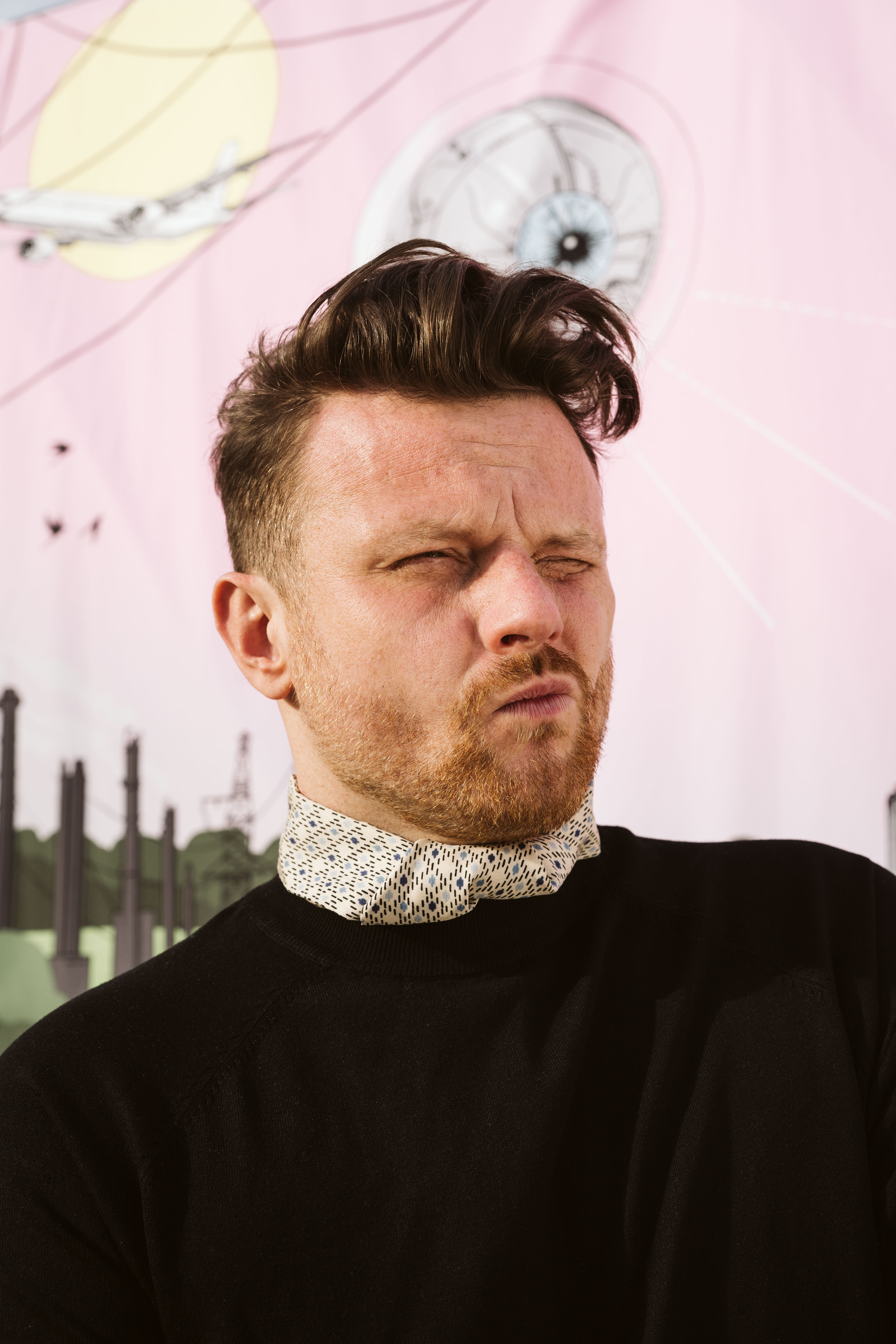 Any alternative bands that you are attracted to?
A great band is of course Queens of the Stone Age. Also, The Flaming Lips, TV on the Radio, The Smile (even though I am also a fan of the old Radiohead). 
Do you have some touring planned at the moment?
As people were returning their tickets because of the pandemic, we decided to play nowhere this spring, because there is now the fifth wave of the pandemic. So, it's nonsense. From May, it'll start again, to be like one or two gigs every weekend.
I think the communication among artists can make the musical discourse a little bit more interesting and more dynamic; artists could get organised among themselves to plan an event or a gig together. And are there some artists that you would like to collaborate with, in Poland or also abroad?
I invited few guests for the last album of Muchy. They were rather guest appearances than actual collaborations. But the overall process was very fruitful. In my dreams, I would probably like to collaborate with Paul McCartney, huh! But in Poland, maybe, I think I will cooperate with some great musicians for my solo album, which I just started to compose & write.
Is it going to be a different genre than Muchy?
I will make it with completely different musicians, so I am pretty sure it is going to be a different genre. Changing is the only way for an artist to stay alive.
If you have found an error or typo in the article, please let us know by e-mail info@insounder.org.