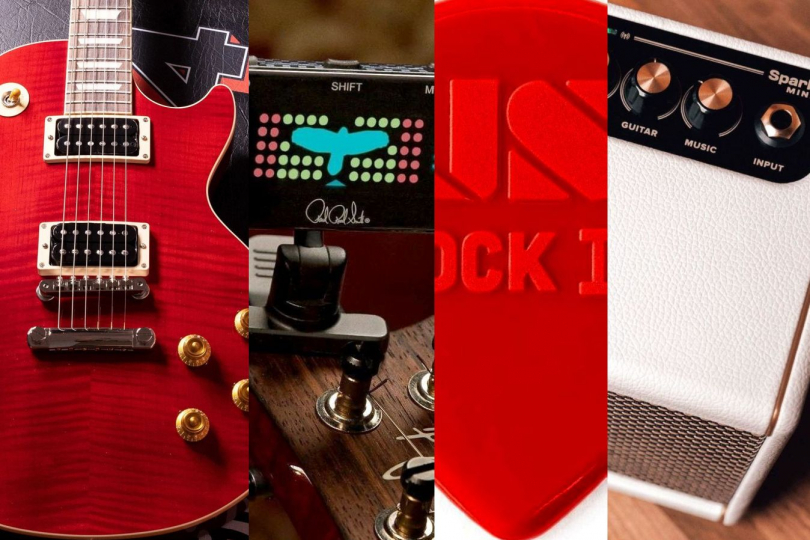 Guitar Gear Alert: April 2022
Are you a guitar fan? On the first Monday of each month, Insounder's section presents a quick overview of new guitar gear that is about to hit the market. Guitar aficionados can thus get a general overview of the latest models of instruments, amplifiers, effects or various accessories—strings, tuners, capos, etc. Technical equipment for bassists, drummers, keyboardists, singers, DJs, sound engineers, etc., will be presented in an overview on the third Monday of each month. Selected news will be shown in more detail in later posts.
Guitars
Fender JV Modified Series – The product line, inspired by older Japanese Fenders from the 1980s, includes the JV Modified '50s Stratocaster, '60s Stratocaster, '50s Telecaster and '60s Custom Telecaster models. They feature limewood bodies, maple necks with V-profiles, fretboards made from the same wood (except for the Custom Tele – rosewood) with a more modern 9-inch radius, medium jumbo frets, bone nuts, locking pegs and appropriate tremolos or bridges. Fender Vintage-Style single-coils were used, and on the Strat '50s, a Fender Hot Vintage Alnico humbucker with push/pull coil-splitting was also used. The '60s Custom Telecaster variant features a phase-rotating switch. Prices range from 1,100 to 1,400 euros.
Kramer SM-1 H – The modified version of the original Stagemaster Mach II series of superstrats with a mahogany neck through body, a body made of the same material and an ebony fretboard with 24 jumbo frets. The strings are anchored in a Floyd Rose 1000 double-locking tremolo, complete with 41.3 mm wide zero fret locks and the company's signature pegs, which, like the rest of the hardware, are black. The guitar is only equipped with a Seymour Duncan SH-4 JB bridge humbucker, linked to a volume pot with a push/pull switch activating series or parallel coil connections. The SM-1 H model can be purchased in Tronius Silver, Buzzsaw Gold or Shockwave Purple finish for a price of about 1050 euros, including a high-quality hard case.
Gibson Slash Les Paul Standard Limited 4 Album Edition – The 250-piece special collection commemorates the album 4 (Slash featuring Myles Kennedy & The Conspirators), the first release on Gibson Records. The classic mahogany construction with AAA quality maple top, rosewood fretboard and "50s Vintage" neck profile is supported by two Custom BurstBucker Alnico 2 pickups, hand wired electronics with Orange Drop capacitors, aluminum stopbar tailpiece and a tune-o-matic ABR-1 bridge. The Translucent Cherry finish instrument comes with strap locks, hard case, certification, "4" sticker, the aforementioned vinyl album, picks, etc. for a price of approx. 3300 euros.
Effects
SolidGoldFX Commodore – The overdrive inspired by the first, now highly acclaimed Marshall BluesBreaker pedal, based on the eponymous amp made famous by Eric Clapton in the era of John Mayall's band. The effect is equipped with four tension pots controlling the Volume, Tone, Contour, Drive parameters and a footswitch connected in true bypass mode. Thanks to the extended interactive corrections, a sound with character typical of Marshall, Vox and Fender amps can be achieved. A 9V battery or a 9-18V adapter supplies power to the model with a current consumption of approx. 10 mA. The user will also find six different factory settings in the manual. The price is around 200 euros.
TC Electronic Bucket Brigade Analog Delay – The budget-friendly reverb built on time-proven BBD chips provides a maximum time of 600 ms and a warm timbre with good dynamics. In addition to the traditional Volume, Delay, Feedback controls, the developers have also equipped this delay with a Depth parameter affecting the signal strength of the built-in modulation circuit, which is activated by the Mod lever switch. The chorus-based modulation progress can also be adjusted by an internal trimmer setting the speed pulsation. The footswitch operates in true bypass mode, the stompbox with a price tag of about 70 euros is powered by a 9V adapter, the battery is not supported.
ThorpyFX Boneyard – The boutique fuzz that designer Adrian Thorpe claims to be his interpretation of what the perfect Tonebender, one of the most famous fuzz effect in history, should sound like. Compared to the vintage model, the modified version delivers lower noise levels, wider sonic flexibility and higher volume in a relatively compact package. Germanium transistors, premium resistors (metal film) with only 1% tolerance, Wima or Panasonic capacitors, gold-plated circuit board, dustproof potentiometers and Neutrik connectors were used. The initial limited series priced at around 300 pounds is almost sold out, production of the next batch will be dependent on parts availability.
Amps, combos, preamps, stompboxes etc.
Positive Grid Spark MINI – The smaller battery-powered stereo version of the Spark combo features simple controls consisting of a four-preset switch for Rhythm, Lead, Solo, Custom, an instrument volume potentiometer, a playback level knob, and Power plus Tuner buttons. This 10-watt digital amp offers incomparably greater possibilities when paired with a mobile app (iOS or Android), allowing editing as well as a choice of 33 virtual amp models and 43 effects. The combo is equipped with a pair of two-inch speakers, a front-facing bassreflex, a USB-C port and a rechargeable lithium battery with approximately 8 hours of runtime. Mini-jack headphone/line/Aux In connectors and a Bluetooth 5.0 module are integrated.
Fender Frontman 20G – Another combo designed for home practice, it uses a classic transistor concept, a two-channel preamp with common three-band EQs, a 20 W end stage and an 8-inch Fender Special Design speaker with 8 ohms impedance. There is a headphone jack and Aux In. The compact combo, measuring 31.5 x 33.65 x 18.1 cm and weighing about 6.8 kg, is available for about 110 euros.
Line 6 Catalyst – The new Catalyst 60 1x12, Catalyst 100 1x12 and Catalyst 200 2x12 modelling combo series features straightforward controls with six types of sounds – Clean, Boutique, Chime, Crunch, Dynamic, Hi Gain, based on emulation technology taken from the flagship Helix edition. The two-channel preamp is complemented by a Boost function, an effects section with a total of 24 items and a separate noise gate. The amps are compatible with Catalyst Edit, built-in four-channel card, effects loop, MIDI In, USB port, etc. The price starts at approx. 400 euros.
Accessories, software, etc.
Jim Dunlop Yngwie Malmsteen Custom Delrin – Designed according to the Swedish guitar icon's specifications, the signature picks use the material and shape of the well-known Delrin 500 series but with specially shaped edges, which the manufacturer says gives the player "lightning speed and laser precision". Versions of 1.14mm (YJM-03YL – yellow), 1.5mm (YJM-01WH – white) and 2mm (YJM-02RD – red) are available. It is possible to buy sets of 6 or 24 pieces, the first mentioned package costs about 10 euros.
Jim Dunlop Rock III Custom Nylon Jazz III – The new pick model from the popular Jazz III series has a specially shaped tip and bevelled edges, making it easy to glide across the strings and producing tones with full, clear and consistent expression, even at high distortion. The nylon blend used provides the classic feel of Jazz III picks and adds a nice warmth to the tone without overly harsh highs. The Rock III Custom Nylon Jazz III 1.38 mm thick can be purchased in sets of 6 or 24, with the price for a smaller set starting at around 6 euros.
PRS Rechargeable Clip-On Tuner – Innovated clip-on tuner equipped with a rechargeable battery that should last for several weeks on a single charge via USB port during standard operation. With four tuning modes (2 x classic, 2 x strobe) and a 360-degree rotatable arm, the model also boasts fast and accurate tone detection with 0.5 cent accuracy in strobe mode. With a price tag of about 30 dollars, the tuner is not only suitable for guitars or basses, but can also tune other instruments.
Fractal Audio FC-6 MARK II and FC-12 MARK II – The new generation of Fractal Axe-Fx III, FM9 and FM3 guitar preamp/multi-effects controllers got larger (50 x 17.5 mm) and more readable displays on the individual footswitches, which was reflected in a bold font, but the overall size of the controllers was maintained. For simple changes, you can use "EZ Mode" to adjust the function of any switch within several seconds. You can choose from various ways to control presets, banks, scenes, effects, channels, tuner, tempo, looper, etc. Prices are around 550 and 750 dollars.
If you have found an error or typo in the article, please let us know by e-mail info@insounder.org.