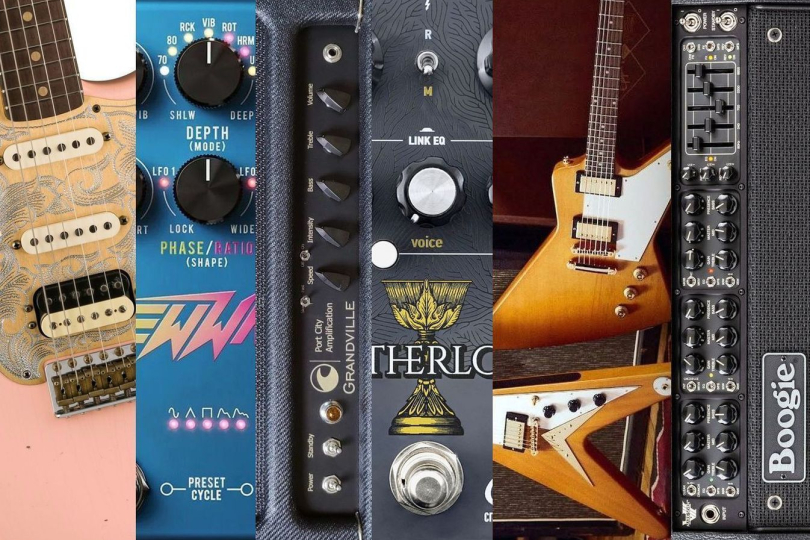 Guitar Gear Alert: April 2023
Are you a guitar fan? On the first Monday of each month, Insounder's news section will present a quick overview of new guitar gear that is about to hit the market. Guitar aficionados can thus get a general overview of the latest models of instruments, amplifiers, effects, or various accessories – strings, tuners, capos, etc. Technical equipment for bassists, drummers, keyboardists, singers, DJs, sound engineers, etc., will be presented in an overview on the third Monday of each month. Some of the products introduced in this overview will be discussed in more detail in later posts here in the News section.
Guitars
Wylde Audio IronWorks Barbarian – guitarist Zakk Wylde's signature guitar is made for his Wylde Audio brand in the Schecter workshops and is based on the Gibson SG, but with modified contours and a thicker mahogany body, which is complemented by a large metal, richly decorated pickguard evoking the instruments of the American boutique brand Zemaitis. The neck with Zakk-C profile is glued from three pieces of maple, the ebony fretboard carries 22 jumbo frets, and the hardware in satin chrome consists of a T1ZS tailpiece, TonePros T3BP TOM bridge and Grover Rotomatic tuning keys. A pair of EMG 81/85 active humbuckers, separate volume controls, a tone pot and a three-position switch are installed. Colour: Black Burst, price approximately 1,800 dollars.
Fender Tyler Bryant Pinky Stratocaster – limited relic edition from the Custom Shop inspired by the 60s Strat with a few modifications. The body is made from two pieces of selected alder, the maple neck with '60s Oval-C profile is combined with a rosewood fretboard fitted with 21 Dunlop 6105 frets, bone nut and micarta position markers. In addition to the CS H-W '60s Strat neck and middle single-coil, a Shawbucker bridge humbucker is installed, and the pickups and other electronics are mounted in a single-ply gold-anodized aluminium pickguard with engraved artwork. Colour: Aged Shell Pink covered in nitro lacquer, price: approx. 5,750 dollars including a hard case, certification and a strap.
Epiphone Inspired by Gibson Custom Shop 1958 Korina Explorer and Flying V – new models from a special series of instruments co-developed by the Murphy Lab division of parent Gibson. Like the rarities from the 1950s, these guitars have Korina construction and period neck profiles. The Laurel fretboard features 22 medium jumbo frets and a Graph Tech composite nut. The hardware consists of the company's Deluxe pegs, ABR-1 bridge, Explorer stopbar tailpiece, through-body string anchors and Flying tailpiece plate. Burstbucker 2/3 humbuckers, CTS pots and Mallory capacitors were used. Aged Natural colour with black or white pickguard, right and left-handed versions are available. Price: approx. 1300 euros including a hard case.
Effects
DOD Overdrive Preamp 250 – the second return of the popular distortion pedal, whose forte is a warm tone with a relatively wide range of gain, ranging from a light boost through a refined crunch to a more saturated drive. The "2023" version shares matching component quality with the vintage original and adds a blue status LED. The straightforward control offers Gain and Level parameters, the footswitch is wired in true bypass mode and a new die-cast aluminium chassis has been used. Price: about 110 dollars.
Designed in collaboration with guitarist Mark Lettieri, the Jackson Audio New Wave modulation pedal offers chorus, tremolo and rotary speaker modes, divided into 70's, 80's, Rack, Vibrato, Rotary, Harmonic and User. The signal path is fully analogue, the LFO waveform (5 types) has digital controls, pots are integrated with Mix, Tone, Depth, Speed, Delay and Shape parameters, also serving as Phase/Ratio functions. The stereo effect built on BBD MN3007 chips offers Ramp and Bloom footswitches, tap tempo, MIDI, exp. pedal input and true bypass circuitry. Price: approx. 300 dollars.
Crazy Tube Circuits Motherload – a distortion pedal combining the sounds of the fuzz-based EHX Big Muff and the well-known ProCo RAT distortion, with both analogue circuits being independent. The Big Muff section, with its more detailed tone separation and rich harmonic components, offers Tone and Voice correction controls, the RAT circuit features filtering, volume and gain, a small toggle switch handles selection between the circuits, and flexibility is enhanced by the Link EQ button, which when activated makes full equalization active in both circuits. The silent footswitch (relay – soft-click) is connected in true bypass mode, the power supply is provided by a 9V DC adapter (35 mA). Price: approx. 225 euros.
Amplifiers, combos, preamps, boxes, etc.
Mesa Boogie Mark VII – the team led by designer Randall Smith "skipped" the VI series, which existed only in prototype form, and introduced the new Mark VII edition, consisting of two Mesa Mark VII Head amps, a Mark VII Rackmount Head and a Mark VII 1x12 combo. The identically equipped all-tube three-channel units are fitted with a Simul-Class power amp with Dyna-Watt technology (switchable power output 25, 45, 90 W) and allow a choice of nine sound modes including Mark VII, Mark IIB, Mark IIC+ and Mark IV mods. According to the manufacturer, this is the most versatile series, with, among other things, a modified effects loop, MIDI and CabClone emulation with IR pulses of eight boxes. Prices: Head and Rackmount Head identically about $3500, combo equipped with 12" Celestion Custom 90 speaker about 3800 dollars.
Port City Amps Grandville – a limited range of full-amp boutique amps designed in collaboration with guitarist and YouTuber Rhett Schull, is inspired by the vintage Gibson series from the 1950s. The 50W amplifier and combo, with single-channel preamp and tremolo, use a pair of 6SJ7 tubes, an equal number of 6SL7 triodes, a 5U4GB rectifier, two 6L6 selected TAD tubes, and transformers including Hammond inductors. The combo is fitted with a 10" Jensen Jet Tornado / 12" WGS G12-CS tandem, and the same drivers are also found in the Custom 2×10/12 Wave external box. Prices: head approx. 2550 dollars, combo approx. 2950 dollars, cabinet approx. 880 dollars.
3rd Power Dirty Sink 6VEL – hand-built all-tube amp and combo with the sound of Marshall JTM 45 and Super Lead. The flexible power amp is capable of working with a pair of 6V6, EL34, 6L6, 5881, etc. tubes, which means the max output is between about 20 and 40 W. In addition to the gain control, four-band EQ and volume, there's a Cascade/Plexi switch to increase distortion, a JTM/JMP voicing switch and another gain switch. There's also a four-position rotary Preamp Bias switch for selecting Cold 1/2 and Warm 1/2 modes. The amps also have terminals for adjusting the bias voltage of the power tubes, an impedance selector, an effects loop, a Hybrid-Master potentiometer and, in the case of the combo, a WGS Retro-30 12" speaker. Prices: head approx. $3200, 1x12 combo approx. $3500, including four-button footswitch (Mute, Gain+, FX Loop, Solo Boost).
Accessories, software, etc.
Seymour Duncan Lari Basilio Signature – the well-known Californian brand has designed for guitarist Lari Basilio an HSS pickup set calibrated for her Telecaster model Ibanez LB-1. The two single coils offer Telecaster and Strat-based sounds, while the bridge humbucker with an Alnico V magnet and 9.22 kOhm resistance scores with transparent expression with boosted mids and punchy attack. For both singles, Alnico V magnets were used to pick up the EAD strings, the higher strings on the neck model are picked up by an Alnico IV magnet, and for the middle pickup, an Alnico II magnet was chosen for the position. Prices for individual pickups in classic chrome finish start at about 110 dollars, with a set going for about 380 dollars. The versions in gold chrome carry price tags of around 120 dollars and 410 dollars respectively.
D'Addario Dexterity Bands – fretting hand grip strengthener, usable with or without the instrument, is another tool for keeping fit, developing dexterity, increasing movement speed or warming up before a performance. The system consists of four rubber rings that are threaded onto the fingers, and a rubber cord connecting each ring and putting the necessary resistance. The exerciser is available in one flexible size for around 10 dollars.
Fender Player Plus Strat / Tele Necks – separately sold maple necks for the Player Plus Stratocaster and Telecaster models feature a Modern-C profile and satin urethane lacquer finish. The maple or pau ferro fretboard with rounded edges has been given a flatter 12-inch radius, carries 22 medium jumbo frets, and features a nut with marked grooves ready for final refining. Production is handled by the brand's Mexican subsidiary in Ensenada. The price has been set consistently around the 400 euro mark.
If you have found an error or typo in the article, please let us know by e-mail info@insounder.org.