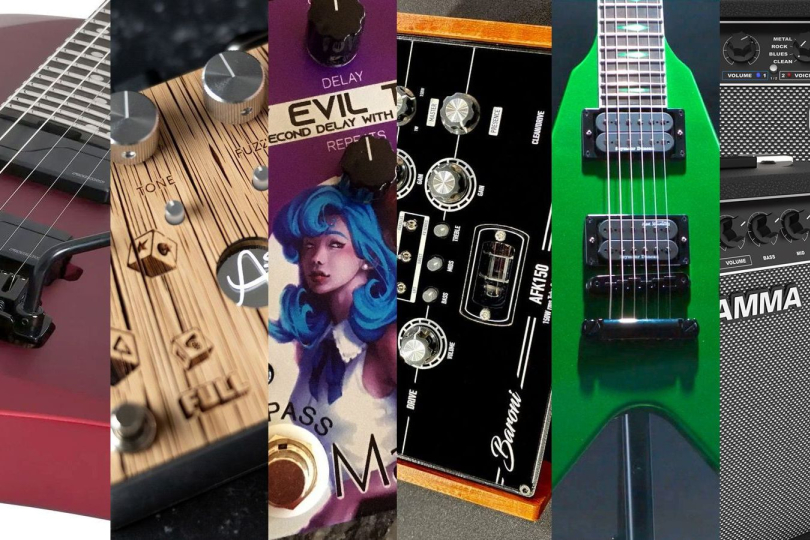 Guitar Gear Alert: August 2022
Are you a guitar fan? On the first Monday of each month, Insounder's news section will present a quick overview of new guitar gear that is about to hit the market. Guitar aficionados can thus get a general overview of the latest models of instruments, amplifiers, effects, or various accessories—strings, tuners, capos, etc. Technical equipment for bassists, drummers, keyboardists, singers, DJs, sound engineers, etc., will be presented in an overview on the third Monday of each month.
Guitars
Abasi Concepts Larada Legion 6 —the six-string, most affordable version of Tosin Abasi's signature instrument features a linden body, bolt-on wenge neck with Thin-U profile, ebony fingerboard, 24 jumbo stainless steel frets and a standard 25.5-inch scale. Two Fishman Fluence TA humbuckers are complemented by a five-position switch, there is push/pull volume and Gotoh 510 vibrato, locking tuners and graphite nut. Colours: Stealth, Crimson Metallic, Osteon White, Charcoal Burl. Price: 999 dollars.
Gibson Dave Mustaine Flying V EXP Rust In Peace—another limited edition model from the Megadeth guitarist's series, this guitar features a full mahogany body, Explorer-style headstock, two-octave ebony fingerboard and a 25.5-inch scale. The black-finished hardware consists of a Stop Bar tailpiece, Tune-O-Matic bridge and Grover Mini Rotomatic machines. A pair of humbuckers Seymour Duncan Thrash Factor is controlled by a three-position switch, it has two independent volume controls and one tone control. Colour: Alien Tech Green. Price including hard case and signature strap by Richter and Dunlop locks: about 3,000 dollars.
Vintage Historic Series—four acoustic guitars, each of which is also offered in an electroacoustic version, have mahogany back, sides and neck with C-profile and a spruce top. Instruments in the styles parlour, orchestra, folk and dreadnought in Vintage Sunburst feature 20 medium frets, dual position markers "split block" evoking the inlays of Gibson guitars, a 649 mm long scale and a 43 mm wide zero fret. The electrified versions are equipped with a piezo sound system with three-band corrections, volume control, tuner and a phase rotary switch. Prices: acoustic versions approx. 180 pounds, electroacoustic models approx. 230 pounds.
Effects
MayFly My Evil Twin—delay from the Canadian brand represents another pedal combining reverb with modulation section. This time, the pitch shifts on the repeats, adding volume to the resulting sound. The delay (1000 ms) and pitch-shifter modulation circuits can be activated separately, the footswitches connected to the relays are in true bypass mode and, thanks to Fail Safe technology, the box automatically bypasses when it loses power, allowing the box to transmit a clean signal. Price: approx. 230 dollars.
Anasounds Full Story—a two-channel fuzz whose flexibility is increased by interchangeable sound cards that offer the sound of the well-known model EHX Big Muff in Triangle, Ram's Head, Pi, Op-Amp, Civil War, Green Russian or Black Russian versions. In addition to a pair of distortion circuits with separate drivers, the pedal features an optimised impedance input section as well as a germanium modular booster with four voicing modes selectable by a rotary switch. A limited edition fuzz Full Story including seven modules costs around 500 euros.
Strymon Flint, DIG, El Capistan, Deco, blueSky a Lex V2—updated versions of the effects which received a more powerful and more efficient ARM processor, new features, memory for 300 presets, dual TRS inputs and outputs, modified user interface, MIDI TRS connector for bidirectional communication, high-quality analogue input JFET Class-A circuit and USB-C port for firmware updates or MIDI functions. Pricing: from about 350 to 380 dollars depending on the pedal type.
Amplifiers, combo amps, preamps, cabinets, etc.
Foxgear Baroni AFK150—floor standing amplifier with ECC81 tube and 150 W power at 4 ohms impedance (75W/8Ohm, 40W/16Ohm) features channels Clean (Fender "Blackface" style) and Drive (Gurus Doubledecker MKII preamp) which are equipped with independent volumes, gains and active three-band corrections with +-6 dB tone stack. The power amp is equipped with a master and presets, a switchable speaker simulator, an effects loop with selectable parallel or serial mode, a line output or a connector for an external footswitch. The AFK150 with removable wooden side panels and chassis dimensions of 220 x 130 x 35 mm costs about 600 dollars.
Acoustic Amplification Gamma G25 a G50—a pair of analogue compact combo amps for electric guitar, differing in power, size and the type of eight-ohm speaker True Blue (10"/30W, 12"/60W) with high headroom. You can switch between two channels with common three-band corrections and, except for the Blue branch optimised for the addition of pedals, the second channel (which has its own gain and volume) offers four modes—Clean, Blues, Rock, Metal. There are also mini-jack headphone connectors and Aux In jacks, wireless communication is provided by Bluetooth. Price: the Gamma G25 is about 140 dollars, the G50 about 200 dollars
Mesa Boogie California Tweed 6V6 2:20—more compact successors to the previous 4:40 series, available as an amp and two combo amps in the versions 1x10 and 1x12 with Jensen Blackbird ALNICO speakers. The basic single-channel 20W units feature Normal/Low inputs, tube spring reverb, buffered eff. loop, 5 x 12AX7 + 1 x 12AT7 preamp tubes, two 6V6 end tubes and a rectifier designed with silicon diodes. The series is sonically inspired by the "Tweed" concept from the 50s, maximum power can be switched in steps of 20/10/1 W. Prices: head approx. 1850 dollars, 1x10 combo approx. 2000 dollars, 1x12 combo approx. 2100 dollars.
Accessories, software, etc.
Palmer Pedalbay 40 PB a 60 PB—the second series of innovative pedalboards with integrated rail power supplies WTPB40 / WTPB60 equipped with eight isolated outputs (6 x 9 V 300 mA, 2 x 9/12/18 V 500 mA). Thanks to the flexible system, the voltage supplies can be removed and replaced by another segment, the modular screwed aluminium base allows the adjustment of the spacing of the support bars and the height or inclination of the board can be adjusted. The models are supplied with a set of Velcro straps, connectors, an adapter and a padded carrying bag with a shoulder strap and pocket for cables and other accessories. Prices: the Pedalbay 40 PB for about 270 dollars, the Pedalbay 60 PB for about 300 dollars.
Fender Amperstand Guitar Cradle—a pocket-sized guitar stand that can be placed on the top panel of a combo amp or other surfaces thanks to the adhesive micro-suction material that coats the bottom of the plastic moulding. Shaped like a classic Telecaster bridge "ashtray," the compact model also offers space for storing picks or capodasters and a pair of slots for securing cables. The TPE (thermoplastic elastomer) stand can be removed at any time without leaving any marks. Price: about 20 dollars.
One Control LX Tuner—professional pedal tuner with switchable BJF buffer and tuning circuits taken from the Korg Pitchblack with a tolerance of only +- 0.1 cent. A (standard), B (standard with vertical display), Strobe and Half Strobe modes are available. The reference tone is calibratable in 1 Hz steps ranging from 436 to 445 Hz, the tuning range is from E0(20.60 Hz)to C8 (4.186 kHz), and power is provided by a 9V battery or adapter. Dimensions: 67 x 114 x 45 mm, weight: 249 g, price: about 145 dollars.
Native Instruments Session Guitarist Electric Mint—Fender Stratocaster guitar samples inspired by the vintage instrument from the 1960s are part of a series based on the Kontakt system. This version is equipped with 222 patterns, 53 song presets of various styles, emulations of amps, cabinets and effects, including the new Supercharger GT compressor, convolution reverbs, auto-wah, etc. These items can be stored in 71 presets, the upgraded engine can also handle realistic funk sequences, there are Humanise, Swing, Feel and Shift functions and the vibrato arm mode has been improved with more detailed pitch control. Electric Mint also functions as a chord library and voicings, patterns or progressions are further editable in the DAW in the form of MIDI tracks. Price: 99 euros.
If you have found an error or typo in the article, please let us know by e-mail info@insounder.org.