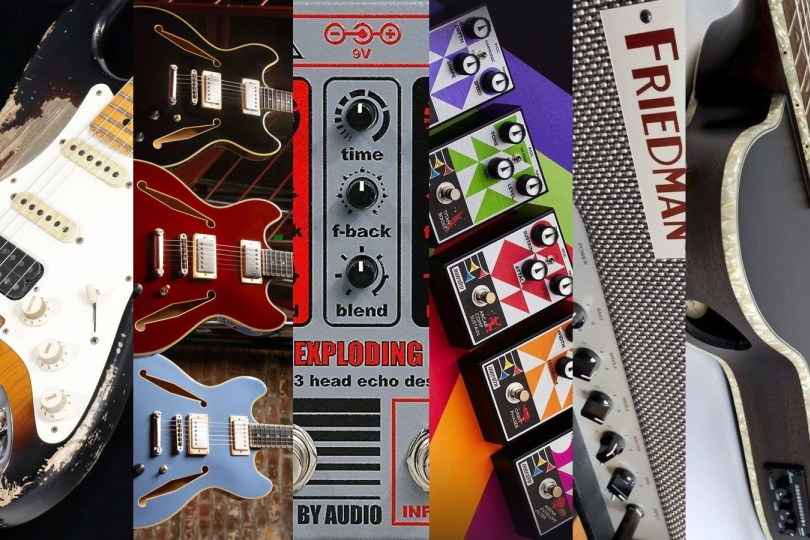 Guitar Gear Alert: December 2022
Are you a guitar fan? On the first Monday of each month, Insounder's news section will present a quick overview of new guitar gear that is about to hit the market. Guitar aficionados can thus get a general overview of the latest models of instruments, amplifiers, effects, or various accessories – strings, tuners, capos, etc. Technical equipment for bassists, drummers, keyboardists, singers, DJs, sound engineers, etc., will be presented in an overview on the third Monday of each month. Selected news will be presented in more detail in later posts.
Guitars
Fender Japan Michiya Haruhata Masterbuilt Stratocaster – A signature model from FCS division luthier Jason Smith in Sunburst Heavy Relic finish. Two-piece lightweight select ash body, radial-cut maple neck with a large reverse headstock, 22 narrow Dunlop 6105 high frets, vintage Synchronized tremolo, Fender Vintage Noiseless neck and middle single coil, DiMarzio Tone Zone DP-155 bridge humbucker, classic controls with the push/pull switch to activate the neck pickup. Price: approx USD 10,300, including a deluxe hard case, certification, strap, picks and other accessories.
D'Angelico Excel Tour Collection – A trio of semi-hollow guitars consisting of Excel Tour DC, SS and Mini DC versions, where the manufacturer has tried to maintain a minimalist, vintage-inspired retro aesthetic. Fitted with high-end components and a simplified electronics configuration, the instruments have been given new custom PAF Supro Bolt Bucker (Alnico II/V) pickups made to a 1950s recipe. The more compact Throwback Scroll-style headstocks were used, featuring Vintage Deluxe Grover pegs with a 15:1 gear ratio, laminated maple bodies, Slim-C profile necks and ebony fretboards with 22 Blacksmith DHP-27H medium jumbo frets. Colours: Solid Wine, Solid Black, Slate Blue. Prices: about 1500 dollars each.
Ibanez TOD10N – A signature model by guitarist Tim Henson of Polyphia introduced in October, heads for worldwide distribution. This time it is an electroacoustic nylon-string version with a low-profile FRH body, reminiscent of the lines of the "Telecaster" FR edition. The Sapele wood base is complemented by a solid Sitka spruce top, an elliptical sound hole is located on the upper side, where we also find the Ibanez AEQ210TF preamp module (tuner, volume, bass + treble, phase switch) connected to a Fishman Sonicore pickup. The Nyatoh neck is combined with a walnut fretboard with rich inlays and 22 frets. Colour: Transparent Black Flat. Price 700 dollars.
Effects
Maestro Electronics – Five more effects additions to the lineup of the reborn brand, part of the Gibson group, include the Agena Envelope Filter, Arcas Compressor Sustainer, Mariner Tremolo, Orbit Phaser and Titan Boost pedals. The Original Collection models honour the sound of the vintage models (Maestro PS-1, Harmonic Tremolo, etc.) and add modern features to increase the sonic flexibility of this effects series, the common denominator of which is the size of the chassis, the control in the form of a trio of pots complemented by a lever switch, and the power supply via a 9V adapter. Prices: about USD 150 to 160, depending on the model.
Xotic RC Booster Classic 20th Anniversary – A special edition of the popular clean booster with gain, volume, and dual-band active correction controls (+-15 dB), like its now-discontinued predecessor, featuring a transparent tone delivery and a lift up to +20 dB. A run of 1000 units is expected to hit the market. The pedal with compact dimensions of 110 x 60 x 50 mm, weight of 270 g and footswitch connected in true bypass mode can be powered by a 9V battery or an adapter with a range of 9 to 18 V. Price: approx. USD 170, including 11 picks by well-known guitarists and other accessories.
Death By Audio Exploding Head Delay – A limited edition commemorating 13 years of the Exploding Head album by New York noise rock band A Place to Bury Strangers, featuring Oliver Ackermann, Death By Audio's founder. The effect offers a trio of independent delays with Time, Feedback and Blend controls that can function in mono or stereo. Other elements, such as dynamic waves creating a massive wall of sound, are activated by the Infinity switch. The pedal, produced in a run of 500, comes with a package containing the aforementioned vinyl double album, stickers, patch, emblem, etc. Set price: approx. 225 dollars.
Amps, combos, preamps, boxes etc.
Friedman Little Sister – All-tube single-channel head and 1x12 combo units with 20W output, equipped with a trio of 12AX7 tubes and two EL84 end tubes, following in the footsteps of the popular Twin Sister model. In addition to the traditional gain, master and three-band EQ controls, there's an S switch to affect the amount of distortion, and a B switch for the bright/tight function. A serial effects loop with a transparent signal path and outputs for 1×4, 1×8, 1×16, 2×8 or 2×16 ohm impedance boxes can be used. The combo is equipped with a 12-inch Celestion G12M-65 Creamback speaker (16 Ohm). Prices: amplifier approx. 1800 euros, combo approx. 2150 euros.
Friedman Pink Taco V2 – The second generation of the Taco series amplifier and combo, which have similar technical specifications to the aforementioned new Friedman Little Sister models, including power, basic control with S switch and the type of tubes used. In addition to the sonic character, the Taco V2 is distinguished by a pair of Sat and Fat lever switches, changing saturation and tone volume. Prices: amplifier approx. 1800 euros, combo approx. 2150 euros.
PRS HDRX 20 and HDRX 1x12 – A compact full tube amplifier and 1x12 external cabinet. According to the manufacturer's words, the 20-watt unit equipped with 3x 12AX7 and 2x 5881 tubes offers a Jimi Hendrix-style sound, which should be provided by a two-channel preamp with common four-band corrections, independent volumes of both branches, master and Bright plus Mid-Gain function switches. There are 5 speaker outputs (1x16/1x8 or 2x16/1x4 or 2x8 ohms) and terminals for adjusting the bias of the power tubes. The cabinet uses one Celestion V-Type 12" 70 W 16 Ohm speaker. Prices: HDRX 20 approx. 960 euros, HDRX 1x12 approx. 380 euros.
Accessories, software etc.
Boss FS-1-WL – A wireless Bluetooth footswitch working, among others, with Boss Katana Air, Waza-Air, GX-100 or Pocket GT models or devices equipped with Roland WM-1 MIDI adapter or WM-1D module for MIDI hardware control etc. The trio of switches can also be assigned computer shortcuts via the app (Mac, PC, iOS, Android), which can speed up the recording process with a DAW, for example. Exp, Ctl 1/2, mini TRS MIDI Out and USB-B connectors are also available. Power supply is handled by a 9V adapter or a pair of AAA batteries with around 14 hours of operation. Price: approx. CZK 3200. 
Gibson Digital Amp – A new part of the Gibson App mobile app for both electric and acoustic guitars that uses phone's microphone to detect and amplify guitar signals without the need for cables. There are a variety of tutorials, a tuner, three types of virtual acoustic guitar mics, four acoustic amps (Clean, Spirit, Moon, '80s), an equal number of classic amps (Clean, Crunch, Heavy, Lead), and six Maestro-inspired effects pedals, etc. The update, which is part of the Gibson App, is compatible with the iOS platform for now, with an Android version expected early next year.
Fender J Mascis Jazzmaster Pickup Set – A pair of single-coil pickups designed to the preferences of the band's frontman, Dinosaur Jr. Both pickups are fitted with Alnico 2 magnets; enamel wire was used for the coil windings, the output wires have a fabric braid like the vintage models, the coils are waxed and housed in ivory-coloured plastic covers. Resistance: neck SC - 7.27 kOhm, bridge SC - 7.31 kOhm. Set price: about 130 dollars.
If you have found an error or typo in the article, please let us know by e-mail info@insounder.org.