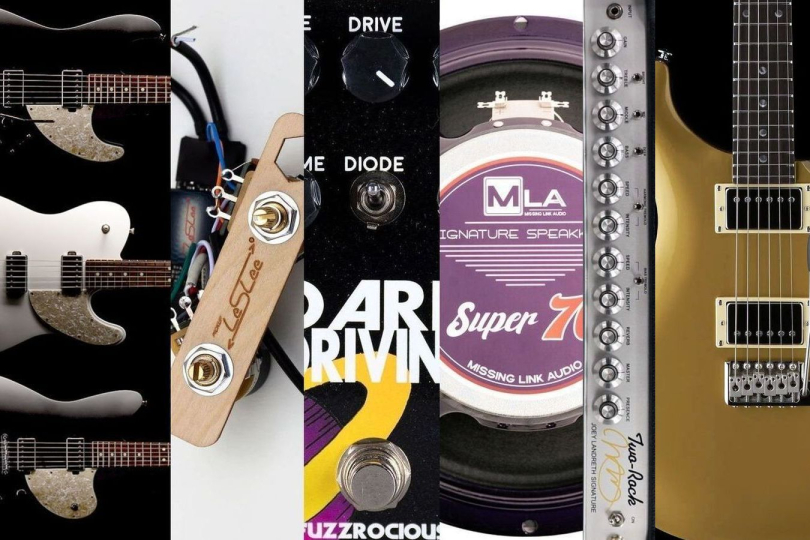 Guitar Gear Alert: February 2023
Are you a guitar fan? On the first Monday of each month, Insounder's news section will present a quick overview of new guitar gear that is about to hit the market. Guitar aficionados can thus get a general overview of the latest models of instruments, amplifiers, effects, or various accessories – strings, tuners, capos, etc. Technical equipment for bassists, drummers, keyboardists, singers, DJs, sound engineers, etc., will be presented in an overview on the third Monday of each month. Some of the products introduced in this overview will be discussed in more detail in later posts here in the News section.
Guitars
Ibanez RG8870 – The flagship of the brand new Axe Design Lab series has features used on the top J.  Custom series instruments, that is a 4mm thick top made of select flame maple covering an alder body base with a modified bottom edge, a neck glued from five layers of maple and wenge, fitted with an asymmetrical RG J. Custom Super Wizard AS profile, and an ebony Macassar fretboard with 24 jumbo frets, as well as an opulent Tree of Life inlay. It uses a Lo-Pro Edge vibrato and passive pickups Alnico DiMarzio Tone Zone, Blue Velvet and PAF 36th Anniversary in HSH configuration. Colour: Black Rutile, price including a hard case, service keys and Gotoh strap locks: approx. 3,300 dollars.
Fender Made in Japan Elemental Series – A special edition featuring boutique-looking versions of the Stratocaster, Telecaster and Jazzmaster with sharper alder body contours and an ergonomic joint, an unusual pickguard shape, a rosewood fretboard offering 22 medium jumbo frets and a maple neck featuring a variable C-D profile. Identical is the pair of Modern Modified humbuckers, controlled by a three-position switch complete with push/pull coil release. Bridge types – Strat: two-point Deluxe Synchronized tremolo, Tele: hardtail, Jazzmaster: stop bar + Adjusto-Matic. Colours: Nimbus White, Stone Black. Price: approximately 1250 dollars, including a gig bag.
PRS SE DGT – A more reasonably priced Asian version of guitarist David Grissom's signature model, based on the well-known PRS McCarty. It has a pair of DGT "S" humbuckers tied to a three-position switch, a common tone pot and separate volume controls with independent push/pull coil splitting. Traditional mahogany construction with maple top is complemented by a rosewood fretboard carrying 22 frets, PRS tremolo and standard tuning pegs. Colours: Gold Top (fretboard with round markers), McCarty Tobacco Sunburst (bird inlay); price: approx. $850 (GT) and $900 (MCTS), respectively, including a gig bag.
Fender H.E.R. Stratocaster Limited Edition – A special edition of the signed model in the exclusive Blue Marlin shade, which is also used for the headstock. As a contrast to the blue polyester lacquer, an anodized aluminium pickguard has been chosen to house a trio of Vintage Noiseless SC Strat single-coil pickups. A one-piece maple neck with a Mid 60 - C profile is bolted to the alder body, and a fretboard made of the same material offers 21 vintage frets, abalone markers and a synthetic bone nut. The strings anchor in a Synchronized tremolo, and tuning is provided by classic company pegs. The official price, including a gig bag, is about 1,350 dollars.
Effects
BBE Pedals Green Screamer V2 and Sonic Stomp Pro – The brand's return to popular effects in upgraded versions. The former features a modified Tube Screamer-style drive circuit on the 4558 chip, with extended controls, including a three-position Deep (bass) switch and selectable input buffer. The Sonic Stomp Pro, equipped with the proprietary BBE Pro 2153 engine, is the fourth generation of the once very popular Sonic Maximizer, affecting the resulting frequency response and tone dynamics. Settings are handled by Process, Lo Contour (low band adjustment) and Focus (650/700 Hz with +5/-3 dB lift) parameters, and a control LED is installed to indicate if the signal level exceeds the +13 dB limit. Both effects have footswitches connected in true hardwire bypass mode. Prices: GS V2: approx. 150 dollars, SSP approx. 160 dollars.
Ibanez Pentatone PTPRE – complex pedal distortion to be used as a classic boost/overdrive/distortion or as a solid-state preamp with a wide gain range. The standard Gain, Level, Treble, Bass controls are complemented by a parametric five-band EQ with the appropriate number of pots determining the operating bands and backlit slide faders with +-10 dB travel. There is a built-in noise gate, Pre and Post Boost functions, two footswitches (Bypass, Post Boost), input, output and connector for an external footswitch activating EQ and Pre Boost. Dimensions: 128 x 146 x 62 mm, power supply: 9V battery or adapter, price: approx. 240 euros.
Pickup LesLee – an improved version of the electronic tremolo, designed to be fitted to Jazzmaster, Jaguar, Stratocaster, Telecaster, Tele Deluxe, Tele Custom and Les Paul guitars without the need to alter the original construction. The effect with its distinctive projection is supplied as a kit with high-quality components (CTS, Bourns, MEC, Switchcraft, Belden), mono/stereo output, push/pull potentiometers, motherboard etc. Specifications include flexibility beyond the capabilities of a classic tremolo, true bypass mode, analogue signal path, auto-stutter mode and pulsation rate adjustable from 0.4 to 12 Hz. Power is provided by a rechargeable capacitor with a minimum 8 hours of operation, which is charged to full capacity in just 10 seconds using the supplied stereo cable and standard 9V battery. Prices range from 235 to 255 dollars depending on the specific model.
Fuzzrocious Pedals Dark Driving V3 – The third generation of distorter usable for guitar and bass offers everything from classic overdrive to mid-saturated distortion. In addition to the traditional gain, tone and volume pots, there's also a Drive parameter for further adjusting the character of the distortion and two lever switches. The first puts the BAT46 diodes in the clipping circuit (a warm, reasonably aggressive sound with nice compression), and the second selects between the Light and Dark modes (a bright or rounded tone). Behind the main circuit, powered by a 9 - 12 V adapter, there's also a clean boost to increase the overall volume. The price is around 170 dollars, including a scented candle and habanero hot sauce by Complete Goner Sauce.
Amps, combos, preamps, boxes etc.
Two-Rock Joey Landreth Signature – A hand-built single-channel amp from the renowned boutique manufacturer offers 100 W (4x 6L6) switchable at half level, the preamp gets three-band EQ, gain and a trio of Bright, Mid, Deep voicing switches. The power master has a presence pot, a tube-driven spring reverb is integrated, and two independent tube tremolos (Harmonic, Bias) with modulation speed and depth controls can be used. The outputs are adapted for impedances of 4, 8, 16 ohms and an effects loop is installed. The model with the aesthetics of Dumble amps comes to about 5,000 dollars; the limited edition shall contain 75 units.
Peavey 6505 1992 Original  – The American manufacturer commemorates 30 years since the creation of Eddie Van Halen's iconic signature amp with two models, which will now also reach the European market. The first is the 6505 1992 Original, whose name clearly suggests that it is a replica of a classic from the early 1990s. Like the original model, it features a two-channel preamp with a pair of instrument inputs, common three-band EQ, Bright/Crunch mods and Resonance and Presence parameters. The amp is equipped with 5x 12AX7 tubes and four 6L6GC power amps providing 120 W of power. The official price is 1299 dollars.
Peavey 6505 II – The second, more modern anniversary version adds the sixth 12AX7 preamp tube, the Rhythm and Lead channels have separate three-band EQ as well as independent Resonance, Presence potentiometers, the Rhythm branch once again gets Bright, Crunch switches and the guitar connection is catered for by a single input. In addition to the send/return EQ loop, two speaker outputs, Preamp Out and a DIN footswitch connector, the rear side is also reserved for terminals used to adjust the bias of the power tubes. Official price: 1499 dollars.
Accessories, software, etc.
Snark Air – a compact chromatic clip-on tuner that can also be mounted towards the back of the instrument headstock. The given position is enabled by a colour LED display located around the circumference of the circular tuner body. The cylindrical segment can be rotated 360 degrees and the wide frequency range guarantees use not only with acoustic or electric guitars, but also with bass guitar, banjo, ukulele, mandolin, etc. The necessary energy is supplied by a rechargeable battery via the USB Micro-B port, to change the display settings just double tap the airplane icon. The official price hits the level of 30 dollars.
Missing Link Audio Super 70-12 – A twelve-inch guitar speaker, delivering a rich, warm and full tone with detailed treble presentation, combining features of British and American vintage speakers. The 70W eight-ohm model is recommended for a range of styles from blues to rock to heavy metal, where stronger projection and fast attack are properly displayed. The speaker, with its smaller central dome (like the Celestion Vintage V30) is, like the effects, amps or pickups produced by MLA, made in American workshops from premium components. The official price is around 170 dollars.
Rockboard ISO Power Block V10 (2023) – the brand under Warwick's wing has launched a facelifted voltage distributor for effects, featuring eight nine-volt and two eighteen-volt galvanically isolated outputs. Each 9V socket has a current reserve of 150mA, while the 18V outputs have a 400mA rating. A status LED and short-circuit protection can be found on each 9V branch. With a total output of 2000 mA, dimensions 123 x 70 x 26 mm and weight 180 g, the model comes with an external power supply (100 - 240 V) eliminating low frequency interference, four types of plugs (EU, UK, US/CA, AU/NZ), 10 Flat Power cables and one serial plus one parallel Y-cable. Price: approx. 115 euros.
Orange Crest Edition MK2 – the second generation of headphones from the British manufacturer of amps and boxes got multipoint Bluetooth 5.0 (HFP, AVRCP, A2DP, DI, HSP), AAC and SBC codecs are ready, voice assistance (Siri or Google Assistant), support for two A2DP sources and the internal microphone has been improved. In addition to a more neutral, rather studio-like presentation, the model equipped with 40 mm drivers has a new charging process, where the battery (680 mAh) connected to the USB-C port provides up to 40 hours of operation, and just 10 minutes of charging provides 90 minutes of listening. Impedance: 16 Ohm; sensitivity: 126 dB; range: 20 Hz to 20 kHz; weight: 256 g. Price: approx. 100 pounds including classic stereo audio cable, USB power cable and carrying case.
If you have found an error or typo in the article, please let us know by e-mail info@insounder.org.