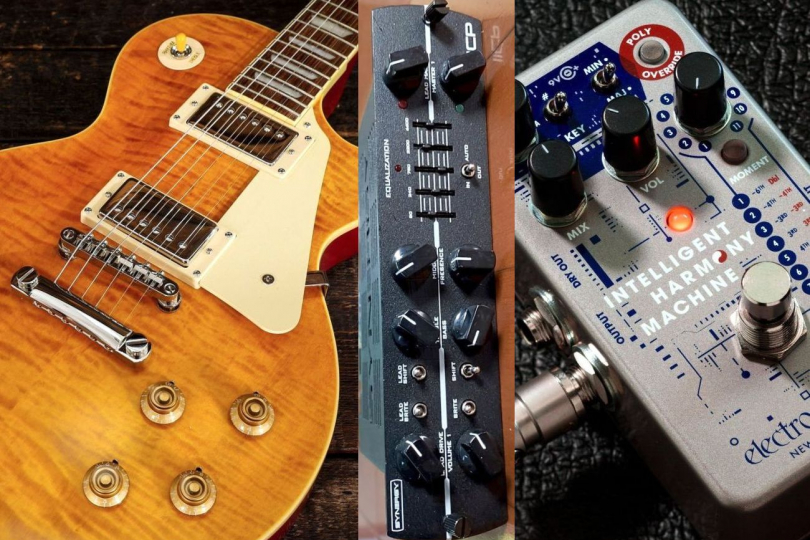 Guitar Gear Alert: January 2022
On the first Monday of each month, Insounder's news section will present a quick overview of new guitar gear that is about to hit the market. Guitar afficionados can thus get a general overview of the latest models of instruments, amplifiers, effects, or various accessories—strings, tuners, capos, etc. Technical equipment for bassists, drummers, keyboardists, singers, DJs, sound engineers, etc., will be presented in an overview on the third Monday of each month.
Guitars
Epiphone Joe Bonamassa "Lazarus" 1959 Les Paul Standard
A limited edition based on Bonamassa's rare 1959 Gibson "Lazarus," this Epiphone has a mahogany body base combined with a maple top, overlaid with a wider veneer in AAAA top quality. The glued one-piece mahogany neck, fitted with a '59 Rounded Medium C profile, carries an Indian Laurel fingerboard fitted with 22 medium frets and a 43mm wide Graphtech nut.
Tuning is provided by the company's Deluxe tuning machines with plastic tulip tuning keys, the Epiphone Lock Tone tune-o-matic bridge is complemented by a tailpiece with a similarly designed locking mechanism, and sound transmission is handled by a pair of Gibson Bustbucker 2 and 3 style pickups vintage PAF humbuckers. The wiring system is taken from the 1950s, with high quality CTS potentiometers, Mallory capacitors, and a Switchcraft switch. The price including the hard case is around €940.
PRS SE Santana Abraxas 50th Anniversary
A special series commemorating the half-century since the release of Santana's Abraxas, as confirmed by the graphics on the body of the instrument, taken from the cover of this groundbreaking album. A mahogany neck with a Wide Fat profile is glued to a mahogany body covered with a maple top, complete with a rosewood fingerboard carrying 24 jumbo frets.
The 24.5-inch (622 mm) scale instrument features two PRS Santana "S" Treble/Bass humbuckers controlled by a three-position toggle switch, volume, and tone pot. Hardware in the form of patented vibrato and the company's tuning machines has been given a nickel plated finish. The annual PRS SE Santana will be produced in a run of 1,000 pieces, with the price including gig bag set at around £550.
The next version of the Canadian brand's hugely successful hybrid guitar range is equipped with a dual sensing system consisting of an internal Lyric microphone and six HEX pickups sensing each string separately. The ability to mix these two sound sources and EQ them via the LR Baggs active preamp makes the Multiac Nylon Deluxe a supremely flexible instrument whose features will be appreciated by players of flamenco, pop, and other styles.
The headstock, with its classic guitar construction, is fitted with 16:1 tuning gears. The bridge is made from a Richlite blend that was also used to build the 16-inch radius fingerboard, which incorporates 22 medium jumbo frets and a 48.3mm wide GraphTech nut. Controls consist of phase switching and six faders operating the three-band EQ, volume, blend, and Saturation functions. The instrument comes with a gig bag, the price is about €2000.
The TransAcoustic series electroacoustic guitars feature a cutaway and a circuit including chorus and two types of reverb. They can also be used without plugging the guitars into a sound system (combo, active monitor, mixer, etc.). The System70 TransAcoustic effect module uses technology capable of detecting string vibrations, which are then amplified and the effect signal becomes part of the instrument's acoustic projection.
The laminated mahogany back and sides are complemented on both models by a solid spruce soundboard, while the neck is made of nato wood with characteristics resembling those of mahogany and carries a rosewood fingerboard with a flatter 400 mm (15.75 inches) radius, into which are set twenty medium frets, simple position markers, white edge banding, and a 43 mm (0.5 inches) wide carbamide resin nut. Prices are around €720.
Effects
A more modern version of the time-tested delay, this time in a more compact format. The mini version is, like the original, based on an analogue concept using BBD (Bucket Brigade) chips with a musical, frequency-rich expression that does not dilute the volume of the original signal. In addition to the proven circuitry, the Nano variant also offers new features.
For delays ranging from 30 to 550 milliseconds, you can choose between true bypass mode and modem Trails, which leaves the phrase reverberating even after the effect is deactivated. The modulation section now offers Speed and Depth parameters affecting the speed and depth of the pulsation waveform, and compared to vintage models, a standard barrel connector for a 9V adapter is installed.
A distortion pedal that should be a significantly cheaper alternative to the boutique King Of Tone (V4) overdrive from the American company Analog Man, which was inspired by the first, now discontinued Marshall Bluesbreaker series, first launched in 1991.
The two-channel Joyo R-20 is equipped with volume, gain, and tone controls for each channel, and a pair of footswitches also allows the two circuits to be connected in series for a more saturated distortion. In addition, two identical pairs of lever switches allow diode clipping (gain character) selection and circuit feedback adjustment. The price has been set at approximately €75.
EHX Intelligent Harmony Machine
Combining a harmonizer and pitch-shifter, this effect offers fast and accurate tracking, several two- and three-voice modes, polyphony, an octave divider, a choice of 12 tones, a cleverly designed footswitch, two outputs, choice of minor or major harmonies and more. There are Poly Override or Intelligent Harmony modes, as well as a Moment button that changes the footswitch's operating mode, which, when pressed continuously, can instantly change pitch.
For each tone, any of 28 basic configurations and other functions can be selected. "We designed the Intelligent Harmony Machine for the player who craves maximum power, but in a minimal footprint. You'll dig its sweet, musical tone and spotless tracking!" says EHX Chief Designer Mike Matthews.
Amplifiers, combos, pre-amps, boxes etc.
A small hybrid guitar amplifier from the second generation of this product line, marked XL, which in this case means a two-channel concept with gain, tone pot, and volume controls for each channel. Switching between Clean/OD channels is handled by a small lever switch or footswitch included in the package. The Meteor II delivers a sound close to the British Orange amplifiers, the preamp unit is based on a 12AX7 tube and the tail section is rated at 30W.
The version oriented mainly to clean and crunch registers in the style of boutique combos of American provenance has a similar concept as the Meteor II variant, but adds Voice potentiometers to the above-mentioned controls for more detailed frequency adjustment. Both models integrate a streaming Bluetooth module with a flip-up antenna, a box output with a minimum impedance of 8 ohms, send/return effect loops, and a headphone jack. The price including accessories is around €170.
A two-channel modular preamp bringing the legendary sound of the long out-of-production, but still highly sought-after Mesa Boogie Mark IIC+ high-gain amplifier. This time, it was not the author of the prototype, Mesa's chief engineer Randall Smith, but another well-known amp guru Steven Fryette (Fryette Amplification, formerly VHT) who was behind the development of the new Synergy Amps model. The IICP, like the other modules, is built on a pair of 12AX7 tubes, the Clean channel evokes a classic Fender tone, while the Lead channel offers tight distortion with strong mids, punchy projection, and character typical of Mark IIC+ amps.
The main panel is equipped with global bass, mid, treble, and gain EQ, and both channels feature a choice of five-band graphic EQs (80, 240, 750 Hz, 2.2, 6.6 kHz) with backlit faders, and each branch has its own gain (designated as Volume on the Rhythm channel) and overall volume. There are also separate Bright and Shift voicing lever switches. The preamp does not have standard connectivity, and to make it work you need to buy a docking station (SYN1 / SYN2) or a design-optimized SYN30 or SYN50 combo or amplifier. The price of the module has been set at $340.
Accessories, software, etc.
Designed for musical experimenters, the software includes presets of guitars, basses, various synths, etc., recorded in AIR Lyndhurst Hall's studio over 56 classic guitar stacks or combos and four subwoofers. The wall of sound is tamed with an Aperture controller, and the London-based brand promises that the samples contained in the library are truly unique.
"Achieve new seismic levels of expression by controlling dynamics and the number of amps simultaneously. Moving from the smallest Aperture setting, the tight and precise sound from fewer amps building with ferocity and intensity as you open up the Aperture ring giving you a range of sounds you are unlikely to hear again," explains Spitfire Audio of the software's features, with a price tag of £199.
Ibanez IGCX10 / IGCX10CT1 and Shubb Capo Royale Paua Pearl C1p / C2p
New capos from two established manufacturers offer reliable construction, and with one exception—the Ibanez IGCX10 in copper tone—a stylish design featuring a striking polychromatic colour-changing layer. Both of the Japanese brand's flexible models are designed for guitars, banjos, mandolins, ukuleles, etc.
The Dunlop Paua Pearl C1p version provides transposition for guitars with steel strings, while the Paua Pearl C2p version is suitable for classical guitars with nylon covers and straight fretboards up to 57 mm wide. The prices are in the following ranges: the Ibanez IGCX10 at about €17, the IGCX10CT1 at about €19, the Shubb Capo Royale Paua Pearl C1p and C2p at about $30.
A series of string dampeners from an American manufacturer of professional packaging equipment and music accessories. In addition to the Gruv Gear Stealth or Dekade collections, the FretWraps World Flags edition is newly available on the European market in the national colours of various countries or a signed version by guitarist Matt Heafy from the heavy metal band Trivium. The dampener can be used to eliminate unwanted string resonance behind the zero fret, as well as to dampen empty strings, e.g. during more technically demanding solo parts using legato and tapping techniques played with high gain.
An adjustable strap with central padding, locking buckle, and Velcro allows you to fine-tune the pressure exerted on the strings, and can be quickly slipped onto the headstock when not in use. The dampeners require no special guitar modifications or installation tools. Both the Gruv Gear FretWraps World Flags edition and the Matt Heafy Signature edition are offered in size Small, optimal for six-string electric and acoustic guitars, four-string basses, ukuleles, and other standard instruments. Extended MD and LG versions, designed for seven/eight-string guitars and five/six-string basses, can also be ordered. The European price is around €12.
If you have found an error or typo in the article, please let us know by e-mail info@insounder.org.