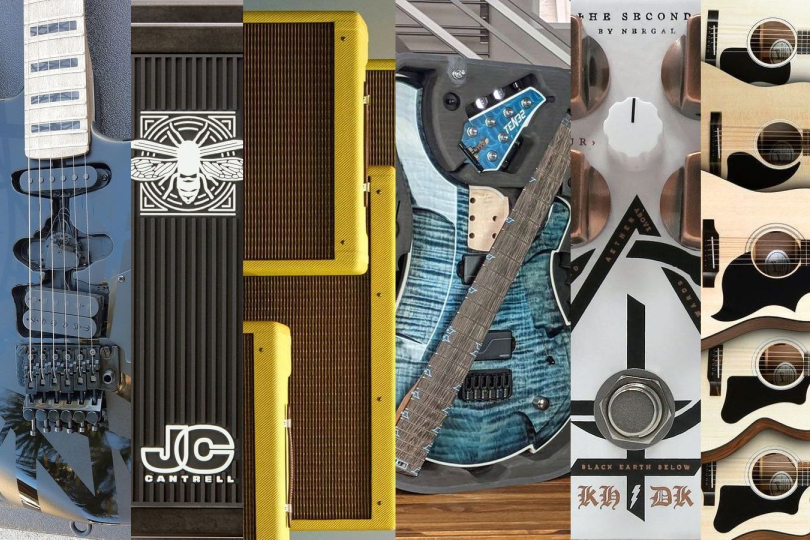 Guitar Gear Alert: January 2023
Are you a guitar fan? On the first Monday of each month, Insounder's news section will present a quick overview of new guitar gear that is about to hit the market. Guitar aficionados can thus get a general overview of the latest models of instruments, amplifiers, effects, or various accessories – strings, tuners, capos, etc. Technical equipment for bassists, drummers, keyboardists, singers, DJs, sound engineers, etc., will be presented in an overview on the third Monday of each month. Selected news will be presented in more detail in later posts.
Guitars
Mean Street "Blackout" Pipeline Tour Model EVH Tribute – the brand's latest release, inspired by Eddie Van Halen's legendary Frankenstein. The instrument from the workshop of guitar maker Mitchel Floyd features graphics combining black matte and gloss stripes, referencing the original version in white, black and red. Basic specs – body: ash; neck and fingerboard: maple; hardware: vibrato Floyd Rose + brass block, zero fret locks (42 mm), Gotoh machines; pickups: bridge HB EVH Frankenstein, neck SC Mean Street Black54; controls: volume + push/pull coil split, killswitch. Specific price available on request via e-mail: meanstreetguitars@gmail.com.
Gibson G-Writer, G-Bird a G-200 – other electroacoustic models from the Generation edition continue the legacy of the famous Gibson Hummingbird and add modern features such as electronics with LR Baggs Element Bronze pickups or the Player Port system, i.e. a second elliptical soundhole located in the upper bout of the body. Common features include a mahogany neck (Slim profile), ebony fingerboard and bridge, walnut body base and a Sitka spruce top soundboard. Official prices, including a quality gigbag: dreadnought/cutaway G-Writer approx. 1600 dollars, dreadnought G-Bird approx. 1800 dollars, super jumbo G-200 approx. 2000 dollars.
Ten32 Guitars EN, HT and HSV – most manufacturers of travel guitars rely mainly on compact size for their models, which is not the case with the Denver brand Ten32 Guitars, whose instruments have a standard size, but can be disassembled into three parts, stored together with various accessories (connecting screws, strings, string winder, picks, etc.) in a special backpack case. Three versions inspired by the Superstrats, Les Paul or Flying V are currently available, each in three modifications boosted by a modular concept or the Trem Block Screw system. Built from quality materials and components, the guitar takes about one and a half minutes to assemble. Prices start at 2000 dollars.
Effects
MayFly Le Canard  – envelope filter from the Canadian boutique company offers an expressive sound and a very fast response to the dynamics of the right hand, according to the manufacturer. The controls consist of parameters Range – frequency range, Decay – working time of the effect, Attack – speed of the filter's reaction to the strike. The electronics is hidden in the chassis made of aluminium extrusion with the drawing of the graphic artist Sabine Elliott, footswitch works with the help of a relay and the function Fail SafeTM in full bypass mode, which is automatically activated if the effect loses its power supply (DC 9V). Price: approx. 150 dollars.
Jim Dunlop Jerry Cantrell Firefly Cry Baby – another signature wah bearing the name of the Alice In Chains guitarist, this time inspired by his solo album Brighten. The theme of this studio piece is reflected by the design with glow-in-the-dark features on the foot pedal, front label and bottom chassis cover where (in addition to the plastic battery door and rubber feet) we can find the lyrics of the opening track of the above-mentioned album.
The luminescent graphics and font shine in contrast to the dim iron surface of the casting. According to the producer, this should reflect one of the main themes of Cantrell's latest CD, which is the exploration of darkness and light. In terms of sound, the model with the product designation JC95FFS boasts a thick, punchy tone in the foot position, while the frequency response in the opposite (treble) position can be fine-tuned via a potentiometer located on the right side. Official price: approx. 200 dollars.
KHDK LCFR: The Second Coming – the second signature distortion by Adam "Nergal" Darski, guitarist of the Polish black metal band Behemoth, differs from the previous version with an even more brutal sound, thanks to a modified circuit with a Sulfur midrange driver. As with the original, there are Gain, Volume, Bass and Treble potentiometers (Latin names Ignis, Summa, Nox and Lux), the footswitch is connected in true bypass mode and the power supply is provided by a 9V battery or an adapter with a range of 9 to 18V (higher voltage = more projection and clearer speech). Price: approx. 250 dollars, limited edition of 333 certified pieces.
Amplifiers, preamps, cabinets, etc.
Blackstar Fly 3 Charge – the latest model of the Fly series of miniature guitar combo amps is based on the Fly 3 Bluetooth version, but it includes a USB-C port used to charge internal batteries with up to 18 hours of continuous operation. The 3W combo amp can be complemented by a second Fly 103 box, which adds a stereo mode and doubles the power of the set-up. There is a clean and distortion channel, digital delay, Aux In, headphone output with cabinet emulation, Bluetooth module and a jack for connecting the external box. Dimensions: 170 x 126 x 102 mm, price approx. 100 euros.
Mojotone / Fender – Mojotone has signed an exclusive licensing agreement with Fender, which means that Mojotone will manufacture and sell more than 60 of its cabinets, combo amps and instrument kits under the "Licensed by Fender" label. Naturally, the process required the Fender team to review the Mojotone models, including wiring diagrams, electronics, hardware, design procedures, etc. Products based on Fender's Blackface, Tweed, Silverface, or Brownface series can now be purchased under the Mojotone brand in a price range of about 380 to 1000 dollars. Most of the "Licensed by Fender" product range consists of cabinets, amps and combo amps.
Roland JC-120 Limited Edition – a special series of the now iconic Jazz Chorus transistor combo amp equipped with a spring reverb and, above all, an excellent chorus, which was later launched by a subsidiary of Boss in the form of the famous vintage CE-1 Ensemble pedal. The 120W stereo offers two separate channels with independent corrections, volume and Bright functions. It features a pair of twelve-inch speakers with metal centre domes, line outputs, footswitch jacks and a stereo loop with parallel/serial mode and sensitivity switches. Price: approx. 2000 euros.
Accessories, software, etc.
Outlaw Effects NOMAD ISO S a ISO M – two pedalboards differing in the size of the storage area (S 49 x 13.5 cm, M 49 x 28 cm) feature eight isolated power outputs (9V + 9/12V) and rechargeable internal Li-ion battery with a capacity of 12800 mAh, which can supply enough power to the effects for more than 10 hours of continuous operation. The package includes eight cables with DC connectors + one cable with reverse polarity, a 9V adapter, adhesive Velcro and a sturdy bag with padding. The DC outputs, as well as the mains input and main switch, are recessed into the front of the metal chassis of the board. Pricing: approx. 250 dollars for ISO S, approx. 280 dollars for ISO M.
Railhammer Billy Corgan Z-One – bridge and neck pickups of the Humcutter type, designed by Joe Naylor for the frontman of the Smashing Pumpkins, provide a punchy sound with massive mids and nice highs. The models combine the humbucker characteristics with the fast attack and clean presentation of the P-90 series pickups. The coils of the passive humcutters fitted with ceramic magnets are housed in a metal enclosure, the compartment for the EAD strings has a rail, while under the strings GHD, we can find separate poles. Model BC-B – resistance: 13 kOhm; version BC-N – resistance 7.5 kOhm; colours: black, chrome, custom graphic; prices: identical approx. 120 dollars.
Jackson Accessories 2023 – a new series of accessories including instrument cables High Performance (straight + right-angle plug) in lengths of 3.33 and 6.66 m, nickel-plated strings Soloist for guitars with six, seven and eight strings and eight types of straps made of nylon or leather, manufactured in the Canadian subsidiary. T-shirts with metal or "Shark Fin" themes are also available. Prices: cables – about 35 to 55 dollars, strings – about 7 to 11 dollars, straps – about 30 to 200 dollars, T-shirts – from about 30 to 45 dollars depending on the model.
If you have found an error or typo in the article, please let us know by e-mail info@insounder.org.