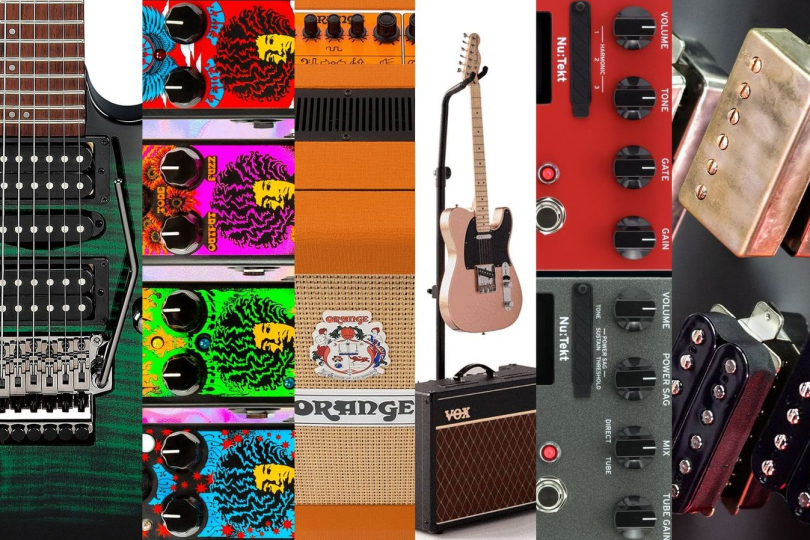 Guitar Gear Alert: March 2023
Are you a guitar fan? On the first Monday of each month, Insounder's news section will present a quick overview of new guitar gear that is about to hit the market. Guitar aficionados can thus get a general overview of the latest models of instruments, amplifiers, effects, or various accessories – strings, tuners, capos, etc. Technical equipment for bassists, drummers, keyboardists, singers, DJs, sound engineers, etc., will be presented in an overview on the third Monday of each month. Some of the products introduced in this overview will be discussed in more detail in later posts here in the News section.
Guitars
Schecter John Brown Tao 6/7/8 – six, seven and eight-string guitars, including left-handed versions, are a part of a new signed edition designed to the preferences of the British prog-metal guitarist of Monuments. Common features include an ash body with a flame maple top, a Thin-U profile neck from wenge and padauk, an ebony fretboard fitted with 24 jumbo stainless steel frets, luminescent markers and Graph Tech Black Tusq XL nut, a hardtail bridge and Hipshot locking tuning pegs. The sound is carried by the company's Chaosbreaker and Colossus humbuckers. The Tao 6 has a classic 25.5-inch scale length, while versions 7 and 8 get a longer 27-inch span. Colour: Satin Trans Purple, Pricing: Tao 6 approx. $1,600, Tao 7 approx. $1,650, Tao 8 approx. $1,700; left-handed versions are available for an additional $50.
Gibson Keb' Mo' "3.0" 12-Fret J-45 – the Nashville-based brand's third acoustic signature made for the blues veteran. Unlike the classic J-45 version, this model has a neck and body joint at the 12th fret, which should contribute to a fuller tone with pleasing highs. The body is mahogany, and the top is made of heat-treated Sitka spruce, while the neck with its special profile carries a rosewood fretboard fitted with 19 frets, genuine mother-of-pearl markers and a 45.8 mm wide bone nut. The 25-inch guitar scale instrument features L.R. Baggs VTC electronics and stylish Grover open mechanics. Colour: Vintage Sunburst, price including hard case: approx. $4,300.
Ibanez KIKOSP3 – another version of the signature superstrat designed to the specifications of Megadeth guitarist Kiko Loureiro, this time in a more price-friendly version. The tapered profile body is made of poplar and flame maple top, the maple neck carries a jatoba fretboard fitted with 24 medium jumbo frets, there's a locking Floyd Rose-style vibrato in Cosmo Black, and the sound is carried by two Infinity R humbuckers and a medium single coil Infinity RS. In addition to the common volume, pot and five-position switch, the Volume potentiometer incorporates a push/pull switch to unzip the coils of the individually activated humbuckers (positions 1 and 5). Colour: Transparent Emerald Burst, price: approx. 480 euros.
Effects
Korg Nu:Tekt HD-S Harmonic Distortion – a distorter sold as a modular kit is based on the company's patented Nutube technology equipped with a special Nutube.6P1 tube. The basic controls of the model, equipped with a trio of clipping circuits with different characteristics, consist of gain, volume, tone pot and noise gate pot. In addition, three small trimmers are located under a removable cover on the main panel, used to adjust the mix of the aforementioned circuits and the resulting sound of this pedal with a current consumption of 45 mA. Dimensions: 122×96×55 mm, weight: 340 g, price: approx. 270 euros.
Korg Nu:Tekt TR-S  Power Tube Reactor – an effect with the same modular concept as the Harmonic Distortion was designed by the creator of the famous Uni-Vibe, Fumio Miedoa, and this time it offers a way to add warmth and compression of the tube power amp to the signal chain. Pots with Tube Gain, Volume, Mix – the ratio between the original and the effect signal, and Power Sag – the behaviour of a virtual power amp, are again complemented by three hidden trimmers for editing Tone, Sustain and Threshold parameters. The size, weight, power supply via an adapter or 9V battery and price tag of this version are identical to the Harmonic Distortion.
Dunlop Authentic Hendrix '68 Shrine – a series of effects inspired by Hendrix's original pedals and featuring stylish psychedelic graphics taken from artist John Van Hamserveld's 1968 Shrine Auditorium concert poster. The edition of boxes in miniature MXR chassis consists of the JHMS1 Fuzz Face, JHMS2 Octavio fuzz/octaver, JHMS3 Uni-Vibe modulation and JHMS4 Band Of Gypsys fuzz. The official price of each piece, powered by a standard 9V adapter, is consistently just under $150.
Strymon Cloudburst – ambient reverb providing a wide variety of top-quality reverb. The Ensemble lever switch is tied to an engine of the same name, automatically analyzing nearly 50 frequency bands and adding higher harmonic components to the resulting sound. The Decay knob changes multiple parameters simultaneously, and in addition to the traditional Mix and Tone functions, there's a Pre-Delay and Modulation section with a Mod potentiometer. Connectivity allows for mono, stereo, true stereo, MIDI communication, a USB-C port is installed, and an output for an exp. pedal, and you can choose between true bypass and buffered mode. Price: approx. 320 euros.
Amps, combos, preamps, boxes, etc.
Silktone Micronaut – a small amplifier that can also act as a preamp, overdrive or DI box. The apparatus, measuring approx. 23 x 20 x 15 cm and weighing 3 kg, is equipped with one 12AX7 preamplifier tube, which is followed by an EL84 end tube providing 4 watts of power at 8 ohms impedance. The minimalist control consists of a gain potentiometer and tone pot in the form of a tilt EQ, a master switch and a two-position voicing switch, which also affects the resulting tone distortion. Isolated line output with a special winding on a custom output transformer allows the complete signal path of the amplifier to be connected to, e.g. a mixing desk, DAW, pedalboard, other equipment etc. Official price: $999; 240V version: $1068; walnut skeletonized version: $1199.
Orange Rockerverb 50 MK III Neo – all-tube combo shares with the previous 2015 model a two-channel concept, a Class A/B end unit with 25/50 W switchable power, connectivity and circuitry fitted with 4 x ECC83/12AX7, 2 x ECC81/12AT7 and 2 x EL34 tubes. The manufacturer focused on reducing the weight of the unit, which was achieved by using premium 15 mm thick Baltic plywood and a pair of Celestion Creamback G12 NEO speakers (60 W, 8 Ohm) with lightweight neodymium magnets. The result is a weight reduction of 18% (approx. 7 kg) compared to the conventional version of the combo. The English-made speakers that replaced the original Celestions Vintage have a similar character to the V30 in the upper midrange, but the final tone is slightly darker and fuller. Dimensions: 66.5 × 53.5 × 30.5 cm, weight: 31 kg, price: approx. 3000 euros.
Magnatone Super Fifty-Nine M-80 2x12 – the top-of-the-range, hand-assembled boutique combo from the legendary American manufacturer is fitted with four 12AX7 preamp tubes, and the 45W Class AB (push-pull) power amp uses a pair of JJ EL34 pentodes, suggesting that the unit produces sound with British character. A pair of inputs with different sensitivities are connected to the Hi/Lo gain controls with a slide switch, four-band EQ and master overall volume. Compared to previous versions, the combo uses two WGS ET90 Custom 12" speakers with ceramic magnets. Price: about $3,800.
Accessories, software, etc.
Mojotone Bill Kelliher Hellbender – pickup set consisting of a pair of passive humbuckers designed for the guitarist of the band Mastodon. The hand-wound pickups offer a powerful output, flexible tone covering a wide range of sounds from clean registers to brutal-sounding high-gain, and two different wire diameters for added dynamics. Bridge HB - Alnico 5 + ceramic magnets, 19 kOhm resistance, basic EQ specs: bass 7.5, mids 8, treble 4.5. Neck HB - Alnico 2 + ceramic magnets, 11 kOhm resistance, basic EQ specs: bass 6, mids 6.5, treble 5.5. Aged Nickel or Double Black Uncovered, price per set: approx. 300 euros. In the case of the HB bridge, versions with standard and extended (F-spaced) pole spacing are available.
Altar Stands – if you want to save precious space at home, in the rehearsal room or on a small stage that is taken up by a stand with your guitar or bass, there is a solution in the form of the Altar stand, designed by Spanish designer David Galvaño. The model uses the weight of a combo or cabinet, under which the stand's V-shaped legs slide in, allowing the instrument to hang above the amp with the help of a classic U-profile. The height is, of course, adjustable, the body support is not missing, and the manufacturer will also supply accessories, including, e.g. a square bowl for picks etc. or a pad for effects, pads etc. The final price of the stand itself should be around 50 euros. The design and functionality of the upcoming novelty are demonstrated in a video on Kickstarter (see the link in the title of the edition).
Audio Singularity Neurontube Debut – a free plugin from the Brazilian software company includes modelling of the Soldano SLO-100 amplifier and Laney TF300 combo, including emulation of the Marshall 4x12 1960 Lead A Vintage 30 cabinet, Modern American 4x12 Vintage 30 and 1x12 HH speaker. The plugin, whose control and visual aspect is very similar to competing guitar software from Neural DSP, also has an effects section with compressor, fuzz/distortion, chorus, delay, reverb, and several types of virtual microphones, tuner, noise gate, etc. Formats: VST/ AU/standalone, price: free.
If you have found an error or typo in the article, please let us know by e-mail info@insounder.org.