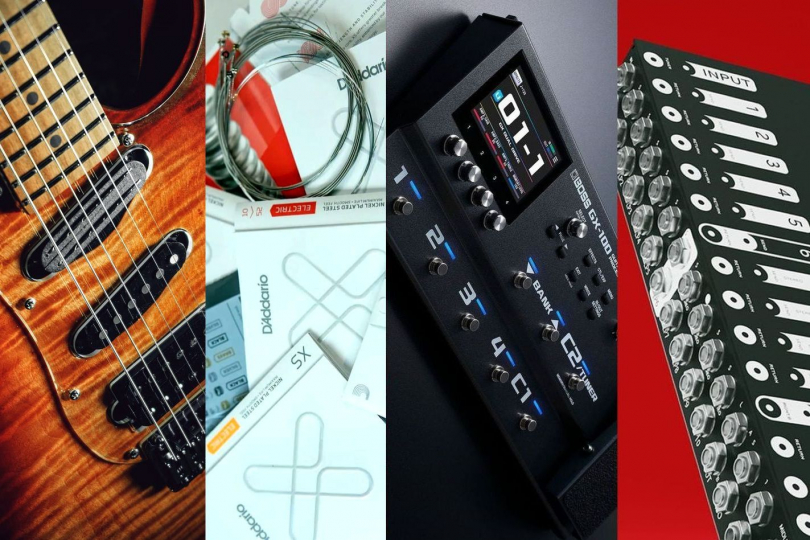 Guitar Gear Alert: May 2022
Are you a guitar fan? On the first Monday of each month, Insounder's news section will present a quick overview of new guitar gear that is about to hit the market. Guitar aficionados can thus get a general overview of the latest models of instruments, amplifiers, effects, or various accessories—strings, tuners, capos, etc. Technical equipment for bassists, drummers, keyboardists, singers, DJs, sound engineers, etc., will be presented in an overview on the third Monday of each month.
Kytary
Yamaha Revstar 2022—rightfully popular guitars with original design and balanced full tone have been innovated and are now offered in categories Element, Standard and Professional, so everyone can choose according to their financial possibilities and taste. Acoustic Design technology (chambering) has been applied to all versions and depending on the type of instrument, you can choose between pickups P-90 or classic humbuckers; most guitars are equipped with a bridge tune-o-matic, mahogany body and rosewood fretboard with 22 frets. Prices start at around 500 euros and end at 2000 euros for the Japanese models Professional.
Squier Contemporary Active 2022—a modified collection consisting of Jazzmaster, Starcaster and four and five-string basses Precision and Jazz Bass. The instruments feature Fender active humbuckers SQ SQR with ceramic magnets, so they could suit players of more energetic genres. Except for the all-maple Starcaster, the models have a poplar body, roast maple neck, graphite fretboard, pau ferro or maple fretboard, and hardware with a black finish. A variety of colour finishes are offered, with prices ranging from 459 to 539 euros.
Gibson Elvis SJ-200 and Elvis Dove—commemorative editions of two of the King of Rock 'n' Roll's favourite acoustics, featuring a maple body base complemented by a select Sitka spruce top soundboard, rosewood fingerboard, all-metal Grover Keystone pickups and genuine mother-of-pearl inlays. The Super Jumbo SJ-200 uses a neck glued from two pieces of maple and a slab of walnut, while the Elvis Dove dreadnought received a mahogany neck. Both versions have a piezo pickup installed with LR Baggs VTC electronics placed in the soundhole. Prices including the hard case have been set at around 4,500 euros for the Dove variant and 5,300 euros for the SJ-200.
Vola Guitars OZ RV TNC—top quality handmade superstrats from the Japanese boutique brand with a chambered mahogany body covered with a thick slab of flamed maple and luxurious transparent finishes in Light Tiger Eye Burst, Sapphire Blue Gloss and Tribal Black Gloss. The roasted maple neck is combined with a 12-inch radius fretboard made from the same wood, fitted with 22 stainless steel frets. Hardware was supplied by Gotoh, and the electronics consist of bridge pickup Flamebucker II, middle single VS II and a neck mini-humbucker VDR II. The controls with push/pull coil-splitting are enhanced by a blower switch for bypassing the potentiometers and the ability to activate all three pickups. Price: approx. 2000 euros.
Effects
Boss GX-100—another representative of the popular preamp/multi-effects series, this time equipped with a touchscreen colour display. You can choose from 23 amplifier types created with AIRD technology, there are more than 150 effects taken from the GT-1000 model, cabinet IR section, looper, expression pedal, MIDI interface, FX loop, slot for optional Bluetooth adapter, etc. The bank can hold 100 factory¨presets and 200 user presets, the tuner has a tolerance of just 0.1 cents, it includes 24-bit/48 kHz converters, 32-bit (fp) processing and it can handle 15 simultaneous effects blocks. The price is around 590 euros.
JHS Overdrive Preamp—another pedal distortion from the workshop of designer Josh Scott brings the sound characteristics of the rare first edition of the drive "250" from the production of the American brand DOD. The effect can be used as a classic booster, preamplifier and transparent sounding distortion. Between the traditional Level and Gain knobs, a slide switch is placed, choosing between a more compressed distortion with a more aggressive expression and a more open, cleaner drive with a punchier projection. The footswitch is wired in true bypass mode, power is provided by an adapter with a range of 9-18V, European price is around 210 euros.
Amplifiers, combo amps, preamps, cabinets, etc.
Mooer GTRS PTNR GCA5—a miniature combo amp designed for smart guitars GTRS, which is reflected in truly minimalist controls, because GTRS strats have the main editing unit integrated into their electronics, which also interacts with the mobile app. The gadget offers 5W RMS power, a special 2.2-inch-diameter speaker with 4 ohms impedance, a bass-boosting passive vibrating diaphragm, volume, USB-C port and jack input. There is a Bluetooth module and a Li-On battery which lasts for approximately 7 hours. The model, measuring 104 x 130 x 75.5 mm and weighing 540 grams, costs about 70 euros.
Blackstar JJN 3—another representative of the British manufacturer's mini combo amps is dedicated to the blues-rock guitarist Jared James Nichols, as reflected in the design evoking Nichols' signature all-tube units and cabinets in the traditional green leatherette, the shade which is reminiscent of the paint of racing supercars. A three-inch speaker is connected to a 3W power amp; a two-channel preamp with Blues Power switch offers gain, volume and a patented correction circuit ISF, allowing for American or British-style sound settings. You can also use a digital delay emulating tape echo behaviour, headphone/recording emulated output, line input or battery power. Limited edition price: approx. 80 euros.
Accessories, software, etc.
D'Addario XSE—a new type of strings for electric guitars, following in the footsteps of the acoustic series XS. Stable sound, superior durability and significantly extended life are ensured by a nanolayer with a thickness of only one-tenth of a human hair, stretched on a nickel-plated steel winding. The unwound strings have been given a polymer treatment, which together delivers a comfortable feel, sensitive dynamic response and a clear, brilliant tone.
D'Addario XSE 09—42 Super Light, XSE 09 - 46 Super Light Top / Regular Bottom, XSE 10 - 46 Regular Light, XSE 10 - 52 Light Top / Heavy Bottom and XSE 11-49 Medium sets are available. The price is around 15 euros.
NUX C-5RC—wireless instrument set, consisting of a small transmitter and a receiver with a jack with a swivel adjustment. The single-channel model with near-zero signal latency, operating at 2.4 GHz, provides a frequency range of 20 Hz-20 kHz, the action radius is determined by a distance of 30 meters, the system uses circuits with 24-bit/44.1 kHz resolution, and the integrated rechargeable battery can supply enough power for up to 15 hours of operation. In addition to the transmitter and receiver, a carrying case, USB cable and charging station are included in the price of approximately 150 dollars.
Kemper Rig Manager pro iOS—the editing application for users of Kemper Profiler systems has also been released for iPhones and iPads. The software communicating via Wi-Fi allows complete preset management including morphing function, access to the so-called Performances section containing five different Rigs, quick editing of effects or Amp Stack units, etc. Profiler Rig Manager for iOS can be downloaded from the Apple App Store, the operating system Profiler version 8.7 can be found here.
LAA Custom SmartSwitcher—a compact switcher and looper with the ability to be programmed via the SonicMind app (iOS, Android), which can be controlled by an external SmartController footswitch, meaning the main unit can be placed in the pedalboard as well as in the rack. The switcher has 10 loops (6 mono and 4 stereo) with the option of 14 mono loops using Y-splitters, while the SmartController is expandable from 5 switches to 10 using a second footswitch. A range of MIDI functions are included and updates like Over-the-Air ensure convenient firmware uploads via smartphone. The price of the module is around 950 euros.
Nembrini Audio Hivolt 103 Custom—a plugin for fans of the massive sound of British Hiwatt instruments is now offered at a discounted price of about 41 dollars and is a virtual equivalent of the 1970 vintage Hiwatt DR103 amplifier with original Partridge transformer and point-to-point wiring, loaned to Nembrini by Rock 'n' Vintage musical instruments. The two-channel amplifier with a common EQ has, like the real thing, 4 inputs (2x Normal + 2x Brilliant) that can be interconnected. Other features include a mixer (Solo, Mute, Pan, Faders), a pair of microphones, a loader of three IR pulses, a noise gate and a cleaner.
If you have found an error or typo in the article, please let us know by e-mail info@insounder.org.