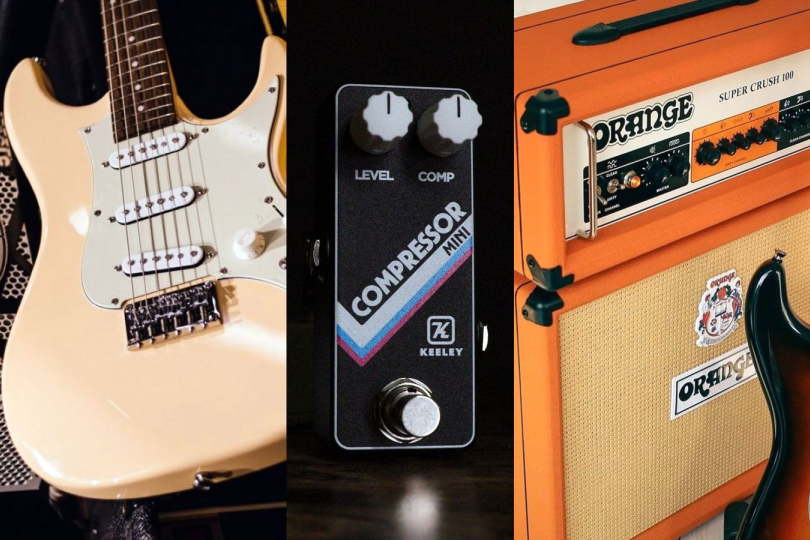 Guitar Gear Alert: November 2021
On the first Monday of each month, Insounders's news section will present a quick overview of new guitar gear that is about to hit the market. Guitar afficionados can thus get a general overview of the latest models of instruments, amplifiers, effects, or various accessories—strings, tuners, capos, etc. Technical equipment for bassists, drummers, keyboardists, singers, DJs, sound engineers, etc., will be presented in an overview on the third Monday of each month.
Guitars
The Gibson Jerry Cantrell "Wino" Les Paul Custom Murphy Lab: An upgraded replica of the Seattle legend Alice In Chains' older Custom—was given a mahogany chambered body, maple top and neck, ebony fingerboard and a corian zero fret. The standard hardware (stopbar, tune-o-matic) and Grover Kidney tuning machines carry an Aged Gold relic finish, and the guitar is sprayed in a transparent shade of Wine Red.
The limited edition of 100 pieces will feature the well-known and time-tested Gibson 498T and 490R magnetic humbuckers, in addition to the Fishman Powerbridge piezo system. For this reason, the model has only one tone pot, with the second Tone potentiometer reserved for the Fishman active circuit volume control. High-quality CTS Audio-Taper potentiometers with 500 kOhm resistance and a ceramic capacitor were used.
Ibanez AZES31 and AZES40: Return of the Japanese manufacturer to more classically designed strats with an excellent price/performance ratio. The models from the new AZ Essentials edition have a poplar body, a maple neck with a rounder profile and a jatoba fingerboard with 22 medium jumbo frets. The nut is 42 mm wide and compared to classic Stratocasters, the scale length has been shortened to 25 inches.
The AZES31 variant features a solid F106 headstock, three single-coil Essentials ceramic pickups and a dyna-MIX8 system to expand the sonic palette. The AZES40 version features a T106 vibrato, Ibanez Accord bridge humbucker, and dyna-MIX9 electronics. Depending on the type of guitar, lacquers Vermilion, Ivory, or Purist Blue, Black and Mint Green are available.
Flying V-shaped ESP and LTD Alexi Laiho 2021: Homage to the excellent Finnish metal guitarist (April 8, 1979 – December 29, 2020), former member of Children Of Bodom. The edition consists of five models: ESP or LTD Alexi Hexed, ESP or LTD Alexi Ripped, and ESP E-II Alexi Ripped. Prices of the cheaper instruments from LTD production start at about $1550, the E-II variant goes for about $2500, while the Hexed and Ripped pieces, produced in ESP Custom Shop, can be purchased for $5600 and $5800 respectively.
The instruments feature a through-maple neck fitted with a subtle profile, the sharply shaped body is made of alder and the 350mm radius ebony fingerboard carries 24 X-Jumbo frets. What they have in common is the EMG HZ FH-2 bridge humbucker, complemented on Ripped models by the EMG HZ S2 slanted neck single. For the more affordable LTDs, Floyd Rose 1000 mechanics and Grover tuning machines were chosen, while the other representatives of this series feature Floyd Rose Original vibrato, Gotoh locking machines and the addition of ESP MM-04 active boost with adjustable equalization and boost.
Effects
Strymon Zelzah Multidimensional Phaser: Modulation multi-effect with a pair of independent, interconnecting sections containing two types of phaser. It can also serve as a flanger, chorus, or vibrato. The resonance parameter has Strong, Mild, Off modes; the sweep can be selected from Classic, Barber, Envelope modes; and a JFET Class-A preamp is installed.
The algorithms are controlled by an ARM Superscalar processor (480 MHz), but the audio signal has a purely analogue path. You can choose between buffered and true bypass, the effect also allows true stereo connection, there are connectors for external expression pedal, MIDI or Strymon MiniSwitch, and the connection to the computer is provided by USB-C port. 
Fractal Audio FM9: Next-generation floor preamp/multi-effect with four DSP cores, state-of-the-art modeling and a comprehensive range of virtual instruments, cabinets, and effects. Utilising the latest Fractal Cygnus technology, the dual "Amp" block accommodates a total of eight (2x4) channels with arbitrary presets, a bank of over 2200 Ultra-Res IR samples taken from the rack-mounted version of the Fractal Axe-FX III, and space has been found for 1024 slots for uploading your own IR samples.
The developers fitted the FM9 with nine footswitches with colored rings and a mini LCD display. Each switch can be assigned tap, hold, or other parameters using the Layout function. There is also a FASLINK II connector, used to connect up to two external FC-6 or FC-12 controllers, connectors for switching and expression pedals, RCA SPDIF jacks, USB-B port, and DIN MIDI In/Out connectors.
Keeley Electronics Compressor Mini: The compact pedal, based on parallel circuits familiar from Manhattan-style compressors, features several automatic modes that change multiple parameters simultaneously, including Blend mode, providing an optimal mix of clean and effects in interaction with the Level and Comp controls. In addition, thanks to an intelligent correction circuit, the resulting tone remains sufficiently brilliant and transparent. A preamp circuit is also built in, capable of extracting maximum potential from other included pedals or amplifiers.
Amplifiers, combos, pre-amps, boxes etc.
Ortega C One: The acoustic combo in Ash and Walnut design is inspired by the H One rack amplifier, which is reflected in the two-channel concept, control layout on the main panel, integrated effects, and maximum power output of 100 W. Each of the channels, differing in input type (jack or XLR/jack combo), is equipped with gain, digital reverb and three-band EQ controls. The first channel adds a Phase switch and Color function, while the second has phantom power activation and a switch between line or microphone mode in place of these functions.
The DSP chip also brings the option of using chorus, and many players will appreciate the dual line outputs with detachable ground and Pre/Post switch, send/return effect loops, headphone jack, Aux In, or external box jack. With a frequency response of 40 Hz to 20 kHz, the combo is equipped with a 6.5-inch mid-bass driver, three-inch tweeter and bassreflex. 
Bogner Ecstasy Mini Head: Small transistor single-channel amplifier with a sound close to the legendary Ecstasy all-tube three-channel amplifier, which made German designer Reinhold Bogner one of the absolute top in the category of boutique brands. The Mini Head's preamp section benefits from the circuitry of the company's successful Ecstasy Red series of distortion pedals, and the end unit provides a maximum output of 30 watts.
Controls consist of gain, volume and four-band  EQ potentiometers and a quartet of lever switches with Variac function, midrange voicings, gain boost, and B1/N/B2 modes affecting the amount of higher harmonic components are also incorporated. The Bogner Ecstasy Mini Head features a pair of speaker outputs, an effects loop, and power is provided by the included 24V/2.0A DC adapter. The official European price is around 300 euros.
Orange Super Crush 100 C/H: Combo and amplifier built on transistors. Both versions combine a JFET preamp with a Class A/B wired 100W stage, taken from the company's Pedal Baby 100 poweramp. A clean channel with an overlap into light crunch is controlled by volume and two-band EQs, while the distorted Dirty channel adds a gain parameter and a three-band EQ.
In addition to the overall master, the amps also offer spring hall emulation, a buffered effects loop, 8/16 Ohm box outputs, an XLR line jack with cabinet voicing (Closed/Open), and a footswitch input. The combo uses a single Celestion G12K-150 12-inch speaker. European prices are around 500 euros for the amplifier and around 700 euros for the combo.
Accessories, software, etc.
Peterson StroboPlus HDC: A desktop tuner from an erudite American manufacturer who has implemented the latest technology into this model, offering a truly superior set of features. Twenty different tuning mods are included, including historical tempered tuning, microtonal mode, mods for harmonica, guitar, bass, accordion, steel guitar, Buzz Feiten system, drop tuning, etc. The library contains more than 180 presets built on the Sweetened Tunings system, addressing specific inharmonic characteristics of selected instruments and optimizing their tuning.
An advanced metronome is integrated, with tempos ranging from 10 to 280 quarter notes per minute (BPM), more than 100 patterns complemented by polyrhythms, 50 types of accents and more. The tuning range is C0 - Ais8, the reference tone A can be set from 390 to 490 Hz, and there is a timer, transposition or a small speaker connected to a tone generator (C1 - G9). Charging is provided by a Li-Ion battery or a USB micro port, also used for firmware updates. Native compatibility with the Peterson Connect app (Mac and PC) is a matter of course.
Two Notes Hidden Gem Collection Steve Vai: Two Notes Audio Engineering has teamed up with Los Angeles-based producer Michael Nielsen to create a new set of DynIR Hidden Gem Collection virtual cabinets, based on the 4x12 cabinet previously owned and used by Steve Vai. The box in question was used extensively by Vai, particularly between 1986 and 1993, both in concert with former Van Halen frontman David Lee Roth on his Eat 'Em and Smile and Skyscraper tours, and on his own Sex & Religion tour.
The Hidden Gem collection features three virtual models: Alien White '86 with Celestion V30 speakers, Alien Black '87 fitted with Celestion G12H speakers, and Alien Green '93 with 20-watt Greenbacks. Each virtual cabinet was imaged with eight microphones: Blue Dragonfly, Shure Unidyne III 545, Heil Sound PR30, Sennheiser MD409, Shure SM57, Coles Electroacoustics 4038, Beyerdynamic M160, and Royer R-121.
All three Hidden Gem Collection DynIR boxes are compatible with Two Notes' DynIR-enabled Torpedo hardware, including Captor X and CAB M+, as well as the Torpedo Wall of Sound v4 digital plugin, which is included free with every purchase of a Hidden Gem Collection cabinet.