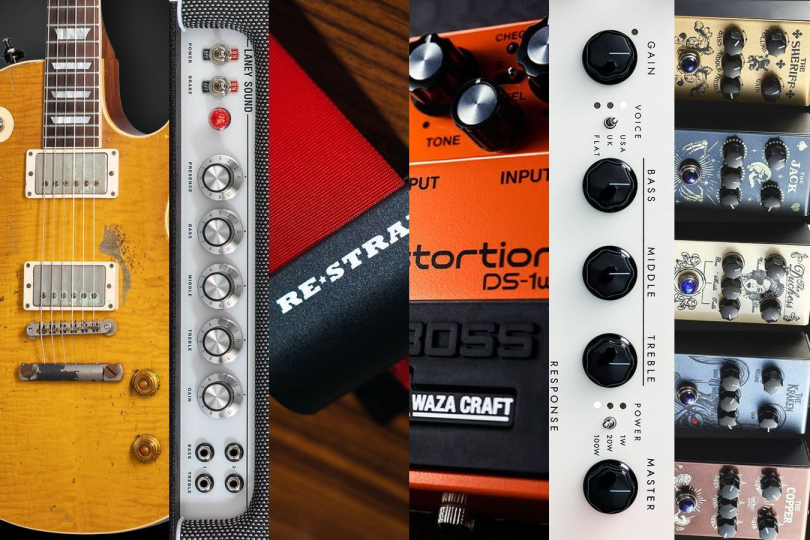 Guitar Gear Alert: November 2022
Are you a guitar fan? On the first Monday of each month, Insounder's news section will present a quick overview of new guitar gear that is about to hit the market. Guitar aficionados can thus get a general overview of the latest models of instruments, amplifiers, effects, or various accessories – strings, tuners, capos, etc. Technical equipment for bassists, drummers, keyboardists, singers, DJs, sound engineers, etc., will be presented in an overview on the third Monday of each month.
Guitars
Gibson Kirk Hammett Greeny Les Paul – from November 12th, you can order a replica of the famous 1959 Les Paul Standard from Gibson, which was originally owned by Peter Green, then Gary Moore and later by Hammett. The detailed relic treatment was handled by the Murphy Lab division and there will be only 50 pieces on the market. It was built with premium lightweight mahogany with a flame maple top and it features a Brazilian rosewood fingerboard and custom pickups. The collector's handmade edition comes with a stylish case, certification, strap, picks and other accessories, including the opportunity to meet the Metallica guitarist and visit Gibson's Nashville headquarters. Price: 50000 dollars.
Fender Aerodyne Special Series – the Stratocaster, Telecaster and Stratocaster HSS models from the Japanese Aerodyne Special Edition represent a modernised version of classic models, which is reflected in the absence of a pickguard and the use of lacquered headstocks, a flatter radius (12 inches) maple or rosewood fingerboard fitted with 22 medium jumbo frets, a high-end Babicz FCH tremolo and solid bridge, locking tuners Deluxe, single coils Aerodyne Special and, in the case of the Strat HSS, the eponymous humbucker. Linden bodies are combined with Modern C profile maple necks. Prices: Strat and Tele approx. 1300 dollars, Strat HSS approx. 1330 dollars including a gig bag.
Gibson Faded SG Standard 61 Maestro a Les Pauly Standard 50s / 60s – three new models from the Faded series, sprayed with a thin layer of satin nitro lacquer. Of course, the common thread is the all-mahogany construction based on the original designs of the early editions. The SG Standard 61 Maestro with Vibrola uses two Burstbucker 61 T/R humbuckers. The LP Standard 50s has a chambered body, flame maple top, thicker neck profile and two Classic 57 PAF pickups. We can find the same humbuckers on the LP Standard 60s version which features a solid body and neck with a more subtle Slim Taper profile. Prices: SG (Vintage Cherry) approx. 2200 euros, LP 50s (Vintage Honey Burst) and 60s (Vintage Cherry Sunburst) approx. 2500 euros.
Effects
KHDK SHRED by Bernth Brodtrager – "SHRED makes my lead guitar parts, solos and high-gain distorted riffs truly stand out in the mix," says Austrian guitarist Bernth Brodtrager about his new multi-functional drive. Like many other overdrives, the pedal has classic Volume, Tone and Drive controls, but the main asset of this model is the original circuit connected to a toggle switch mid-boost, tuned to a carefully selected pair of frequency bandwidths combined with the tone control. As a result, the SHRED, combined with the distortion channel of the amp, delivers plenty of punch and aggression, but unlike similarly conceived boosts, still maintains purity and clarity of tone. Price: approx. 300 euros.
Victory V1 series – five distortion pedals, based on the preamp circuits of popular amplifiers of the English manufacturer, have been given the same names as the instruments - i.e. Copper, Duchess, Jack, Kraken and Sheriff. Depending on the type of effect, the sounds range from a light boost to a high-gain saw and everything in between. The size, weight, power supply (9V DC) and controls consisting of three-band EQ, gain and volume are the same for all models. Price: about 250 euros.
Boss DS-1W – another addition to the premium Waza Craft series, manufactured in the brand's Japanese headquarters, is based on the first DS-1 series distortion launched by Boss in 1978. In addition to the original distortion circuit controlled by the Level, Tone and Dist potentiometers, there's a two-position Standard/Custom toggle switch, which allows you to use a new mode that delivers a more massive tone with more pronounced mids and a more sensitive dynamic response. The effect with a higher volume margin is equipped with a high-quality buffer. Price: approx. 160 euros.
Amplifiers, combo amps, preamps, cabinets, etc.
Laney LA-Studio – real tube amplifier based on vintage Supergroup (1967) is designed primarily for recording, which corresponds to the power of 3 W switchable to 0.1 W. In addition to the solid sound achieved by 3 x ECC83 and 1 x 12BH7 tubes, the new head also offers a DSP module Two Notes Torpedo for emulating various cabinets (8 x factory DynIR / 2 x Laney samples + additional samples after registration) and loading custom impulses. You can use 4 inputs, four-band EQ and gain, USB port, MIDI In/Out-Thru DIN connectors, XLR output, headphone stereo jack and 2 speaker outputs with 8/16 ohm impedances. Price: approx. 850 pounds.
Blackstar Dept. 10 Amped 1 – pedalboard amplifier with dimensions 200 x 81 x 149 mm and weight 1.28 kg has max. power 100 W (switchable to 20/1 W) at impedances 8/16 ohms and is suitable for both classic pedals and modelling effects. It features integrated reverb, three voicing modes, programmable presets and six selectable modes emulating the response of a power amp fitted with different types of tubes. The unit offers USB audio (4 channels), XLR CabRig output, MIDI, effects loop and a pair of 9V/500 mA power outputs. Price: approx. 550 euros.
Fender Tone Master Princeton Reverb – On November 17th, Fender will launch the official worldwide distribution of the new Tone Master edition combo amp, which successfully reproduces the sound of the brand's classic tube amps through proprietary DSP modelling. The maximum power output of 50 watts / 8 ohms, simulating 12 tube watts, is switchable in 5 steps down to 0.3 watts, and in addition to tremolo and reverb, it features an integrated XLR line output with three IR cabinet simulations, volume and a ground switch. There's a Jensen C10R speaker and the status LED changes colours according to mode (operation, warmup, mute/silent). The weight of the single-channel unit is reduced by the pine chassis. Price: approx. 900 dollars including softcover and two-button footswitch.
Mesa Boogie Open Back Series – The new edition compact cabinets have an open construction (except for the Thiele version) made of high-quality birch plywood covered with black vinyl. They are equipped with Celestion speakers and an input and output jack (parallel) and come with a soft case. The series consists of eight models: 1x10 14, 1x10 16, 2x10 19, 2x10 23, 1x12 23, 1x12 Thiele 19, 2x12 and 4x10. The figures after the number and diameter of the speakers indicate the width of the cabinet in inches. Prices start at about 450 dollars for the 1x10 variants and end at 800 dollars for the 4x10 cabinet.
Accessories, software, etc.
Boss CB-EG01 a CB-AG10 – a pair of new cases for electric (CB-EG01) and acoustic (CB-AG10) guitars, combining the features of a gig bag and a hard case. Both models are made of water-resistant, mechanically strong polyester with thick padding and the interior is covered in velvet. Some of the benefits are a low-profile design, adjustable neck support, solid zippers, lightweight construction, comfortable straps and handle and a large pocket for accessories. Internal dimensions, weight and prices: CB-EG01 – 1021 x 333 x 60 mm, 1.3 kg, 15 mm padding, approx. 59 euros; CB-AG10 –1064 x 419 x 128 mm, 2 kg, 25 mm padding, approx. 100 euros.
ReStrap – an instrument strap, equipped with a small winding mechanism hidden in a plastic tube, which is of course an integral part of the strap, instead of the traditional buckle or loop and string system. The design, using a reel with a locking mechanism, works similarly to car seat belts and allows quick adjustment of the desired length. Simple but effective strap locks are also included. Price: approx. 60 euros (Kickstarter), availability: March 2023.
Positive Grid OMNYSS – plugin, containing three virtual guitar amps with IR cabinets plus microphones and six effects, is based on a new DSP engine, can operate in standalone mode and promises superior sound flexibility. Each of the instruments is paired with its own synth-based effect, creating additional layers. Etheria + Orchestral Pad + Custom Modern 4x12 Open-back, Aggralith + Synth Lead + Custom Boutique Angled 4x12, Viscerus + Octaver + Custom Boutique Closed-back 4x12. Prices: PC/Mac 99 dollars, iOS 19.99 dollars.
If you have found an error or typo in the article, please let us know by e-mail info@insounder.org.