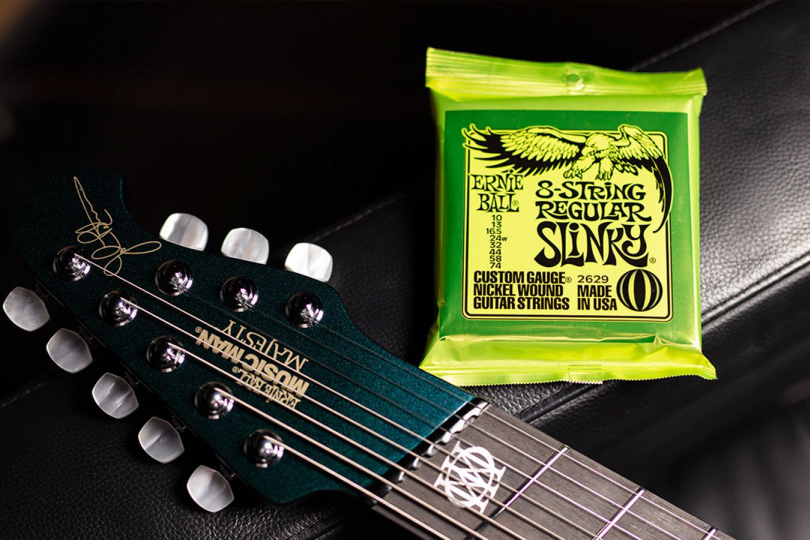 Guitar Gear Alert: October 2021
Are you a guitar buff? Then every first Monday of the month is "your day" here on Insounder—with a quick overview of new guitar gear that is about to hit the market and that you don't want to miss: the latest models of instruments, amplifiers, effects, strings, tuners, capos, etc.  A similarly conceived article is dedicated to technical equipment for bassists, drummers, keyboardists, singers, DJs, sound engineers, etc., on every third Monday of the month. Some of the products introduced in today's overview will be discussed in more detail in later posts here in the News section.
Guitars
Charvel Rick Graham MJ DK24 2PT CM and Guthrie Govan MJ San Dimas SD24 CM: signature models of two excellent guitarists, produced in the Japanese branch of the brand. As common features, both instruments have a caramelized maple neck, a fingerboard made of the same material with a variable radius of 12-16 inches, 24 jumbo stainless steel frets, classic and luminescent markers, and a Graph Tech TUSQ XL nut.
Graham's model in Celeste bright lacquer is fitted with custom Bare Knuckle pickups in HSS configuration and a Gotoh Custom 510 vibrato, Guthrie Govan's signature ash top offers two humbuckers and one single coil Charvel Custom, controlled by a pair of switches expanding the sonic possibilities. The guitar's transparent Three-Tone Sunburst finish features a locking Charvel LBT vibrato.
Music Man Majesty 8: the long-awaited eight-string signature of guitarist John Petrucci, produced in a limited edition of only 100. The base is a through-neck complemented by a lime body, and a dual 25.5 to 27-inch scale length was chosen, reflected in the offset frets and the angled fit of a pair of Custom Slanted DiMarzio Rainmaker and Custom Slanted DiMarzio Dreamcatcher humbuckers. Also slanted was the Custom bridge, which incorporates piezo sensors. An active boost and two selectable outputs are integrated.
Suhr Standard Legacy Ltd: superstrats, harking back to the 1980s era when John Suhr worked with Rudolf Pensa. The limited series includes two versions in a total of five finishes on an African okoume body combined with a maple top. The neck in the same material features an Even C Slim profile and the rosewood fingerboard carries 22 jumbo stainless steel frets.
The models differ primarily in hardware in the form of a Gotoh 510 vibrato or Floyd Rose locking mechanism. The HSS pickup configuration used consists of an EMG 85 bridge humbucker and two EMG SA single coils. Prices start at around $3500 and you can choose from transparent finishes Aged Cherry Burst, Suhr Burst, and Trans Caramel,  or classic lacquers Black and Pelham Blue.
Gibson Exclusives Collection Ebony 2021: edition consisting of electroacoustic models J-45 Standard, Hummingbird Standard, and SJ-200 Standard in classic black Ebony lacquer. The all-maple SJ-200 features an LR Baggs Anthem pickup system, while the J-45 and dreadnought Hummingbird versions offer a mahogany body with spruce top and LR Baggs VTC electronics. The headstock is fitted with Grover Rotomatic tuners and rosewood was chosen for the fingerboard construction.
Effects
Drive Vertex Ultraphonix MKII: the second generation of the distorter with the sound of the legendary amplifier Dumble Overdrive Special. The control consists of a Master potentiometer, a Filter tone pot operating in the frequency range of 800 Hz to 1.6 kHz, and a Drive section consisting of Level and Ratio parameters (the ratio between the clean and modified signal). The price of the hand-assembled pedal is around $200.
Mooer D7 X2 Delay and R7 X2 Reverb pedals: digital reverb effects with a bank containing 14 presets divided into Yellow and Purple sections. Dual inputs and outputs allow mono, stereo and true stereo connections, one footswitch is dedicated to bypass, the other activates the Infinite ambient function in the case of reverb, while in the case of delay it is dedicated to tap tempo. There is also a Trail On mode and the footswitches can handle preset movement and selection.
HeadRush MX5: modeling preamp/multi-effect with a four-inch colour touchscreen and intuitive controls. Fifty guitar and bass emulations, 63 high-end effects, 15 types of virtual cabinets with 10 different microphones, and over 300 IR samples are ready to go. Each preset has capacity for a chain consisting of 9 effects, 2 amps, and 2 boxes.
The device supports third-party IR pulse recording (sample lengths 1024/2048) and is compatible with both Mac and PC platforms. According to the manufacturer, the internal library will be gradually expanded through regular firmware updates, adding new models and features based on user requests and feedback.
Amplifiers, combos, boxes, etc.
Harmony Series 6: Harmony, the American boutique manufacturer, has expanded its range of amplifiers to include the Series 6 model series, represented by the H605, H620, and H650 full-amp combos in an elegant retro design. Harmony's smallest model, the 5W H605, is equipped with a pair of 12AX7 tubes, a single 6L6 end tube, and an eight-inch Jensen P8R speaker. Controls include gain with pull-boost, four-band EQ, analogue reverb button, and master. The footswitch can be used to switch reverb, boost, and activate the effects loop.
The 20W version of the H620, which is powered by two 6L6 tubes, is equipped with a preamp constructed on three tubes, and the sound transmission is handled by a twelve-inch Jensen Tornado Stealth speaker. The controls are similar to those of the H605 variant, but a tremolo with Speed/Depth functions has been added. The 50-watt version of the H650 offers four 12AX7 tubes in addition to the higher output. The maximum power output of the end amps of all combos can be reduced to 1, 0.1, 0 W using the integrated attenuator, and there is no external box output. Official prices: H605 approx. $550, H620 approx. $650, and H650 approx. $1000.
Brainworx Suhr PT100: Plugin Alliance has unveiled a plug-in version of the Suhr PT100 guitar amplifier that engineer John Suhr designed for renowned youtuber and guitar wizard Pete Thorn.The Brainworx-branded virtual version of the Suhr PT100, whose emulations have been endorsed by both Suhr and Thorn, features a total of 120 impulse responses, capturing the character of this Marshall Plexi-style three-channel machine, fitted with four EL-34 power tubes and six 12AX7 preamp tubes.
Designed as a full virtual recording studio with preset chains, the software also includes an FX rack effect unit, featuring a syncable Lo-Fi delay, noise gate, Tight and Smooth filtering, Power Soak and Pre/Post power amp bypass functions. The design and controls adhere to the approach used in the hardware reference. The Plug-in Alliance Brainworx Suhr PT100 is currently available for $79.
Accessories
To the Ernie Ball Regular Slinky 2625 eight-string set (10, 13, 17, 30, 42, 54, 64, and 74 ), the Californian brand adds a new "ten" set, the nickel-wound 8-String Regular Slinky 2629, which offers strings with thicknesses of .010 .013, .0165, .024w, .032, .044, .058, and .074 inches. The 39.5-inch (100 cm) strings are optimized for extended or dual-scale instruments. This new "ten" set costs around ten dollars.
The Lollar Regal for Jazzmaster "wide range" humbuckers are inspired by Fender pickups from the 1970s, providing owners of Fender Jazzmaster guitars or their clones with a thick tone with bright treble, musical mids and detailed expression across the frequency spectrum. There's a choice of a neck and a bridge version (both with 10.7kOhm resistance), and the manufacturer has also bolstered the range with a second neck model, the Low Wind Neck, with a lower 8.9kOhm output, tighter bass, and a more brilliant high end. The humbuckers can be ordered in Parchment, Black, White, and Cream finishes.