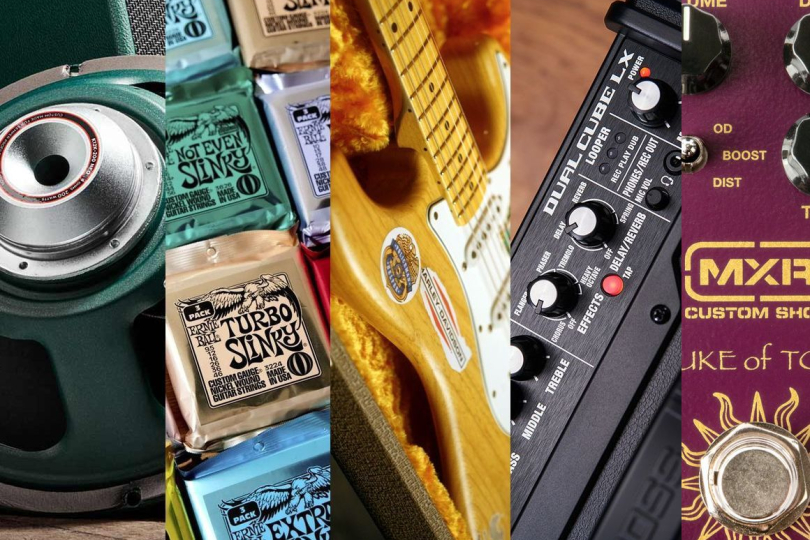 Guitar Gear Alert: October 2022
Are you a guitar fan? On the first Monday of each month, Insounder's news section will present a quick overview of new guitar gear that is about to hit the market. Guitar aficionados can thus get a general overview of the latest models of instruments, amplifiers, effects, or various accessories—strings, tuners, capos, etc. Technical equipment for bassists, drummers, keyboardists, singers, DJs, sound engineers, etc., will be presented in an overview on the third Monday of each month. Selected news will be presented in more detail in later posts.
Guitars
Fender MIJ Limited International Color Stratocaster – for fans of more distinctive colours, the Japanese division of Fender has prepared a limited series of Stratocasters based on models built in the 70s and 80s. This corresponds to a large headstock with "F - Stamped" pegs, 21 medium jumbo frets set in a rosewood or maple fretboard with a radius of 9.5 inches, a U-profile neck mounted over a crest plate with three screws, a Synchronized tremolo and a three-layer pickguard carrying three Vintage Style Single-Coil Strat pickups. For the basswood body, you can choose from Capri Orange, Morocco Red, Maui Blue, Sahara Taupe or Monaco Yellow types covered in a glossy polyester lacquer. Price including gig bag: approx. 1050 euros.
Charvel Jim Root Signature Pro-Mod San Dimas Style 1 – Charvel's first signature built for the guitarist of Slipknot features a mahogany body, a bolt-on maple fretboard with a graphite truss rod and Speed Neck profile, and an ebony or maple fretboard with a 12-16 inch radius fitted with 22 jumbo frets and both classic and luminescent markers. The Vibrato Floyd Rose 1500 is complemented by Charvel Locking zero fret locks and tuning pegs. A pair of EMG Jim Root Signature Daemonum active humbuckers are controlled by a three-position switch, volume and aperture. Colours: Matte Black, Snow White. Price: approx. 1470 euros including the Multi-Fit case.
Fender Custom Shop Jerry Garcia Alligator Strat Relic – a signature instrument based on the 1955 Stratocaster Garcia received as a gift from Graham Nash in 1971 while recording his debut solo album, Songs for Beginners. The ash body is complemented by a maple neck with a Soft-V profile, while the fretboard made from the same wood is fitted with 21 frets and a brass nut. A special bridge and rosewood tailpiece are also made of brass, and a trio of CS Josefina H-W '55 S-C Strat single coils are accompanied by a copy of the original Clean-Boost "Blaster" output in addition to the traditional controls. Detailed patina, including a green crocodile sticker, etc. is not missing either. The Aged Natural lacquer edition is to number 100 pieces, price: approx. 20,000 USD.
Cort Flow-OC – the flagship of the Flow acoustic series offers an all-massive concept with an OM-style body with a Venetian cutaway, the base of which is mahogany combined with a red cedar top. The mahogany neck reinforced with a pair of internal walnut plates features a new type of asymmetrical Ergo-A profile, while the ebony fretboard carries 20 frets and a 44.5mm wide Graph Tech walnut. A high-end L.R. Baggs sound system was used, consisting of an Anthem preamp connected to an Element pickup and condenser microphone. The control module is housed under the edge of the sound hole. Colour: Natural Satin; price: approx. 1,300 euro including Deluxe Soft-Side case.
Effects
MXR Duke of Tone – MXR's Custom Shop team and legendary effects guru Analog Man have built the Duke Of Tone CSP039, a compact distortion pedal based on Analog Man's Prince of Tone single-channel drive, which is also included in the two-channel King Of Tone version, which has a waiting list of several years. The MXR DOT offers Drive, Volume, Tone potentiometers, a three-position switch with clipping OD, Boost, Dist mods, the footswitch is connected in true bypass mode, the current draw is only 6 mA and the power supply is provided by a 9V adapter. Price: approx. 155 USD.
Electro Harmonix Big Muff Pi Hardware Plugin – pedal offering the sound of the classic 1973 Ram's Head Big Muff fuzz can also be used as a computer DAW USB-B plug-in. Other extras include a bank for ten presets, dual jack inputs and outputs for connection in mono, stereo or true stereo modes, an integrated USB card (2 x 2) with its own gain control, direct monitoring activation, headphone jack with separate volume, clipping diodes, standard fuzz potentiometers (Volume, Sustain, Tone), Tone Wicker filter switch and two footswitches handling overall bypass and preset movement. Price: approx. 330 dollars.
Amplifiers, combos, preamps, boxes, etc.
Friedman Steve Stevens SS100-V2 – the three-channel successor to the SS-100 tube machine had its video premiere back in August, but the company is only now starting to distribute this hyped signed model. The high-end and extra-flexible sounding amplifier features volume, separate EQs and Bright function on the clean channel, the SS/SS+ distortion pair has common EQ, separate gain and volume controls, and the end section is controlled by potentiometers representing master, deep and presence parameters. A Dirt Fat switch, an effects loop and two outputs with selectable 4/8/16 ohm impedance can be used. Price: approx. 3000 dollars.
Blackstar St James EL34 212 a 6L6 212 – the larger, but still supremely lightweight combos from the new St James range get a pair of 12-inch Celestion Zephyr speakers, two ECC83 preamp tubes and the same number of EL34 or 6L6 power tubes, which, in addition to a max output of 50W, produce either classic British or American-style clean and high-gain sound. Two-channel amps have reverb, integrated reactive load box, USB audio output, cabinet emulation (XLR), effects loop, etc. Dimensions: 685 x 535 x 260 mm; weight: 16.8 kg; price: approx. 1400 euros including footswitch.
Boss Dual Cube LX – a compact stereo combo with 10 W total power, two 4-inch speakers, effects section, two instrument inputs (mono/stereo), eight emulations + mic preamp, memory for 27 presets, looper, loopback function, etc. Connectivity includes a minijack i-CUBE Link/Aux In, 2 x line out, footswitch connector, USB-B port and a slot for an optional BT-Dual Bluetooth MIDI adapter. The combo is compatible with the Dual Cube LX Editor app, power is provided by a 9V adapter or 8 AA batteries. Price: approx. 300 euros.
Accessories, software, etc.
Kemper Kone Neo – a lightweight 12-inch full-range speaker with a neodymium magnet, 4 ohms impedance and 200 W power output, following the 2020 version of Kone. Like the first edition, this model is designed primarily for use with corporate Profilers working with technology capable of capturing the "fingerprint" of the sound of a real amp, cabinet and other components of guitar gear. There are also 19 quality imprints of Celestion and other manufacturers' loudspeakers. Prices: 1 x 12 Kone Neo approx. 150 euros, 2 x 12 approx. 270 euros, 4 x 12 approx. 480 euros.
Ernie Ball – American string manufacturer has added a 3-pack string sets to its financially discounted packages containing for el. Slinky series - Extra, Primo, Not Even, Beefy, Ultra, Burly, Mighty, Mega, Turbo and Super Slinky Cobalt. Slinky Classic Rock N Roll series - Super, Regular, Power, Extra, Hybrid. Earthwood Phosphor Bronze and 80/20 Bronze acoustic editions - Light, Medium Light, Medium, Extra Light, Rock and Blues, Custom Medium, Custom Light, Folk 80/20, Silk and Steel Extra-Soft 80/20 and Ernesto Palla Black and Gold End nylon strings. Prices start at about 18 dollars.
Mojotone Anthem Series – quality guitar speakers producing the sound of American speakers from the turn of the 50s and 60s, so they can work great as a replacement for older speakers fitted in vintage Fender combos. The following versions are available: Mojotone Anthem AN8C 8" 25W 4/8 ohms (approx. $45), Mojotone Anthem AN10C 10" 35W 8/16 ohms (approx. $70), Mojotone Anthem AN12C 12" 50W 8/16 ohms (approx. 85 USD).
If you have found an error or typo in the article, please let us know by e-mail info@insounder.org.