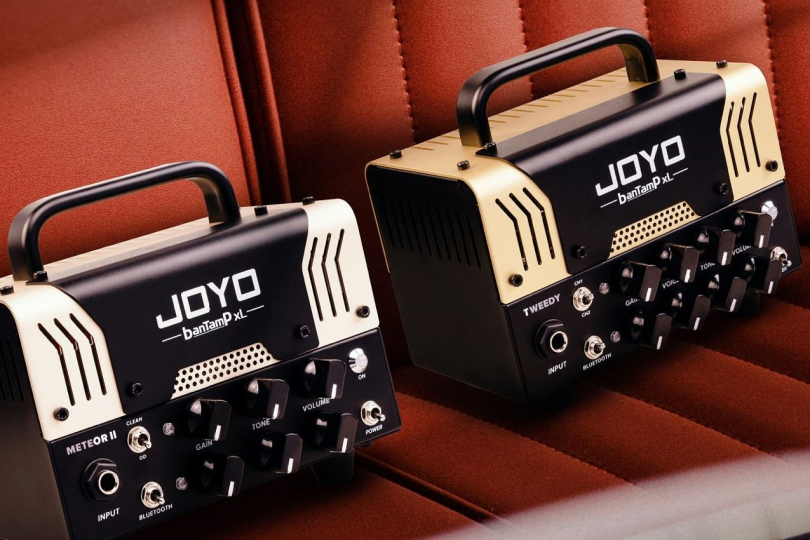 Mini Amplifiers Joyo banTamP XL Meteor II and Tweedy
The Joyo brand has expanded its banTamPxL series of compact guitar amplifiers with a pair of mini amps called the banTamP XL Meteor II and banTamP XL Tweedy. Both versions feature a 20W Class-D end unit and a two-channel preamp section with independent controls for each channel. The heads are based on a hybrid technology, combining tube, transistor, and digital concepts. Thanks to this, it was possible even with the really small size of these models to maintain a rather dynamic and full sound. These positive aspects are most pronounced with a box equipped with speakers with higher sensitivity.
The preamp section, whose signal path is treated with a classic 12AX7 tube, is equipped with separate gain, tone, and volume controls in the case of the Meteor II variant. These are followed on the main panel by an instrument input, power switch, and status LED, as well as a Clean and Distorted channel Clean/OD switch and a switch activating the integrated Bluetooth module.
At the back of the bent sheet metal chassis is a swing-out antenna for wireless streaming, a footswitch input for channel selection, a headphone jack, a main audio output for boxes with a minimum impedance of 8 ohm, and a send/return series-connected effects loop so that the player can take full advantage of external delay, reverb, modulation, and other types of effects that usually work better at more extreme gain when included after the preamp.
Offering a sound close to the British Orange, the Meteor II is based on an older version of the same model, whereas the Tweedy version is an absolute novelty in the Chinese company's portfolio. As the name suggests, this variant will appeal mainly to fans of pure sound in the style of vintage combos of American provenance. The first channel with transparent expression and rich bass is complemented by a second channel with a distortion circuit that goes all the way to fuzz.
The manufacturer describes the Tweedy's sound palette as "classic rock and blues of the 20th century." Unlike the Meteor, the Tweedy has been given an additional Voice correction, which is again solved separately for each channel and affects the midbands. Other specifications or connectivity are similar to those of the Meteor II, including a DC 18V / 2000 mA power supply.
The Joyo banTamP XL Meteor II and banTamP XL Tweedy mini amplifiers, measuring 163 x 110 x 140 mm and weighing approximately 1.2 kg, carry the same official European price tag of approximately €170. Included in the package is an adapter with detachable power cord, footswitch, rubber pads, and a pair of jack cables. An optional carrying case can also be added.
If you have found an error or typo in the article, please let us know by e-mail info@insounder.org.