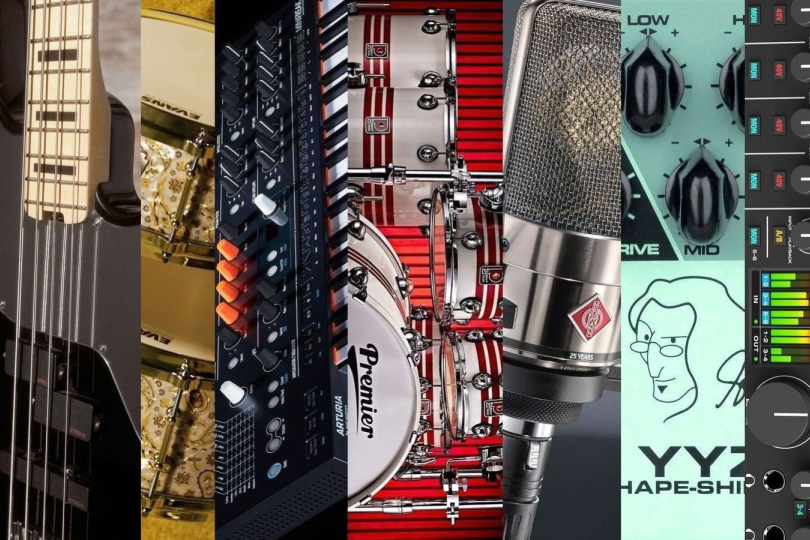 Miscellaneous Gear Alert: December 2022
Do you play bass, drums, or keyboards? Are you DJ, singer, sound engineer, or a studio aficionado? Then every third Monday of the month is "your day" here on Insounder – with a quick overview of gear and new releases that will be on the market in the current or upcoming period and that you shouldn't miss. A similarly conceived article is dedicated to technical equipment for guitarists every first Monday of the month. Some of the products introduced in this overview will be discussed in more detail in later posts here in the News section.
Bass guitars
Charvel Frank Bello Signature Pro-Mod So-Cal Bass PJ IV – a stylish four-string signature bass of Anthrax's bass player combines elements of Fender Precision and Jazz Bass. A maple neck is bolted to a poplar body and the fingerboard made of identical wood features 20 frets, black block markers and a nut made of Graph Tech TUSQ XL mixture (38 mm). The modern character of the sound is provided by two active EMG Frank Bello pickups – a split-coil model placed in the middle of the body and a J bridge – operated by separate volume controls. Colour: Gloss Black plus mirrored pickguard. Price: approx. 1300 dollars.
Music Man Mike Herrera StingRay 2022 – a very limited edition by the bassist and frontman of punk rock band MxPX will be released in just 10 pieces. The collector's edition is distinguished from Herrera's previous model in Seafoam Green primarily by its satin Flat Black lacquer finish and the instrument comes with a deluxe Mono case. The traditional construction combining an ash body, maple neck and a 21-fret fingerboard is complemented by a Music Man humbucker fitted with Alnico magnets and straightforward electronics with disconnected controls. The passive signal goes directly to the output and is not affected by any components. Price approx. 2700 dollars.
Darkglass M 200 and Alpha·Omega 200 – the two smallest representatives of bass amplifiers produced by the Finnish manufacturer are coming to the European market. The Microtubes 200 model with distortion engine B3K features Drive, Blend, Master/Mute and active four-band EQ. In the Alpha-Omega 200 version with three-band EQ, the upper-mid potentiometer has been replaced by a Mod control for a smooth mix of the dual distortion circuit with Alpha and Omega modes. Power: 200 W; connectivity: Speakon, headphone, Aux In, XLR DI output; dimensions: 150 x 52 x 157 mm; weight: approx. 1 kg; Price: identically approx. 500 dollars.
Tech 21 Geddy Lee YYZ Shape-shifter SansAmp – another analogue pedal designed for the frontman of the band Rush. This is an improved version of the previous YYZ model and follows the sold-out limited edition Geddy Lee MP40 Signature SansAmp. It retains the circuit with Drive, Master, Mix (Deep/Drive) controls, active three-band EQ and the Tight button, which is now located on the main panel. The main change compared to the classic YYZ is the integration of the Shape-shifter function (+6 dB) and, in addition to the bypass switch, a second footswitch activating a +12 dB boost in the upper midrange for a more pronounced expression of distortion. The SansAmp functions as a pedal, preamp and emulator, using a single jack output. Price: approx. 250 dollars.
Music Nomad Grip One – a flexible tool, which serves as a string winder, cutter and puller for bass, guitar, banjo, ukulele or mandolin. Small carbon steel pliers for cutting or shortening strings are a solid part of the unit, and there is also a system for pulling out the bridge pins on acoustic instruments. Thanks to the precision bearing construction and rubber-lined head with a narrow profile, string winding is quiet and fast. Price: approx. 17 dollars.
Keys
Korg Minilogue Bass – limited edition of a polyphonic analogue synthesiser with emphasis on bass registers. Two VCO units (2 or 4 pole VCF), VCA, LFO and two envelope generators can be added to the fully analogue signal path. Waveshaping is taken from the classic Minilogue version, there is OSC and ring modulator sync, cross modulation, delay, OLED oscilloscope, 37 slim keys, 100 factory + 100 user programs, eight modes (Poly, Duo, Unison, Mono, Chord, Delay, Arp, Side Chain), polyphonic 16-step sequencer and other features. Connectivity: 1x input, 1x output, headphones, MIDI DIN In/Out, sync In/Out, USB-B. Price including DC 9V adapter approx. 790 euros.
Donner DDP-200 – a digital piano based on the 88-key Dynamic Grand Hammer keyboard with a more accurate key detection system using two sensors to provide a more realistic playing experience. There are several sound programs to choose from (Stage, AMB, Grand Piano, Organ, Strings, etc.), five types of reverb, metronomes and demo songs. The hanging design of the speaker box 2x15W provides 3D sound, there is a USB port, 2x headphone socket, a small LCD, Bluetooth MIDI, three pedals and a magnetic music stand. Price: approx. 1000 dollars.
Arturia MiniFreak – a polyphonic six-voice synthesiser with a modulation unit, analogue filtering and 22 oscillation modes (Wavetable, Karplus Strong, Superwave, Noise, etc.) controlled by a pair of digital engines that can be assigned to each voice in parallel or serial mode, together with ADSR, LFO, etc. There is a 64-step sequencer, an arpeggiator, a bank for 256 factory presents and the same number of user presets, a keyboard with 37 slim keys (velocity), 10 types of effects (3 slots) and an OLED display. Connectivity: 1x input, 2x output, headphones, MIDI DIN In/Out/Thru, clock In/Out, reset Out, sustain pedal, USB-B. Price including VST version, PSU adapter – 12V 1A and USB cable: approx. 600 euros.
Drums
Ludwig 5"x14" a 6.5"x14" Pee .Wee Anderson .Paak – a pair of signature drums built to the specifications of the American drummer, rapper and producer. Each snare with a distinctive Vanderson Paisley design is limited to 250 pieces. The shell is made from seven layers of North American maple, the Die-Cast hoops are complemented by subtle dual tube lugs and the traditional Ludwig snare strainer mechanism. The metal components are plated in brass. Prices: 5"x14" (LS401TDPWB) approx. 800 dollars, 6.5"x14" (LS403TDPWB) approx. 850 dollars. The drums with Evans heads are shipped exclusively through the Ludwig Reverb Shop.
Premier Centenary Editions – the British brand celebrates its centenary with new types of kits and drums, including special versions of the Genista 100 SE, Artist Club 100 and the Della-Porta 100 snare named after the company's founder. The Genista 100 SE set in select North American birch is available in BD 22" x 18", SD 14" x 5.5" or 14" x 7", 2x T 10" x 7" + 12" x 8" and 2x FT 14" x 14" + 16" x 16" configurations. The compact "art deco" Artist Club 100 set in British Racing Green features birch drums BD 20" x 18", SD 13" x 5.5", T 10" x 6" and FT 13" x 11".
The limited-edition snare Della-Porta 100, which will be handmade in England in the same number of pieces, features a walnut shell (14" x 5") with beech support hoops, snare strainer mechanism 610 and snare wire Puresound. Prices: 100 SE approx. 2200 euros, AC 100 approx. 700 euros, Della-Porta 100 approx. 1700 euros including hard case.
Rohema Classic 55A – the German company Rohema Percussion oHG has launched a new type of drumstick, whose dimensions rank between the traditional 5A and 5B models. With a diameter of 14.7 mm, a length of 405 mm and a weight category of Medium Heavy, the Classic 55A versions are made of extremely durable American hickory, which dampens vibrations. The same wood is used for the handle of the well-crafted Rohema Tuning Key with a length of 128 mm and a 15 mm diameter. The lacquered handle is based on the shape of the Rohema Classic 5B drumsticks. Prices: the Classic 55A approx. 9.5 euros, the Tuning Key approx. 7 euros.
DJ
Pioneer DDJ-FLX4 –a two-channel DJ MIDI controller with professional controls that is ideal for beginner DJs thanks to its user-friendly interface and support features. The model meets the demands of today's DJs looking for multi-device support and compatibility with a variety of DJ applications, including access to streaming services. When it comes to using the microphone for live streaming or just adding vocals to your sets, the DDJ-FLX4 mixes the vocal component with the music and routes the combined signal to the USB-C output port, eliminating the need for a separate mixer. When connected to a computer (PC/Mac), you can use the free DJ software Rekordbox or Serato DJ Lite. Price: approx. 320 euros.
JBL PRX900 – a new edition of active PA monitors including a trio of two-band boxes PRX908, PRX912, PRX915 and two subwoofers PRX915XLF, PRX918XLF, where the last two digits in the name indicate the inch diameter of the upgraded woofers with ferrite magnets. The individual versions are equipped with Class-D end units offering a maximum power output of 2000 W (peak), of course, there is a DSP processor, internal mix, Bluetooth, colour LCD, operation via the JBL Pro Connect mobile app, dbx DriveRack technology, 12-band parametric EQ, limiter, Automatic Feedback Suppression function, various presets, etc. The official price starts at about 850 dollars for the PRX908 variant and ends at about 1500 dollars for the PRX918XLF subwoofer.
Studio
Neumann TLM 103 25 Years Edition – a limited edition condenser microphone that will be released in 500 units. Based on the large-diaphragm capsule K 103 with cardioid pattern, taken from the famous U87 model, the upper midrange has been boosted by +4 dB, ensuring brilliant and clear expression. With a frequency range of 20 Hz to 20 kHz, the microphone boasts very low noise and, thanks to the low-impedance circuit (50 Ohm), it works well with sound card preamps. The TLM 103 is powered by a 48 V phantom and comes with a shock mount, a pair of black gloves and an aluminium carrying case. Price: approx. 1450 euros.
MOTU M6 – a six-channel USB card equipped with AD/DA converters operating at 24-bit/192kHz resolution – offers four microphone preamps (each with 48V power supply), an equal number of combined inputs, two line TRS inputs, four jack outputs, and two headphone outputs with independent volumes. In addition to the USB 2.0 port, there are MIDI In/Out connectors, an Input/Playback potentiometer with an A/B button, a colour LCD, a Loopback function and, of course, a monitor controller. The price of about 400 dollars includes MOTU Performer Lite software, Ableton Live Lite, 6 GB of loops and samples, and a USB-C to USB-A cable.
Black Rooster Audio TD-201 Vintage Tape Echo – a plug-in emulating the sound of the popular Roland RE-201 Space Echo, enhanced with modern features. Nine parameters in total are dedicated to editing the volume, stereo position and transmission depth of each head. In addition to the delay, echo and reverb sections, there's a two-band EQ and you can use the controls for motor speed, adding dropouts, noise, etc. Tap and Sync modes are designed to sync with the tempo of the track in the DAW, and AAX Native, VST and AU formats are supported. The starting price of 29 dollars will subsequently be increased to 99 dollars, and you can try a 14-day trial version.
If you have found an error or typo in the article, please let us know by e-mail info@insounder.org.