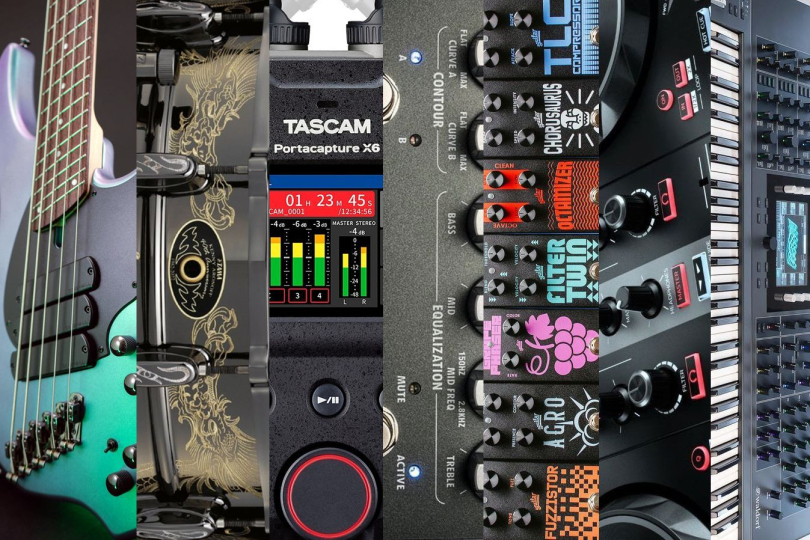 Miscellaneous Gear Alert: February 2023
Do you play bass, drums, or keyboards? Are you DJ, singer, sound engineer or a studio aficionado? Then every third week of the month is "your week" here on Insounder – with a quick overview of gear and new releases that will be on the market in the current or upcoming period and that you shouldn't miss. A similarly conceived article is dedicated to technical equipment for guitarists every first week of the month. Some of the products introduced in this overview will be discussed in more detail in later posts in the News section.
Bass guitar
Designed for the bassist of Bad Wolves, the Dingwall Kyle Konkiel Signature Combustion is a five-string model with dual 34/37-inch scale, featuring a trio of Dingwall FD3-N pickups connected to Nordstrand active electronics with three-band corrections and a rotary Quad-tone switch, an alder body, a bolt-on maple neck and a durable wenge fretboard with 24 (Novax Fanned-fret) jumbo frets. Equipped with top-of-the-line Hipshot hardware, the instrument is included in a limited edition of just 25 pieces. Colour: Matte Green to Purple Colorshift, price including padded gig bag: approx. 2700 euros.
Fender Gold Foil Jazz Bass – the modified four-string Jazz Bass referring to the era of the sixties is equipped with only one single coil Gold Foil located in the middle of the alder body and connected to the Volume + Tone knobs. The '60s "C" profile maple neck carries a 9.5-inch radius ebony fretboard with 20 medium jumbo frets and white binding. The hardware consists of a top-load bridge with threaded steel saddles and vintage "Lollipop" rondelles. Colours: Sonic Blue or 2-Color Sunburst, price: approx. 1,300 dollars including a gig bag.
Ibanez UB805 – the five-string electric double bass with a compact maple body, a through-neck glued from five layers of walnut and maple, and a fretboard made of durable jatoba with a variable radius of 60 to 90 mm, bearing small position markers and a 42 mm wide zero fret. The Custom AeroSilk MR5 bridge has a 23.5mm string spacing and scale length is standard 34-inch. The sound is transmitted by a modified AeroSilk piezo pickup, allowing detailed sensor settings for each string, connected to an active preamp (9V) with volume and tone control. Colour: transparent Mahogany Oil Burst lacquer, dimensions: 1170 x 384 x 150 mm, price including a gig bag and Tama Roadpro stand: approx. 1120 euros.
Way Huge Smalls Attack Vector Phaser & Envelope – the brand belonging to the Jim Dunlop concern has launched an effect that can be used with both bass and guitar. The pedal combines a phase shifter and envelope filtering, so both fans of expressive-sounding grooves and players of funky and related styles will find it to their liking. There are input sensitivity and volume controls, a Phase/Envelope switch, and Feedback and Sens parameters. Price: about 200 dollars.
Aguilar "All-Analog Series" 2023 – the popular edition of bass effects from the renowned manufacturer has undergone a significant facelift this year, including an upgraded chassis in the form of a moulding, new graphics and high-quality pot covers. The modified collection consists of the following seven models: vintage fuzz Fuzzistor, TLC Compressor, BBD Chorus Chorusaurus, dual envelope filtering Filter-Twin, Grape Phaser, Octaver Octamizer and Overdrive Agro. Depending on the type, prices range from 200 to 250 dollars.
Glockenklang Blue Bird – a professional bass amplifier with Class-D power amp with max. 900 W at 4 ohms, dual A/B instrument inputs (A - Gain, B - Trim -20 to 0 dB), generous five-band active equalizer with parametric mids, Bass Cut potentiometer (20 to 80 Hz), distortion circuit with Drive and Level controls and smoothly adjustable voicing, a flexible effects loop, symmetrical DI output, Post-EQ mix (0 - 100%), a pair of Speaker Twist cabinet outputs, an equal number of footswitch jacks and other connectivity. Dimensions: 320 x 280 x 88 mm, weight: 4 kg, European price: approx. 1800 euros.
Keyboards
Roland GP-3 – the compact digital grand piano with a profile of only 70 cm meets the needs of players who want to have a quality instrument at home equipped with a keyboard with a hammer-action mechanism and 88 keys made of Ivory Feel. The bank contains 15 sounds and 394 songs, with integrated Dual, Layer, TwinPiano, metronome, transposition, etc. There are Ambience and Brilliance effects, a trio of pedals, a 2 x 11 W sound system, a recording unit, USB ports, a Bluetooth module, a pair of headphone outputs and it is compatible with Roland Piano App. Dimensions: 1394 x 698 x 1010 mm, weight: 57.3 kg, accessories: adapter and headphone holder, price: approx. 4100 euros.
Arturia MiniFreak V – a new version of the MiniFreak synth, this time as a software standalone. This experimental virtual instrument with dual sound engine (22 osc. modes, 2x LFO/voice) combines six-voice polyphony with analogue filter modelling, sequencer, arpeggiator, ten effects stored in three stereo FX slots, etc. Compared to the previous hardware model, the controls have been improved, the modulation unit has been modified, and a number of automations, sequencing, etc. can be set up together with the DAW. An algorithmic, supremely flexible synthesizer with many practical features and a bank containing 256 factory presets can be purchased for around 200 euros.
Waldorf Quantum MKII – the second generation of the high-end hybrid synthesizer is marked by an upgrade including 16-voice polyphony, Fatar TP/8SK keyboard (61 keys), which also received a polyphonic aftertouch function, an increased data storage capacity of 59 GB, a 2 GB sample library, an improved touchscreen display with wider viewing angles plus higher resolution and, last but not least, a facelift in the form of a blue chassis with wooden sides. Dimensions: 1006 x 401 x 131 mm, weight: 17.8 kg, price: approx. 4700 euros.
Drums
Tama Kenny Aronoff 40th Anniversary Signature Snare – a 14 x 6 inch anniversary snare drum commemorating Aronoff's 40 years with Tama. Engraver John Aldridge and Los Angeles-based tattoo artist Corey Miller contributed to the decoration of the limited edition of 30 pieces. The 1mm thick black nickel-plated brass walls are complemented by MSL35 lugs, a 2.3mm thick Mighty Hoop cast steel upper and lower hoop, MLS50ABN/MLS50BBN mechanics and a tailpiece made up of thirty carbon steel springs. The snare, providing a raw powerful tone with rich resonance, comes in at around 1,800 dollars.
Millenium Drums Rookie – the electronic set for beginner percussion adepts is suitable for children from three years of age, which corresponds to the reasonable price tag and compact dimensions of the set, occupying an area of about 100 x 50 cm. The Rookie set includes four seven-inch mesh pads for snare and three toms, a bass and hi-hat pedal, three cymbal pads for hi-hat, crash and ride with a diameter of eight inches, a ramp, the necessary handles, a straightforwardly designed main module, a stool, drumsticks and headphones. The price of the set is around 190 euros.
DJ
Hercules DJ Control Inpulse 300 MK2 – an improved model designed especially for newcomers to DJing. The controller with two decks, developed by Serato, features two modified 150 mm jog wheels, integrated Vinyl Feel with pressure detection, an effects unit, eight pads for each deck to control eight modes (slicer, roll, hot cue, etc.), Loop In/Out, quantizing and tempo faders. MK2 supports TIDAL, Beatsource, Beatport ADVANCED or SoundCloud GO+ streaming services, audio is processed in 24-bit/44.1 kHz resolution, and, of course, there is a music assistant, USB port and stereo headphone output. DJ Academy software, Serato DJ Lite & DJUCED and a USB cable are included. Dimensions: 480 x 286 x 52 mm, weight: 1.8 kg, price: approx. 200 euros.
Studio
Tascam Portacapture X6 – the next generation mobile recorder with high resolution and 2.4" touchscreen. You can use up to six tracks (4x mono + 1x stereo channel), a pair of mic/line XLR inputs with levels up to +24 dB, 24/48V phantom power, camera jacks, Aux In, two built-in microphones with AB/XY configurations, and a memory card slot with up to 512GB capacity. The effects section includes a compressor, limiter, four-band equalizer with presets, noise gate, reverb, auto-gain and low-cut filter. Complete with six recording applications with Manual, Voice, Podcast, Music, Field, ASMR modes and the ability to record in two different formats, the Portacapture X6 can also be used as a 6x in/2x out USB sound card. It is possible to purchase e.g. Bluetooth adapter AK-BT1, WS-86 windscreen and other accessories. Price: approx. 390 euros.
RME Digiface AES – a premium USB-B 2.0 sound card with 14 inputs and 16 outputs, SteadyClock FS function reducing jitter during analogue to digital conversion to an absolute minimum, AES3 In/Out (XLR), S/PDIF (RCA, Toslink) or eight-channel ADAT connectivity, MIDI connector, TotalMix FX software support and standalone operation. Integrated are two Neutrik phantom-powered mic/line combo inputs, a pair of analog XLR outputs, a headphone jack, a colour display, and a multi-function encoder. There is a parametric EQ, the option to store six configurations and power via adapter or USB. Price: approx. 2000 euros.
EVE Audio SC2070 – a two-band studio monitor equipped with the new Air Motion Transformer RS7 tweeter with a large diaphragm and a crossover frequency of 1.8 kHz, which allows detailed reproduction of the treble and upper midrange. This driver is complemented by a 6.5-inch Silver Cone woofer, the company's SMART-knob system with multi-function encoder and diode ring, a DSP unit with a high quality Burr-Brown A/D converter (24bit/192kHz), bandpass filters, midrange equalizer and small DIP switches (Level, Filter, Input). The monitor with a total power of 250 W (2x Class-D power amp: 150 W woofer / 100 W tweeter) has a rear slot bassreflex, interconnection is provided by XLR and RCA connectors. Dimensions: 230 x 345 x 304 mm, weight: 9.4 kg, max. SPL: 116 dB, frequency response: 38 Hz to 25 kHz, price per unit: approx. 1100 euros.
If you have found an error or typo in the article, please let us know by e-mail info@insounder.org.