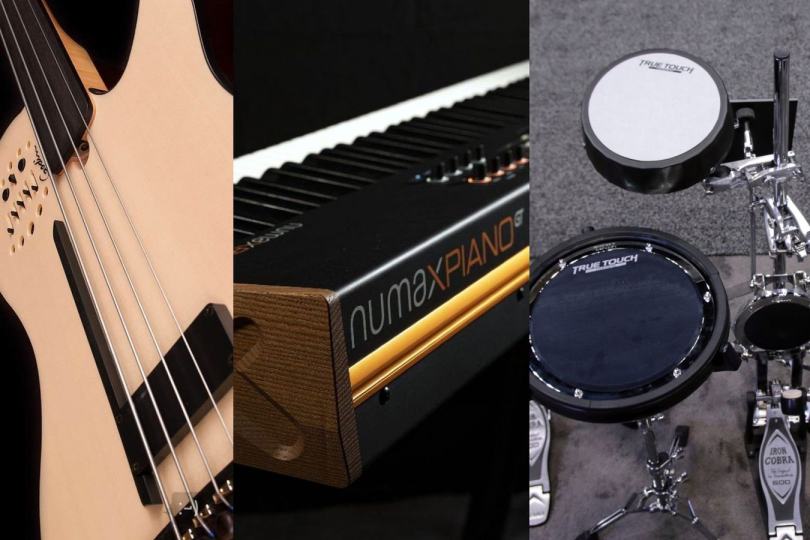 Miscellaneous Gear Alert: January 2022
Do you play bass, drums, or keyboards? Are you DJ, singer, or sound engineer, or a studio aficionado? Then every third Monday of the month is "your day" here on Insounder—with a quick overview of gear, new releases that will be on the market in the current or upcoming period and that you shouldn't miss. A similarly conceived article is dedicated to technical equipment for guitarists on every first Monday of the month. Some of the products introduced in this overview will be discussed in more detail in later posts here in the News section.
Bass guitar
Godin A4 and A5 Ultra Fretless—electroacoustic fretless basses in four- and five-string versions return to the Montreal brand's product catalogue after years of use. A Canadian linden body with a pair of resonance chambers is complemented by a spruce top, while a maple neck is combined with a Richlite blend fretboard with a radius of 12. The Graphtech walnut is 38.1 mm wide, or 46.4 mm in the case of the "five", the original Precision 1951-style headstock features tuning pegs with a 20:1 gear ratio and integrates a dual system consisting of LR Baggs cobalt and piezo pickups and a magnetic single-coil Lace Sensor.
Ashdown John Myung Double Drive—the signature distortion pedal of prog-metal bassist Dream Theater offers a two-channel concept, with the first, more subtle-sounding Drive 1 section fitted with Gain, Loud and Tone controls, while the Drive 2 channel, with its Grit and Burn potentiometers, delivers a warm tone with optimally placed frequencies, according to the manufacturer. A pair of backlit VU meters punctuate the design, and in addition to the jacks, the effect features line and XLR outputs connected to a transformer isolated DI circuit with a ground switch.
"After talking to John's engineer Maddi, we got an idea of what was needed to make the result blend well with his amps and instruments. The Music Man Bongo has a completely unique tone and its signature six-string sounds and plays like nothing else. The bass distortion requires a stronger gain structure to reproduce the huge range of frequencies," one of Ashdown's designers explained the evolution of the overdrive.
Dunlop Cry Baby JCT95 Justin Chancellor—a bass wah pedal designed for a member of the band Tool, also incorporating fuzz and additional frequency filtering. By combining these sections, a wide range of sounds can be created, from a classic wah register to smooth tones evoking the sound of a synthesizer, to aggressive-sounding sweeping with a distinctive distortion circuit partly taken from unspecified British vintage fuzz.
The wah has Standard and U.K. Filter modes, the latter of which uses a custom solid-state circuit designed after the envelope-pushing custom filtering tone driver on Justin's own instrument. The main pedal is automatically returned to its base position via a spring, the aforementioned mods with separate Volume and Q parameters are selected by the Wah Select footswitch, and the circuit is built around a red Fasel coil. The multifunctional JCT95 is available for about $300.
Markbass Little Mark IV—The Italian brand's amps and combos include Little Mark IV and Little Mark IV 300, which are now followed by CMD Little Mark IV combos represented by the Mini CMD 121P IV, Mini CMD 151P IV, CMD 102P IV, CMD 121H IV and CMD Ninja 102P - 500 IV versions. The combo series are equipped with the same Little Mark IV single-channel half-kilowatt amplifier, so their sound characteristics will differ mainly due to the different number or type of speakers and the related cabinet dimensions.
The CMD Little Mark IV combo range starts with the smallest model, the Mini CMD 121P IV with one 12-inch driver and one-inch piezo tweeter. The Mini CMD 151P IV version features a 15-inch driver plus tweeter. The CMD 102P IV and CMD Ninja 102P 500 IV variants feature a pair of 10-inch drivers, while the CMD 121H IV has a 12-inch driver with tweeter and tweeter top. Prices range from 800 to 1,000 euros depending on the model.
Ashdown Interstellar-600 Guy Pratt—a bass head built to the specifications of a player who has contributed to albums by Pink Floyd, Madonna, Michael Jackson, Iggy Pop, etc. Based on Pratt's custom Ashdown ABM-900, this new addition features a redesigned EQ section, tube distortion, compressor and an end stage with a massive 600W RMS output at 4 ohms impedance. In addition to standard connectivity, the rear panel features a dedicated input, primarily designed for Pratt's much-used Moog Taurus analogue pedal synthesizer. The manufacturer prices the model at around £1100.
Keys
Studiologic Numa X Piano—a series of digital pianos, including the Numa X Piano 73 / 88 models with the upgraded Fatar TP/110 hammer-action keyboard equipped with aftertouch function, and the deluxe Numa X Piano GT version equipped with the Fatar TP/400 Wood hammer-action keyboard with 88 keys. The sound of the acoustic pianos is achieved by spectral interpolation, while the samples of the electric or hybrid instruments were created by physical modelling.
All variants are equipped with a new engine, four zones easily assignable to internal sounds or external MIDI, a four-track digital mixer, a Zoom modem with color-adaptive encoders or eight insert and master effects. There are more than two hundred sounds organized in the categories Acoustic and Electric Pianos, Keyboards, Bass, Guitars, Organs, Synthesizers, Orchestral, etc., in addition to the standard connectivity or the aforementioned MIDI, there is a microphone input and a 4 x in / 2 x out sound card connected to the USB port.
Moog Animoog Z—the Animoog app returns after ten years in the form of an upgraded version of Animoog Z, supporting iOS/macOS platforms and adding a number of new features, including the Z plane implemented in the X/Y pad, giving this software tool much more extensive possibilities for shaping sounds as well as their dynamic expression. "Zetko" is built on the ASE anisotropic synthesizer engine, combining vector and wavetable synthesis, and the manufacturer has incorporated the Orbs interface into the architecture, which animates the ASE waveform.
A Wave Cube mode is available in Animoog Z, essentially a three-dimensional space in which selected sounds interact with each other; unlike the previous version, custom timbres can be created and up to 16 files can be used in the associated editor. There is also the possibility of importing a signal via the microphone input, three DAHDSR envelopes are prepared, each with a link to the Amp, Filter, Modulation sections with loops or sync, three LFOs, a modulation matrix with 10 slots or an effects unit containing e.g. Arpeggiator, Filter, Thick, Delay and Looper. The basic version of Animoog Z is free to download on the App Store, with unlimited access to all parameters going for $9.99.
Drums
Tama TTK5S—a training drum kit with a unique design that does not work on the basis of triggering, so it does not require a central module or external sound system. A quieter, but still sufficiently loud and audible sound, the necessary dynamic response and playing feel almost identical to a classic acoustic kit, is achieved with specially developed multi-layer pads and deeper individual drum bodies compared to electric kits.
The five-piece set consists of a six-inch bass pad, a ten-inch snare TT AAD, two toms of 8 and 8.5-inch diameters with mounting clamps, and a nine-inch floor tom with clamp, arm and L-bar. There's also a stand used to mount the trio of toms, which features Space Save Tripod Legs, providing a stable base while saving space so the rig can be set up in a smaller room.
The price of the Tama TTK5S True Touch Training kit has been set around the $600 mark. A more compact four-piece TTK4S without the eight-inch tom can also be had for around $500, and a simple TTK2S kit consisting of just a bass pad and drum kit can serve as a base.
Tama LTD S.L.P. G-Bubinga LGB146NQB—the return of a popular drum that first appeared on the market a decade ago and was requested back by fans of the brand. The ten-millimeter-thick body walls are glued from twelve layers of African drumminga, coated with an outer sheet of the same wood with a distinctive puff pattern, giving this snare a luxurious look in addition to a warm, full tone with dominant mids.
The 14 x 6-inch snare is fitted with hardware in a sleek Black Nickel finish, consisting of triple-bent Mighty Hoop steel rims (2.3 mm), Starclassic shells, the proven Starclassic CSS stringers with 20 MS20SN14S resonant springs, and Starclassic Linear-Drive Strainer & Butt mechanics. The model in the timeless Natural Quilted Bubinga transparent lacquer is available for about $500.
DJ
Numark HF-175—new professional DJ headphones from the American company producing premium DJ equipment. The HF-175 features a modern design with a lightweight, durable steel skeleton construction, strong performance, leather earcups and swivel earcups for one-ear listening. The sealed dynamic model uses 40 mm diameter neodymium magnet drivers, frequency response is given by a range of 15 Hz to 22 kHz, sensitivity is 95 dB (+- 3 dB), max power reaches 400 mW and impedance is 32 ohms. The price of less than 1000 CZK includes a 3 m long audio cable and a 1/4" TRS adapter.
Numark Mixstream PRO—a high-end dual standalone system, representing a comprehensive solution for DJs looking for a quality all-in-one tool that can handle all the work without the need to connect to a computer. Equipped with a mixing unit, an effects section, a seven-inch multi-touch LCD HD display, a specially developed OS engine and an integrated amplifier with speakers, the new product also enables online streaming via Wi-Fi (Tidal, Beatport LINK, Beatsource LINK, Soundcloud Go+, Dropbox cloud).
Of course, there is track playback from USB flash memory (2 x USB port), SD card slot, microphone input, a pair of headphone jacks, main XLR and RCA outputs, connectivity with Ableton Link!, pitch fader with selectable range (4, 8, 10, 20, 50, 100%), six-inch scratching with Smart function and last but not least, intelligent SLC light park control (Philips Hue / DMX). The model with dimensions of 566 x 284 x 74 mm and weight of 3.68 kg should be available for about 570 euros.
Studio
Apogee Clearmountain's Phases—a software reincarnation of the vintage MXR Auto Flanger and Auto Phaser plug-ins is a follow-up to Clearmountain's Domain and Clearmountain's Spaces. The new version was again created in collaboration between the Apogee team and legendary and award-winning sound engineer Bob Clearmountain, who has been responsible for many successful albums by Toto, The Rolling Stones, Bon Jovi, Bruce Springsteen, Bryan Adams, Paul McCartney, David Bowie, Simple Minds, The Who, etc.
Modulation plug-ins with a photorealistic patinated GUI add several new features to the authentic sound of the hardware templates. In addition to manual and oscillator control of the phaser sweep and flanger, the amount of feedback, LFO phase, polarity and high-pass filter can be adjusted. In addition, both units can be used in parallel or serial connection, and the installed presets created by Bob Clearmountain include registers inspired by John Bonham's spectacular drum sound in Kashmir, David Bowie's vocals in China Girl, or Jimi Hendrix's phaser-spiced guitar parts. Apogee Clearmountain's Phases is available for $149.
Zoom R20—A compact mixer and recorder with 16 tracks, eight of which can be recorded simultaneously, built-in effects, a 4.3-inch color touchscreen and DAW-style editing capabilities. Two of the eight input channels feature XLR/jack combo connectors and the remaining six branches feature XLR inputs, while phantom power for condenser microphones can be activated on channels 5 to 8.
The first input features a high-impedance mode switch suitable for guitar recording, and each branch has its own gain, rec button and level fader. A built-in USB-C sound card will offer a total of 8 inputs and 4 outputs when combined with Windows/Mac-based computers, and a Zoom BTA-1 Bluetooth module can be added. An effects section or rhythm unit with various loops is ready to go, and the console has even been given a chromatic tuner and guitar modeling, which can prove to be a very practical solution at certain moments.
Strymon StarLab —a eurorack high-tech module from a renowned American company that has so far been almost exclusively dedicated to the development and production of guitar pedals. Although the StarLab is primarily designed as a multi-effect containing reverb, delay and modulation, thanks to string synthesis it can also function as an instrument that is able to vibrate virtual strings in several ways using the Karplus-Strong synthesis-based system to create original-sounding sound structures.
In addition to a trio of reverbs (Sparse, Dense, Diffuse), reverb, chorus, flanger and related modulation effects, complete with tap tempo and sync, there is a four-pole 24dB/oct low-pass filter with variable resonance, an adjustable Shimmer for additional reverb pitch shift (+/- 1 oct), a Glimmer for dynamic enhancement of harmonic components, or an Infinite function that "freezes" the input signal before the reverb circuit. There are stereo inputs and extensive CV control, independent adjustment of Wet and Dry path levels, access to four presets, USB port, etc. the European price is around 670 euros.
Spitfire Aperture: The Stack—software designed for musical experimenters contains presets of various synths, including the rarer Analogue Solutions Colossus models, Black Corporation Deckard's Dreams, Roland Juno-06 series, Sequential Prophets, TR-808, Eurorack versions of the Soma Laboratory Lyra-8, basses, guitars, etc., recorded in AIR Lyndhurst Hall's studio over 56 classic guitar stacks or combos and four subwoofers. The wall of sound is tamed with an Aperture driver, and the London-based label promises that the samples contained in the library are truly unique.
"Achieve seismic new levels of expression by simultaneously controlling dynamics and amp count. Moving up from the lowest Aperture setting, the dense and precisely contoured sound from fewer amps escalates with raw ferocity and intensity. You get a range of sounds you're unlikely to hear elsewhere," explains Spitfire Audio of the software's features, with a price tag of £199.
If you have found an error or typo in the article, please let us know by e-mail info@insounder.org.