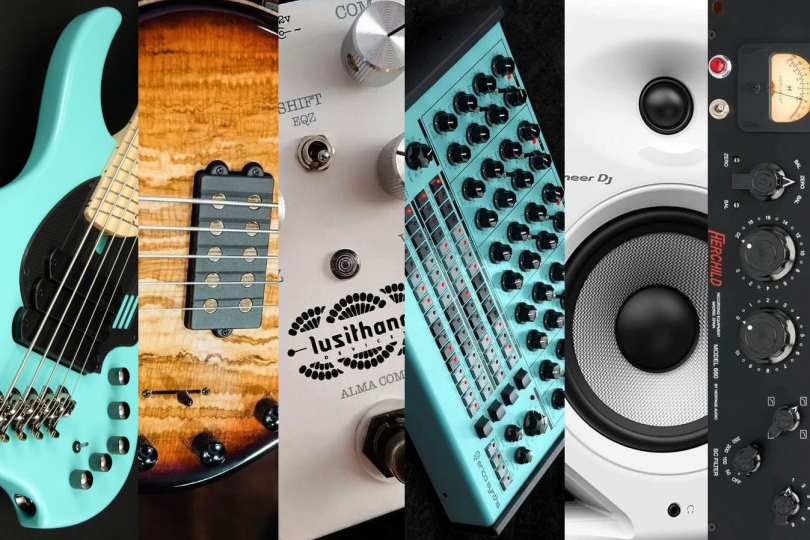 Miscellaneous Gear Alert: July 2022
Do you play bass, drums, or keyboards? Are you DJ, singer, sound engineer, or a studio aficionado? Then every third Monday of the month is "your day" here on Insounder—with a quick overview of gear and new releases that will be on the market in the current or upcoming period and that you shouldn't miss. A similarly conceived article is dedicated to technical equipment for guitarists every first Monday of the month. Some of the products introduced in this overview will be discussed in more detail in later posts here in the News section.
Bass guitar
Music Man StingRay 5 35th Anniversary – the anniversary five-string edition commemorating 35 years since the creation of this product line. An ash body covers a figured maple top in a transparent Spalted Sunburst finish, a flame maple neck in heat-treated flame maple carries an ebony fretboard with copper-finish block position markers, hardware is covered by a layer of black chrome, and there's an active three-band equalizer tied to a circuit powered by a pair of 9V batteries. Only 225 pieces equipped with one or two of the company's humbuckers will hit the market.
Dingwall NG3-5 MCB – the new limited edition model in Matte Celestial Blue is part of the signature line of bassist Adam "Nolly" Getgood and retains most of the features of the standard NG3 "Nolly" version. That is, an alder body, a Medium Thin-C profile neck glued from five pieces of maple, a 34-37 inch variable scale length, a two-octave maple fretboard with compensated frets, lightweight Hipshot Ultralite tuning keys and a trio of FD-3N pickups connected to a Darkglass preamp. In addition to the five-string version priced at around 2,800 euro, four- and six-string variants will be added in the future.
Ashdown ABM-400 Ltd Edition – a two-channel amplifier commemorating a quarter of a century of the British brand Ashdown Engineering, is produced in a special edition of 100 pieces with the signature of Mark Gooday, the founder, and a custom-made transport case fitted with a pair of locks. In addition to input sensitivity pots, master and seven-band EQ, the head features Valve Drive and Sub-Harmonics circuits, a midrange voicing switch and a passive/active switch. There is a DI XLR line output with Pre/Post EQ, a tuner jack, line input and output jacks, send/return effects loops, a footswitch jack and two Speakons. Price: approx. 1300 GBP.
Lusithand Devices Alma Comp – a studio-quality bass compressor from the London-based small manufacturer is based on the award-winning Diamond BCP-1, adding a voltage converter for improved dynamics, as well as a Signal Direct path with the ability to mix clean and compressed signals in parallel. The EQZ parameter has two selectable operating frequencies (250/900 Hz), and compression features ratios of 3:1 or 4:1 depending on the position of the Comp control and instrument output level. In the Voltage Doubling mode, a 9 or 12 V adapter can be connected, and in standard operation, the compressor can handle voltages up to 24 V. Price approx. 187 dollars.
Magma Electric Bass Steel Ultra Flat – 34" scale length bass strings whose windings are applied to the core in a round shape and then flattened under pressure, resulting in greater volume, brilliance and sustain than traditional flat strings. In addition, their fine smooth surface eliminates the mostly unwanted rustling sound of the left hand fingers when changing positions. The durable bass strings, manufactured in Buenos Aires, are represented by 12 sets for 4-, 5- and 6-string models. Prices range from 38 to 60 dollars.
Keys, synths, modules, etc.
Erica Synths Perkons HD-01 – a hybrid four-voice drum machine and analogue synth, where each voice can be selected from three algorithms and two adjustable parameters, with analogue low-pass, band-pass, high-pass filtering and Tune, Decay, Cutoff, Drive, FX Send and Level functions. The effects section includes a delay (BBD) with LFO modulation, optical compressor, overdrive, etc. The four-track sequencer features 16 steps, clock allows the selection of four modes per track, programmable ratchets and probabilities can be linked to each step, four selectable shuffle algorithms, 64 patterns and the same number of kits, velocity-sensitive triggering (4x In/Out + 5x send/return), SD card slot, MIDI In/Out and other connectivity. European price: approx. 2000 euros.
Teenage Engineering OP-1 Field – compared to its predecessor, its innovative synth/sampler should be louder, thinner, and a hundred times better, at least according to the manufacturer. It has already found its way into the arsenal of Jean Michel Jarre, Beck, and Trent Reznor. The model has nine engines and filters, a dual sampler for keys and rhythm, five sequencers, 24 mini keys, an integrated microphone, a four-track recording unit, mixer or effects section including compressor and equalizer. The OP-1 Field with 24-voice polyphony can be used as a MIDI controller, it has battery operation, built-in speaker, Bluetooth module and a host of advanced features. Price: approx. 2000 euros.
Nunomo Qun Mk2 – a pocket synthesizer with a three-track looper (25 seconds), sequencer, compressor, analogue modelling and granular synthesis. The MIDI engine is equipped with a pair of oscillators, four FM units, the same number of envelope generators, VCF section, as well as delay, flanger and chorus. The 64-step sequencer can also be used as an arpeggiator, with random, pattern shuffler, quantize and similar functions. The Qun Mk2 also allows you to sequence various external devices, with an SD card slot, Aux In, USB power port or headphone output installed. Price including MIDI TRS A cable is 155 dollars.
Drums
Pearl Masters Maple Reserve 2022 – a professional set in luxurious Matte Charred Oak and Bronze Oyster finishes features a thin body glued from four layers of North American maple with a total thickness of only 5 mm, resulting in a stronger resonance and attack, more pronounced low-end response and more sensitive response to the strike. The edges are reinforced with maple rings, the drums have been given lightweight Fat Tone rims and an independent OptiMount die-cast aluminium mounting system has been used. Kits are available in various configurations, with the price of a four-piece kit (BD, 3 x T, 1 x FT) coming in at around 3,000 euros.
ATV EXS-5SK – an electronic drum set by the Japanese brand, representing an improved version of EXS-5 set, consists of an 18" bass drum with birch body, a 13" snare, two 10" rack toms, 13" floor tom, 14" hi-hat, 2 x 14" crash and a 16" ride. The xD3 sound module includes 5 factory sets in professional sound quality, which can be expanded with 13 more sets for free. The sound library also includes a Kit Creation Tool, allowing you to create your own kits from 73 instruments, various tutorials, a looper, etc.
DPA 4055 – for the sound engineers or drummers who rely on safety and bring their own set of microphones to gigs, DPA Microphones has prepared a top condenser model designed to make sound for the bass drum. This is matched by the open cardioid directional pattern, frequency response, robust construction with reinforced 17 mm capsule isolation, a generous SPL limit of up to 164 dB in peak periods and the ability to connect up to 100 metres of XLR cable without affecting the signal. The microphone, measuring 132 x 57 mm and weighing 451 g, costs around 560 euros.
DJ
Pioneer DJ DM-50D – monitors equipped with modes for classical or DJ production, which can be easily selected by a switch on the back of the left cabinet, where there are also terminals for a second box and stereo inputs 2xRCA/minijack/2xTRS. The company also offers a DM-50D BT version equipped with a Bluetooth module. Power output 2 x 25 W (Class-D, DSP), 5" woofer with fiberglass diaphragm + tweeter, convex DECO diffuser, front bassreflexes, headphone jack, dimensions 175 x 257 x 262 mm, weight 3.9/3.5 kg (L/R). Price of the DM-50D (per pair) in black or white version approx. 240 euros.
Studio
Austrian Audio OD5 and OC7 – high quality, hand-assembled microphones from the Austrian brand, featuring a cardioid cartridge and solid construction. Featuring an active dynamic circuit, -10 dB pad and dual high-pass filtering (80/120 Hz), the OD5 has a frequency range of 20 Hz – 18 kHz and a max SPL of 151 dB. The small-diaphragm OC7 can even handle a sound pressure of 154 dB, again there is a -10 dB pad and high-pass filter (40/80 Hz), and the response is shifted to 20 Hz – 20 kHz. Both models are equipped with an innovative microphone head mechanism, allowing the microphone head to rotate up to 220 degrees by means of a joint. Prices have been set at around 250 euros (OD5) and 430 euros for the OD7 respectively.
Heritage Audio Herchild 660 and 670 – high-end tube rack compressors in mono (660) or stereo (670) versions, designed primarily for professional studios due to their higher price tags, bring the features of the now almost unavailable vintage Fairchild 660 and 670 models. The Herchild 660 is equipped with 11 tubes and five custom transformers, while the 670 has 22 tubes in its signal path supported by nine transformers. Compared to the originals, the setting of the DC Threshold parameter (Slope/Ratio/Knee) has been simplified and, among other features, the side-chain flitter (50, 100, 200, 350 Hz, Off) is not missing. Prices: Herchild 660 approx. 5500 euros, Herchild 670 approx. 10000 euros.
IK Multimedia Modo Bass 2 – the second generation of the popular bass software adds eight new instruments, a Patterns section offering thousands of grooves and other improvements. One can choose from Jazz Bass or Bass Man fretless models, Upright Studio or Rockabilly basses, and thanks to advanced synthesis, four-string basses can be expanded to five- and six-string versions. Among other things, the Playstyle unit has been redesigned with algorithms for pick and slap technique. Pricing: Modo Bass 2 CS (1 bass) – free, MB 2 SE approx. 150 euros, MB 2 approx. 230 euros.
If you have found an error or typo in the article, please let us know by e-mail info@insounder.org.