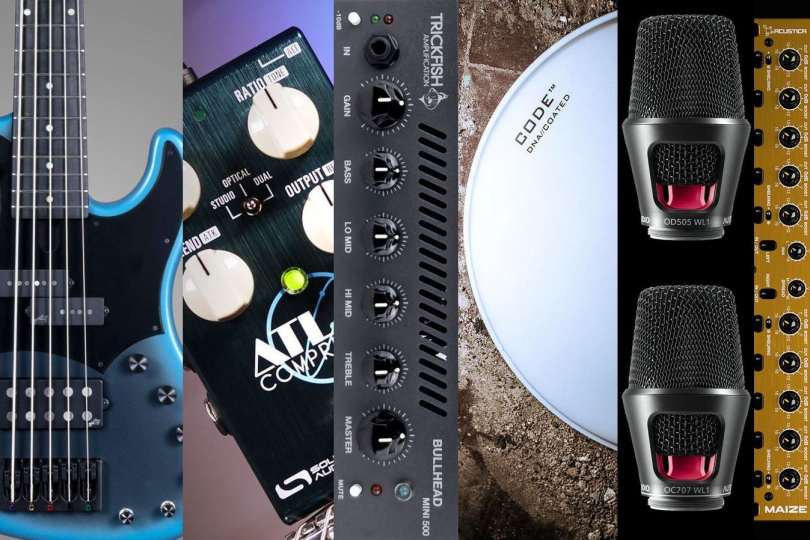 Miscellaneous Gear Alert: June 2022
Do you play bass, drums, or keyboards? Are you DJ, singer, sound engineer, or a studio aficionado? Then every third Monday of the month is "your day" here on Insounder—with a quick overview of gear and new releases that will be on the market in the current or upcoming period and that you shouldn't miss. A similarly conceived article is dedicated to technical equipment for guitarists every first Monday of the month. Some of the products introduced in this overview will be discussed in more detail in later posts here in the News section.
Bass guitar
Anka Custom Guitars Jarius 5 BBBS – a modern five-string model from the Texas boutique company, combining features of the Music Man and Fender Precision models. The alder body in a luxurious Blue/Black Burst Satin lacquer, one-piece "roasted" maple neck, ergonomically contoured transition and ebony fretboard with pearl markers, carrying 21 medium jumbo Jescar stainless steel frets, provide a great foundation to achieve a solid yet clear sound. Of course, this is also influenced by the Hipshot hardware in black, the Aguilar Music Man-style humbucker, medium single-coil and Aguilar OBP-3 active preamp powered by a pair of 9V batteries.
Trickfish Bullhead Mini 500 – a single-channel compact bass head of American brand, equipped with vacuum tube preamp and Class-D power unit 500 W / 4 ohms. In addition to the input pad (-10 dB), gain and master, the amp is equipped with an active four-band EQ with -+12 dB boost range, Mute function, parallel effects loop, Neutrik Speakon speaker, mini-jack headphone and Aux-In jacks, as well as a balanced XLR line output with grounding and Pre/Post capability. The automatic power supply circuit can handle voltages in the 100 - 240 V / 50-60 Hz range. Measuring 8.5 x 25.5 x 20 cm and weighing 1.55 kg, the unit is available for about 800 dollars.
Source Audio Atlas Compressor – a versatile pedal compression with a comprehensive collection of circuits offering six different compression modes right out of the box, from classic stompboxes like the now discontinued Diamond Optical Compressor to high-end Rack units like the 1176 FET or LA2A optical etalon. Atlas also features advanced dual-band compression, with each engine adjustable via Threshold, Ratio, Attack, Release, Output, Tone and Blend parameters. The effect, with a pair of inputs and outputs, a micro USB port, and a Control input with an associated button, costs about 230 dollars including the adapter.
Lehle Mono Volume S – a high-end active volume pedal with analogue signal path and digital control. High-end preamp section with Class-A discrete input circuit, magnetic VCA sensor, 9-15V power supply with an internal converter to 30V and 120dB dynamic range. Push button for selecting 5 factory presets of which 2 are editable, calibration option, a wide range of uses including wet/dry mode. Dimensions: 200 x 90 x 47 mm, weight: 766 g, current consumption 150 mA, max. gain: +12 dB, price: approx. 230 euros.
Keys, synths, modules, etc.
Donner B1 – a cost-friendly analogue bass synthesizer with one oscillator, combined with a sequencer and equipped with VCF, Saturation or delay and distortion functions. The model boasts 128 preset sequences, the same number of presets, intuitive controls and, above all, a thick bass sound. Built-in silicone touch keyboard with colour-changing backlighting, USB-MIDI for DAW connection, and MIDI In/Out, Aux In, sync jacks or headphone output increase flexibility. Price: approx. 170 dollars.
Korg NTS-2 – a new addition to the Nu:Tekt series, supplied as a DIY kit together with the Patch & Tweak with Korg book. The NTS-2 is a pocket-sized four-channel oscilloscope, also equipped with a waveform generator, spectrum analyzer and tuner. A pair of stereo inputs allows four signals to be displayed simultaneously, which can overlap, and a Fast Fourier Transform (FFT) mode provides instant analysis without the need for additional hardware. Two oscillators offer five waveforms (sine, square, triangle, sawtooth, noise) and can also be used as envelopes, LFOs, triggers and CV generators. The model, with a price tag of about 230 dollars, can be powered by a USB port or two AA batteries.
ADDAC System ADDAC311 Ultra Floor Control – a control unit consisting of a module for installation in Eurorack and a flexible floor controller with five footswitches. The footswitches can be configured for latch, gate, triggering, etc. and the rear panel is ready for connecting up to five external expression pedals, leaving the user free to play or change other parameters. A massive DB25 cable is used to connect the two components. The Eurorack 8HP module features a pedal input jack and ten jack outputs (5x gate / 5x CV). The price has been set at about 380 euros.
Drums
CODE Drum Heads DNA a Generator – The British drum set manufacturer now offers eight new sets made up of the DNA and Generator models with a robust construction using an aluminium ring reinforced with an internal steel core, ensuring superior tuning stability. You can choose from Fusion sets with 10, 12, 14 inch + 14" DNA Coated Snare diameters or Rock with 10, 12, 16 inch + 14" DNA Coated Snare sizes. Both sets can be purchased with the following membranes versions:
DNA Clear: 10mil, clear
DNA Coated: 10mil coated, white
Generator Clear: double ply 2 x 7.5mil, clear
Generator Coated: double ply 2 x 7.5mil coated, white
Prices start at around 40 pounds.
Pearl Eliminator Redline LT – a single version of the bass drum pedal has the popular features of the best-selling Eliminator Redline series, is easy to fold and transport (LT = Light Transport), has high-quality NiNjA bearings for light operation, comes with several cam types (linear action, oversized linear, progressive, radical progressive) and two additional cams (aggressive / intense action) can be purchased if needed. Other components such as the rotor cradle and the QuadBeater with a reduced profile, four surfaces (2x plastic + 2x felt) and a Control Core centre eliminating vibrations have also been modified. Price of the model on the European market: approx. 190 euros.
Singing
Roland E-4 Voice Tweaker – one of the trio of new products included in the AIRA Compact edition is used to modify vocal lines and more. Vocal parts can be adjusted with a harmonizer, looper and other units transforming your voice in a variety of ways. In addition to the Pitch and Formant parameters, there's a vocoder or Scatter pot for creating rhythmic patterns, and you'll also find low-cut filtering, noise gate, chorus, delay, etc. A looper with unlimited layering and tempo detection has a 24-second capacity, MIDI control of a number of parameters is provided, the external microphone input has been given its own gain, and the headphone output is tied to the built-in microphone. Price: approx. 200 euros.
Studio
Austrian Audio OD505WL1 and OC707WL1 – active microphone capsules with a screw mechanism that are compatible with Shure WL1 wireless systems. The dynamic super-cardioid vocal version of the OD505WL1, with a price tag of about 250 euros, based on the Austrian Audio OD505, is fitted with a 3D pop diffuser, the maximum SPL level is set at 150 dB and the frequency range is 35 Hz - 16 kHz. The OC707WL1 condenser type (approx. 400 euros) with linear expression in the 35 Hz - 20 kHz range uses the AA OC707 microphone concept and increases the max SPL to 152 dB, scoring with superior resistance to overshoot.
O.P.R. U47 – an exact replica of the vintage Neumann U47 FET microphone, manufactured between 1969 and 1986. The Australian-made version uses a custom K47 capsule tuned to the original FET 47 specification. The capsule features a shared backplate design with centre-ended 6-micron thick mylar diaphragms, set to a cardioid directional characteristic. The sound quality is supported by a massive output transformer that contributes greatly to the rich, dense sound with the excellent transient attack as well as the ability to tolerate extremely high sound pressure levels (147 dB). The Open Plan Recording U47 condenser will cost approximately 1150 Australian dollars and is expected to hit the market in July.
Acustica Audio Maize – a plug-in (VST/VST3/AAX/AU) offering the capabilities of the rare Markbass PP10 parametric equalizer, which only exists in hardware form in two pieces. The virtual version has 10 bands, each with 19 selectable frequencies, a Q parameter adjustable from 0.3 - 6 and a gain with a +- 16 dB lift. Sampling is based on exclusive Acqua technology and some features have been added compared to the original, such as Mid-Sides mode, control-link, input/output meters, etc. Standard or ZL versions with zero latency are available. Price: 109 euros.
Teenage Engineering TX-6 – a compact field mixer with an integrated USB-C/MIDI sound card (32-bit/48 kHz) and 6 stereo or 12 mono channels, equipped with separate three-band EQ, compressor, cue output and aux send for up to 8 effects. There is also a synth-generator with 4 types of drum machines and the same number of modulation waves, 3 stereo outputs, Bluetooth, mod crossfader, low-pass + high-pass filter, tuner, headset microphone support and a small OLED display (64 x 48 px). The mixer, measuring 62.5 x 90 x 15 mm and weighing 145 g, is powered by a rechargeable battery with 8 hours of operation. The price is 1,200 euros.
If you have found an error or typo in the article, please let us know by e-mail info@insounder.org.