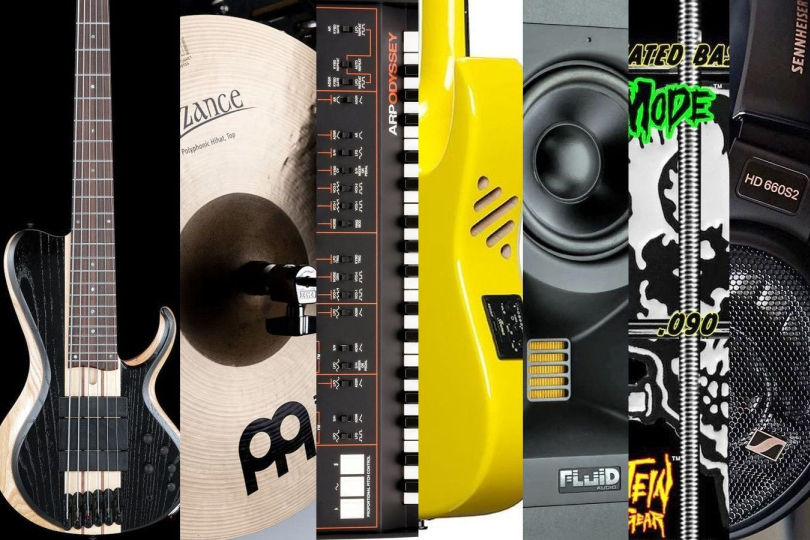 Miscellaneous Gear Alert: March 2023
Do you play bass, drums or keyboards? Are you DJ, singer, sound engineer or a studio aficionado? Then every third week of the month is "your week" here on Insounder – with a quick overview of gear and new releases that will be on the market in the current or upcoming period and that you shouldn't miss. A similarly conceived article is dedicated to technical equipment for guitarists every first week of the month. Some of the products introduced in this overview will be discussed in more detail in later posts in the News section.
Bass guitar
LeCompte P-31 and J-31 – models from the production of American guitarist Bud LeCompte use the concept of Fender Precision and Jazz Bass standards, but in a significantly modified form. The four- and five-string instruments have been given a shorter 31.18-inch scale length, a reverse headstock combining Fender and Music Manu styles, and the choice of Telecaster-style controls. The alder or ash body is complemented by a neck glued from three pieces of maple, the rosewood, pau ferro or maple fretboard carries twenty frets and the hardware is from Hipshot. For the P-31, you can choose between a split-coil Single Triple Threat and a pair of Soapbar J pickups, which are also fitted to the J-31 version. Prices start at around $1,850.
Ibanez BTB865SC and BTB866SC – five- and six-string basses with singlecut bodies glued from ash and okoume get a longer 35-inch scale length and a through-neck combining maple, walnut and graphite reinforcement plates. The rosewood fretboard is fitted with 24 stainless steel frets and abalone markers, while hardware consists of the company's MR5 bridge and lightweight tuning pegs. The sound is carried by two passive Bartolini BH2 pickups complemented by Ibanez active electronics with three-band equalizer and switchable mids (250/450/750 Hz). Colour: Weathered Black Low Gloss, prices: the BTB865SC approx. $1,150, the BTB866SC approx. $1,200. The attached video demonstrates the older related BTB685/686 SC models.
Torillo & Fendt Element Bass – four- and five-string models from the German boutique brand, which are indirectly based on the Jazz Bass design. There is a choice of red alder or swamp ash body, a maple or rosewood fretboard with variable radius, carrying 23 frets plus a dual zero fret, a Hipshot B-Style fretboard and Gotoh tuning pegs were used. A pair of Torillo single-coils in ebony enclosures are connected to a handmade boost/preamp with dual-band equalizer (50 Hz / 3.5 kHz, +15 dB). Versions with exotic top, black or gold chrome hardware and several pickguard options are also available. Prices: approx. 2900 to 3550 euros depending on the configuration.
Bergantino Super Pre – a floor bass preamp and multi-effect using the BFT (Big Fat Tube) technology also used in the Forté D. The bank can hold 21 presets, the DSP processor controls a multi-functional four-band equalization complemented by Speaker-File EQ, various filters, distortion in the form of overdrive, distortion or fuzz, and a built-in VCF compressor for use with the input signal in serial or parallel mode. There are two DI XLR outputs (Pre/Post), USB port programmable effects loop, Aux In, headphone output etc. Price: approx. $700.
Von Frankenstein Monster Gear Beastmode – four-string bass strings, offered in four different sets, are handmade in the USA from premium materials. The base consists of a hexagonal tempered steel core, on which a nickel-plated winding is wound at a precise tension and speed. The result is a full tone with solid attack, long sustain and balanced frequency response. The sets, co-produced by Sheptone, are available in AB4505 Medium Light (.045/.065/.085/.105), AB5005 Medium (.050/.070/.085/.105), AB5010 Medium Heavy (.050, .070, .090, .110) and AB5525 Heavy (.055, .075, .095, .125). Prices for long-gauge strings start at about $29.
Keyboards
Nord Stage 4 – the fourth generation of the popular synth sets a new standard in the instrument category with a new intuitive panel design with LED faders, a premium sensor keyboard, complete effects sections for each layer and extensive implementation of award-winning technologies. The new addition comes with an enhanced collection of Grand, Uprights and Electric Pianos from the Nord Piano Library combined with new features such as Dynamic compression and Unison. The powerful Nord Wave 2 engine has been used, including virtual analogue synthesis, samples, FM and Wavetable. There is an arpeggiator (Gate, Pattern, Polyphonic), extended sample bank, etc. You can choose from Stage 4 88, 73 and Compact versions, differing in keyboard type and range. Prices start at around EUR 4,600 for the Compact version.
Roland SH-4d – a desktop hybrid synth, using virtual analogue and digital synthesis, offers a total of 11 oscillators with brand new and classic sounds, a bulky effects section, a multitimbral sequencer, a rhythm unit, controllers with automatic reconfiguration of functions and a D-Motion mode (X/Y parameters) based on sensors reacting to the player's movements. The effects unit includes compressors, equalizers, various types of chorus, delay and reverb. MIDI communication is handled by DIN In/Out connectors, a mini-jack clock input is built in and power is provided by a USB port or four AA batteries. Price: approx. EUR 630.
Korg ARP Odyssey FS Kit – duophonic synthesizer with analogue circuits in the form of a kit follows the standard ARP Odyssey FS, 2600 FS and 2600 M models. The electronics are complemented by a full-size keyboard, switchable between filters of all three historical versions, and the user will of course find sawtooth and square waveforms, pulse-width modulation, oscillator synchronization, circular modulation, pink or white noise generator including the original PPC (Proportional Pitch Control) type controls, portamento, transposition, etc. In addition to the classic inputs and outputs, CV, Gate, Trig, MIDI In or USB port connectors are installed. Price: approx. 1900 euros.
Ukulele
Ibanez URGT100 – a stylish tenor ukulele for all players who appreciate the modern shape of the body and headstock, taken from the popular RG series of electric guitars, as well as an integrated sound system consisting of a piezo pickup connected to Ibanez AEQ-2UT active electronics with volume, two-band EQ and tuner (powered by 2x CR2032 batteries). The okoume wood body base is combined with a solid spruce soundboard and on the top side there are, in addition to the aforementioned control module, five sound holes. The okoume neck features a purpleheart fretboard  with 24 frets, a 432 mm length scale and tuning is provided by all-metal single-row pegs. Colours: Sun Yellow High Gloss, Black High Gloss, Sun Red High Gloss, price including gig bag: approx. 300 euros.
Drums
Meinl Byzance Polyphonic – the professional cymbal series Byzance Traditional Polyphonic consisted of 18", 19", 20" and 21" crash types. This year, the German manufacturer expanded the series with the 10" Byzance Polyphonic Splash, 22" Byzance Polyphonic Ride and 15" Byzance Polyphonic Hi-Hat models. The cymbals are hand-hammered from B20 bronze alloy and the hallmark of the "medium" edition is a warm, smooth tone with a flexible character and shorter to medium sustain. Prices: B10POS approx. 170 euros, B22POR approx. 590 euros, B15POH approx. 540 euros.
Tama Bill Platt Signature Concert Snare BP146 – The premium 14 x 6 inch snare drum designed for the longtime rhythm section leader of the Cincinnati Symphony Orchestra is made of 3mm thick bell brass, giving this snare a wide sound and massive attack. Freedom (10x) shells, GSH rims, and MLS50AD/MLS50BD pegs were used with the Multi Snare Frame system, allowing detailed tuning of three different sets of springs (3x6) consisting of nickel-plated guitar strings, stainless steel springs, and a set of identical material coated with black nylon using adjustment wheels. These work together to create a complex, articulate sound at any dynamic level. Price: approx. $2530.
DJ
Stanton STX – after almost three years, Stanton returns to the music market with a compact, affordable DJ turntable designed especially for beginners in the craft. As the first portable scratch single model, the STX version gets a miniature Innofader Nano crossfader equipped with a switch so that scratching can be done with either the right or left hand. The Crossfader Cut-In and Curve functions ensure precise crossfader calibration, there's an Ultra Pitch parameter, a built-in rear amplifier with speaker, a Bluetooth module, a USB-C port that also serves as a power supply that can be solved with a pair of rechargeable batteries, and the flexible lid can also serve as a turntable stand. Price: about $250.
Studio
Fluid Audio Image 2 – active studio three-band nearfield/midfield monitors with Sonarworks SoundID Reference calibration import support and optional Cubemix function to help adjust bass and midrange levels correctly. Up to 4 different profiles are available, a new AMT tweeter is integrated, harmonic distortion has been reduced at the midrange, and two opposing 8-inch woofers recessed into the sides of the cabinet have their own Class D final drive (225 W) and a response range of 28 Hz - 20 kHz. XLR analogue In, XLR AES/EBU In, TRS In, SPDIF Out, USB. Dimensions: 351 x 241 x 363 mm, weight: 12.6 kg, price per unit: approx. 1990 euros. You can watch the official video premiere from March 19 here.
Auralex Frame, Frame and Fabric a Panel – new DIY kits for building absorption panels to optimise the acoustic properties of studio spaces. The Frame with ventilation holes is designed for a 61 x 122 x 10 cm panel, all assembly material is included. The Frame and Fabric version adds precision cut upholstery fabric in black, grey and steel grey. DIY Panel variants in 6-2 or 6-4 (5 or 10 cm deep) include six complete sets including mineral fibre fillers. Kit prices: Frame approx. $56, Frame and Fabric approx. $70, Panel 6-2 approx. $620, Panel 6-4 approx. $820. The manufacturer is offering temporary quantity discounts when multiple identical kits are purchased: 2 pcs -10%, 3 pcs -15%, 4 pcs -20%
Sennheiser HD 660S2 – the audiophile headphones for studio work are the successor to the legendary 660S, with which they share an open design. Drivers with a diameter of 38 mm have been used, the magnetic system has been given ventilation shafts to minimize distortion, a very lightweight aluminum coil with an impedance of 300 ohms has been integrated to increase impulse response, and listening comfort is ensured by carefully crafted plush earcups. The user can enjoy a detailed presentation with specific highs, clear bass and precisely calibrated mids. Designed at the German headquarters and manufactured in Ireland, the Sennheiser HD 660S2 version is priced around the $600.
If you have found an error or typo in the article, please let us know by e-mail info@insounder.org.