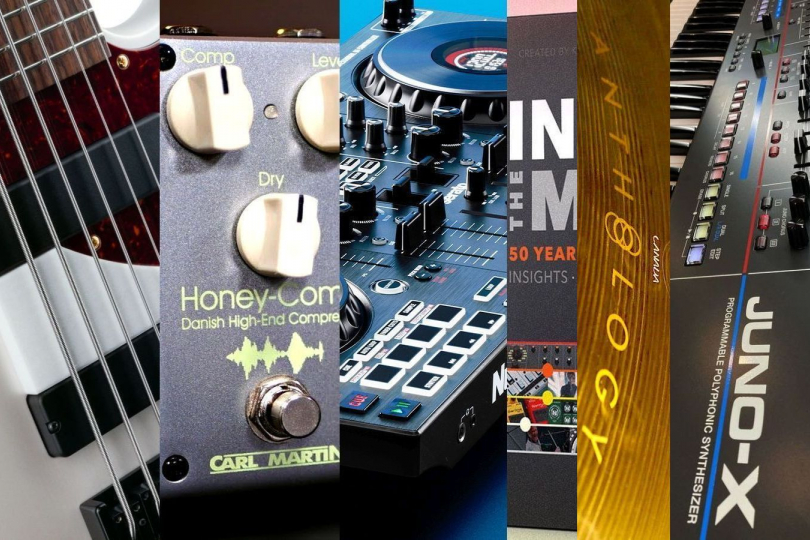 Miscellaneous Gear Alert: May 2022
Do you play bass, drums, or keyboards? Are you DJ, singer, sound engineer, or a studio aficionado? Then every third Monday of the month is "your day" here on Insounder—with a quick overview of gear and new releases that will be on the market in the current or upcoming period and that you shouldn't miss. A similarly conceived article is dedicated to technical equipment for guitarists every first Monday of the month. Some of the products introduced in this overview will be discussed in more detail in later posts here in the News section.
Bass guitar
Fodera Mike Bendy Signature Mini MB Presentation – The first model of the renowned manufacturer equipped with a short 31-inch scale length. The futuristically conceived five-string headless version gets a new type of string locks, a bridge with tuners and 16.5mm pitches, a neck-through-body made of three pieces of roasted maple, alder body wings and a rosewood fretboard bearing 24 frets and brass nut. Two Fodera/Duncan Dual Coil soapbar pickups, passive electronics and separate volume controls clustered in a dual potentiometer were used. The top-of-the-line instrument in Snowhite Pearl lacquer comes to 18,450 dollars.
Cort GB Modern 5 – The flagship five-string model of the GB series, with a 35-inch scale length, has a sandwich body consisting of a central maple block, paulownia wings, white ash back outer board and a walnut plate lying beneath an exotic-looking poplar top. The "roasted" maple neck is complemented by a fretboard made of identical wood, fitted with 22 frets and rectangular fretboard markers and luminous markers on the fretboard edge. Hardware consists of a top-quality Babicz FCH 5 cob and equally high-quality Hipshot Ultralite pegs. A pair of Nordstrand BS5 pickups are connected to a MarkBass MB active preamp. The basses in Open Pore Vintage Natural or Charcoal Grey transparent lacquer cost about 1300 euros including case, service keys etc.
Carl Martin Honey-Comp – The next version of the high-end pedal compressor, inspired by its successful predecessors Compressor/Limiter from 2007 and the now discontinued Comp/Limiter, with which the new product shares shape, dimensions and chassis colour. The model has fixed parameters for Threshold and Response, controls consist of Comp and Level pots, and a Dry function has been added to smoothly adjust the ratio of a clean signal and effects. The studio-quality compressor is powered exclusively by a 9V adapter, but a converter has been installed to boost the voltage to 12V, which has had a positive effect on dynamics and tone projection. The Honey-Comp can be purchased for around 180 euros.
Ampeg Micro-VR Stack Limited Edition White – A compact bass kit in elegant white leatherette, including Micro-VR Head amplifier and SVT-210AV box. A solid-state single-channel preamp with gain, volume, three-band EQ, limiter and input pad (-15dB) is combined with a 200W/4 ohm, 150W/8 ohm mosfet power amp. Mini jacks for Aux In and headphones, a pair of parallel outputs and an effects loop are installed. The 61 x 33 x 28 cm cabinet is fitted with a pair of vertically mounted 10" Eminence speakers. The European price of the set is 770 euros.
Keys, synths, modules, etc.
Roland Juno-X – The digital synthesizer with ZEN-Core engine, which, in addition to the sounds of older versions of Juno-60 /106, XV-5080 or RD series pianos, also brings compatibility with instruments from the Roland Cloud online section. The 61-key keyboard (velocity, aftertouch) is complemented by a pitch/mode wheel and a pair of faders, and in addition to the Super Saw modulation wave oscillator and other elements, there's an intelligent I-Arpeggiator unit, compressor, EQ, reverb, delay, chorus I, II, III, overdrive and 90 different multi effects. In addition to the USB-C audio/MIDI card, you can use microphone XLR/jack inputs with custom MIDI In/Out volume or a 2 x 4 W stereo amplifier. The price of the synth with more than 4000 presets and 90 kits has been set at around 2000 euros.
Behringer SPACE FX – Eurorack effect module with algorithms from Klark Teknik. A total of 32 modes with three adjustable parameters, 15 reverb types (hall, plate, room, chamber, spring, etc.), eight delays or modulations and other special effects are available. In addition, the input section is equipped with a sensitivity switch, so the SPACE FX can cope with different signal levels. Expected to be priced under 50 dollars, the novelty already has its official YouTube video, but a worldwide shortage of chips has been preventing the start of mass production for now.
Roland Jupiter-X V3.00 a Xm V3.00 – The new firmware with a redesigned engine based directly on the classic Jupiter-8. The I-Arpeggio section has also been strengthened with a probability function and a choice of modes, styles or variations for each individual part, the number of user sounds including scenes has been increased from the original 256 to 512, and other partial modifications have been made to the system. For owners of these synths, the update is of course free.
Bjooks Inspire The Music – 50 Years of Roland History – The book for fans of the Japanese company provides a 400-page overview of the products Roland has brought to the market in its half-century of existence, including more than 70 interviews with musicians, engineers, DJs and producers whose careers are linked to the brand's products. In the words of publisher Bjooks, the book is a fun, engaging and informative journey documenting the evolution of keyboards, pianos, synthesizers, guitar and bass gear, drums, percussion, etc. The book not only opens up the world of Roland to any music enthusiast but also explores the history of music technology and how it has inspired music itself over the past 50 years. It will be distributed later this summer for about 70 dollars.
Percussion
Artesia Legacy a250 – The electronic five-piece drum kit with a design reminiscent of an acoustic kit, and a sound library taken from the Japanese company EFNOTE. The module contains 163 sounds, 10 preset sets and an equal number of presets for user sets. A range of functions are provided for practice, including 8 tracks, and of course pitch/sustain adjustment, equalizer, reverb, etc. The three ten-inch toms and the twelve-inch snare have dual-zone mesh heads, the hi-hat and two crashes (all 12") are similarly designed, while the 14" ride is three-zone. The kit, which also includes a black ramp and snare stand, comes to about 1400 euros.
Sabian HHX Anthology – A new cymbal edition including a 14" hi-hat (top + bottom) and two cymbals with 18 and 20 inches diameters, which are able to act as both crash and ride. Inspired by cymbals from the 50s and 60s, each of the four models is also offered in Low Bell and High Bell versions, making a total of eight variations with different responses, attacks and sound colours to choose from. Prices for the cymbals, designed in collaboration with drummer Jojo Mayer, start at around 320 dollars and end with a price tag of 640 dollars for a complete hi-hat.
DJ
Numark NS4FX – A professional four-channel Serato controller with a pair of large 6-inch (15.2 cm) diameter capacitive jogs with built-in round displays. Each path features high-quality volume faders, a three-band EQ with Full Kill function, and high pass/low pass filter pots. The decks feature eight pads, layer buttons, an effects section, looper, crossfader assignment switches and many other features. The signal is processed at 24-bit/44.1 kHz resolution, and 2 jack mic inputs, a stereo RCA input, 2 headphone jacks, RCA stereo Out and 2 x XLR outputs are integrated. The model, measuring 59.7 x 27.4 x 6.1 cm and weighing 3 kg, costs around 500 euros.
Studio
Avid Pro Tools 2022 – A trio of new DAW system releases that Avid will offer by subscription only. Pro Tools Artist (basic version): 16 channels, 32 tracks, 32 aux tracks, up to 32 virtual instruments, 64 MIDI tracks, AAX module support, priced at $9.99 per month or $99 per year. Pro Tools Studio ($39.99 monthly/$299 annually): 64 channels, max audio, aux, instrument and MIDI tracks – 512, 128, 512, 1024, one video track support, Dolby Atmos, AAX. Pro Tools Flex ($99.99/month / $999/year): over 2000 tracks, 256 channels, ExpertPlus support, and DigiLink license for Avid HDX and HD Native. Users of previous versions can extend their subscription and upgrade to the current equivalent at the same time.
Air Music Tech – Seven instrument plug-ins for PC and Mac in VST/AU/AAX formats. Bassline ($89): monophonic vintage synth emulating tube circuits, Electric ($89): virtual Rhodes, Wurlitzer and FM pianos, Hype ($149): hybrid wavetable/FM synth, Mellotron ($119): classic tape loop, WayOutWare Odyssey ($149): ARP 2600 emulation, Solina ($119): polyphonic string synth with double bass, cello, viola, violin, trumpet and horn registers, TubeSynth ($89), subtractive synth with virtual analogue technology providing familiar sounds of the '70s and '80s.
SSL The Bus+ – The powerful professional stereo bus processor from renowned brand Solid State Logic offers the premium compressor found in iconic SSL consoles (G Series, 4000 B, etc.) in a rack format, plus an unusual dual-band analogue Dynamic EQ. It can be operated in a wide range of modes including traditional L+R stereo, Mid-Sides and more. Innovative recall system, flexible sidechain, adjustable harmonic saturation. European price is around 2100 euros.
Native Instruments LORES – An advanced tool for KONTAKT and KONTAKT Player programmes. The collection of 16 organic-sounding instruments played with over 300 articulations includes less traditional winds, vocals, accordions, etc. The software was created in collaboration with composer Clinton Shorter (e.g. the music for the film District 9) and also includes many effects including reverb or Noise, Power and Boost functions. The price has been set at 199 euros.
If you have found an error or typo in the article, please let us know by e-mail info@insounder.org.